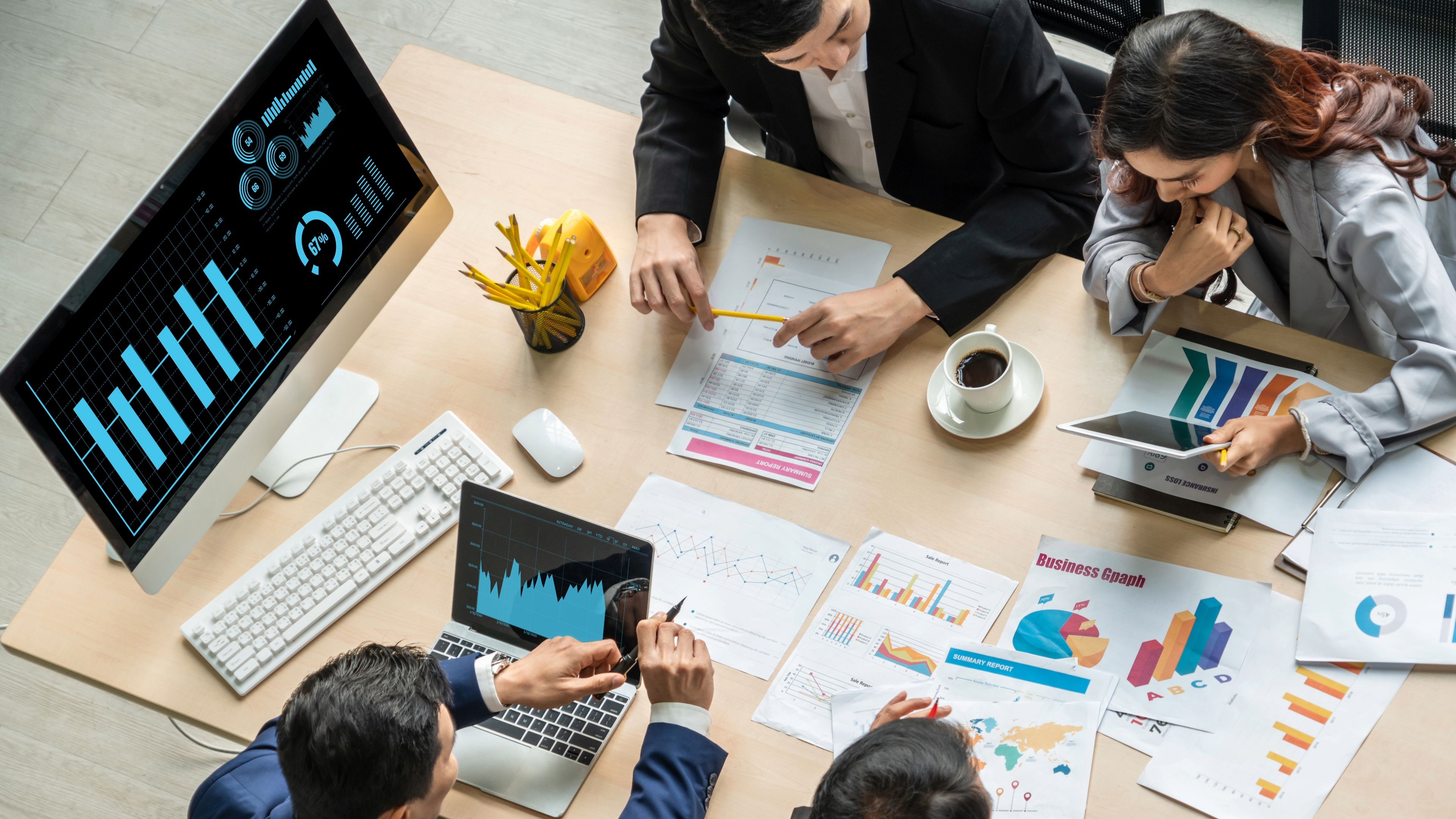 Edelman Financial Engines review
Blue Planet Studio / Shutterstock
We adhere to strict standards of editorial integrity to help you make decisions with confidence. Please be aware that some (or all) products and services linked in this article are from our sponsors.
We adhere to strict standards of editorial integrity to help you make decisions with confidence. Please be aware that some (or all) products and services linked in this article are from our sponsors.
What is Edelman Financial Engines?
Edelman Financial Engines is the result of a 2018 merger between Financial Engine and Edelman Financial Services.
Founded in 1996, Financial Engines is a retirement plan advisory service for employees of participating employer retirement plans. One of the co-founders is Professor William F. Sharpe, winner of the 1990 Nobel Prize in Economic Sciences for his work on the theory of financial economics. A second co-founder is former SEC commissioner, Professor Joseph A. Grundfest.
The company has also grown since its inception. By the time of the merger with Edelman, Financial Engines had over $169 billion in assets under management and worked with 750+ of America's leading employers.
It also partners with retirement plan providers, and the list of companies is just as impressive here. Fidelity Investments, J.P. Morgan, T. Rowe Price and Vanguard are just some of the investment companies they're partnered with. We recommend considering Blooom or Betterment to maximize your retirement plans.
Edelman Financial Services has a similar backstory. Prior to the merger, it was one of the largest independent financial planning firms in the United States. Following the merger, Edelman Financial Services became the largest registered investment advisor in the country at the time with nearly $200 billion in assets under management.
What does Edelman Financial Engines offer?
Though Financial Engines offers their services to both employers and employees, we're going to focus on the employee.
Edelman Financial Engines provides professional management to employees participating in company-sponsored, defined contribution plans, such as 401(k) plans. They provide management services and advice and can either manage your plan or arm you with information and input so you can manage your plan better. The service is made available through your employer plan, which is to say it's offered as an additional benefit — a benefit within a benefit.
The company also provides wealth management services for non company-sponsored plans if you simply want to work with an investment advisor. You can open what's known as a wrap fee account which gives Edelman Financial Engines the authority to place trades on your behalf and to manage portfolio rebalancing and overall asset allocation. Alternatively, you can open an online advice account which provides investing advice but leaves the final decision making in your hands.
According to its website, Edelman Financial Engines strives to provide "integrated wealth management" which includes areas of planning like:
Financial planning
Retirement planning
Investment management
Tax strategy
Estate planning
Insurance planning
How does Edelman Financial Engines work?
Advisors at Edelman Financial Engines are fee-only advisors. This means advisors only make money by charging management fees and don't get paid by offering you other products or services to earn commissions.
You can start working with the company by scheduling a free meeting with a financial planner in your area. The company has over 150+ locations nationwide, and virtual meetings are also possible.
And, as mentioned, Edelman Financial Engines works with many employers, including 120+ Fortune 500 companies. This includes companies like Delta, Ford, IBM, and Target.
Is Edelman Financial Engines a fiduciary?
All advisors at Edelman Financial Engines are fiduciaries. This means they have a legal obligation to put your needs and interests ahead of their own. This ties back into the importance of working with fee-only advisors since the advisor you work with won't have a conflict of interest to make commissions by recommending you lackluster products or services.
Edelman Financial Engines fees & account minimums
The advisory fees you pay at Edelman Financial Services depend on your assets under management and if you're investing as an individual or through an employer-sponsored plan.
The website doesn't offer information on what it costs to an employee, but I was able to contact Mike Jurs, a spokesperson for the company. He said the cost to the employee will depend upon the arrangement the employer has with Edelman Financial Engines.
A very few employers make the service available to their staff free of charge, but the range is between 0.20% and 0.60% of the value of your retirement portfolio, with the average being "just below 0.40%." Based on the average, the cost on a $100,000 401(k) plan would be just below $400 per year.
As for individual plans, here's how Edelman Financial Engines fees break down for wrap fee accounts:
1.75% on the first $400,000
1.25% on the next $350,000
Starting at 1.75% in annual fees is within the "normal" range for working with a human financial advisor. But this fee is much higher than online-only services like working with a robo-advisor.
Also note there's a $5,000 minimum balance requirement for individual wrap fee accounts and a $10,000 minimum balance requirement for workplace-sponsored plans if you're investing in an IRA.
Other Edelman Financial Engines reviews
As an investment advisory company, Edelman Financial Services has plenty of awards under its belt. For example, in 2021, Barron's named it America's top independent registered investment advisor. The company also received a similar award from Financial Times in 2020.
That said, recent comments from our readers aren't overly positive. Readers complain about high fees, poor performance, and even poor client relationship management.
Some existing customers also have legacy accounts from before the merger, whereas new customers have a slightly different account opening process. In any case, if you decide to explore Edelman Financial Engines, take advantage of the free consultation and come prepared with a list of questions and your needs.
How does Financial Engines compare to related services?
The process of providing employer-sponsored retirement plan investment advice is complicated by the fact that plans are ultimately under the domain of the plan trustee. Unless an advisory service is working with both the employer and the plan trustee, control over the investment selections and allocations is generally not possible. Edelman Financial Engines is able to offer this service because they have exactly that arrangement with well over 500 employer retirement plans.
Many robo advisor services exclude employer-sponsored retirement plans entirely or can do nothing more than offer independent advice, which you can then act upon. Edelman Financial Engines handles all of that for you by working on the inside of your plan.
For employer-sponsored plans, you can also consider using companies like Blooom to review and optimize your retirement accounts or a 401(k). But again, there are few companies out there that specialize in employer-sponsored plans. And many of the alternatives face the same limitation as robo-advisors in that they don't have direct control over your plan.
As for non-employer sponsored plans, you have plenty of other options. For starters, robo-advisors like Betterment or Wealthfront can also create custom portfolios of ETFs and bonds that match your goals and risk tolerance. But the main difference is you just pay 0.25% in annual advisor fees, not the starting 1.75% you get with Edelman Financial Engines.
| Highlights | Empower | Betterment | Wealthfront |
| --- | --- | --- | --- |
| Rating | 4.8/5 | 4.5/5 | 4.5/5 |
| Minimum to Open Account | $100,000 | $10 | $500 |
| 401(k) Assistance | ✔️ | ✔️ | ❌ |
| Two-Factor Auth. | ✔️ | ✔️ | ✔️ |
| Advice Options | Automated, Human Assisted | Automated, Human Assisted | Automated |
| Socially Responsible Investing | ✔️ | ✔️ | ✔️ |
| Get started | Sign up | Sign up | Sign up |
| Reviews | Empower review | Betterment review | Wealthfront review |
Of course, you can also invest on your own through an online broker or look for your own financial advisor. And if you want human advice, Betterment actually offers this for accounts with at least $100,000. Similarly, Personal Capital offers wealth management services for clients with this amount of money as well.
Pros & cons
Pros
All investment advisors are fiduciaries
Advisors are also fee-only
Provides high levels of personalized service
Has branches nationwide
Works with numerous Fortune 500 companies for employer-sponsored plans
Cons
There's a $5,000 household minimum investment requirement
Higher management fees than some advisors and most robo-advisors
Several negative reviews from our readers regarding performance, fees, and customer service
Bottom line
As one of the largest independent financial planning firms in the country, there's a chance your employer actually works with Edelman Financial Engines. And considering its successful history and numerous accolades, it's certainly worth considering if you want help with your employer-sponsored retirement plans.
That said, the fees can get very high, especially for wrap fee accounts. In comparison, robo-advisors offer a much more affordable route for passive investors who need a helping hand.
You can still speak with an advisor to learn more through a free consultation. Just be mindful of the advisory fees and have a list of questions ready if you meet with an advisor.