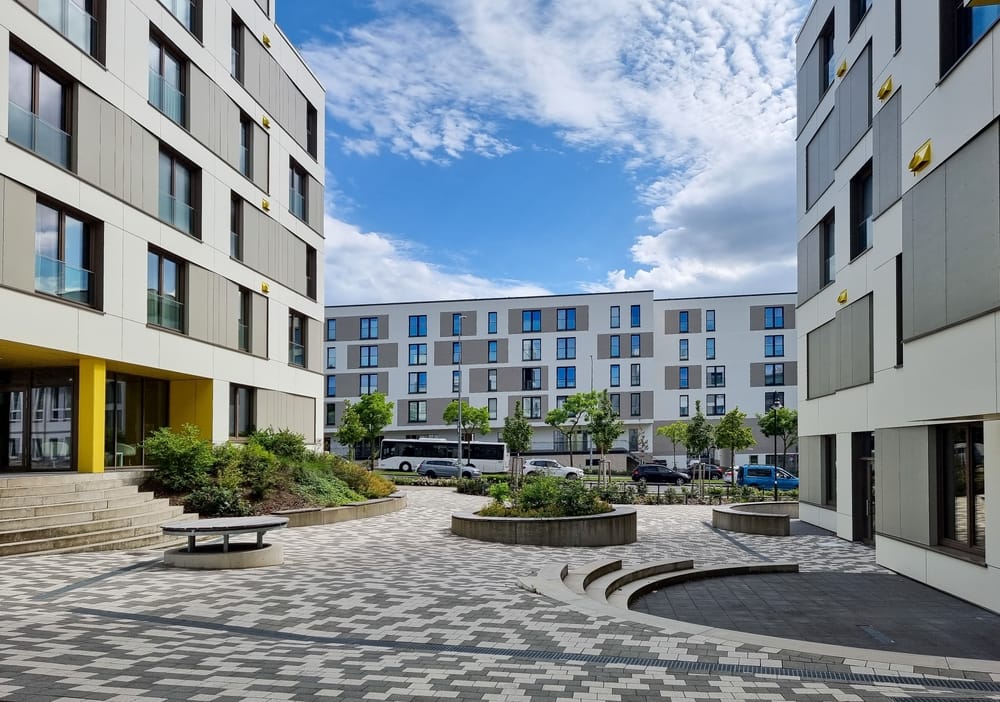 Are condos a good investment?
We adhere to strict standards of editorial integrity to help you make decisions with confidence. Please be aware that some (or all) products and services linked in this article are from our sponsors.
We adhere to strict standards of editorial integrity to help you make decisions with confidence. Please be aware that some (or all) products and services linked in this article are from our sponsors.
We all know that investing in rental properties can be a great way to earn income.
But purchasing single-family homes to rent out can be expensive, especially for beginners. Condos, on the other hand, can be a cheaper alternative to detached homes.
But are condos a good entry point for an investor? And how do they compare to single-family homes and townhomes?
We'll answer both of those questions in this article. We'll also break down the biggest advantages and disadvantages of condo investing that you'll want to be aware of before you start.
What is a condo?
A condo, or condominium, is a private residence within a larger building or community. The most common types of condos are multi-story townhouses or single units in a high-rise with other condo units above and below.
Condos are useful as investment properties because they can be rented out to tenants, similar to apartments. A condo is different from an apartment because each unit has an owner — apartments are rented out by someone who owns the entire building.
A property owner purchases a condo and pays a monthly condo fee (in addition to the purchase price of the condo itself). This fee covers the maintenance and upkeep of common areas shared with other owners in the condo community.
Can you rent out a condo?
Generally, yes. In fact, renting out to tenants is probably the most common way to make money from a condo purchase. The rent should cover your mortgage payment, condo fees and insurance. Sometimes utilities might also be included. Depending on local market rental rates, you may end up with a monthly profit from your rental income. You could invest this profit or save it as a contingency fund to cover rental vacancies and repairs.
Some condo associations have specific rules regarding renters. These rules may limit whether you can rent the condo, how many rentals are allowed in the building as a percentage of total units, or what type of rental you can have. For example, you may be allowed to rent the unit to long-term tenants but be prohibited from using the unit as a short-term rental, such as an Airbnb.
These types of restrictions are listed in the condo association's by-laws, which is a document that outlines all of the rules associated with being an owner in that particular condo building. It's essential to read the condo by-laws carefully to ensure your condo investment plan is legal in that building.
Are condos a good investment?
Condos can be a good investment due to their (generally) lower entry price versus standalone homes. This helps younger investors enter the market as both landlords and homeowners. If a condo is in a good location and you can find steady tenants, it's possible to turn it into a decent, positive cash-flow property in the right market.
However, deciding if a condo is worth investing in or not depends on some key things, as does any real estate investment.
Most important are the property's location and the financials. No matter what, the condo's location has to be desirable, with a qualified pool of tenants.
In addition, the property's return on investment (ROI) needs to be in sync with your investing goals.
Condos make up a portion of my real estate portfolio, along with single-family residences. So I'd say that, yes, a condo can be a good investment.
Here are the pros and cons to consider.
The pros and cons of investing in condos
Pros
Less maintenance to worry about
Affordability
Amenities
Pride of ownership
Security
Condo rules can preserve your investment property's value
Cons
Neighbors behaving badly
Increasing condo fees and special assessments
Potential for financial mismanagement
Potential for property mismanagement
Condo rules can limit your freedom
Selling may take longer
Pros of investing in condos
Less maintenance to worry about
One of the most significant benefits of condo ownership is that other people do the exterior property maintenance for you. Neither you nor your tenant is responsible for shovelling the snow or mowing the lawn, for example.
As a condo owner, you're responsible for maintaining the space inside the condo but not the building's exterior structure. So you don't have to budget for big expenditures like replacing a roof. You only have to worry only about maintaining the appliances and systems contained within your unit.
The condo association takes care of the expense and the hassle of building maintenance and the grounds. Just remember that there's no hard and fast rule of condos. Each association decides what the condo association is responsible for and what the owners are responsible for. So read the condo docs carefully before buying.
Affordability
As an investment, it's typically less expensive to purchase a condo than a single-family home or townhouse with similar features. So it would help if you had less out-of-pocket cash to get started. If you need a loan to help pay for renovations or repairs, you can use Monevo to compare all of the options available to you.
And if you're looking to buy a condo but aren't sure where to begin, you can use a service like HomeLight to find a real estate agent in your area.
However, ensure the monthly rent you're able to charge can support all your ownership costs, including the monthly condo fee. The purchase price of a condo is less because homebuyers factor in that recurring fixed condo fee.
Amenities
A significant benefit of condo living is access to high-quality community amenities. There's often a club room, pool and fitness room. These amenities are very attractive to many tenants, which helps you keep your unit rented. Properties with attractive amenities are often in high demand. That can mean a quick turnover when a tenant moves out. Short vacancies are an investor's best friend when it comes to managing cash flow.
Pride of ownership
Most condos have a high owner-occupancy rate. The bylaws often state that only a percentage of the owners can rent out their units. This typically translates into a pride of ownership that encourages community and responsible care of one's property. Owners typically take better care of their property and the shared community resources than renters. That translates into a more attractive investment for you.
Security
Most condo buildings have enhanced security. You usually need a key to access the building before getting to the front door of your unit. Each unit is equipped with an intercom that residents can use to "buzz in" approved guests and visitors. This added security makes residents feel safer and keeps out solicitors — an attractive feature that many tenants will pay a premium to enjoy.
Condo rules can preserve your investment property's value
There are typically more rules to follow for a condo community owner. You'll need permission from the condo association to make changes to your unit, inside or out. Chances are you can't change the color of your front door, for example.
Residents are often prohibited from conducting local business activities from their condos (although this doesn't include remote work.) This, and other rules, helps to deter unwanted activity that leads to property depreciation.
Condo rules and regulations are often exactly what's needed to keep a tidy community that benefits all owners. Your tenant may not be able to grow herbs in pots on the patio, but you also won't have to worry about a neighbor's patio becoming a storage space for junk.
I like to invest in rental properties with a modest condo or homeowners association (HOA) fee. The association serves as a policing force that prevents owners from neglecting their property and discourages bad behavior by residents. This helps maintain home values and makes the property attractive, which is important whether I'm seeking new tenants or looking to sell the property.
Cons of investing in condos
Neighbors behaving badly
In any community, you've got neighbors. You may have neighbors above, beside, and below you. There's a good chance at some point in your ownership that you or your tenant will get a neighbor you wish hadn't moved in. If the neighbors are undesirable to live next to, you may have difficulty keeping your tenant happy. This can result in higher-than-desired vacancies and constant tenant turnover.
And as an owner, you may have to personally handle grievances with your neighbors, which can be frustrating and time-consuming. Not all owners are responsible and considerate.
I discovered water damage to the bedroom closet ceiling in one of my condos. The cause turned out to be an air conditioner leak in the unit above mine. The condo association did nothing to help me resolve the issue. I had to take the owner to court to get reimbursed for my repair cost.
My plumber gave me written verification that the damage to my unit was caused by their air conditioner (which is directly above the obvious leak), but I still lost in court. Their plumber friend contradicted the obvious, and the court sided with them. I was stuck paying the cost of mold remediation and drywall repair.
Increasing condo fees and/or special assessments
Condo fees generally go up every few years with the cost of inflation. In addition to monthly fees, you may get hit with an expensive one-time "special assessment." An assessment is an additional fee assessed on each owner for a special project, like repaving the parking lot. If you don't budget for increasing fees, you could get into a position where you can't afford the condo fees or special assessment.
Potential for financial mismanagement
An association board governs condos, often including community condo owners who volunteer or are elected. Typically, a group of investors owns the condo buildings and hires a property management company to administer the collection of condo fees and manage the community. State governments require that condos create and follow legal governing documents, such as bylaws and articles of incorporation. But there's still a risk that the condo association could mismanage funds and even become insolvent.
Potential for property mismanagement
If the condo association does a poor job of maintaining the common grounds, it can reflect poorly on the entire community and decrease your property value. As an owner, you rely on them to do what they say they're going to do to maintain the esthetics and value of your property. Their inaction to make necessary upgrades and adequately manage the building and community can negatively affect your long-term property appreciation and drive away quality tenants from wanting to rent your unit.
Condo rules can limit your freedom
Most condo communities limit the number of units that can be rented. If the limit is already met, you can't rent out your property. And the condo association likely limits the number of occupants, the length of the lease, and other restraints on your use of the condo.
These policies preserve the community feel and prevent the property from becoming an apartment building rather than an owner-occupied community. Make sure you can rent out your condo before you buy, and ensure you and your tenants can comply with the condo requirements as leased property.
Adding condos to your portfolio
If you're ready to invest in condos and want to enter the landlord game, you can work with a local real estate agent to search for properties that meet your criteria and budget. However, be ready to take on property management responsibilities yourself unless you work with a third-party management company to find and interact with tenants.
Alternatively, you could invest in condos through various real estate crowdfunding platforms. Condos and residential real estate are very popular investments for crowdfunding platforms alongside residential real estate.
However, the advantage of crowdfunding companies over individual ownership is that the barrier to entry is low for investors. In fact, the top platforms let you invest in condos and other properties starting as low as $10 in some cases.
Fundriseis one of our favorite platforms due to the low minimum investment requirement and low annual fee. ButRealtyMogulandStreitwiseare beginner-friendly ways to add real estate to your portfolio without much starting capital.
Related reading: The best ways to invest in real estate without much money.
Can you buy fractional shares of a condo?
Yes, as we just discussed, the rise of crowdfunding companies has made it easier than ever to buy fractional shares of real estate properties, including condos.
However, fractional condo ownership is another way for multiple individuals to own a single property together. The way it works is that each party owns a percentage of the property and has the right to use the property for a specific amount of time each year.
In this scenario, you wouldn't rent the condo out long-term, but you may be able to use it as a short-term rental for your fraction of time. Your primary investment gain for a fractional share arrangement would be the appreciation of the condo unit.
Is it smart to invest in pre-construction condos?
When buying a condo, you can choose between an existing condo (known as a resale condo) that is already built and a pre-construction condo which isn't yet built. There are several pros and cons when purchasing a pre-construction condo.
First, pre-construction condos are usually less expensive than a similar existing unit. This lower price also means that the condo's value stands to appreciate in the years after it is built. An additional benefit is that you can customize the condo's furnishings beforehand. If you plan to rent the unit out, you can choose furnishings that will withstand wear and tear well and offer long-term value.
The downside of a pre-construction condo is that you cannot rent it out immediately. That means your condo won't start generating income until it is ready for occupancy, which could take several years. The condo's value may continue to appreciate during that time, but you won't generate income.
Investing in condos vs. townhomes
Another way to invest in real estate without buying a single-family home is to invest in a townhome. Townhomes usually share one or two sides with other units but have their own entrances, and some have their own backyards.
There are two classifications of townhomes. The first classification is freehold. Freehold townhomes are similar to single-family homes in that you are responsible for the maintenance and upkeep of the townhome's interior and exterior, including snow removal and lawn care. There is no condo community and no guidelines or restrictions regarding rentals.
The second classification is a strata townhome, which operates similarly to a condo. A condo association sets rules and collects fees to maintain the townhome's exterior, including lawn care, snow removal, and routine maintenance. A strata townhome will have rules and regulations regarding whether you can use the unit as a rental and whether you are limited to long-term rentals or whether short-term rentals are an option.
Townhomes can make a good investment but are generally more expensive than a condo, so ensure the math still results in a positive ROI.
How has the condo market performed over time?
In the past, condos have appreciated slower than single-family homes over time. However, as single-family homes become more expensive, first-time homebuyers have been adding condos to their list of prospective homes, resulting in increased demand. This demand shift has led to a change in how quickly condos appreciate.
It also should be pointed out that, over certain periods, condos have even compared favorably to single-family homes. For example, Trulia conducted a report for The Washington Post, examining millions of properties in the 100 largest metropolitan areas between February 2012 and February 2017. It found that condos appreciated by 38.4%, while single-family homes appreciated by 27.9%.
Of course, this study doesn't take into account the record appreciation that we saw in the single-family home market post-COVID. However, it does show that condos can make an attractive investment for anyone looking to diversify their portfolio with real estate.
So, should you buy a condo?
Read all the governing documents carefully before making an offer on a condo. And talk with a few of the neighbors. They'll tell you how well the condo association manages the community and share the inside scoop on what it's like to live in the building.
And as with any real estate investment property you're considering, run your numbers to ensure the rent will cover the condo fee and all other costs associated with owning and managing a rental property.
If you'd like to stay on the safe side but still get your feet wet in the real estate world, consider crowdfunding, which is regarded as a safer investment. Fundrise, for example, makes it easy to invest in REITs and get condos and other property types into your portfolio.
Whatever path you choose, it's certainly possible to turn a condo into a lucrative investment if the math makes sense. Just do your homework, decide how active you want to be with your investment, and choose an ownership path that makes sense.
This is a testimonial in partnership with Fundrise. We earn a commission from partner links on Moneywise. All opinions are our own.
Further reading: