Yet, even in a crisis, investors eager to keep farmland in their portfolios have options. A farmland investment platform founded a few years after the last big drought is showing that it's still possible to net an impressive profit while respecting and maintaining the Earth.
The weight of the world FarmTogether is an investment platform that allows investors to buy stakes in U.S. farmland without purchasing entire farms.
The company is careful to select attractive properties that will bring in a sizable, stable return.
But it's equally choosy about the local operators who will farm the land on its behalf, the water sources available to that property, and a host of other due-diligence criteria the company won't budge on — all of which enable their investment team to ensure they offer only positive and sustainable investment opportunities to investors that benefit the planet at large.
"You're not just growing a tree," says Josiah Terrell-Perica, FarmTogether's director of farmland investing. "You have worms in the soil. You have birds. You have a whole group of other animals and things that are reliant on or impacted by what you do in the field. That's something we're very cognizant of, and so are our operators."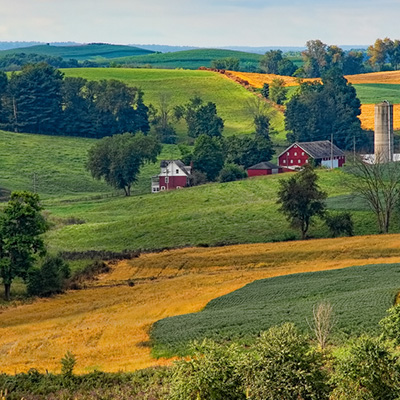 Farmland is one of the top asset classes capable of insulating your money from volatile market conditions. Learn how you can use FarmTogether to safeguard your portfolio.
Diversify now
13 sustainability principles The company has partnered with Leading Harvest, a nonprofit organization that has developed a certification program to verify farmland sustainability, enrolling 100% of their acreage in their sustainability standard
Its Farmland Management Standard is organized around 13 sustainability principles, including soil health, energy use, air quality and water management. And a societal component is meant to ensure producers are complying with labor laws and regulations as well as recognizing the rights of local communities and Indigenous peoples.
FarmTogether isn't alone when it comes to putting value on sustainability. A Morgan Stanley report found 83% of investors are interested in sustainable investments, and sustainable investing makes up a third of U.S. assets under management.
"We are proving the thesis that people care about this, about the sustainability factors, indicators and goals," says Terrell-Perica. "And they're willing to pay for it. Maybe your return is just a little bit less because you're going to invest in something that increases the (fertility of the soil) or you're doing some other project. People really latch onto that."
Sustainable earnings, too Thankfully, earning "a little bit less" on your investment isn't a big problem with this asset class. According to data from FarmTogether, farmland's rate of return over the last 47 years was 10.27%. That's better than average returns on real estate or stocks.
Narrow that down to the last 20 years and the numbers have been even stronger, with farmland investments yielding a return of 11.98%. That's compared to 8.68% for real estate and 8.78% for the Russell 3000 Index, a capitalization-weighted index that aims to be a benchmark for the U.S. stock market.
Those numbers have improved alongside technological advances that make sustainable farming practices not only possible, but profitable.
"By targeting our crop selection to the climate so that we can maximize what we grow, what leaves the field and goes to the grocery store, we've maximized that," says FarmTogether's Terrell-Perica. "We're leaving less in the field and it's more income for your investors, but you're also having a positive impact on the environment."
It's an approach that proves there's much more to being environmentally friendly than good PR.
"Our investors are rewarded by those good decisions every year through the yields they get and also at exit," Terrell-Perica says.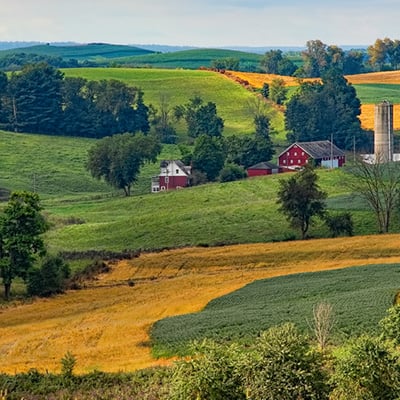 Farmland is one of the top asset classes capable of insulating your money from volatile market conditions. Learn how you can use FarmTogether to safeguard your portfolio.
Diversify now
Investing in a healthy future So how can you join the likes of Bill Gates and get in on the opportunity that farmland investing represents?
Historically, farmland has been a difficult asset class to buy into because most American farms are family owned and rarely for sale. But as more farmers retire and their children decline to take over the business, investors have a rare window.
You can get started by setting up an account with FarmTogether.
For now, the platform's investments are open only to SEC-accredited investors, but even if you're not accredited you can still sign up and access a sample of FarmTogether's tools and information.
As FarmTogether sees it, attracting investors who care about the planet — as well as their returns — is an ideal way to drive the industry forward. Prioritizing sustainability opens the door to investors concerned with issues like the California water shortage.
And with some 370 million acres of U.S. farmland expected to change hands over the next 20 years, this could be an opportune time to step in.
"We have a tremendous transfer of farmland that's going to be occurring over the next couple decades, and this is the time for the Americans and people that care about these missions and goals to take control," Terrell-Perica says. "If you care about this, you have an opportunity to do something about it."
Sponsored
Diversify your investments with farmland
You don't have to own a farm to profit off farmland.
Farmland has proven to be one of the most stable assets of the past few decades — and with FarmTogether, you're able to invest today. FarmTogether's platform gives accredited investors access to this exciting market, and one of the highest-yielding asset classes on a risk-return basis.
Sign up for FarmTogether to start investing in farmland.