Titan grows your money — and your knowledge
Whether you're allergic to investment apps or you've dabbled in a few too many, it's important to note Titan isn't like the others.
It's not one of those set-it-and-forget-it apps that are perhaps a bit too hands-off. Nor is it one of those apps that demands your constant attention — begging you to check your portfolio before the closing bell or setting you into a frenzy as soon as the hottest stock begins to tumble.
With Titan, a team of investment analysts works hard to grow your money. Their goal is simple: to outperform the market so you double your money every five to seven years.
But you're not left in the dark. Titan is big on educating and empowering their clients, so you get a front-row seat to watch their investment decisions and market moves unfold.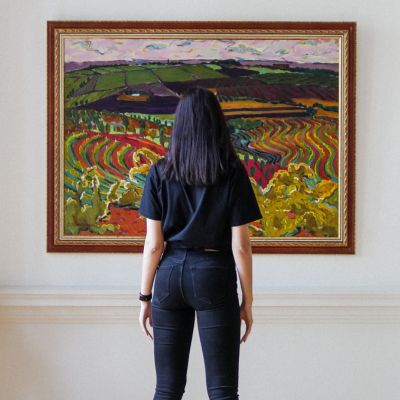 Contemporary art has outperformed the S&P 500 by 131% for the past 26 years. Join the exclusive platform to invest in million-dollar works by artists like Banksy, Basquiat, and more. Get started today and diversify your portfolio with art.
Learn More
How Titan works
When you download the Titan app and make a $100 minimum deposit, you can choose among established portfolios, including:
Flagship: made up of big-name companies Titan expects to outperform the S&P 500. Annualized return since its inception in February 2018: 20.4%.

Opportunities: made up of fast-growing companies Titan has identified as rising stars. Annualized return since its inception in August 2020: 61.4%.

Crypto: made up of actively managed crypto assets. Annualized return since its inception in August 2021: 329.8%.
Plus, unlike many investing platforms, Titan includes an option for what's called "downside protection" in your portfolio. That's usually through a hedge, a bet against the market that can mean gains in your portfolio even when the market takes a dip.
If you're not sure which route you'd like to take, let Titan's analysts recommend a mix based on your investing style, risk tolerance and the amount of money you're investing.
Then the Titan team gets to work on your behalf. They buy the stocks for you and make updates to your portfolio as needed. Throughout the process, you're never left in the dark. They explain each move with written, audio and video updates.
Start working with your dedicated investment team
Titan makes it easy to start investing. All you need to do is download the app and deposit a minimum of $100. The team of experts will walk you through the rest.
The fee you pay depends on your own portfolio. Automated investment strategies, for example, are free. Typically, other robo-advisors charge 0.25%.
If you want an actively-managed portfolio, Titan's fees are between 0.70% to 0.90% — depending on your total investments. The more you invest, the more you save.
More than 35,000 investors have used Titan — join them today.
Disclaimer: All information about investment strategies and performance is pulled directly from Titan's website. Please refer to that for the most up-to-date information.
Sponsored
Meet Your Retirement Goals Effortlessly
The road to retirement may seem long, but with WiserAdvisor, you can find a trusted partner to guide you every step of the way
WiserAdvisor matches you with vetted financial advisors that offer personalized advice to help you to make the right choices, invest wisely, and secure the retirement you've always dreamed of. Start planning early, and get your retirement mapped out today.