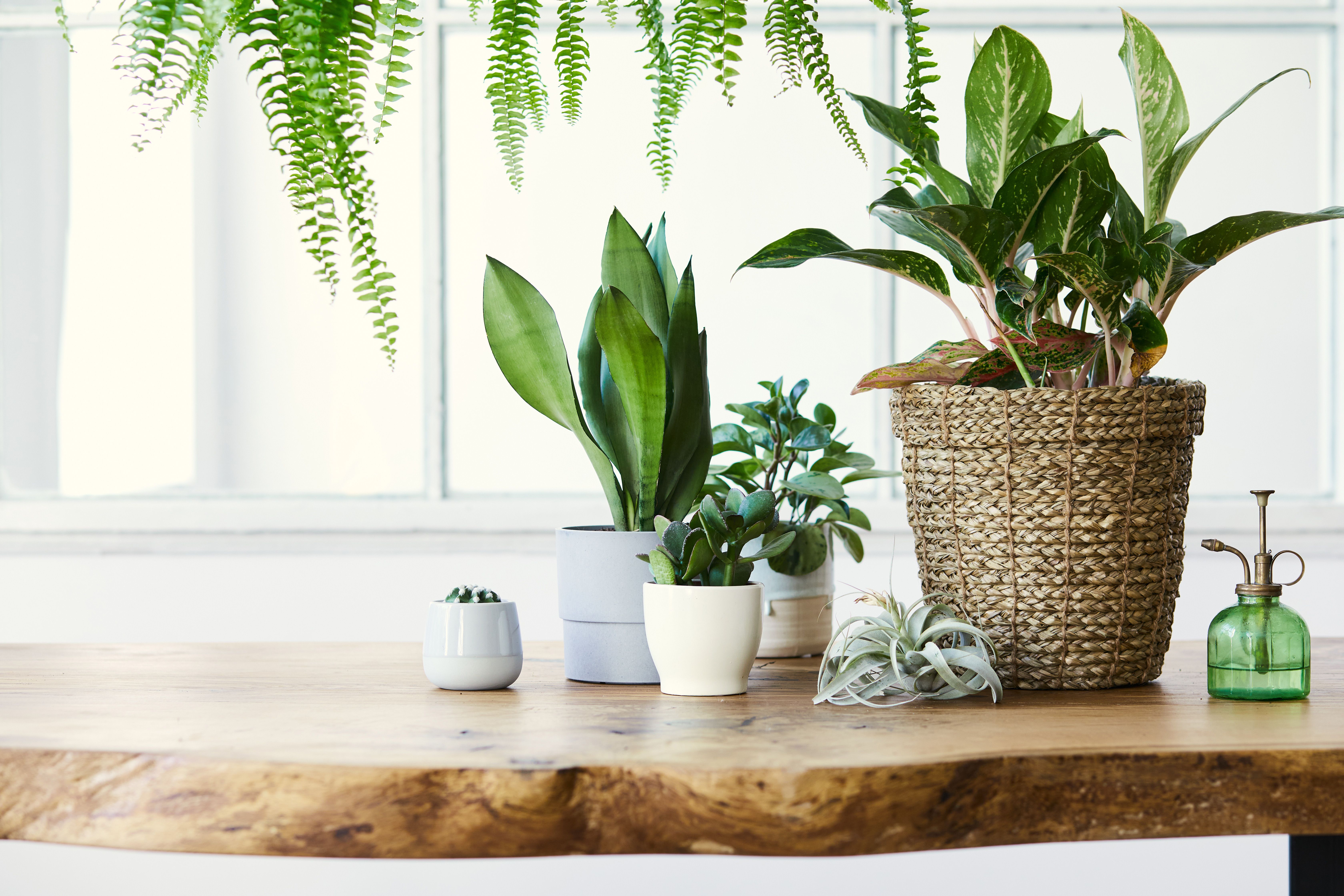 SeedInvest Review 2023: An exciting startup investing platform
followtheflow / Shutterstock
🗓️
Updated: July 11, 2023
We adhere to strict standards of editorial integrity to help you make decisions with confidence. Please be aware that some (or all) products and services linked in this article are from our sponsors.
We adhere to strict standards of editorial integrity to help you make decisions with confidence. Please be aware that some (or all) products and services linked in this article are from our sponsors.
In the past, it was nearly impossible for everyday people to invest in private equity. To get in on venture capital (VC) deals, you usually need immense capital and the right connections. And even if you find platforms that support equity-based investing, they're usually reserved for accredited investors.
But with SeedInvest, every investor can get in on some private equity action. With a $1,000 minimum investment amount and in-depth vetting process, this crowdfunding site provides access to quality startups you can add to your portfolio.
However, startup investing is incredibly risky. Our SeedInvest review is covering these risks, the pros and cons, and how to decide if this crowdfunding platform is worth using.
Pros
Open to non-accredited investors
A $1,000 minimum investment requirement, which is low for equity-investing
No active management fees for investors
Auto invest lets you invest on autopilot
Cons
Only a few opportunities are available at a given time
Investments are extremely illiquid and there's no secondary marketplace
What is Seedinvest?
SeedInvest is an equity crowdfunding company that began in 2012 with the goal of making private equity investments more accessible to everyday investors. Since then, the platform has grown to over 600,000 investors and helped 250+ companies raise over $410 million.
Historically, investing in startups has required working in venture capital and having an immense amount of funds at your disposal. But SeedInvest has a $1,000 minimum investment requirement for many deals, making the world of private equity significantly more beginner-friendly.
Who is SeedInvest for?
If you want to invest in vetted startups at the same terms as major VCs and angel investors, SeedInvest is for you.
Furthermore, the platform has investing options for both accredited and non-accredited investors, which isn't common for private equity. Non-accredited investors can face lower total investment limits than accredited investors that vary by deal, but SeedInvest is still more accessible than many alternative investment platforms.
Note that SeedInvest says it supports investors from around the world but depending on your local laws, you might not be able to invest with the platform. For example, Canadians aren't eligible to invest through SeedInvest currently, so it might not be available in your country.
How does SeedInvest work?
Startups pitch SeedInvest for the opportunity to raise funds. This lets companies access a pool of accredited investors, angel investors, family offices, venture capital firms, and institutional investors.
According to its website, companies have to pass a vetting and due dilligence stage to get listed on SeedInvest. Only 1% or so of companies make it, so the companies you find as an investor are the top-tier startups out there. And there are two different ways you can start investing.
Invest in individual startups
The SeedInvest website lets you browse available startups you can invest in. At the time of writing, there are seven opportunities and one upcoming startup.
What's nice about SeedInvest is that you find startups from a variety of sectors. For example, here are some of the current startup investing opportunities on the platform.
Cytonics Corporation: A biopharmaceutical company that's developing medications for osteoarthritis and other inflammatory conditions.
Drink Monday: A beverage brand that makes alcohol-free cocktails.
Fresh Bellies: A snack brand that creates healthy, savory snacks that are culturally-inspired.
iPost: A marketing automation company that focuses on franchises, associations, and publishers.
WAGE: A digital job networking platform for gig workers and their employers.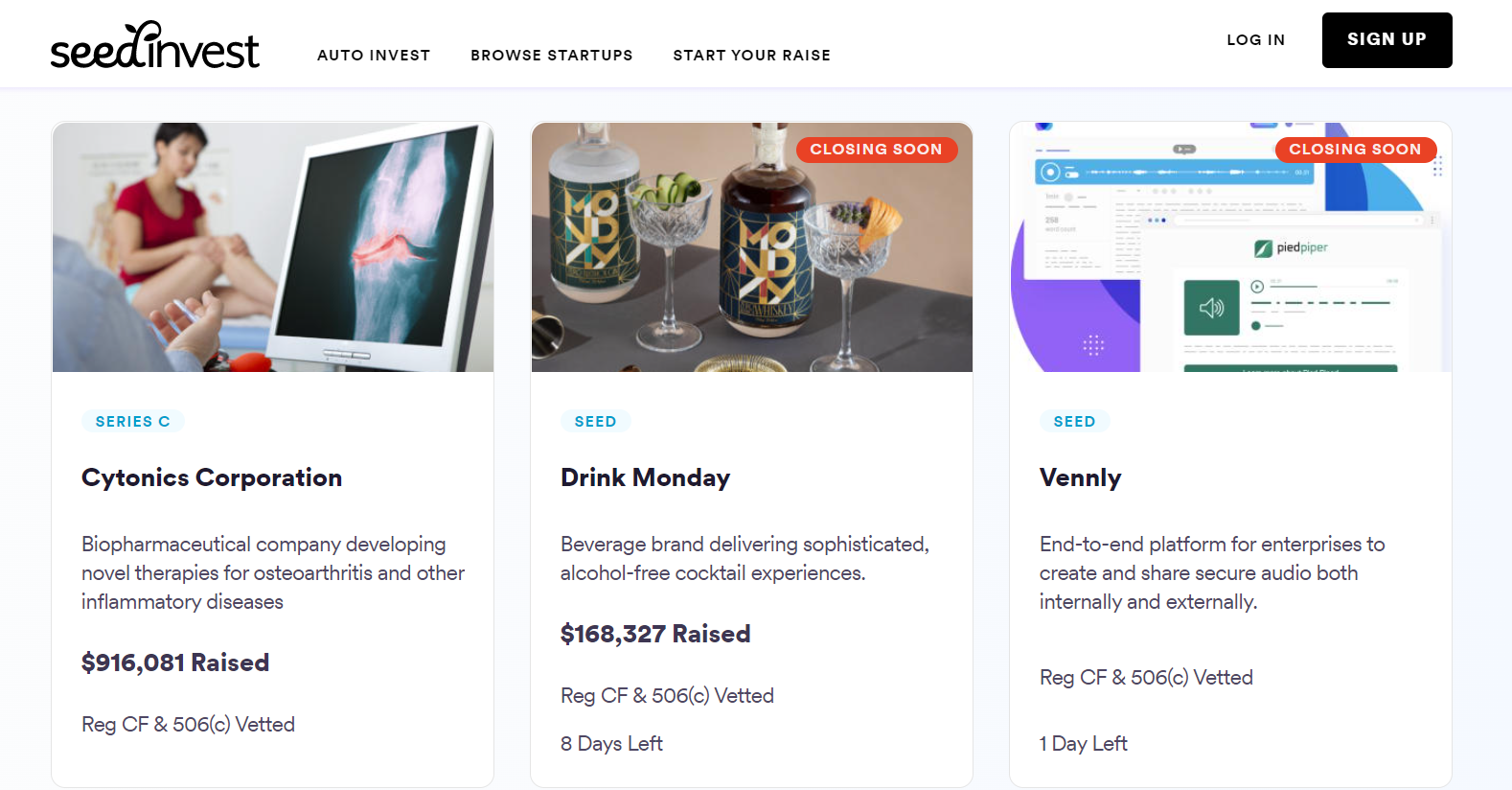 When you click on a listing, you can dive into additional information about the company to help with due diligence. For example, you see the amount raised, minimum investment requirement, and pre-money valuation. You can also read the terms sheet and information about previous fundraising, the pitch deck, founding team, and how proceeds will be used.
Of course, doing your own due diligence also makes sense since SeedInvest takes a cut from raises, so it has an interest in promoting these companies as best as possible. This means reading news reports, press releases, and doing as much investigative research as possible.
But at the end of the day, SeedInvest presents plenty of interesting startups to invest in. And its rigorous vetting process helps ensure you're only considering top candidates.
Invest on autopilot
SeedInvest's most unique feature is its Auto Invest feature that lets you create a diverse portfolio of startups. It's almost like a robo-advisor, just for private equity, which isn't something you can find too easily.
Here's how Auto Invest from SeedInvest works:
1.

Minimum deposit: Start with a $1,000 minimum deposit.

2.

Invest: Automatically invest in startups when they meet certain thresholds for their raise ($250,000 if under Regulation D/CF or $2 million if under Regulation A+). There's a minimum investment amount per-investment of $200, so your starting deposit can theoretically invest in five different companies with this starting amount.

3.

Allocate Funds: SeedInvest lets you set-up predetermined rules for how much you want to invest in new companies.

4.

Grow Your Portfolio: Steadily invest in a diverse portfolio of startups the longer you use Auto Invest.
You can pause or restart Auto Invest as well. And if there's a company you want to invest more money in, you can always invest through the main deal page. There aren't fees for using Auto Invest. However, you pay the standard SeedInvest 2% processing fee, capped up to $300 per trade.
SeedInvest fees and pricing
Investors pay a 2% transaction fee on SeedInvest that's capped at $300. This fee is returned if you invest in a company that doesn't end up completing its raise. And you don't pay management fees, carried interest, or administrative fees, which is different from most crowdfunding platforms.
The reason investors don't pay other fees is because SeedInvest charges startups a 7.5% cash fee of the value of securities purchased in a raise and a 5% convertible note or equity fee. For example, if a company raises $200,000 on SeedInvest on a $10 million cap crowd note, SeedInvest earns $15,000 in cash fees and $10,000 of the crowd cap note.
Historical performance
Since its inception, SeedInvest has helped over 250 startups raise capital. And if you read its case study page, you find some major success stories like Heliogen, which raised $1.6 million on SeedInvest in 2017 at a $20 million valuation and ended up going public in 2021 at a $2 billion valuation. There's also plenty of smaller companies that didn't reach unicorn status but still generated significant returns.
And when you look at some of the other investors in these companies, you find names like Bill Gates, Mark Cuban, and numerous VC funds.
In short, the companies that list on SeedInvest are within the very best startups out there. But as SeedInvest explains on its investor risk page, startup investing doesn't guarantee returns. In fact, there are significant risks, including complete loss of capital, dilution, and complete business failure.
Alternative asset investing like investing in startups is more exciting than sticking with stocks or ETFs. But you need to understand your risk tolerance and what percentage of your portfolio you want to potentially invest in startup equity. And never invest money you can't afford to lose since this is an incredibly risky investment, even if companies seem solid.
Liquidity
Your investments through SeedInvest are highly-illiquid investments. Startups are privately held companies, so you can't sell your shares through a public stock exchange. And SeedInvest doesn't have a secondary marketplace for selling shares either. Plus, companies don't have a requirement to pay dividends, so you might not see returns for a significant period of time until the company potentially goes public or buys back shares.
In other words, don't invest money into SeedInvest that you might need in the short term. This is a long-term investing strategy that is both risky and highly illiquid.
How to contact SeedInvest
You can contact SeedInvest by emailing contactus@seedinvest.com. There's also a live chat widget on its website once you create an account and login. Customer support is available from 9am to 6pm EST, Monday through Friday.
How to open an account
You open an account by entering your full name and email. You also have to confirm you're an accredited investor. The two most common ways to achieve accreditation status include:
Having a net worth of at least $1 million (excluding your primary residence).
Having an earned income of at least $200,000 (or $300,000 with a spouse) for the previous two years and a similar income expectation for the current year.
Investors also verify their account to unlock the full platform. This means entering your address, phone number, date of birth, and information about your employment status. Your funding activity is placed on hold until SeedInvest's compliance team verifies the information you submit.
Best alternatives
We like SeedInvest as a startup investing platform because of its vetting process and low fees for investors. But it's far from the only startup-focused crowdfunding site out there. And depending on your goals, several alternatives could be better options.
OurCrowd
Best for: Due diligence
Get started with OurCrowd
Like SeedInvest, OurCrowd is another crowdfunding platform that lets you invest in vetted, fast-growing startups. OurCrowd is also available to investors from around the world. And the unique selling point is that OurCrowd lets you invest in numerous startup funds so you can diversify your portfolio more easily.
You have to be an accredited investor to sign up, so keep this in mind. There's also a $10,000 investing minimum for individual deals; 10x higher than SeedInvest's minimum. But you get more selection, and OurCrowd has a strict vetting process and only accepts around 1% to 2% of applicants.
Note that OurCrowd charges investors variable management and administrative fees plus carried interest on profits. You can read our OurCrowd review for the complete breakdown.
YieldStreet
Best For: Alternative asset selection
Get started with YieldStreet
Yieldstreet is an alternative assets investing platform that sometimes includes offerings like pre-IPO investments. It also lets members invest in asset classes like artwork, debt, real estate, and crypto. There's a $2,500 entry-level fund that's available to non-accredited investors. Other offerings require accreditation and usually have a $10,000 to $15,000 minimum investment requirement.
We like Yieldstreet because it provides so many different asset classes to consider. If you want equity plus numerous other asset classes to move away from traditional investments, it could be the perfect platform.
The platform has seen a 9.71% net annualized return (IRR) since inception in 2014. Annual management fees vary by investment but can reach up to 2.5%, so this is one downside versus SeedInvest.
Mainvest
Best For: Small business investing
Get started with Mainvest
While Mainvest provides debt-based investing opportunities rather than equity-based investments, it's still an excellent alternative to SeedInvest for diversifying your portfolio.
With Mainvest, you help fund growing small businesses across the United States. In return, you receive regular interest payments from businesses until your loan is paid back and then some. Mainvest targets 10% to 25% returns for investors and only has a $100 minimum investment requirement.
The types of businesses you find on the platform typically includes breweries, cafes, restaurants, and other small local businesses. These aren't startups looking to reach a unicorn valuation. But you can still use Mainvest to diversify your portfolio and create a new income stream.
The bottom line
If you're looking for quality startups to invest in, SeedInvest is one of the best crowdfunding platforms out there. It's hard to find options that are available to non-accredited investors. Plus, the $1,000 minimum for many offerings means almost anyone can start investing. When you add in innovative features like Auto Invest, it's clear why SeedInvest is so popular.
Just remember: private equity investments are both extremely risky and illiquid. You should never invest money you need in the short term or money you can't afford to lose. And if you need guidance, don't hesitate to ask a financial advisor for more personalized advice.