For most investors and advisors, the benefits of investing in a mix of individual stocks, funds and bonds to build a diverse investment portfolio speak for themselves.
However, these traditional asset classes tend to be highly correlated with stock market trends, so "diversifying" across these assets may not offer the hedge against market volatility you're hoping for. Recent market volatility — and predictions of a pending recession — may have you taking notice.
You don't have to have your own Bloomberg terminal or compute complex formulas to determine the best ways to truly diversify your portfolio. We'll show you how one simple step, investing in farmland with FarmTogether, can help you achieve the kind of diversification you're looking for.
Farmland's low stock market correlation
Some asset classes have a low correlation to the stock market, making them useful as hedges against market shifts.
Farmland is one example. Data shows that farmland values haven't moved in tandem with the S&P 500 or Dow Jones Industrial index over the past 30 years, according to FarmTogether, a farmland investment manager. Notably, farmland did not tend to drop in value during recessions or other times when the stock indexes have lost value.
Using data from various investment indexes, here's how farmland stacks up against other major asset classes.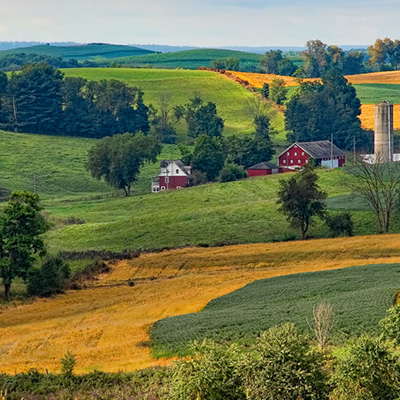 Farmland is one of the top asset classes capable of insulating your money from volatile market conditions. Learn how you can use FarmTogether to safeguard your portfolio.
Diversify now
Farmland vs. U.S. Stocks
With a -0.06 correlation to the stock market, farmland has historically had little to no relationship with market trends.
That means some farmland in your portfolio could add some stability to your investments and balance out losses when stocks take a dive. The reason is simple: People will always need to eat. While the stock market's day-to-day swings are largely fueled by speculation, long-term yields from farmland are inherently tied to the constant demand for agriculture.
Farmland vs. REITs
Real estate has long been a popular investment for those looking to diversify against the unpredictability of the stock market.
Recently, this popularity has led to the rise of real estate investment trusts (REITs), a way for investors to benefit from real estate returns without the huge upfront costs or management hassles. But because many REITs are publicly traded on a stock exchange, REITs can still be fairly highly correlated with U.S. stock values.
Consequently, REITs have a 0.45 correlation with U.S. stocks (compared with farmland's correlation of -0.06). Of the major asset classes, REITs have the highest correlation with U.S. stocks. Meanwhile, real estate, with a correlation to stocks of 0.19, has the second-highest.
Farmland, on the other hand, has historically been negatively correlated with REITs, with a -0.03 correlation. So when stock market and REIT values drop, farmland values could tick up a bit — or, because the correlation is so close to zero, at least remain unaffected. REITs are still non-physical financial assets — unlike tangible farmland — that tend to move in tandem with the stock market.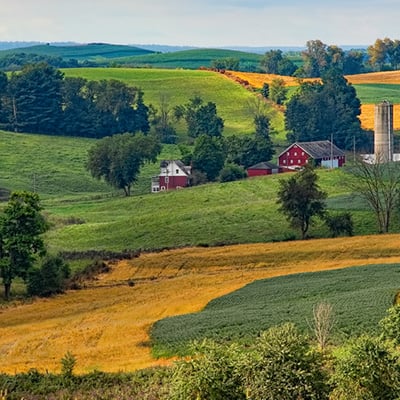 Farmland is one of the top asset classes capable of insulating your money from volatile market conditions. Learn how you can use FarmTogether to safeguard your portfolio.
Diversify now
Farmland vs. Bonds
Bonds have long been a go-to investment for stability. This is because, historically, bonds have had a neutral correlation with stocks, at 0.00. Because the two asset classes do not move in tandem, bond markets are often active during times of stock market volatility. But the bond market has also crashed in 2022, which could be concerning if you've got a portfolio of up to 40% bonds, as is common practice.
Farmland, on the other hand, has historically had a negative correlation with bonds, at -0.24. Because the two tend to move (slightly) in opposite directions, investors might diversify their portfolios with a balance of these types of investments, rather than sticking with the outdated rule of 40% bonds, to enjoy the relative stability of each asset against the stock market.
Know the WHY behind diversification The goal behind portfolio diversification is clear: Spread your investments across a variety of assets, sectors and businesses to avoid relying heavily on the performance of any one of them. But diversifying without considering correlation might not achieve what you're aiming for.
A mix of stocks and bonds in your portfolio is a good start. But recent swings in the stock market have shown that investors may need to consider further diversification to hedge against unexpected losses.
Investing in farmland through FarmTogether is an easy way to add a new asset class to your portfolio.
Through the platform, you can enjoy the benefits of owning farmland without the major hassles that used to come with it. FarmTogether takes care of the research to bring you offers that typically yield 6 to 13% returns with 2% to 9% cash yields. You can invest through crowdfunded offerings, the Sustainable Farmland Fund or gain sole ownership through bespoke investment management — all without ever putting your hands in the dirt.
Interested in adding farmland to your portfolio? Sign up for FarmTogether to get started today.
Sponsored
Diversify your investments with farmland
You don't have to own a farm to profit off farmland.
Farmland has proven to be one of the most stable assets of the past few decades — and with FarmTogether, you're able to invest today. FarmTogether's platform gives accredited investors access to this exciting market, and one of the highest-yielding asset classes on a risk-return basis.
Sign up for FarmTogether to start investing in farmland.