Portfolio diversification If bonds are behaving too much like stocks, it might be worthwhile looking into alternative investments that are not likely to behave the same way in the face of market fluctuations.
Real asset classes like timber, real estate, farmland and infrastructure, for example, have historically low correlations with public equity and public fixed-income markets, as well as to each other, helping to cushion portfolios in times of volatility.
Farmland
Demand for agricultural products, particularly food, tends to be stable across a full economic cycle.
As a result, farmland tends to move independently of the turbulent equities market, offering investors welcome diversification.
"The demand for food is inelastic, meaning it remains consistent throughout the year. In turn, the underlying land itself tends to hold its value, even if the values of stocks, bonds and other alternatives might fall," says Sara Wensley, director of growth and marketing for FarmTogether — a farmland investment manager enabling qualified investors to purchase stakes in U.S. farms.
In the last three decades, farmland has had a -0.06 correlation to stocks and -0.24 to bonds.
Timberland
Global timber markets have also remained strong amid growing consumer consumption and supply-chain constraints accelerated by the war in Ukraine.
"Important timber supplies are at risk of being removed from the global markets, which will likely cause a pullback from North American markets, leading to less competition from European suppliers and potential upward pressure on U.S. timber pricing," according to a private banking report from Bank of America.
"Investments in timberland, along with other real assets, demonstrated stable and favorable relative performance in volatile market conditions."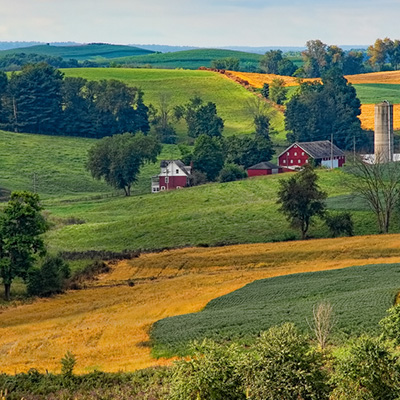 Farmland is one of the top asset classes capable of insulating your money from volatile market conditions. Learn how you can use FarmTogether to safeguard your portfolio.
Diversify now
Hedging against inflation Historically, the 60/40 portfolio has been hard to beat. This year, however, the ongoing pandemic, political instability in Eastern Europe, risks of a recession and — in large part — inflation have rattled financial markets.
The era of ultra-low interest rates and below-average inflation that boosted stocks and bonds is fading. Higher consumer and business costs have helped cause market volatility as investors attempt to gauge how inflation will impact corporate earnings and the broader economy.
"Inflation-adjusted returns on major asset classes are frequently negative during periods of higher inflation. As a result, returns on the classic 60/40 mix of stocks and bonds have often landed in negative territory during inflationary periods," writes Amy Arnott, a portfolio strategist for Morningstar Research Services.
With many signs pointing to continued inflation, investors may find refuge in real assets.
Inflation often affects asset prices and revenues of real assets, either through contractual inflation (directly) or economic drivers (indirectly), according to investment manager Cohen & Steers.
"This ability of real assets to counter inflation offers potential benefits to portfolios both in the short term, as prices climb, and in the longer term, should inflation rates continue to surprise to the upside," writes the company's Vince Childers, head of real assets multi-strategy.
Over the last 20 years, real assets have historically outperformed traditional investments in inflationary environments.
Farmland
Farmland as an investment, for example, has historically fared better than traditional asset classes when inflation is rising. This is because the prices for grain and other agriculture products often tend to rise in lockstep with inflation indices like the Consumer Price Index (CPI). As a result, the land that produces these commodities should rise in value, too.
Energy
Growth investments are often associated with technology or biotech. Yet for most of 2022, energy has been the only U.S. market sector to be in the black, says David Harrell, an editorial director with Morningstar Investment Management.
The sector is up over 63%, Morningstar reported in November.
Companies have been raking in record profits amid high crude oil, natural gas and gasoline prices.
Real estate
So-called core real estate properties — those in the best locations and with the strongest tenants — have historically been a stable source of income that tends to be uncorrelated with a traditional bond portfolio, according to JP Morgan Private Bank.
Rent increases can protect against inflation, too, the bank says.
Still, real estate markets have been strained amid the pandemic. That may, however, open up opportunities for distressed real estate going forward.
Preserving capital Risk-averse investors and those on the verge of retirement will often benefit from making the safest — and most boring — investments.
These include such products as high-yield savings accounts, money market funds and government bonds. But with the volatility of the stock market today, these formerly reliable investments are now far from boring.
Some alternative investments, however, can help bring stability to a portfolio, while also potentially boosting portfolio growth.
For nearly 30 years, real assets have provided similar or higher average annual returns than stocks, and with much lower volatility
"Including these assets in a diversified portfolio can help improve risk-adjusted returns," says Eric Menzer, senior portfolio manager with Manulife Investment Management.
Among its other benefits, farmland has proven to be one of the most stable assets of the past few decades.
"The supply of high-quality farmland is steadily declining while the global demand for farmland products is expanding exponentially," says FarmTogether's Wensley.
"As a result, most land currently in use is increasing in value — all while offering investors welcome diversification and historically reliable passive income."
Sponsored
Diversify your investments with farmland
You don't have to own a farm to profit off farmland.
Farmland has proven to be one of the most stable assets of the past few decades — and with FarmTogether, you're able to invest today. FarmTogether's platform gives accredited investors access to this exciting market, and one of the highest-yielding asset classes on a risk-return basis.
Sign up for FarmTogether to start investing in farmland.