What is infinite banking?
As Ramsey and his caller discussed, the infinite banking concept (IBC) involves using a cash value life insurance policy, such as whole life or universal life, as a source for borrowing money that cuts ties with the banking system.
To follow this concept, a policyholder borrows money against their policy instead of from a bank. The loan, an advance on the policy's death benefit, is then paid back with interest and potential tax penalties.
Stop overpaying for home insurance
Home insurance is an essential expense – one that can often be pricey. You can lower your monthly recurring expenses by finding a more economical alternative for home insurance.
SmartFinancial can help you do just that. SmartFinancial's online marketplace of vetted home insurance providers allows you to quickly shop around for rates from the country's top insurance companies, and ensure you're paying the lowest price possible for your home insurance.
Explore better rates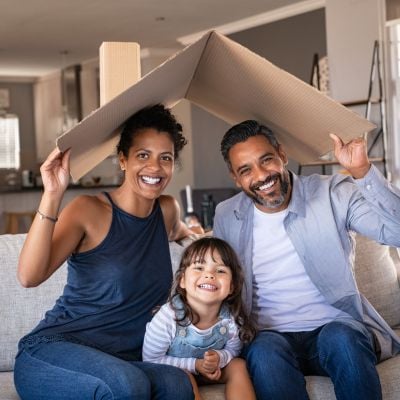 Is infinite banking a scam?
Infinite banking is a complicated financial concept and thus surrounded by misconceptions. Like many others, Jim from Nashville incorrectly believes it to be a solid wealth-building strategy.
What's more, borrowing from an insurance policy rather than a bank introduces a unique set of problems. These loans don't have set repayment schedules, for example, but they do accrue interest.
Here's what you should know about borrowing from an insurance policy:
Pros
Easier to secure than a bank loan, especially if you have bad credit.
May only take a few days to receive funds.
Interest rates may be lower than other loans.
Cons
You may need to pass a physical to qualify for an insurance policy.
Policy loans can decrease the death benefit.
Premiums can run significantly higher than comparable term policies
Payment issues can result in losing your policy and/or paying tax penalties.
Interest rates may be variable and fixed rates can be high.
Borrowing limits are often capped at a percentage of the cash value.
It can take years to accrue enough cash value to take out a significant loan.
Is Dave Ramsey right about infinite banking?
Ramsey is not a qualified tax adviser or a financial adviser, but he does share helpful information on infinite banking. Here's what he got right and wrong during the call.
Right: The cash value of a whole life policy usually dies with you
Ramsey asserted that the cash value of the whole life policy (along with outstanding loan balances) is not included in the death benefit. You may, however, opt to pay higher premiums for a policy that adds cash value to the death benefit.
Right: A mutual fund is a better choice than a whole life insurance policy
Experts generally concur that whole life insurance is not a good investment, because it is in fact not an investment vehicle at all.
While Ramsey's figures are slightly off — Forbes Advisor placed the average whole life dividend as of June at 4.65%, versus Ramsey's 4%, for example — mutual funds have the clear advantage. Ramsey also correctly points out that unlike mutual fund dividends, insurance dividends result from overcharges.
Wrong: Banks don't purchase whole life life insurance
Ramsey says that banks aren't allowed to buy whole life insurance. In truth, national banks can purchase bank-owned life insurance (BOLI), including whole life policies. While some banks hold these policies for their employees, BOLIs are generally held for tax purposes and/or as employee benefits rather than as investments.
Sponsored
Unexpected vet bills don't have to break the bank
Life with pets is unpredictable, but there are ways to prepare for the unexpected.
Embrace Pet Insurance offers coverage for treatment of accidents, illnesses, prescriptions drugs, emergency care and more.
Plus, their optional wellness plan covers things like routine vet trips, grooming and training costs, if you want to give your pet the all-star treatment while you protect your bank account.