Portugal
For individuals who want a well-connected European base, Portugal is a top pick. Affordable cost of living, warm climate, and proximity to North America are all big draws. There are also multiple ways to obtain residency, which is a very attractive factor for individuals who want to stay long-term.
A one-bedroom apartment in Lisbon averages at around $1000 per month, a monthly transit pass is about $39, and you can find local beer for under $2. Keep in mind that this is a country average and bigger cities, like Lisbon, will be more expensive. It's also worth noting that the cost of electricity and fuel is higher in Portugal than in many other European countries. So, while some living costs may seem cheap, others will likely cost more than you are used to.
Other downsides of life in Portugal include over tourism which can be very apparent in cities like Lisbon and Porto, especially during the summer months. Large import fees for anything coming outside of the EU, the slow pace of life, and the language difference. While English is widely spoken, learning Portuguese is a must if you plan on staying long-term, especially for navigating bureaucratic processes such as visa applications.
Brittany Kulick has been in Lisbon for over a year now and is working toward residency. She loves the variety that the country offers.
"Portugal has it all-from beaches to cities to quaint medieval villages, there's so much to explore," she says.
However, a word of advice for self-employed freelancers, the tax situation can be tricky to navigate. U.S. citizens can spend up to 90 days in Portugal on a tourist visa. But if you would like to become a resident there are several options including the Golden Visa Program where you invest in Portugal or a D7 visa, which allows you to apply for residency after five years.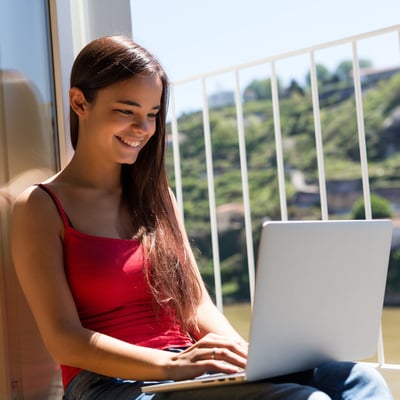 ZipRecruiter helps you secure the job of your dreams faster than ever. Speed up your job search today.
Get Started
Costa Rica
Central America is a popular place for travellers and digital nomads thanks to low costs, stunning scenery and adventure opportunities. Longer-term stays here just got easier as well thanks to Costa Rica's rentista visa for digital nomads.
If you are self-employed and can prove that you make a fixed income of at least $2,500 per month, this visa will allow you to open a business or freelance in the country. The rentista visa is valid for two years and can be renewed as long as you continue to meet requirements. Once you have been living in Costa Rica with a residence permit (issued through the rentista visa) you can apply for permanent residency.
So, what is the cost of living in Costa Rica? A one-bedroom apartment in a central area will cost, on average, about $491/month, public transportation for a month will be about $35, and a domestic beer is around $2.41. While this may seem very affordable, digital nomad Sky Fisher warns that Costa Rica is only cheap if you are willing to live like the locals. For individuals who come to Costa Rica and want to live in a gated condo community and keep up with their North-American lifestyle, it's going to be tough to save money.
That being said, if you are looking for a laid-back "Pura Vida" (simple life), then Costa Rica is the place to go. From beaches to volcanos, cloud forests and more, Costa Rica has an island feel that keeps digital nomads, like Sky, wanting to stay a little longer.
Georgia
Georgia has recently become a popular destination for digital nomads. Mountains, historic cities, and wine regions make this an attractive destination, but perhaps the biggest draw of Georgia is the relatively low cost of living. A single-bedroom apartment in the heart of the Tbilisi city centre can cost as little as $711 per month, a monthly public transit pass will only put you back about $14, and a local beer is around $1.60.
While Georgia can be an affordable place to live, you also need to keep in mind that the post-Soviet country comes with some downsides. Most notably, the infrastructure is dated and the quality of apartments and accommodation options are below what most North Americans are used to. While Georgia does have universal health care, the health care is a recent development, starting in 2013. Many expats opt for private insurance.
It is also worth noting that while Georgia directly prohibits discrimination against all LGBTQ people, it is a very religious country and can be less accepting culturally. Another important thing to know is that due to it's location, the war in Ukraine has lead to a large influx of refugees to Georgia. This has put a strain on housing in larger cities like Tbilisi and Kutaisi.
The U.S. Department of State does advise American travellers to avoid the Russian-occupied Georgian regions of South Ossetia and Abkhazia due to risk of crime and civil unrest.
Richelle Gamlam has lived in Tbilisi, Georgia for over two years now running her online coaching business.
"If you want to live abroad long-term, Georgia has the easiest year-long visa process of any country I've ever seen," she says.
While Richelle admits that the time zone of Eastern Europe to North America can sometimes be challenging, she loves the lifestyle and can't see herself leaving Georgia anytime soon.
So, just how easy is it to stay in Georgia? A free tourist visa allows you to stay for up to one year. Once that year is up, you can leave the country and return to start another year. The government doesn't mind digital nomads working remotely, but if you stay more than six months you are expected to pay taxes.
Sponsored
Apply for your dream job in one click
Looking for a new job can be a time consuming process.
Rated the #1 job search site, ZipRecruiter helps you secure the job you've always wanted faster than ever. With its one-click apply feature and AI-driven smart matching technology, ZipRecruiter makes the process easy. Employers can even invite you to apply for their jobs.
Speed up your job search and check out ZipRecruiter today.