Watch out for markups and dealer-installed options
Higher interest rates are supposed to cool the market down, but the new car market remains hot.
A recent Washington Post article even said that America is "experiencing a Soviet-style new-car shortage."
And that means dealers are in no hurry to get new cars off their lot. In fact, for factory orders of some popular models, customers have to wait months and in some cases years before seeing their new cars on their driveways.
That also means if you want to drive a highly sought-after vehicle off the lot immediately, many dealers will charge a markup.
The amount can be significant. According to markups.org, a crowdsourced website made up of consumer posts sharing dealer markups, a Ford F-150 Lightening is shown to have an MSRP of $79,864 and a "market adjustment" of $60,000 at a dealer in California.
Other than markups, you should also watch out for dealer-added options. These add-ons include things like paint protection, fabric protection, and undercoating and can run upwards of $1,000.
You can purchase these add-ons if you actually want them, but don't accept them just because the dealer says 'we add them to every car."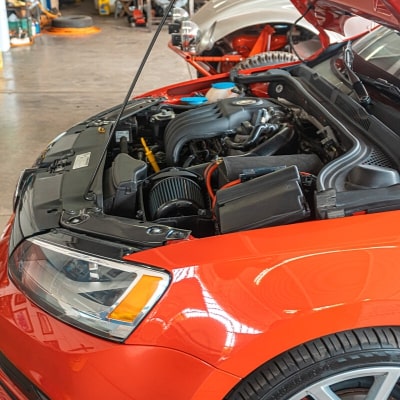 Get the right coverage for all your vehicles and pay less. Compare quotes in minutes with Pretected.
Get a Quote
You don't have to finance it (if you don't want to)
In the old days, if you wanted to pay the full price for a car upfront, you'd expect the salesperson to accept your check happily. But things might work differently now.
Customers increasingly report being forced to use financing even when they have enough money to pay for the car. The reason is that by financing a vehicle, the dealer can earn a healthy commission from the lender.
Remember, we live in a time of new car shortage so some dealers may not want to sell a car to you at MSRP. Plus, interest rates on new vehicle financing have climbed substantially — the lender won't earn those rates if customers pay in cash.
Of course, it's okay if you decide that financing is the best option for getting your new vehicle. But if you want to pay for the car in cash, you should stand by your decision. If the dealer requires you to finance the vehicle, walk out and find another dealer.
More: Car loan calculator: Estimate your monthly payments
Know the running costs
Cars are getting expensive. The average transaction price for a new vehicle was $46,991 in October according to Edmunds, up 3.1% year over year. But the price of your new car isn't the only thing you should be aware of — you should also pay attention to its running costs.
According to motoring membership giant AAA, the average yearly cost to own and operate a new car in 2022 is $10,728.
This amount includes depreciation, finance costs, fuel, insurance, license, registration and taxes, and maintenance and repair costs when driving 15,000 miles per year.
There are fees that you simply can't avoid — like license, registration, and taxes. But you can find ways to lower costs in other categories.
Some cars depreciate less than others. Some cars are also cheaper to maintain and require fewer repairs. And given how high gas prices are these days, you might want to get a more fuel-efficient vehicle than a gas guzzler.
Then there's insurance.
Obviously, your premiums will depend on many factors other than the make and model of your new vehicle, such as age, driving history, use, and where you live. But it can be hefty: AAA estimates that the average cost of full coverage insurance is $1,588 per year for a personal use vehicle by a driver who's under 65, has more than six years of driving experience, no accidents, and lives in the suburbs or city.
If you think you are paying too much for your car insurance policy, you might want to compare car insurance and save up to $500 a year.
Sponsored
Compare car insurance and save up to $500 a year
If you haven't compared car insurance recently, you're probably paying too much for your policy. Getting quotes from multiple insurers used to be time-consuming, but today's technology makes it easy.
Using a free site like Pretected is easy and could help you save up to $500 a year on car insurance. In mintues, their "smart matching" system will provide tailor-made quotes from insurers that can meet all of your coverage needs - and your budget.
Stay protected on the road and find more affordable car insurance in minutes with Pretected.