The audience erupts in laughter, amused by the inefficiency of the Soviet system. But as American Enterprise Institute senior fellow Marc Thiessen recently pointed out, the American automobile system of today isn't that far off from the old Soviet ways.
In an op-ed for the Washington Post, Thiessen writes that he was reminded of Reagan's story when he saw reports that America is "experiencing a Soviet-style new-car shortage."
The author attributes the shortage to several factors, including supply chain disruptions, semiconductor shortage, labor shortage and "the historic inflation the Biden administration unleashed that is dramatically raising supply costs."
Waiting two years… for a Toyota?
Of course, some vehicles have always had long wait times. If you place an order for the latest flagship model from Ferrari, it will likely be several years before you can drive it home and park it in your driveway.
But now mass market vehicles are coming with long waits too. According to automotive marketplace and membership platform YAA, the wait time for Honda factory orders is about four months. And if you want the new redesigned Civic, prepare to wait six months.
At Ford, the wait time is usually between four and six months for customers who order a combustion-powered vehicle. For the company's electrified lineup, you'll have to be more patient: expect to wait six to eight months for a Ford Mustang Mach-E and at least one year for an F-150 Lightning.
Toyota, which has received a number of J.D. Power awards for quality and dependability, is also seeing some long wait times. If you want to buy a RAV4 Prime or a Prius Prime, you can expect it to take 18 months to two years.
More: Car shopping? How to ditch the dealership and buy online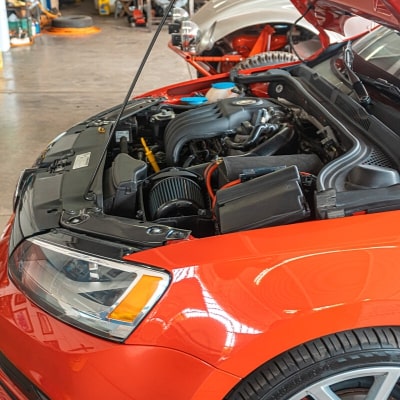 Get the right coverage for all your vehicles and pay less. Compare quotes in minutes with Pretected.
Get a Quote
If you don't want to wait
For those who don't want to wait — or can't wait because they need a car right now — there is a solution: pay more. After all, this is America.
If you want to drive a highly sought-after vehicle off the lot on the same day, many dealers will happily sell it to you — at a markup.
Again, markups on hot cars have long been an issue. Ask anyone who bought a new Mercedes G Wagon or a Porsche 911 GT3 in recent years.
But these days, even non-luxury/performance vehicles are seeing dramatic markups.
According to markups.org, a crowdsourced website made up of consumer posts sharing dealer markups, a 2022 Honda Accord Hybrid Touring model has an MSRP of $38,600 and a "dealer markup" of $6,000 at Clawson Honda of Fresno in California.
At Roseville Toyota in California, a 2022 Toyota Sienna XLE AWD is shown to have an MSRP of $43,065 and a "dealer-added markup" of $19,995.
Given how enthusiastic consumers are about electric cars these days, it's no surprise that the latest EV models command some of the biggest premiums.
Case in point: at Aaron Ford of Poway in California, a Ford F-150 Lightning is shown to have an MSRP of $79,864 and a "market adjustment" of $60,000.
In other words, if you have enough money, you don't need to wait months and years for a new car — and you can probably get someone to fix your plumbing right away, too.
More: Car loan calculator
Sponsored
Compare car insurance and save up to $500 a year
If you haven't compared car insurance recently, you're probably paying too much for your policy. Getting quotes from multiple insurers used to be time-consuming, but today's technology makes it easy.
Using a free site like Pretected is easy and could help you save up to $500 a year on car insurance. In mintues, their "smart matching" system will provide tailor-made quotes from insurers that can meet all of your coverage needs - and your budget.
Stay protected on the road and find more affordable car insurance in minutes with Pretected.