Tax evasion is a major problem
The commissioner for the IRS, Charles Rettig, said last year that the IRS loses about $1 trillion annually to tax evasion.
The IRS is expected to crack down on people and businesses cheating on their taxes, and some people were worried that means it would be taking a closer look at small businesses and households.
But Treasury Secretary Janet Yellen dispelled those fears.
She sent a letter to the agency in support of its overhaul, asking that additional resources not be used to audit more businesses or households below the $400,000 income threshold.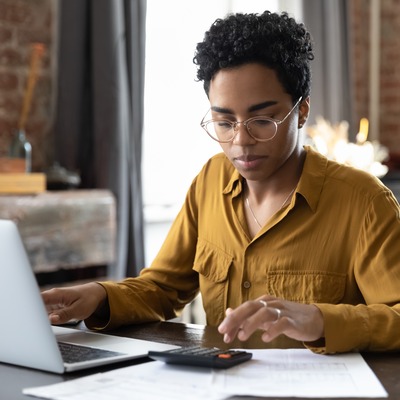 File taxes on your own or get expert help to get the biggest tax refund. Find your tax solution and file today with TurboTax.
Get Started
Bringing down the backlog
The funds are also expected to be used to improve the IRS's customer service and update its antiquated computer systems. The agency's processing system is 60 years old and it still uses a lot of paper to get things done.
Erin Collins, who leads the Taxpayer Advocate Service, which acts as an IRS watchdog, has said that most delays people are facing are coming from returns that were filed by paper.
In 2021, the agency got nearly 17 million Form 1040 paper returns, and millions more business returns were filed on paper, and it's still working on that backlog.
Edward Karl, vice president of Tax Policy and Advocacy for the American Institute of Chartered Professional Accountants says that some people who filed a return by paper during the pandemic and then an e-filed return the subsequent year, had trouble getting their paper return completed by the agency.
"And the IRS didn't process the paper return yet," says Karl. "So the overpayment on that paper return that they claimed on the file return is generating notices."
A notice can mean a lot of things — you might have a balance due, or you might be owed a refund, or have to pay a late fee.
Things have gotten to a tipping point at the agency, with some saying that backlog is at least part of the reason the IRS canceled late payment fees for 2019 and 2020 returns.
Since the IRS hasn't said just how big the backlog is, it's hard to say how long it will take to get rid of it, said Karl.
"The commissioner promised at one point to get to normal levels, and he promised healthy levels, and we don't know what their definition of normal or healthy really is, right?" Karl said.
But Karl is hopeful the massive injection of funds will go a long way in helping the beleaguered agency.
"I can't help but believe that $80 billion [would] help it. It's hard to believe that it won't. That's a significant amount of money," said Karl.
Sponsored
You're not alone this tax season
Tax season can be daunting. That's why H&R Block takes the guesswork out of taxes.
With step-by-step guidance, real-time results, acess to on-demand tax experts, and more, you can know what to expect when you finish.
Get started for free today with H&R Block and get your max refund guarantee.