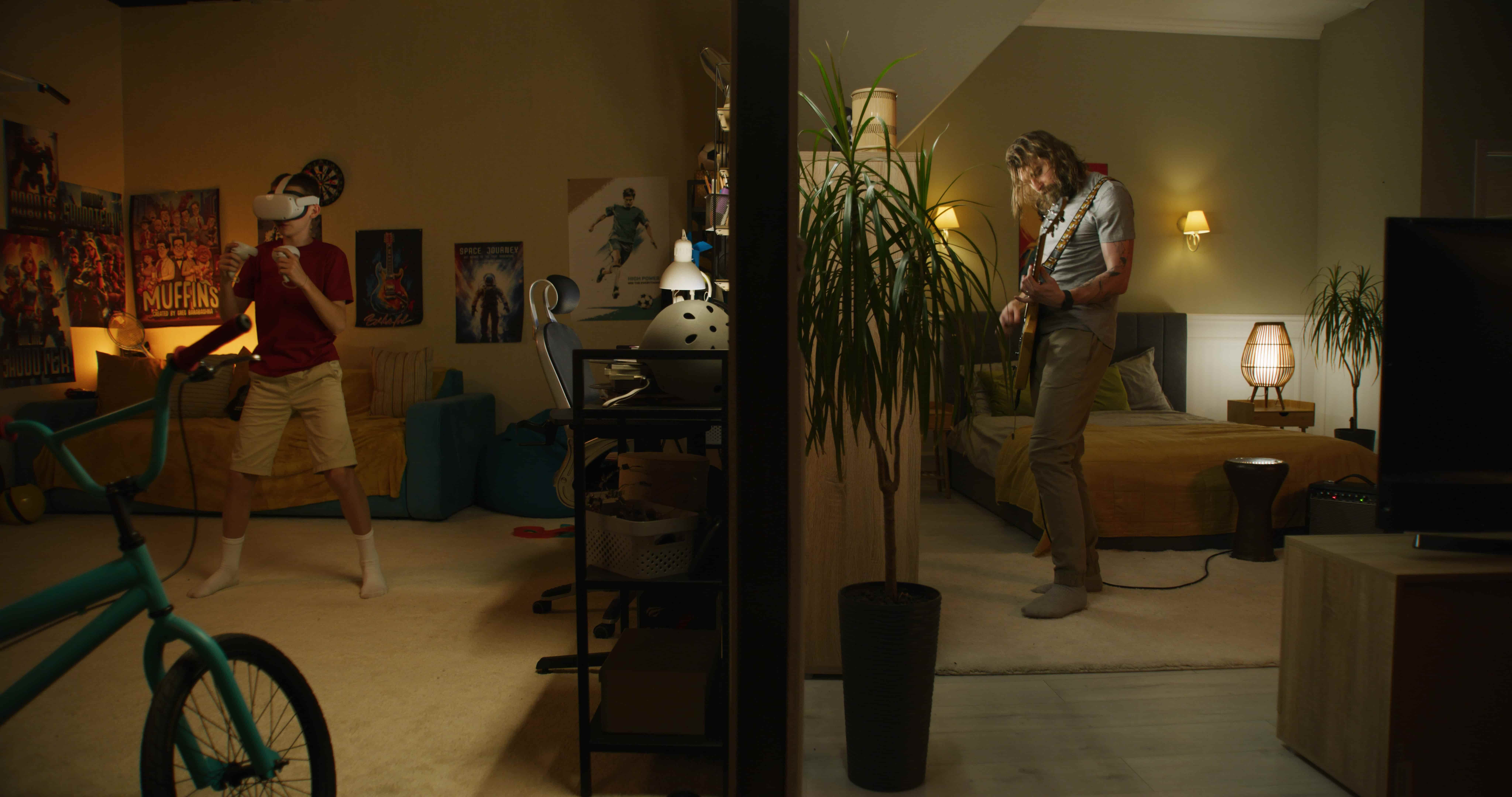 Fractional app review: Would you co-own a property with strangers?
Frame Stock Footage / Shutterstock
🗓️
Updated: October 06, 2022
We adhere to strict standards of editorial integrity to help you make decisions with confidence. Please be aware that some (or all) products and services linked in this article are from our sponsors.
We adhere to strict standards of editorial integrity to help you make decisions with confidence. Please be aware that some (or all) products and services linked in this article are from our sponsors.
Fractional real estate investing invites a whole new class of investors into the wealth-building world of property ownership by shrinking the capital needed to diversify (and get started).
But at the same time, it's also introduced a new problem: Who the heck am I going to buy this property with?
Luckily, Fractional has arrived to help investors find properties and co-buyers. By infusing elements of Discord, Reddit, and even dating apps, Fractional aims to connect like-minded investors to buy and co-manage high-upside properties.
But how does it all work? What are the pros and cons? And will the SEC approve?
Let's investigate Fractional.
Pros
Excellent website and UI — With a design that seems inspired by Slack, Discord, and more, Fractional has one of the cleanest and most intuitive user experiences in the real estate investing world.
Solid quality control — Fractional maintains rigorous standards for all incoming property proposals, including a one-on-one meeting with the leadership team.
(Presumably) SEC-approved process — Fractional reports working with SEC lawyers, presumably to ensure they don't run afoul of securities law — something every fractional real estate investing platform should be doing.
Properties exist as LLCs — Fractional generates an LLC for each closed property, ensuring any possible funding or legal issues the company faces won't impact past investors.
Cons
Scalability concerns — Fractional's team is extremely hands-on with each property, from proposal to post-closing. It's unclear how this process could scale while maintaining the platform's quality control.
Limited property selection — Investors looking to diversify their portfolio with a dozen different partial deeds may have to look elsewhere.
Staff lacks real estate experience — Except for one former RE investor with three years of experience, most of Fractional's employees — including its co-founders — lack real-world RE experience.
What is Fractional?

Visit Fractional ►
Quick Facts
Fractional is a San Francisco-based real estate investing platform that lets friends (and strangers) invest in real estate together.
After graduating from Y Combinator's Winter 2021 class, Fractional secured an additional $5.5 million in funding from Will Smith, Kevin Durant, and various VCs for a total valuation of $30 million.
As of Q4 2022, the platform is still in a quiet beta: inviting users, accepting feedback, and helping investors close on over 100 properties together. You can head to Fractional.app right now and join them.
How does Fractional work?
Here's a detailed breakdown of how Fractional works:
1. Create an account and socialize
Your first step as an investor on Fractional will be to create a profile. Signup is easy and involves you answering a few basic questions about your location, goals, and even a short, friendly bio to introduce yourself to other investors: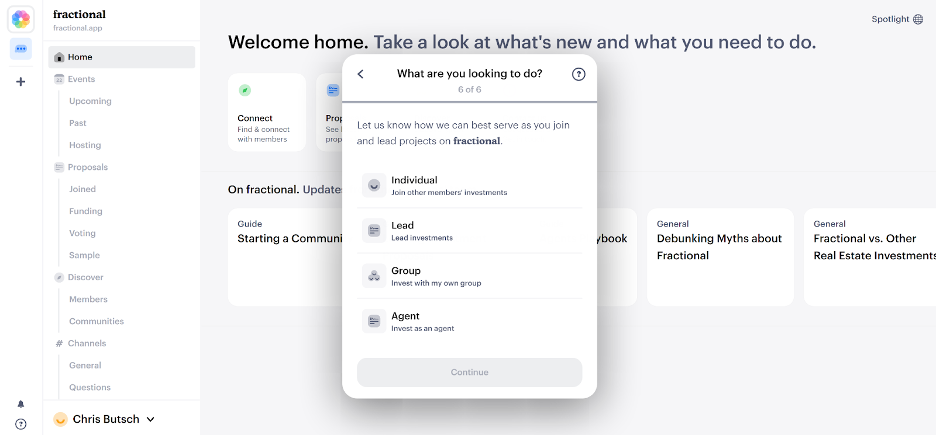 Your next step will be to connect with other users on the platform through Communities, which are like Fractional's version of chat rooms or subreddits.
Suppose I were looking to co-own a multifamily property, for example. In that case, I might join the Multifamily community to find other investors and view a list of all of that Community's proposals: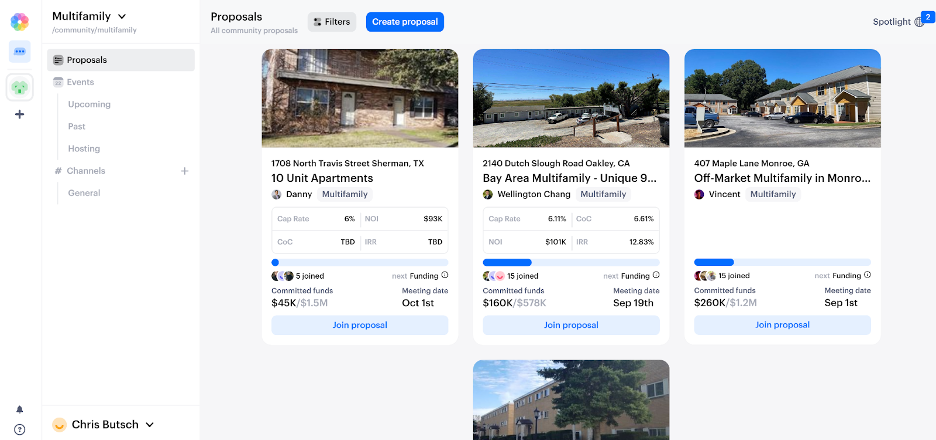 2. Browse proposals
Once you've made some connections, joined some Communities, and otherwise planted your feet, your next step is to browse proposals.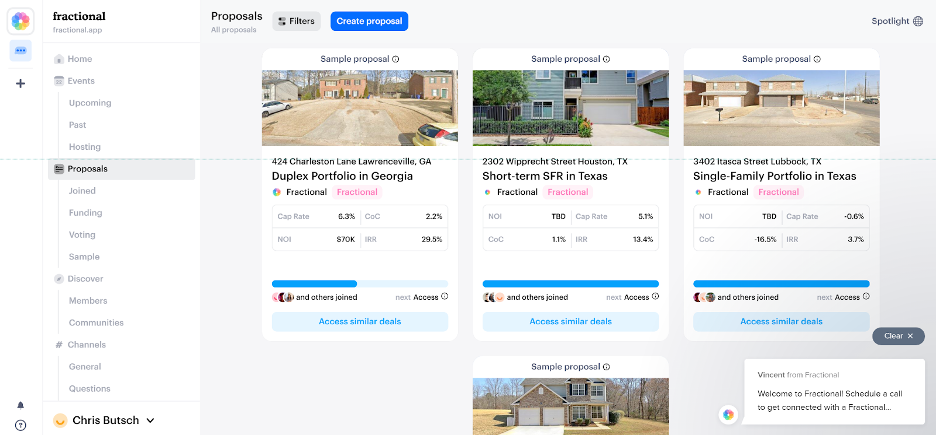 Proposals come from Fractional staff, agents, and other investors. Once submitted, proposals go through four stages:
1.

Interest: Users essentially "like" the property and share how much they'd commit if it graduated to the Funding stage.

2.

Funding: Interested users put their money where their mouth is and submit a cash deposit to raise capital for closing.

3.

Closing: Fractional uses the collected funds to close the property, set up an LLC, and submit partnership operating agreements for signing.

4.

Closed: When you and your fellow investors officially become co-owners and co-managers of the property.
As of late 2021, Fractional users closed on 95 properties together — although I couldn't find an updated count for Q4 2022. And since the proposals are scattered across invite-only Communities, I couldn't gauge exactly how many total were available at the time of this writing. But if I had to guess, I'd say it was around 25.
3. Fund proposals
Thanks to rigorous standards for submitting proposals (which includes a meeting with the Fractional team), each property listing comes with a healthy amount of due diligence.
You'll see key data like:
Overview of the property and surrounding areas
Demographics
Nearby employers
New construction/trend data
About the neighborhood
Rent vs. own analysis
Crime statistics
Financial breakdown and forecasting
Rent comps
Appraisal reports
Property manager info
And more.
In true Fractional fashion, there's a chat window up top where you can chat with other investors and submit questions directly to the proposal owner.
When you're ready to invest in a proposal, you'll click "Join proposal" and tell others how much you're willing to invest: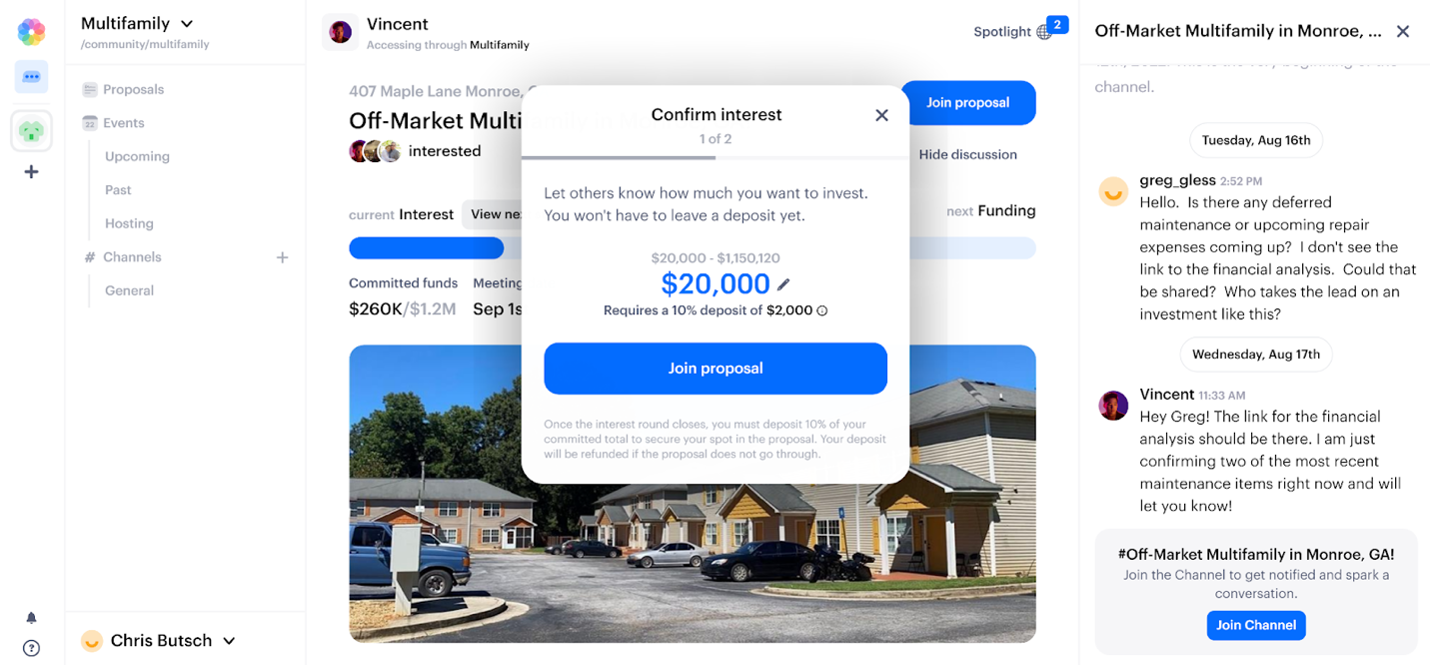 Investments on Fractional start at $5,000. Here, we can see it's $20,000, given the high valuation of the property ($1.2M).
Click "Join proposal" if you're interested and willing to invest $20,000. Nothing comes out of your account yet:
If the proposal reaches the Funding stage, you'll be required to submit a 10% deposit or $2,000 in this case.
If the proposal reaches the Closing stage, you'll be required to submit the remaining $18,000.
You'll be refunded your deposit If the proposal fails to reach Closing.
4. Agree to co-ownership terms
Once the investors fund the property, Fractional will file for an LLC, submit the offer, and if all goes well, the property will go under contract.
While it's under contract, Fractional will also set up a call with the future co-owners to establish a custom co-operating agreement with their "team of real estate and SEC lawyers." They claim this step saves the co-owners "time and thousands of dollars" by not needing to involve their own real estate attorney.
5. Close the property together
You and your fellow co-investors have until three days before closing to deposit the rest of the funding and sign the custom co-operating agreement.
As for mortgage financing, Fractional partners with lenders to offer short- and long-term loans to cover solely your equity in the property. This is a nice touch since the LLC structure means no single co-owner has to become a personal guarantor for the entire loan of the whole property.
That option is higher interest; however, Fractional will also help your group secure a conventional mortgage with everyone on the title for the lowest possible rates.
6. Manage your investment with the other co-owners
Fractional's user dashboard lets you:
View and manage your property investments
Chat with your fellow co-owners
Automatically collect rent payments via ACH transfer
Vote on property management decisions (repairs, remodels, etc.) with your co-owners
Regarding voting, Fractional will appraise the home value and rent increase so that co-owners who choose to fund the repair/remodel will receive a proportional equity increase.
What are Fractional's fees?
Fractional pays its bills by collecting two types of fees:
A one-time fee of 3.5% of the property's closing value
A recurring monthly service fee of 2% of the rent
It's worth a quick reminder that Fractional does not provide property management services. However, it claims that its property management "partners" give a discount to Fractional users, charging just 6% of the monthly rent versus the standard 8% to 12%. Notably, they also provide a year of eviction services free of charge.
Historical performance
From what I can tell, Fractional seems more interested in connecting investors than maximizing their returns.
Sure, there's an intense vetting process to ensure that properties are viable and have a high upside. But Fractional doesn't boast about returns (yet) — just the quantity of properties they've helped investors buy together, which was 95 in Q4 2021 and has surely passed well into the triple digits by now.
So, all things considered (including fees), you're not poised to earn more or less using Fractional. But you're almost guaranteed to have a smoother time finding co-buyers.
Liquidity: How easily can I exit my fractional investment?
Cashing out from a fractional real estate investment has never been quick or easy since most buyers will prefer having full equity and complete control over the property. Historically, the best option has been to convince the other owners to exit alongside you.
Thankfully, Fractional introduces two alternatives:
Sell your partial deed on Fractional's secondary market, where the platform charges a 5% transfer fee, or
Sell your partial deed to Fractional for 80% of fair market value (FMV) at the time of sale.
Though losing 20% of your equity is tough to swallow, it's still way better than staying locked into a property when the other owners don't want to sell. That's why I commend Fractional for offering an emergency exit door and lending much-needed liquidity to an otherwise illiquid asset class.
Is Fractional safe?
In my time with Fractional, I've found no reason to think the platform is illegitimate or unsafe.
On the legitimacy front, Fractional is a Y Combinator grad with transparent leadership and an impressive array of investors from Goodwater Capital to Will Smith.
As for safety, Fractional does something I think every fractional investing platform should do: it gives each property its own LLC with Fractional as the administrator. That way, if Fractional ever goes bankrupt or faces regulatory scrutiny, each property and its investors would likely be protected from most of the fallout.
Their partial equity would also retain value in the secondary marketplace, which is an important distinction. In the world of tokenized fractional real estate, where partial ownership exists as proprietary "tokens" on a blockchain, investors could lose everything overnight if the company or host blockchain were to fail.
So as far as fintech startups go, Fractional is pretty safe. The cherry on top is that they claim to work with SEC lawyers, so the chances of the SEC coming after them for selling unregistered securities is low.
How do I contact Fractional?
At the time of this writing, Fractional is still small enough that they're scheduling 1-1 calls with curious investors.
You can also reach out to them via the chat tool in the main dashboard, and you'd probably have good luck connecting and striking up a conversation on LinkedIn.
As the company grows, expect to spend most of your time conversing via email or chat support. At present, the expected response time on chat is 48 hours.
Best alternatives
If you're interested in fractional real estate investing check out these alternatives:
Lofty
Lofty.ai, or Lofty for short, is the current king of tokenized fractional real estate investing. Instead of a $500,000 property split between 12 owners on Lofty, it's divided into 10,000 blockchain tokens, each worth $50. So if you hold 100 tokens, you'll own 1% of the property and automatically receive 1% of the rent.
Compared to Fractional's more traditional model, tokenized real estate investing through Lofty offers a significantly lower minimum investment ($50 vs $5,000) and a more active secondary market where tokens are traded at a high volume.
The drawback, however, I mentioned above; Lofty tokens are only worth anything as long as Lofty, and the Algorand blockchain exist.
PeerStreet
PeerStreet lets you invest in real estate debt, not the property itself. So instead of generating passive income from rent/sales, you earn a piece of the borrower's interest, just like a mortgage lender.
And since borrowers on PeerStreet tend to be real estate investors who take short-term, high-interest loans, returns for investors tend to be in the high single digits, net of fees.
As for drawbacks, unlike Fractional, only fully accredited investors can use PeerStreet. Plus, investing in loans can be even more complex than traditional real estate investing. But if you're looking for something faster moving and shorter term, PeerStreet might be a fit.
The bottom line: Should you invest using Fractional?
Fractional has a lot going for it: a superb UI, a thorough, SEC-vetted process, and refreshing community tools for finding other investors.
Usually, I'd say wait until a fintech app is more fleshed out and the company has survived the inevitable first wave of regulatory scrutiny (like Prosper in 2008 and BlockFi in 2022).
But because Fractional's leadership team is so hands-on at this early stage (and they've already helped close more than 100 properties), I feel unusually confident in recommending them to anyone interested in fractional real estate investing.
Or, at the very least, I recommend creating an account and mingling.
Further reading: