How Price is using tiny homes to combat the housing crisis
The American dream might be real estate, but for many hopeful homebuyers, it's turned into a fantasy. The U.S. is facing a supply shortfall of 6.5 million single-family homes, according to the National Association of Realtors. And due to the reduced inventory, over three-quarters of market listings are too expensive for even middle-income buyers — which has also driven up rent.
"I wanted to be part of the solution," Price said in a Tedx Talk. "One that properly balances capital gain and social gain."
In her talk, Price explains the housing-insecure — or the "hidden homeless" — can include single parents who can't afford rent, couchsurfing college students and individuals who don't have access to basic indoor plumbing.
She prioritizes renters in need, including students, health care workers and seniors, and plans on acquiring more properties that have enough land to support accessory dwelling units (ADUs), which she intends to make available to tenants on a long-term basis.
Price urges existing homeowners to consider transforming their spare lots or space in their backyards into affordable rentals as well. She even founded a startup, Gather, to support people building their own tiny homes in increasing the value of their properties and generating income.
"In the midst of hustle culture, it's easy to let the relentless pursuit of capital gain overshadow the basic human right to affordable, adequate housing," Price says in her talk.
And she isn't the only voice calling for the use of tiny homes to support the housing-insecure. Reports show tiny home villages have been popping up across the country, from California to Oregon, as a means to support homeless populations.
Stop overpaying for home insurance
Home insurance is an essential expense – one that can often be pricey. You can lower your monthly recurring expenses by finding a more economical alternative for home insurance.
SmartFinancial can help you do just that. SmartFinancial's online marketplace of vetted home insurance providers allows you to quickly shop around for rates from the country's top insurance companies, and ensure you're paying the lowest price possible for your home insurance.
Explore better rates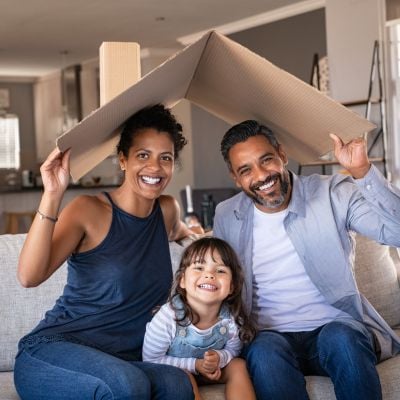 Can tiny homes actually resolve the housing crisis?
As for whether they're a solution to the housing crisis, things get a little more complicated. Getting your hands on an ADU is the easy part. You can even purchase tiny home kits from the Home Depot for somewhere between $30,000 to $60,000 on average, according to an article from Rocket Homes.
But then you'll need land and a permit before you can start construction — and then you'll need to consider factors like plumbing and electricity. However, even with tiny home villages, NPR reports some are located in remote parts of town (far from jobs and amenities) and come with limited facilities. And zoning restrictions, building codes and opposition from neighbors have prevented these communities from getting built in certain cities as well.
And while these minuscule homes may support single renters, they can't accommodate, say, a four-person household.
Price doesn't believe housing insecurity can be overcome entirely by real estate entrepreneurs either, and she advocates for collaboration between policymakers, nonprofits and entrepreneurs.
And the experts agree. Many have pointed out that these units don't provide a long-term solution to the housing crisis.
Donald Whitehead Jr., executive director of the National Coalition for the Homeless, told NPR he thinks tiny homes are a good emergency option — to shelter people from the elements and violence — but in order to actually get to the root of the problem, there needs to be more living-wage jobs, housing inventory and funding for housing vouchers.
Sponsored
Follow These Steps if you Want to Retire Early
Secure your financial future with a tailored plan to maximize investments, navigate taxes, and retire comfortably.
Zoe Financial is an online platform that can match you with a network of vetted fiduciary advisors who are evaluated based on their credentials, education, experience, and pricing. The best part? - there is no fee to find an advisor.