What is a no-closing-cost mortgage?
It sounds great: No closing costs? Sign me up.
But with no-closing-cost mortgages, you're really just delaying the payment of the various upfront expenses, with the lender's help.
Lenders who offer these mortgages will instead charge you a higher interest rate for the duration of the loan, or add the fees to your principal balance.
Say you're borrowing $300,000, and your closing costs total $9,000. With a no-closing-cost mortgage, you would either have a total principal of $309,000 or your spectacularly low mortgage interest rate will become less spectacular.
Who offers mortgages without closing costs?
You can find these loans from the same institutions that offer other types of mortgages: national and local banks, credit unions and other private lenders.
They don't all advertise that they offer no-closing-cost mortgages, so be sure to ask around if that's what you're looking for.
Other lenders may not offer these mortgages at all — or be very strict when deciding if you can get one. It could depend on a number of factors, including your credit score, employment, debt-to-income ratio and more.
Keep in mind, no-closing-cost mortgages aren't just for new homebuyers. Some lenders will offer to cover the closing costs on refinance loans too.
More: How Much House Can I Afford Calculator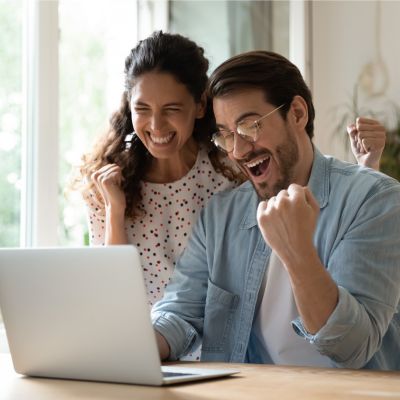 Compare current mortgage rates from top national lenders. Get the best rate for your purchase or mortgage refinance.
Compare Rates
Pros and cons of no-closing-cost mortgages
There are advantages and pitfalls when it comes to no-closing-cost mortgages. As always, your situation is unique — what works for one homebuyer might not work so well for another.
Having said that, here are the general pros and cons to help you make the most informed choice.
Pros
Fewer upfront charges. If you have a solid income but you're light on cash in the bank right now, a no-closing-cost mortgage will help you leap over that hurdle.

Short-term savings. If you're planning to live in a home for only a short time, you won't lose too much if you have to pay a higher interest rate on your loan to make up for the closing costs. Just know that lenders may institute prepayment penalties for a few years to discourage you from refinancing before they recoup their costs.
Cons
Stiffer long-term costs. If you plan to live in your new home for a long time, a higher interest rate or higher principal amount mean you could end up paying way more over time than you would have paid upfront at closing.

Higher monthly payments. This downside begins right away. Your regular mortgage payment will be considerably higher when you don't pay closing costs but instead accept a higher interest rate or loan amount.
How much are closing costs, typically?
Just how much financial pain could you delay by taking on one of these mortgages? Here's a rundown of typical closing costs and how much money you'd need to cover them upfront.
Loan origination fee
This is the fee that lenders charge to process a loan.
Part of it covers the cost of their customer service, because a loan officer will keep in touch with you during the process. However, most of the work goes on behind the scenes, like arranging documents and assessing your worthiness for the loan.
Each lender will have its own criteria for determining its origination fees, but a typical fee for a mortgage ranges from 0.5% to 1% of the loan amount.
Appraisal fee
This fee covers the cost of having a professional appraiser evaluate the house and estimate its value.
Why is this necessary? Appraisals prove to the lender that the sale price aligns with the home's real value.
When you take out a mortgage, the house itself is collateral — that is, if you can't make the payments, the lender can take possession. The lender wants to ensure it can properly recoup its losses if it needs to sell your home down the line.
A home appraisal might cost between $300 and $400 for a single-family home, but the price can vary a lot, depending on location.
Title fees
The term "title" refers to the legal ownership of the property.
This fee covers the search for essential documents as well as title insurance, which provides some protection if someone comes along and claims an interest in the home.
VA funding fee
Service members, veterans and eligible military family members can apply for a VA home loan, which is backed by the U.S. Department of Veterans Affairs. The borrower doesn't need to put any money down or pay for mortgage insurance, and the VA sets no minimum credit score.
However, if you are eligible for a VA loan, you will have to pay a funding fee. This is to help cover the expenses of keeping the program going.
It can be a one-time charge paid at closing, or it can be rolled into the total mortgage and paid off monthly.
The funding fee increased in 2020 and could potentially cost you thousands of dollars. For a closer look, read our breakdown of VA loan funding fees.
Credit report fee
Hopefully you've taken good care of your credit before applying for a loan, because your lender is going to take a peek. The credit report fee, which is usually minimal, covers the cost of the lender getting its hands on that report.
You don't want poor credit to stop your homebuying dream then and there — so before you even get to this step, explore all the ways you can boost your credit score.
Prepaid interest
This fee covers the interest that will accrue on the loan between closing and the day of your first scheduled mortgage payment.
The amount depends on the interest rate the lender is charging you, which itself may depend on the type of loan you have and your credit score.
Discount points
These are optional fees you can pay the lender to "buy down" your mortgage rate.
One point usually costs 1% of the loan amount — so you'd pay $2,000 to buy one point on a $200,000 mortgage. One point typically lowers your mortgage rate by one-quarter of one percentage point (0.25), so a 5% rate would fall to 4.75%.
Does buying points make sense? That depends on you.
Crunch the numbers to see how long it would take to reach your "break-even point" — that is, when the money you save via your monthly mortgage payments reaches the amount you paid to buy points. Planning on living in the home past that time? Then buying points could save you money.
Sponsored
Secure your retirement with a reverse mortgage
If you're low on cash savings and investments but have wealth in your home, a reverse mortgage is a great option for covering retirement expenses.
Mutual of Omaha is a trusted insurance provider that helps you make the most of your home equity.