What parts of Social Security are well understood? The survey, commissioned by life insurer MassMutual, asked 1,500 Americans between the ages of 55 and 65 who have not filed for Social Security retirement benefits 12 true-or-false questions.
Only 3% answered all the questions correctly.
There were, however, a few questions that most people got right.
A large majority of respondents — 94% — knew their benefits would be reduced if they took them before reaching their full retirement age, which is 66 or 67, depending on the year you were born.
And 86% knew that if they receive benefits before their full retirement age while continuing to work, their benefits may be reduced based on how much they make.
Most retirees rely on Social Security for at least half their income, but it's not a lot of money. Monthly payments this year will average $1,543, which includes a meager 1.3% cost-of-living adjustment over last year, according to the Social Security Administration.
So you should not be expecting to retire comfortably on Social Security benefits alone. Make sure you that, by the time your working years are over, have a lot of savings and that you've taken care of outstanding debts.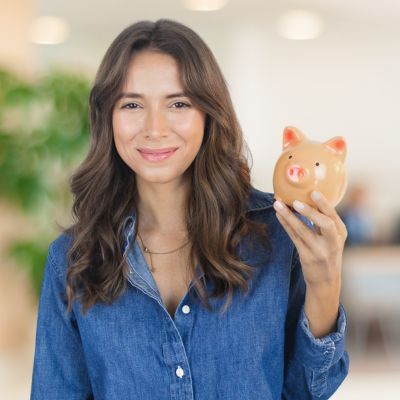 Don't let your money idle in low-interest accounts! Savvy savers are earning up to 10x more interest by keeping their hard-earned cash in a high-yield savings account. Find some of the best options here.
Get Started
What parts of Social Security seem to confuse people? Many Americans still don't have all the information they need about Social Security — the government trust fund all workers pay into throughout their careers — to prepare for retirement.
Some respondents had trouble answering questions regarding the following topics:
Full retirement age: 26% of respondents between 60 and 65 had no idea what the full retirement age is.

Survivor benefits: 22% of respondents didn't realize that if a spouse dies, the surviving spouse does not receive their spouse's full benefits in addition to their own. The surviving spouse typically receives the higher of the two amounts.

Divorce benefits: 30% of respondents did not know that a divorced person might be able to collect Social Security benefits based on a former spouse's earnings history.
If you're close to retirement age or just want to be better prepared for your golden years, the Social Security Administration has much of this information on its website.
"As with most things in life, knowledge is power, and choices should be made on purpose and not by accident," David Freitag, a financial planner and Social Security expert with MassMutual, says in a news release. "With Social Security, there are a lot of options to consider. Make the wrong choice, and you will be leaving money on the table for the rest of your life."
What else should I be doing to prepare for retirement? Now that you're more familiar with the benefits of Social Security, when you can take it and how much you're likely to receive, this could be a good time to take a closer look at your overall retirement plans — or start to make some.
You may want to consider hiring a professional financial advisor who can help set you up for a relaxing retirement where you won't have to spend your days pinching pennies.
If retirement is not yet on the horizon and you're looking for other ways to save for the future, there are options.
First and foremost, the stock market is still the best way to grow your savings, steadily and reliably, over the long haul toward retirement.
And you don't need to be a financial whiz to succeed in the market — all you need is a good investing app that will help you create a diversified portfolio of stocks, bonds and ETFs. Some apps will even automatically invest your spare change for you.
Another way to save some money is to find cheaper homeowners insurance when it's time to renew. By comparing rates among multiple insurers, you can wind up saving hundreds of dollars a year. Don't forget to shop around for auto insurance too.
The thing to remember with retirement planning is that every single dollar — whether it's coming from social security benefits or your own savings — is important.
So make sure you know exactly what you have — and exactly what you're going to get in the future.
Sponsored
Streamline your debt repayment
Having a single loan to pay off makes it easier to manage your payments, and you can often get a better interest rate than what you might be paying on credit cards and car loans.
Credible is an online marketplace offering personalized loan options based on your unique financial situation.
When you consolidate your debt with a personal loan through Credible, you can roll your payments into one monthly installment. Find a lower interest rate and pay down your debt faster with Credible today.