1. Whitney Wolfe Herd — Bumble Whitney Wolfe Herd made history this year by becoming the youngest female CEO to ever take a company public in the U.S. She's also currently the world's youngest self-made billionaire, according to Forbes.
Before founding the female-first dating app in 2014, Herd was the co-founder and vice president of marketing at Tinder. (She sued the company for sexual harassment and discrimination, and the case was later settled.)
Herd owns an 11.6% stake in Bumble Inc., which runs the dating apps Bumble and Badoo. Together they span more than 150 countries, with 42 million monthly active users as of the third quarter of 2020, says Forbes.
If you've got dreams of becoming rich someday, it's OK to smart small. One investing app allows you to buy pieces of big companies using your digital "spare change."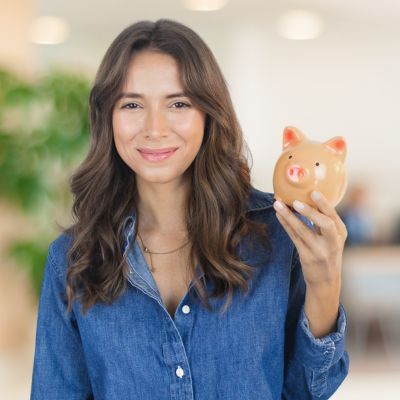 Don't let your money idle in low-interest accounts! Savvy savers are earning up to 10x more interest by keeping their hard-earned cash in a high-yield savings account. Find some of the best options here.
Get Started
2. Payal Kadakia — ClassPass After one frustrating day trying to find a ballet class, this Indian-American entrepreneur came up with the idea of ClassPass — a fitness app that makes it easy to pop in and out of classes at different gyms and studios.
She stepped down as CEO in 2017 but remains executive chairman. In 2020, the company hit unicorn status while she was pregnant with her first child.
Kadakia, who has studied Indian classical and folk dance since childhood, also founded The Sa Dance Company, which is trying to bring the art form into the mainstream. Its work is indeed inspired by Indian folk and classical dance but also Bollywood, jazz, ballet and contemporary.
3. Shahrzad Rafati — BroadbandTV Corp. As a teenager, Shahrzad Rafati decided to leave the conflict and restrictions of Iran behind and seek her fortune in Canada. She founded BBTV in 2005, when she was just 25 years old.
She pioneered a set-top box that let people watch internet videos on their televisions. That was a flop, so she moved quickly to the next big idea: using video-recognition software to help content owners get ad money when people upload clips online without permission.
Its clients have included the National Basketball Association, Sony Pictures, A&E, Warner Brothers and Disney.
The company also represents tens of thousands of individual content creators, helping them make money off their work. BBTV says it is now the second largest video property across the globe, with over 40 billion monthly views.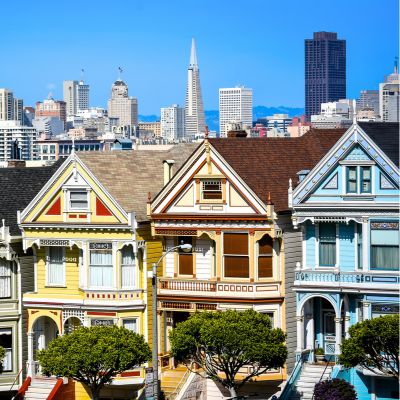 Believe it or not, you don't need millions, or even hundreds of thousands to invest in real estate. Arrived is an online platform where you can invest in shares of rental homes and vacation rentals without the headaches of being a landlord.
Learn More
4. Julia Hartz — Eventbrite If you've ever bought tickets to a local event online, there's a good chance it was through Eventbrite. Former TV executive Julia Hartz launched the company in 2006 with then-fiancé, now-hubby Kevin Hartz. She took over as CEO a decade later.
In 2018, Hartz took Eventbrite public, selling 10 million shares and raising $230 million in its initial public offering. It was valued at nearly $2 billion at the time.
She's eager to help other women in the tech industry match her success. Under her leadership, the executive team and board of directors at Eventbrite reached a 50/50 gender split in 2019.
5. Cathy Hughes — Urban One In the late '70s, this media mogul was rejected by 32 lenders before she finally secured the cash to buy a radio station and found Radio One. She quickly fell on hard times, lost her home and was forced to live at the station.
But she persevered, and the company — now known as Urban One — has become the biggest African-American broadcaster in the nation, spanning radio, television and digital platforms.
Cathy Hughes is a legend not just in the radio industry — her website says she was the first woman to own a No. 1 ranked radio station in a major market — but in 1999, she also became the first African American woman to take a company public.
If you need to borrow some cash (maybe not enough for a radio station, but a few hundred or thousand bucks) you can find a wide range of viable lenders online nowadays.
6. Emily Weiss — Glossier Emily Weiss started with a beauty blog and ended up with a billion-dollar makeup and skincare empire. Glossier has been named a top beauty brand by multiple magazines, like Allure and Cosmopolitan.
Weiss, a former Vogue fashion assistant, launched her blog "Into the Gloss" in 2010, detailing the beauty regimes of celebrities in the fashion world. She later debuted a cosmetic brand in 2014, with just four products — a cleanser, priming moisturizer, lip balm and misting spray — and a goal of celebrating natural beauty.
She's gone far, though the brand has also been criticized for targeting people who already have flawless skin and alleged mistreatment of employees. Glossier responded to the latter with a public apology and a plan to tackle discrimination in the workplace.
7. Cashmere Nicole — Beauty Bakerie Cashmere Nicole never gave up on her goal of achieving great things — not when she became pregnant in high school, or when she battled breast cancer or when a big shoutout from Beyoncé failed to launch her career.
The single mom had founded Beauty Bakerie from her home in 2011, but it didn't take off until a single Instagram ad showing off her smudge-free lipstick resonated with consumers. It's now a multimillion-dollar business with funding from Unilever and products are sold in over 1,000 locations across the world.
The cruelty-free, inclusive cosmetics line is inspired by sweets and bakery products: You can grab "flour" setting powder in shades ranging from oat to cacao, eyeshadow "bars" and the ever-popular lip whips.
If you have a passion you want to turn into a money-making operation, it's a lot easier these days to start a side-gig and find eager buyers.
8. Georgina Gooley — Billie Georgina Gooley and co-founder Jason Bravman set out to revolutionize the razor industry with affordable prices and shaving ads that actually depict body hair on women.
Gooley hopes the "Pink Tax" — when women are targeted with higher-priced versions of the same products men use — will be banned eventually. For now, her company's Pink Tax Rebate program reimburses women who've overpaid for pink razors for years with coupons to use on Billie products.
Just over a year after its launch in 2017, Billie raised $25 million in investment funding. Consumer goods giant Procter & Gamble had plans to purchase the startup in 2020 but was recently blocked by the U.S. Federal Trade Commission to preserve competition in the space.
9. Jennifer Hyman — Rent the Runway Few people know what it's like to bear the weight of a human life and a $1 billion company at the same time, but Hyman is one of two on this list.
In 2019, while Jennifer was nine months pregnant, the designer clothing rental service Rent the Runway hit unicorn status and was named one of the most disruptive companies in the world by CNBC.
Hyman founded the company alongside fellow Harvard graduate Jennifer Fleiss in 2009. The company gets bonus points for diversity and inclusion: Forbes says 93% of Rent the Runway employees were female and/or non-white and 80% of leaders were women as of 2019.
10. Sara Blakely — Spanx The shapewear CEO pitched her product by modelling it on herself in a Neiman Marcus bathroom back in 1999. Today, she has a billion-dollar business to show for it.
In 2000, Oprah named Spanx one of her favorite products of the year. Blakely's company sold 50,000 units in just three months and millions more in the years thereafter, according to CNBC.
Blakely recently established The Red Backpack Fund — named after her "lucky" red backpack from college that helped start it all — and donated $5 million to help support small businesses run by women during COVID-19.
11. Katrina Lake — Stitch Fix This idea was well ahead of its time.
Katrina Lake started Stitch Fix from her Cambridge apartment in 2011 while she was studying at Harvard. The company ships personalized apparel to customers, who keep what they like and send the rest back.
She took the company public in 2017, but Stitch Fix has really thrived during the COVID-19 pandemic as shoppers remain wary of brick-and-mortar stores. Her net worth ballooned to $1.1 billion in early 2021.
Stitch Fix now has more than 3 million active customers, and the self-made billionaire owns a 10% stake, according to Forbes.
12. Pat McGrath, DBE — Pat McGrath Labs This veteran makeup artist created cosmetics for the likes of Giorgio Armani and Gucci before going solo and launching her own brand in 2015.
McGrath began her line with a $40 Gold 001 multipurpose pigment, which reportedly sold out in six minutes. She has since expanded her collection to huge success: Pat McGrath Labs was valued at $1 billion in 2018.
The Cut calls McGrath the most in-demand makeup artist in the world, working at around 80 shows per fashion season and creating wildly imaginative (and successful) looks with feathers, vinyl and even rubber. She's also the first makeup artist to become a British dame,
13. Melanie Perkins — Canva Have you seen how expensive a Photoshop subscription is? Amateur designers everywhere have Melanie Perkins and her partner Cliff Obrecht to thank for Canva — a free, online design platform that competes with tech titans like Adobe and Microsoft.
In summer 2020, the global juggernaut was valued at $6 billion by Forbes, which also noted it had 1.5 million paid subscribers and over 30 million monthly visitors at the time. Perkins was named Australia's youngest billionaire at the age of 32 that same year.
Perkins' Fusion Books — a yearbook design business that was the progenitor to Canva — is currently the largest yearbook publisher in Australia and has expanded to France and New Zealand as well.
14. Leah Solivan — TaskRabbit It takes a lot to convince a software engineer to quit IBM. Leah Solivan took the plunge in 2008 to launch TaskRabbit, an app that matches freelance workers with jobs that need doing.
During her time heading the online marketplace, Solivan raised over $50 million in venture capital funding.
In 2016, she moved from CEO to executive chairman, and in 2017, the company was acquired by IKEA. Why go through the hassle of putting that Billy bookcase together yourself?
Solivan currently serves as general partner at Fuel Capital, a seed-stage venture capital firm.
Ready to leave your job for something better? Some of today's advanced job boards use artificial intelligence to match your skills to great jobs you didn't even know existed.
15. Jasmine Crowe — Goodr This entrepreneurial do-gooder used to feed up to 500 people a week from the kitchen of her one-bedroom Atlanta apartment before founding a more scalable solution in 2017. Her food waste management company Goodr delivers leftovers to people in need.
The company's app connects businesses with charities willing to deliver excess food, much like how food delivery services like DoorDash and Uber Eats work. Families can submit food donation requests online.
Crowe created the profit-for-good corporation to help companies strive for zero waste, as well. She's so far converted over 2 million pounds of food bound for landfills into meals for the homeless, according to a 2020 Microsoft feature.
16. Nguyen Thi Phuong Thao — Vietjet Vietnam's first self-made billionaire businesswoman is also the only woman anywhere to have launched a major commercial airline.
Nguyen Thi Phuong Thao founded Vietjet Aviation in 2007. The budget airline has since gained notoriety — and a fine from the government — for occasionally dressing flight attendants in bikinis.
In 2017, the company went public on the Ho Chi Minh City Stock Exchange with a market capitalization of $1.4 billion, and Forbes last valued it at $3 billion in 2019.
The magazine adds that Vietjet has surpassed flag carrier Vietnam Airlines for the number of passengers carried, and packing more people into planes has helped the company cut down on costs.
17. Adi Tatarko — Houzz Renovating a home isn't easy — and neither is building a home design site from the ground up.
Tatarko is CEO of Houzz, which connects homeowners with home designers and improvement professionals and provides plenty of interior design inspiration. You can buy products directly from the website, find professionals to help you out or just browse through the photos for ideas.
Once a side project, Tatarko's startup now has over 65 million homeowners and home design enthusiasts and more than 2.5 million home professionals. It was last valued at $4 billion, says Forbes. She and her husband, Alon Cohen, reportedly own about a quarter of the company.
18. Cher Wang — HTC Taiwanese tycoon Cher Wang helped found HTC in the late 1990s and build it up to greatness. Now she's back once again to see it through tough times.
HTC began as a laptop and computer manufacturer and grew to become the world's third-largest maker of mobile phones in 2011, beating out Nokia but falling behind giants like Apple and Samsung.
In recent years, however, HTC has suffered declining sales and major financial losses. After collaborating on the Pixel smartphone, Google bought thousands of HTC's employees and rights to some intellectual property for $1.1 billion in 2017.
Wang, who also founded CPU manufacturer VIA Technologies back in 1987, led HTC as CEO between 2015 and 2019 and returned to rescue the brand in 2020.
HTC shares are pretty affordable these days, but if you'd prefer to invest in a company like Apple or Microsoft, you may want to use a free investing app that lets you buy fractions of expensive shares.
19. Ida Tin — Clue Ida Tin, credited with coining the term "femtech," is the CEO and co-founder of Clue, a period-tracking app used by millions of menstruating users around the world.
The former motorcycle guide launched the app in Berlin in 2013 for people to track their menstrual cycles and understand their bodies better. It has multiple tracking categories, including pain level and sleep times, and even includes a feature that can help with detecting polycystic ovarian syndrome.
Clue has been rated the most accurate free period and ovulation tracker app by the journal Obstetrics & Gynecology and was named one of TIME magazine's Genius Companies for 2008.
Sponsored
Streamline your debt repayment
Having a single loan to pay off makes it easier to manage your payments, and you can often get a better interest rate than what you might be paying on credit cards and car loans.
Credible is an online marketplace offering personalized loan options based on your unique financial situation.
When you consolidate your debt with a personal loan through Credible, you can roll your payments into one monthly installment. Find a lower interest rate and pay down your debt faster with Credible today.