Bad credit could be hazardous for your health Economists from the University of Colorado and the Fed examined the effects of delinquent debt and creditworthiness on mortality. They analyzed data from 2011 to 2016 on Americans who were ages 25 or older in 2005 and were still alive in the fourth quarter of 2010, after the Great Recession.
Findings revealed that individuals with good credit and small amounts of debt had a lower risk of death than those with worsening creditworthiness and rising delinquent debt.
In fact, researchers found that when an individual's credit rating improved by 100 points in the previous quarter, their mortality risk for the next quarter went down by more than 4%.
On the flip side of that, going from having no significant debts to having one or more severely delinquent accounts increased the risk of death by roughly 5%.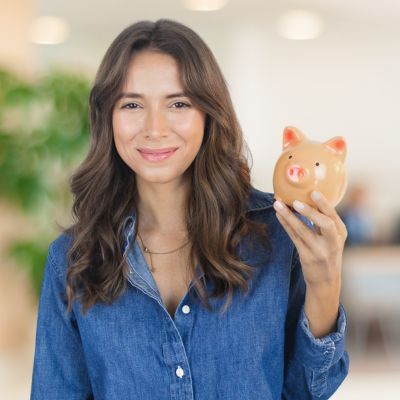 Don't let your money idle in low-interest accounts! Savvy savers are earning up to 10x more interest by keeping their hard-earned cash in a high-yield savings account. Find some of the best options here.
Get Started
A short-term shock can be worse for you than drawn-out debt
The study, which was released in 2017, also revealed that poor credit and serious debt delinquency are more dangerous in the short term than over longer periods of time.
As the authors point out, high amounts of debt can result in elevated stress levels and harmful stress-related behaviours that may have immediate health impacts, like substance use and poor nutrition.
Additionally, financial uncertainty can lead to a decrease in health-care use and a failure to keep up with medical treatment plans.
However, researchers found that "if one survives the short-term impact of a delinquency then the probability of dying in any single quarter declines."
What these findings mean for you With the coronavirus pandemic still ongoing, millions of Americans have had to take on debt during the lockdown in order to scrape by.
The results of this study illustrate that an individual's credit rating and debt levels can have serious consequences for their physical health, and underscore the need for governments to step up with policies during times of economic uncertainty.
As the study's authors write in their conclusion, "financial policies are health policies," and "policies aimed at improving individual financial solvency may have the additional benefit of promoting health."
And it does appear that the financial relief during the pandemic may have had a positive impact on credit scores — in 2021, the average FICO score in the U.S. hit a record high of 716.
However, not everyone's credit score has gone up during lockdown. If you're still struggling with bad credit, here's some advice on how to turn your score around.
What to do if your credit score is low If your credit score is lower than you'd like it to be, don't panic — there are several steps you can take to help get it back on track.
Use a credit monitoring service. There are free credit monitoring services available online that will let you check your score whenever you want and give you personalized advice on how to improve it. It only takes a few minutes to sign up, and monitoring your credit could help boost your score by hundreds of points.
Consolidate your debt. If you've got multiple high-interest credit cards on the go, consolidating them with a personal loan can help to bring down your monthly payment and clear your debt sooner, which will have a positive impact on your credit score.
Check for errors on your report. It's possible that your low credit score could be the result of an error. One in 4 consumers have found errors on their credit report that could affect their score, according to the Federal Trade Commission. There are steps you can take and some free credit-monitoring services that can help you address the problem ASAP.
Refinance your student loans. If your outstanding student loan debt is dragging down your credit score, you might want to consider refinancing your student loans into a lower rate. Although you'll typically need a decent score in order to qualify for the best rates, there are free online services that can help you find the best loan terms available for your current score in just a few minutes.
Sponsored
Kiss Your Credit Card Debt Goodbye
Millions of Americans are struggling to crawl out of debt in the face of record-high interest rates. A personal loan offers lower interest rates and fixed payments, making it a smart choice to consolidate high-interest credit card debt. It helps save money, simplifies payments, and accelerates debt payoff. Credible is a free online service that shows you the best lending options to pay off your credit card debt fast — and save a ton in interest.