Young adults lead a jump in credit scores The company behind the commonly-used FICO rating says the average U.S. score stands at an all-time-high 711 out of a possible 850, up five points from a year ago.
While early returns show consumers have been more credit-responsible during a chaotic 2020, FICO warns that it often takes time for major economic events to be reflected in credit scores. It might be a few more months before the financial strain shows up in consumers' credit reports.
Meanwhile, the average VantageScore, the newer of the credit scoring systems, also has shot up this year. According to Experian's annual consumer credit review, the average score has jumped to 688, a six-point increase from last year.
Experian's data shows members of Generation Z, the youngest adults, saw the greatest gains as their scores jumped an average 13 points in the past year. Millennials improved their scores by 11 points, on average.
How are young Americans doing it? By practicing responsible credit management, Experian says.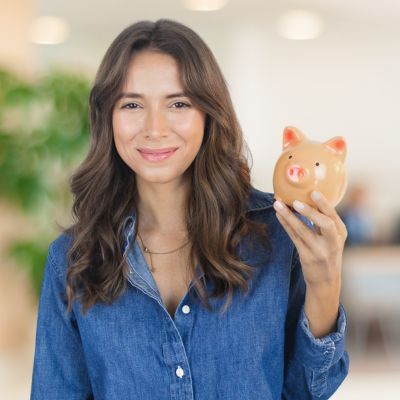 Don't let your money idle in low-interest accounts! Savvy savers are earning up to 10x more interest by keeping their hard-earned cash in a high-yield savings account. Find some of the best options here.
Get Started
Good credit habits mean good credit scores Low credit utilization — when you're using a relatively small amount of your available credit — is a major factor in boosting your credit score. Utilization rates dropped for every generation, but the biggest declines have been among Gen Z borrowers (an average 6% dip) followed by millennials (5%).
Both generations also reduced their average credit card balances and missed fewer payments on their debt.
Plus, people in their 20s and 30s are reaching personal and professional milestones, such as getting their first credit cards, advancing in their careers or buying homes and taking out mortgages at this year's super-low rates — all events that can greatly impact credit ratings.
Note that it's not just younger generations practicing responsible borrowing. Americans in nearly every age group have raised their average VantageScore this year.
Here's the breakdown of average credit scores by generation, in 2019 and 2020:
| Generation, with ages | Avg. VantageScore, 2019 | Avg. VantageScore, 2020 |
| --- | --- | --- |
| Generation Z (18-23) | 641 | 654 |
| Millennials (24-39) | 647 | 658 |
| Generation X (40-55) | 666 | 676 |
| Baby boomers (56-74) | 710 | 716 |
| Silent generation (75-92) | 731 | 729 |
5 steps to raise your credit score If your credit score isn't close to the averages, it's not to late to start building it up in 2020. Here are five ways you bolster your score.
1. Let the experts monitor your score
Sure, it used to cost you to take a peek at your credit score. But now companies will let you see your score and even help you monitor it — for free.
If you sign up with Credit Sesame, for example, you'll get your VantageScore credit score along with access to free credit monitoring.
You'll also get personalized suggestions on which accounts to pay down first, and you'll be walked through a checklist of steps you can take to improve your credit score.
Credit Sesame's credit monitoring service will help you keep track of any mistakes on your credit report that could be affecting your score.
2. Free yourself from debt
If you're struggling to make even minimum payments on your credit cards, your credit score will eventually take a hit — especially if you begin missing payments.
A debt consolidation loan allows you to take out a new low-interest loan and use it to pay off all your high-interest debt.
With a free online service like Credible, you can get the best lending options to consolidate your debt and save your credit score before it tanks.
You can borrow up to $100,000, with no collateral, at interest rates between 3.99% and 35.99% APR, and choose your repayment schedule — typically 24 to 84 months.
Applying for a new loan might cause a short-term dip in your score, but paying off debt and having a variety of different credit accounts will boost it quickly.
3. Write 'goodwill letters' when you mess up
Miss a payment? Nobody's perfect.
If you generally have a solid credit history but somehow fell behind, you can send a goodwill letter to your creditors. Make it short and sweet: Take responsibility for the mistake, explain how long you've been a good customer, and describe the steps you're taking to ensure it doesn't happen again.
Creditors aren't obligated to clear the stain from your history, but the letter may help you get back in their good graces and improve your score.
4. Find better rates on insurance to help reduce your debt
Paying off debt is one of the most impactful things you can do in your quest to raise your credit score.
Good budgeting can help you shed debt — and so can cutting your routine expenses.
You could be saving $1,000 a year or more on homeowners insurance simply by shopping around for the best rates.
And you can save just as much, if not more, by comparison shopping to score the lowest rate on your auto insurance.
5. Build your score with a secured credit card
Secured credit cards offer a low-pressure way to build credit history — especially for those who can't get approved for the real thing.
These cards are low-limit and require a deposit to establish your limit. If you deposit $500, that's your limit.
A secured card could keep you from going overboard on your spending and help you get into the habit of paying off your balance every month.
Compare offers to find a card with attractive terms, like no annual fee and a minimum deposit amount that works for you.
Sponsored
Kiss Your Credit Card Debt Goodbye
Millions of Americans are struggling to crawl out of debt in the face of record-high interest rates. A personal loan offers lower interest rates and fixed payments, making it a smart choice to consolidate high-interest credit card debt. It helps save money, simplifies payments, and accelerates debt payoff. Credible is a free online service that shows you the best lending options to pay off your credit card debt fast — and save a ton in interest.