Why you need to build up credit In the U.S., lenders report all the relevant details of your credit accounts (whether you're paying on time, how much of a balance you carry and so on) to three major credit bureaus: Equifax, Experian and TransUnion.
From there, the credit bureaus give you a three-digit score between 300 and 850.
In most cases, you'll need a credit score for:
Renting an apartment or buying a house.
Taking out credit cards.
Taking out a private student loan.
Applying for a job.
Getting utilities for your home.
Getting a cellphone.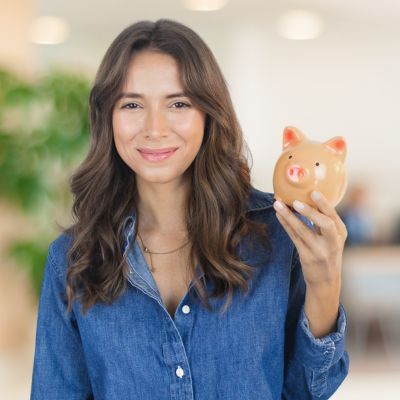 Don't let your money idle in low-interest accounts! Savvy savers are earning up to 10x more interest by keeping their hard-earned cash in a high-yield savings account. Find some of the best options here.
Get Started
How to build up your credit
Firstly, you'll want to get an idea of how far you have to go to qualify for those better interest rates or become a better borrower. Fortunately, you can check your score for free online.
Now that you know your baseline, keep in mind that when it comes to calculating your score, there are five factors that go into finding your number. While your payment history and level of debt carry a lot of weight, there's also how long you've had your credit accounts, what mix of credit you carry and how many new accounts you have.
With that in mind, here are five of the best ways to build up your credit:
1. Credit cards You'll need to have a decent credit score to qualify for most credit cards — especially the ones that offer minimal fees or the best perks.
But if you've never had the opportunity to build up your credit, how are you supposed to qualify for a card?
Now, some credit credit card providers have credit-building cards that offer borrowers an alternative to the high interest no-reward cards that used to be their only option. Some even offer cash back and rewards programs that you can benefit from while building your credit score.
2. Store cards
Store cards are a great way to build up your credit. They're usually easier to qualify for than regular credit cards and generally offer you points or perks at your favorite retailers.
Just make sure you keep your balance low and pay down your card every month. When you use your card responsibly, the retailer will report that back to the credit bureaus.
However, before you sign on the dotted line, you'll want to first confirm the credit card company reports to all three credit bureaus — some don't.
3. Diversify for your debt After you've signed up for your credit card and personal loan, you'll want to add another type of loan into your credit mix.
Most traditional auto loan dealers report to the credit bureaus, so taking out an auto loan is a useful way to ensure you have transportation and to build your credit. And because your loan is secured by the car, you'll probably face better interest rates than with other loans like credit cards and personal loans.
Like with your credit cards, as you make your payments, your lender will report your responsible behavior back to the credit bureaus, bolstering your score.
Your credit score will still be a knock against you so you'll want to be sure to shop around for the best price.
If you are getting a car you will also need to think about insurance. Make sure you shop around and compare quotes to get the best price on a policy.
4. Personal loans
An unsecured personal loan is another way to build your credit score. You'll borrow a certain amount of money and repay it over a set period of time in fixed payments — usually monthly.
Without a credit score, you will likely face a higher interest rate on your loan, but that's why it's so important to compare quotes to find the best rate out there.
5. Take out a mortgage While you generally should have good credit before taking out a mortgage, there is one type of home loan designed specifically for borrowers with lower credit scores.
With an FHA loan, backed by the Federal Housing Administration, depending on how much you can afford to put down upfront, you can borrow the funds to buy a home with a credit score as low as 500.
Many lenders offer FHA-backed loans, making it easy to find the right loan for you, whatever your budget or credit score.
Sponsored
Streamline your debt repayment
Having a single loan to pay off makes it easier to manage your payments, and you can often get a better interest rate than what you might be paying on credit cards and car loans.
Credible is an online marketplace offering personalized loan options based on your unique financial situation.
When you consolidate your debt with a personal loan through Credible, you can roll your payments into one monthly installment. Find a lower interest rate and pay down your debt faster with Credible today.