How we manage our own money often depends on how our parents handled theirs. We may try to emulate them or swear that we'll never make the same mistakes they did.
Money is often intertwined with deeply held perceptions about control, independence, accomplishment, identity, self-esteem, and love, even though we may not realize it. That's why discussing money can stir up complicated emotions like embarrassment, envy, guilt, or even shame. All of these feelings can bring stress into a marriage or long-term relationship where you and your partner's finances are connected.
Because of this conscious and unconscious baggage, you may be hesitant to discuss money with your elderly parents out of fear they may take offense or misinterpret your motives. Similarly, you may be reluctant to discuss finances with your children, fearing that too much knowledge may jeopardize their ambition or values.
Yet as Dr. Pushpa Wood of Massey University explains,
Talking [with your children] about money [should be] no different to talking about how to keep healthy or how to keep safe when using the Internet. If your child thinks money is something that "mum and dad get from a machine," then they don't know how hard their parents work to generate an income for the family and meet all of their expenses.
Having regular and meaningful conversations about money is an essential part of a family's financial wellbeing. The stakes are even higher in situations where adults must care for and support both their children and aging parents.
The first step towards a more positive perception of money and improving your family's ability to make and reach financial goals together is to overcome the reluctance to discuss finance.
Tips for talking with your children about money: strategies for building a healthy financial relationship
Research suggests that you might be tempted to shield your family's finances from your children. However, it's important to realize that there's nothing inappropriate about involving everyone in the household budget. Talking with your children about your family's finances can be an empowering first step in helping them form a healthy relationship with money, and in understanding how wants, needs, spending, and budgeting are connected. Don't underestimate your child's ability to understand basic financial concepts.
Tip #1: Make it a conversation, not a lecture
Conversations can be much more effective than lectures. To engage your children in a conversation, ask questions that encourage them to find their own answers. The goal is to help them think through the different kinds of value that things have, such as emotional value versus dollar value. You can give them some food for thought by asking questions like, "How much does it cost to keep a car on the road?" or "Name three things you like to do that don't cost any money."
Tip #2: Use real-life lessons to teach your children about money
Real-life experiences with real money can be more effective than simply having conversations with your children about money. Here are some ways to help your child learn about money management:
Open a savings account for your child and deposit $100 - Give them unrestricted access to the account, but first explain the benefits of interest and saving for a specific goal.
Give your child an allowance - This helps your child make independent decisions about money, learn to live with the consequences of those decisions, and develop money management skills. There is no "right" amount of allowance; the key is to choose an amount that allows your child to make choices while still having to make trade-offs.
Make the household budget a family affair - By involving your children in the household budgeting process, they will develop a better appreciation for the value of money.
As Dr. Wood points out, "Moving money from an abstract concept to something tangible that is earned and saved before it is spent is an important step for children to understand. Children are more intelligent than we often give them credit for. They are also more understanding and resilient — if there are tough financial situations to explain, what children appreciate most is honesty, consistency and facts."
So, if you don't have enough money to buy something your child has asked for, be honest and put the facts in front of them. Explain the difference between things the family needs and the things they want."
As an example, involve your children in planning your grocery shopping. Ask them to list their wants and help you browse for your needs. Share your budget with them, and look through grocery flyers or search online together to estimate the cost of your grocery bill. You may be surprised to see your child eagerly searching for sales and coupons. And you may be even more surprised when your child chooses to prioritize your needs over their wants.
Invest in your children - Investing in your children can be a valuable way to teach them about the value of money. For instance, you could buy a stock, bond, or mutual fund in your child's name and let them know that when they reach driving age, you'll cash in the investment to contribute to the purchase of a reasonably priced car - provided they're doing well in school and have been able to earn and save the balance. This approach will demonstrate to your child that their efforts and achievements have a monetary value, and that their commitment to saving money for a significant purchase is both recognized and supported by you.
Tip #3: Ensure you're aligned with your spouse
Before having a conversation with your children, ensure that you and your spouse have aligned values. Achieving alignment is important because children are quick to discern and exploit areas where parental views diverge. For example, one parent may believe that chores should be rewarded with allowance, while the other parent may expect chores to be performed without financial compensation.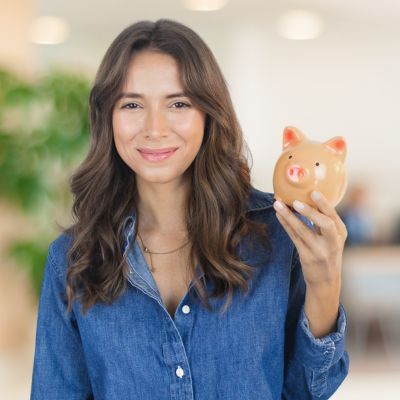 Don't let your money idle in low-interest accounts! Savvy savers are earning up to 10x more interest by keeping their hard-earned cash in a high-yield savings account. Find some of the best options here.
Get Started
How to talk to your aging parents about money: tips for building a financially healthy relationship
As an adult, it can be helpful to talk to your aging parents about money. This can help you work together to build a plan that reflects their wishes and values. Topics to discuss include wills, retirement and long-term care planning, and who will make financial decisions on their behalf if they become unable to handle their own money. Having this conversation in advance of an emergency can relieve stress and anxiety, and help to build trust and peace of mind.
Tip #1: Be prepared
Before having any conversation with your parents about money, take the time to educate yourself on the topics you'll need to discuss. These topics include:
Legal Issues - Estate planning, wills, trusts, and power of attorney.
Health Care - Medical insurance, long-term care planning, health care directives, and burial instructions.
Finances - Income/expenses, retirement planning, location of bank accounts, and access to financial records.
Tip #2: Be sensitive
Recognize that your parents may be concerned about losing their independence or control over their finances. It may be helpful to frame the conversation as a way to maximize their decision-making power and ensure that their wishes and values are carried out no matter what happens.
Consider easing into the conversation by using your own financial planning to break the ice. For example, you could say something like, "My financial advisor is recommending that I get long-term care insurance. Do you have that?"
Asking questions to understand attitudes and values about money is just as useful with your parents as it is with your children.
Tip #3: Have the conversation early
The approach you take when discussing finances with your parents will depend on your family's unique dynamic. However, it's important not to wait for a medical or financial emergency before broaching the subject. The best time to talk about your parents' finances is when they're still physically healthy and living in their own home. Discussing finances while they can still clearly communicate their wishes may help alleviate fears of losing control or independence and prevent family disputes or legal battles in the future.
Since finances are a daily concern, it makes sense to involve your family in the conversation. Regardless of your personal financial situation, it's worth recognizing that your partner, kids, and parents are already in the same boat as you. Starting the conversation early with your partner can set a positive, goal-oriented tone, whether you decide to pay off debt, save for a shared goal, or invest together. By establishing healthy communication and honesty, you can develop a healthy money dynamic within your family that spans generations.
Sponsored
Kiss Your Credit Card Debt Goodbye
Millions of Americans are struggling to crawl out of debt in the face of record-high interest rates. A personal loan offers lower interest rates and fixed payments, making it a smart choice to consolidate high-interest credit card debt. It helps save money, simplifies payments, and accelerates debt payoff. Credible is a free online service that shows you the best lending options to pay off your credit card debt fast — and save a ton in interest.