1. Not taking care of your bills first Orman says when you receive stimulus money, your first priority should be to pay bills.
Make sure the big expenses that you must pay are settled: your rent or mortgage, any car payment, auto insurance and student loans.
Note that car insurance companies have been cutting their rates because people have been driving less during the pandemic. If your insurer won't give you a break, shop around and compare rates to find a better deal.
And, federal student loan payments are on hold through at least Sept. 30. But if you have private loans, you might shrink your payments by refinancing to one of today's record-low interest rates.
If money is tight or your income is uncertain, don't focus on paying down your debts with your stimulus check, Orman says. In a recent CNBC interview, she recommended sticking with the minimum payments on credit cards, for now.
Though overall credit card debt plunged by 9% last year, according to the credit bureau Experian, many people have been relying on their plastic more heavily, just to get by. If that sounds familiar, consider rolling your balances into a more affordable debt consolidation loan at a lower interest rate.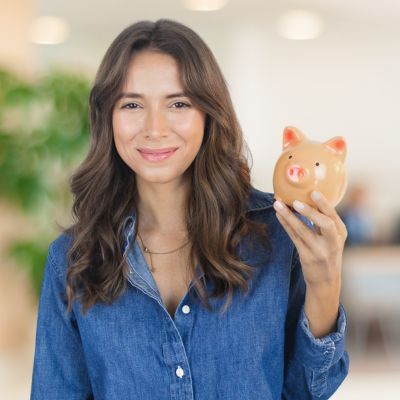 Don't let your money idle in low-interest accounts! Savvy savers are earning up to 10x more interest by keeping their hard-earned cash in a high-yield savings account. Find some of the best options here.
Get Started
2. Not building an emergency fund Most experts recommend that consumers set aside an emergency fund with enough money to cover three to six months' worth of expenses.
Suze Orman wants you to prepare for 12 months.
A full year? Really?
She says 12 months is critical now because once mortgage and student loans come out of forbearance and a federal moratorium on evictions runs out, you may need that money right away.
"This whole thing that's happening with evictions and a moratorium on mortgage payments scare me," Orman says, in an interview with Yahoo Finance Live. "Because what happens when you have to pay up?"
An estimated 2.7 million U.S. homeowners are currently postponing their mortgage payments, and about 20% of renters are behind on their rent payments, according to industry and census data.
While a $1,400 stimulus check wouldn't be nearly isn't enough to cover an entire year of expenses, you could get the money growing by putting it into a high-interest savings account.
Or, chase better returns by investing the cash, using a popular stock-trading app that's geared toward beginners.
3. Keeping the money yourself if you don't need it While many Americans have suffered mentally and emotionally through the pandemic, they're managing just fine financially.
If you've been working safely from home, saving money you'd normally spend on eating out and traveling, and have been paying down debt and boosting your retirement savings, you're among the fortunate ones.
Orman recommends that if you don't need another stimulus check to cover your immediate needs or fill up an emergency fund, you should donate it.
"Through no fault of their own, there are millions and millions of people who are suffering and they have no idea of what they should do," she tells Yahoo.
Are you not one of the lucky ones — but someone who could use more help? Here are a few tips on how to stretch your money until the next stimulus check arrives:
Find creative ways to cut expenses. You don't have to spend money to have fun. Instead of getting takeout for date night, make a budget-friendly meal together. When you do need to buy something, make sure you're not paying more than you should by using a free browser extension that will find you lower prices when you shop online.
Refinance your mortgage, if you've got one. Mortgage rates have been lower than ever, so refinancing your existing home loan can provide major savings. Mortgage tech and data provider Black Knight says 19.4 million U.S. homeowners have the potential to cut their house payments by an average $308 per month through a refi.
Turn your talents into income. Maybe you write, or know website or graphic design or even have a knack for doing celebrity voices. By using an online marketplace for gig work, you can find someone looking to pay for your unique services.
Sponsored
Kiss Your Credit Card Debt Goodbye
Millions of Americans are struggling to crawl out of debt in the face of record-high interest rates. A personal loan offers lower interest rates and fixed payments, making it a smart choice to consolidate high-interest credit card debt. It helps save money, simplifies payments, and accelerates debt payoff. Credible is a free online service that shows you the best lending options to pay off your credit card debt fast — and save a ton in interest.