Asphalt driveway paving cost
On average, paving an asphalt driveway costs about $4,716. Homeowners reported paying $2,929 to $6,554 for this project.
Most asphalt manufacturers sell their material by the ton. One ton, which costs on average $100 to $200, should cover about 40 to 80 square feet. How much you'll need also depends on how many inches of asphalt you want.
If you're looking at 2 inches thick, which is usually enough for a residential driveway, you should be able to cover 80 square feet per ton.
The average asphalt driveway requires 7.5 to 15 tons of asphalt.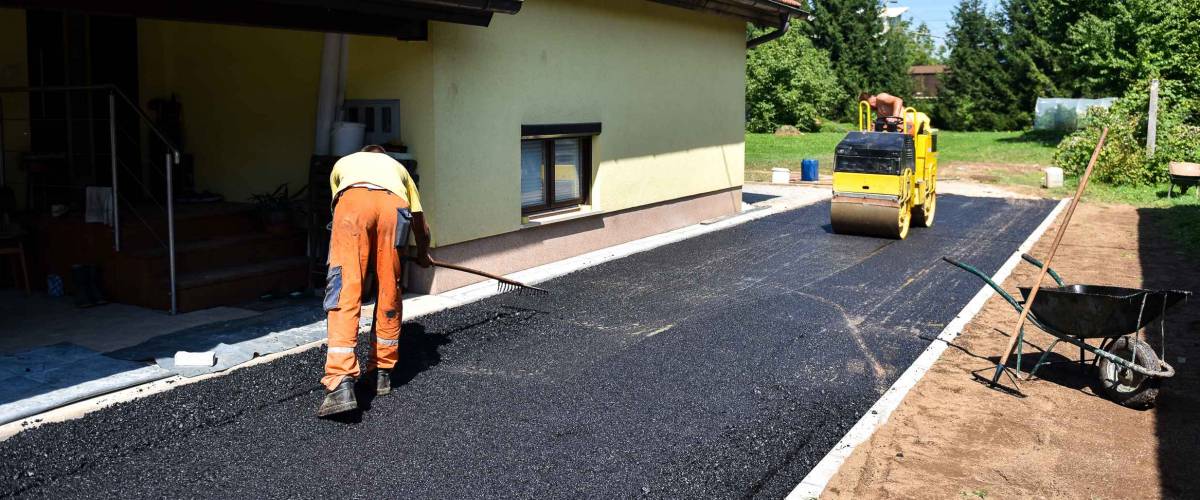 Asphalt paving cost per square foot
The average cost of a new asphalt driveway is $7 to $13 per square foot, according to HomeAdvisor.
How do contractors come up with these numbers? Materials cost $2 to $6 on average, and labor costs run $5 to $7.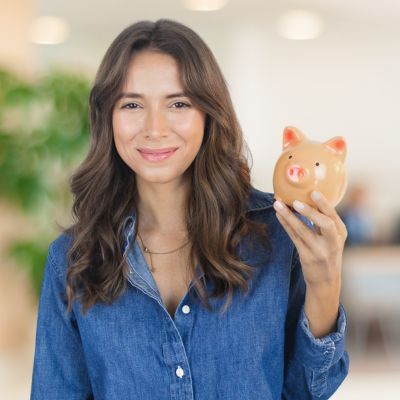 Don't let your money idle in low-interest accounts! Savvy savers are earning up to 10x more interest by keeping their hard-earned cash in a high-yield savings account. Find some of the best options here.
Get Started
Concrete driveway paving cost
The average cost of installing a concrete driveway is a little more than $3,000. Homeowners reported paying $1,800 to $6,000.
Concrete paving cost per square foot
On average, you'll pay $6 per square foot for a concrete driveway to be poured.
That price can vary from $4 to $15 per square foot, depending on the location, size and decorative elements chosen. If your contractor needs to install reinforcements or remove the existing surface, costs will go higher.
But the biggest factor here is the type of concrete chosen.
Standard, the most basic type, will average about $4 to $7 per square foot to pour. The next level up is stained, which can range from $6 to $12. Finally, stamped concrete costs the most of the three, between $8 to $15.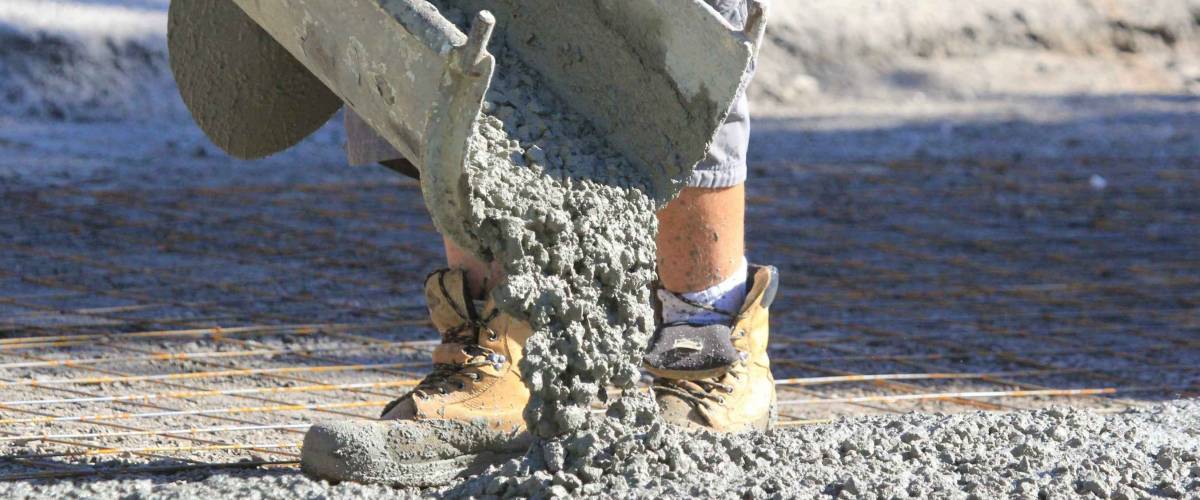 What's the difference between the concrete types?
When your contractor pours concrete for your driveway, stain can be added to the mix while it's still wet. Thus the concrete can be colored to match your home's exterior or decor accents.
Concrete can also be stamped. This adds patterns or texture; you can make concrete look like it's inlaid stone, tile or even marble.
These upgrades are what accounts for the price differences.
Asphalt vs. concrete driveway
Many homeowners prefer asphalt driveways because the material handles extreme temperatures better than concrete does. And a simple resealing every three to five years will keep the surface looking fresh for a long time.
Cost is another factor. It depends on the quality of materials you choose, because the costs of concrete paving can vary so much, ranging on average from $4 to $15 per square foot.
Choosing stained or stamped concrete that can easily make concrete the more expensive option.
But when you're thinking about cost, also consider the lifespan of your new driveway. Asphalt generally lasts 15 to 20 years, while concrete will hold up for twice that length of time.
So while you may end up paying more for concrete, you probably won't have to replace it for a good long time.
Whichever material you choose, a new driveway will improve your home's curb appeal and resale value. If you're planning to sell your home soon, it's a great way to boost the purchase price.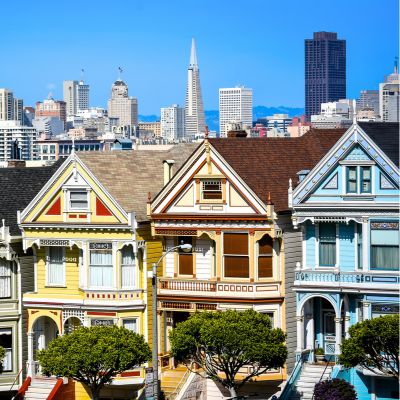 Believe it or not, you don't need millions, or even hundreds of thousands to invest in real estate. Arrived is an online platform where you can invest in shares of rental homes and vacation rentals without the headaches of being a landlord.
Learn More
How much do driveway pavers cost?
An alternative to both asphalt and concrete is paving stones. They can provide a textured and interesting look, but they are also more expensive. The average price to install driveway pavers is $3,000 to $30,000. That averages about $10 to $50 per square foot.
Why do pavers cost so much in comparison to asphalt and concrete? First, these materials tend to cost a little more. Second, because pavers must be laid piece by piece, installation can take longer.
The added expenses might not end after you've installed them, either. You will likely have to replace pavers if they crack, shift or break over time.
But the appeal of pavers is that they offer a variety of textures and colors, which allows homeowners to create more personalized driveways.
You could also opt for the unique look of grass pavers. This fun style involves laying interlocking plastic or concrete pavers with space for soil, seeds and drainage.
A driveway made with grass pavers can run from $3,000 to $9,000, or $10 to $15 per square foot. But keep in mind that the interesting effect comes with some maintenance: You'll have to water and trim them once a week in the summer, as you do with your lawn.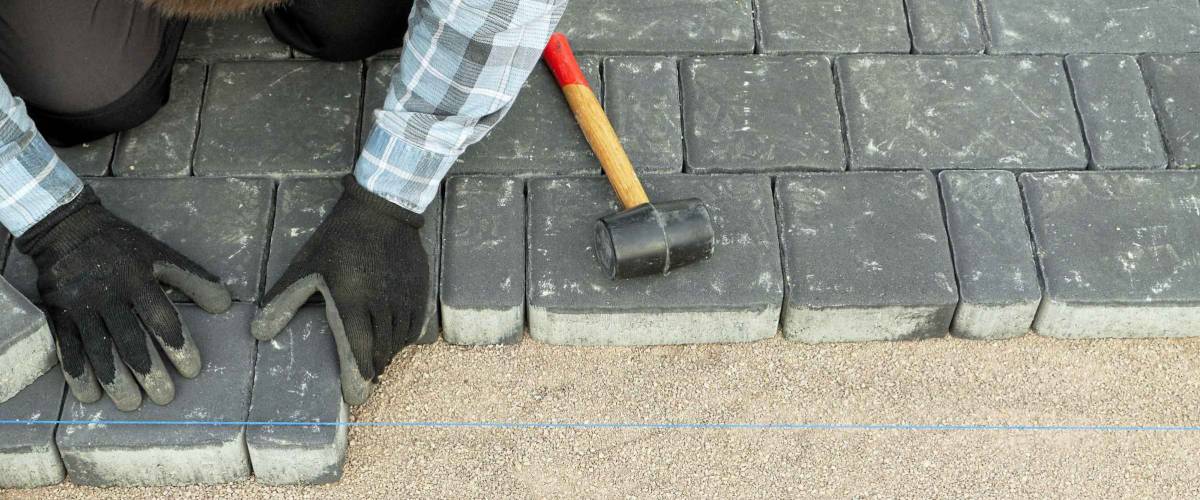 Install a new driveway vs. repair an old one
Removing an existing driveway will add to the expense of a project. Generally, it costs about $1 to $2 per square foot to take out the old one.
Before your paving contractor can install a new driveway, workers will have to:
Break up the old material.
Haul it away.
Conduct a minor grading of the area.
If you've asked your contractor to make changes to the driveway's shape or location, that can also increase costs.
If your driveway needs more than minor repairs but you don't want to completely replace it, you may consider repaving instead. Depending on the materials you use, this can cost anywhere from $1 to $20 per square foot.
What your contractor will do is remove the damaged top layer of the driveway and replace it with fresh asphalt or concrete.
In a similar vein, you could opt for an asphalt overlay. Sometimes called a "top coat," this will cost about $3 to $7 per square foot. Your contractor will add a thin layer on top of your existing driveway surface.
After about six months, the contractor will need to come back to apply a sealant, which costs about $500, to protect your asphalt and minimize cracking or shifting.
But this method will still generally cost less than completely replacing an existing driveway.
Consider additional driveway costs
The three main expenses of installing a new driveway are materials, labor and maintenance.
But if your home is more than 50 years old and your driveway isn't up to current building codes, you may face the cost of removing your existing driveway base. Other issues that can make your project more expensive include installing on a slope, in an odd shape or dealing with landscaping or drainage issues.
Final note: Beware of scams
Homeowners also should beware of scams. In one common scenario, a fake sales representative offers to repave your asphalt driveway. Instead of following through with the project, the scammer takes your money and disappears.
In another scam, a sales person claims they have leftover materials from another job that you can buy at a discounted price. Professional contractors usually know how to calculate exactly how much material they need and will rarely buy more than a job requires.
To avoid falling victim to a scam, avoid contractors who insist on being paid in cash, pressure you to make a decision quickly or refuse to give you a written estimate for the work.
If you're approached by a contractor unsolicited, be sure to ask for their credentials and/or referrals.
In general, whenever you consider hiring a professional contractor you should always check online to see what previous clients have to say about their work or how they rate through the Better Business Bureau.
Sponsored
Kiss Your Credit Card Debt Goodbye
Millions of Americans are struggling to crawl out of debt in the face of record-high interest rates. A personal loan offers lower interest rates and fixed payments, making it a smart choice to consolidate high-interest credit card debt. It helps save money, simplifies payments, and accelerates debt payoff. Credible is a free online service that shows you the best lending options to pay off your credit card debt fast — and save a ton in interest.