Stores are already in holiday mode
While Thanksgiving isn't for another few weeks, stores are already rolling out the Christmas merch and holding sales events — a phenomenon known as Christmas creep — in the hopes of selling off excess inventory.
Americans have been spending less on goods and more on travel and entertainment this year. With weaker consumer demand, retailers are reportedly sitting on a record $732 billion of inventory as of July — a 21% jump from a year ago.
Target kicked off its Black Friday sales on Oct. 10 — three weeks earlier than last year's shopping event — and Walmart also offered four days of discounts that same week. Amazon held a second Prime Day event on Oct. 11 and 12 as well.
However, despite all the markdowns, experts are still anticipating a muted holiday shopping season. The steepest discounts are expected in electronics, but there's been low demand for this market of late, especially for items like smartphones, tablets and TVs.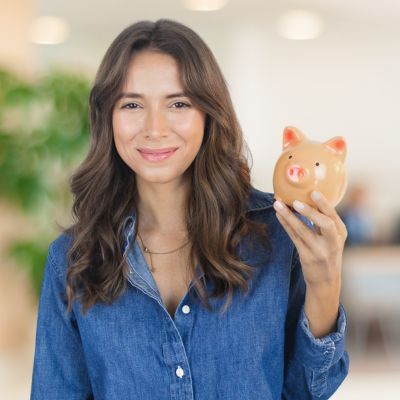 Don't let your money idle in low-interest accounts! Savvy savers are earning up to 10x more interest by keeping their hard-earned cash in a high-yield savings account. Find some of the best options here.
Get Started
Shoppers plan to start early and buy less
Grappling with higher prices, almost three-quarters of Americans say they're expecting to spend either more or the same on the holidays compared to last year.
Deloitte's 2022 holiday retail survey reports that consumers plan to buy fewer items and cut back on non-essentials this year in order to compensate for inflation. They also expect to visit fewer in-store and online retailers.
The firm forecasts a meager 4 to 6% increase in 2022 holiday sales — compared to last year, which saw a 15% jump from 2020.
Deloitte economic forecaster Daniel Bachman says inflation will "help to raise dollar sales, although retailers will see less growth in sales volume."
Hoffman predicts more shoppers will opt for online shopping instead of going into stores, since it's easier to compare deals.
She also believes shoppers may be hunting for early bargains and avoiding the risk of the gifts they want going out of stock. Last year's holiday season was plagued by supply chain issues, staffing shortages and high demand.
"They want to get a jump on things so they won't be caught empty handed," says Hoffman. "Plus, inflation is a big concern — if prices are only going up, it makes sense to buy things you can buy ahead as soon as possible rather than wait."
More: Do big box stores save you the most? We price-check our shopping list
Many shoppers plan to tap savings, credit cards
Over 40% of consumers say their income isn't enough to cover the costs of gifts and other holiday items this year, reports the National Retail Federation. But that doesn't mean they're opting out of gift-giving.
There are multiple ways shoppers plan to bolster their spending power.
While 40% of respondents in the study said they plan on tapping into their savings, 32% may take on on credit card debt, 25% may rely on services like buy now, pay later to split up payments and 22% could sell assets in order to afford gifts this year.
Hoffman is concerned about the impact this could have on consumers' finances.
According to the Federal Reserve Bank of New York's latest quarterly report, credit card balances saw their biggest year-over-year increase in over 20 years. And more Americans are resorting to the paycheck to paycheck lifestyle in the wake of higher interest rates and consumer prices.
"People are spending money, but they can't really afford it. We're almost at record consumer debt," Hoffman warns.
Sponsored
Kiss Your Credit Card Debt Goodbye
Millions of Americans are struggling to crawl out of debt in the face of record-high interest rates. A personal loan offers lower interest rates and fixed payments, making it a smart choice to consolidate high-interest credit card debt. It helps save money, simplifies payments, and accelerates debt payoff. Credible is a free online service that shows you the best lending options to pay off your credit card debt fast — and save a ton in interest.