Keep the house warm
When the power goes out, it can be difficult to heat your home. Therefore, it's critical to prevent warm air in your house from escaping.
You might want to consider air-sealing your house and adding insulation. The U.S. Environmental Protection Agency estimates that by doing so, homeowners can save about 15% on heating and cooling costs, or an average of 11% on their total energy costs.
In other words, this is something that you can do even if you're not concerned with a blackout. With rising energy costs, we could all use some savings on our utility bills.
You can use caulk for cracks and openings around door and window frames. You can also try weatherstripping to seal movable components such as doors and windows.
More: Heat pump tax credits for 2023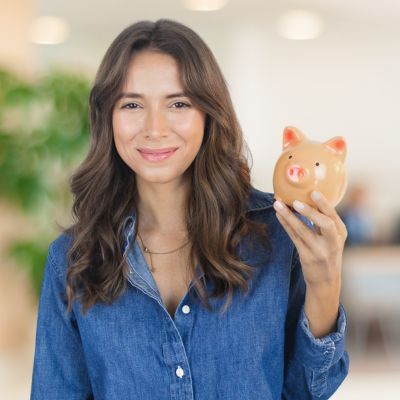 Don't let your money idle in low-interest accounts! Savvy savers are earning up to 10x more interest by keeping their hard-earned cash in a high-yield savings account. Find some of the best options here.
Get Started
Stock up on food and water
While you are finding ways to keep the house warm in a winter power outage, there's one thing in your house that doesn't want to get warm — the refrigerator.
When there's no electricity coming out of the wall outlet, your fridge won't be able to keep food cold for long. Food kept in freezers can generally last longer, but in the case of a long-term power outage, it will probably still be spoiled.
To ensure you have enough food supply in such a scenario, consider filling your pantry with non-perishable food. Good options include canned foods like beans and soup. Dried fruits, nuts, crackers, powdered milk and cereal also tend to have a reasonably long shelf life.
You may want to get some bottled water, too, just in case something happens with the water supply during the power outage.
And make sure you have a manual can opener.
Find a backup power source
Ultimately, the best way to minimize the impact of a power outage is to have a backup power source, such as a generator.
You probably won't be able to power the entire house on a backup generator, but it should allow you to run some essential appliances — such as a fridge — when the grid is down.
Of course, generators are big-ticket items and not every household is willing to invest in one.
If you just want to charge electronic devices such as smartphones, tablets and laptops, you can get a power bank. Power banks store energy and come in different capacities. The bigger the capacity, the more charges it can provide.
Lastly, just like in the old days, you'll want to have some flashlights, a radio, and plenty of batteries on hand in a blackout as well.
Sponsored
Kiss Your Credit Card Debt Goodbye
Millions of Americans are struggling to crawl out of debt in the face of record-high interest rates. A personal loan offers lower interest rates and fixed payments, making it a smart choice to consolidate high-interest credit card debt. It helps save money, simplifies payments, and accelerates debt payoff. Credible is a free online service that shows you the best lending options to pay off your credit card debt fast — and save a ton in interest.