Why student loan forgiveness has been on the rocks
There are 40 million student borrowers across the U.S. who owe a staggering $1.6 trillion in outstanding loans and could potentially benefit from the Supreme Court's decision this week.
The costs of attending a postsecondary institution are far higher than what they used to be — thanks to factors such as rising demand and reduced state funding — and that's without adding inflation to the mix.
"A young person can pay up to 200% more in tuition than what her parents paid when they went to college, and that's just fundamentally wrong," Warren emphasizes.
The Biden administration implemented the Health and Economic Recovery Omnibus Emergency Solutions (HEROES) act, arguing that the effects of the COVID-19 pandemic on borrowers warranted forgiveness in order to prevent a record rise in delinquencies and defaults.
Its plan is to forgive up to $20,000 for Pell grant recipients and up to $10,000 for those who didn't receive the grant — assuming these borrowers earn less than $125,000 ($250,000 for married couples) a year.
But the states who've sued the administration (Nebraska, Missouri, Arkansas, Iowa, Kansas and South Carolina) say this is illegal, and that the policy doesn't benefit everyone. They add forgiveness could impact lenders who profit from the now-defunct Federal Family Education Loan (FFEL) program and even harm Missouri's state coffers.
The court is ruling over whether the parties have the right to sue and whether the Biden administration overstepped its executive authority in issuing the policy in the first place.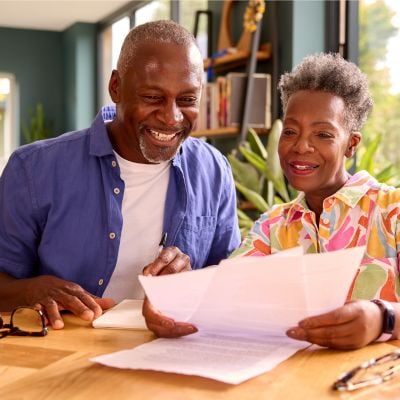 Having a single loan to pay off makes it easier to manage your payments, and you can often get a better interest rate than what you might be paying on credit cards and car loans.
Credible is an online marketplace offering personalized loan options based on your unique financial situation.
When you consolidate your debt with a personal loan through Credible, you can roll your payments into one monthly installment. Find a lower interest rate and pay down your debt faster with Credible today.
Find your rate
Warren says this fight is 'personal'
Warren has long advocated for student loan forgiveness and she's now calling for immediate action.
"I've been in this fight for a long time and part of the reason is because it's personal," Warren says, explaining she was the first person in her family to get a college degree because she went to a commuter school that cost $50 a semester.
"I then went to a public law school where I got a great education and I was able to do this because I grew up at a time in America when our country was investing in me and in our future," Warren adds.
"That opportunity is just not out there today."
Sponsored
This Company Will Help Nearly Anyone Get Rid of Credit Card Debt
Do you feel like paying off your credit card is a constant grind, with no end in sight? You're not alone. A personal loan offers lower interest rates and fixed payments, making it a smart choice to consolidate high-interest credit card debt. It helps save money, simplifies payments, and accelerates debt payoff.
Credible is a free online service that shows you the best lending options to pay off your credit card debt fast — and save a ton in interest.