The Average Cost of Wedding Flowers
Beautiful blooms can set a couple back much more than you might think.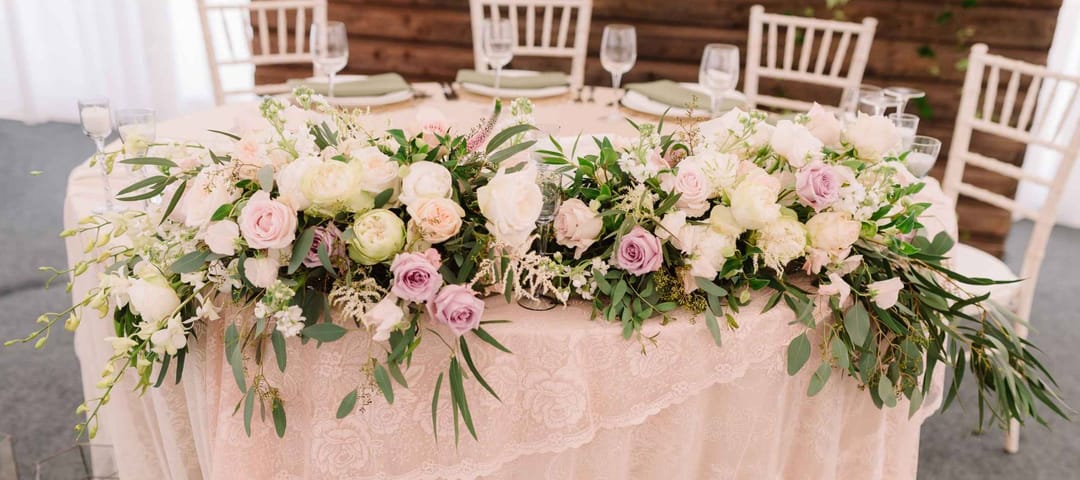 butterfly_lady / Shutterstock
Couples can expect to invest roughly 10 percent of their total budget on wedding flowers, according to Brides.com's wedding planning veterans. But when you're just setting up your own wedding budget, you're likely trying to figure out the average cost of wedding flowers and other items to see what you can afford.
These days, wedding flowers cost between $1,400 to $11,000 for floral arrangements. Of course, many factors go into the cost of floral arrangements, and there are several ways to reduce the costs of wedding flowers with a little careful planning.
What is the average cost of wedding flowers?
Often, the average cost of wedding flowers goes up in correlation with the size of the venue, the size of the wedding party, and the number of guests. Each bouquet and table arrangement adds sizable increases to the total cost. Having more bridesmaids means more bouquets, and adding more tables means more centerpieces.
If you are working with a small budget for wedding flowers, it helps to dig into the average costs of each arrangement and revise your plan as your budget allows.
The average cost of wedding flowers by arrangement, according to Brides.com, is as follows:
Bridal bouquet: $150 to $350
​Bridesmaid bouquet: $65 to $125
​Boutonniere: $24 to $45
​Pin-on corsage: $32 to $48
Wrist corsage: $48 to $65​
Reception flowers: $75 to $250
​Flower girl petals: $65 per bag
​Altar flowers: $75 to $500
Head table centerpiece: $65 to $150​
​Guest table centerpiece: $75 to $400
Cake flowers: $25 to $150
Which are the most expensive wedding flowers?
Again, there are many reasons why some arrangements are more expensive. If the flowers are not in season, or if they are exotic, they will likely cost more. Whether they include greenery or are primarily flowers also affects the cost. As with all trends, wedding flowers go in and out of fashion, which means their prices change as demand changes.
Here's an example of some of the most expensive and in-demand wedding flowers today. Wholesale prices are helpful to keep in mind as you work with your florist, but florists aren't always eager to give out the per-stem price because a final arrangement will be exponentially more than merely a sum of the stem prices. Here are examples of average wholesale per-stem prices:
White Peonies – Wholesale for $7.50 per stem
​Ivory Hydrangeas – Wholesale for $8 per stem
Long-Stemmed Gloriosa Lilies – Wholesale for $5 per stem
Which are the cheapest wedding flowers?
Thankfully, many of the most popular wedding flowers these days are also some of the most affordable. These less expensive wedding flowers are less exotic and are often used to mimic the look of the costlier options. For example, a well-versed florist will suggest using a group of carnations to mimic the look of a peony. Here are some affordable popular examples:
Candy-Cane Carnations – Wholesale for $1.60 per stem
​White Roses – Wholesale for $2.00 per stem
​Baby's Breath – Wholesale for $1.50 per bunch
White Oriental Lilies – Wholesale for $4 per stem
Factors that affect the cost of wedding flowers
As with all aspects of a wedding, the cost of wedding flowers can quickly spiral out of control. One wedding planner interviewed for Brides.com spoke of a $75,000 floral budget. Obviously, a $75,000 budget is not the norm. Most people take the following factors into consideration, to plan appropriately and get their costs down to a more reasonable level:
Type of flower – Finding less expensive alternative flowers to the exotic and most popular varieties will save money. Using greenery and budget-friendly filler flowers around a few expensive stems in each bouquet also cuts costs.
​Season of wedding – Choosing flowers that are in season will ensure your florist has plenty on hand and has no need to make a special order. Seasonal flowers can also be found from local suppliers.
​Size of wedding party – The more people in your wedding party, the more bouquets, corsages, and table centerpieces you'll need.
Guest tables – The more individual tables you'll have, the more you'll need to spend on guest centerpieces.
How to pay for wedding flowers
If you don't have enough cash to cover the cost of your wedding flowers ­or other wedding-related expenses, you might look for financing options. Some people opt for a wedding loan – which is a type of personal loan – or others might decide to take advantage of a low- or no-interest credit card offer.
If you decide to finance any wedding costs, it's important to shop around to find the offer that will ultimately cost you the least in fees and interest. While you're shopping, be aware that some lenders will do a hard inquiry on your credit report to determine your eligibility and rate. A hard inquiry can ding your credit score by a few points.
Wedding loans
Several lenders offer a type of personal loan called a wedding loan – including LightStream, Prosper, and Discover, to name a few.
A wedding loan, like a personal loan, is usually an unsecured loan (requiring no collateral) that can be approved and funded relatively quickly so you can pay for your big day. The repayment period will depend on the lender but, for example, you might have five years to pay off a $30,000 loan. The advertised annual percentage rates for a wedding loan might be in the 5% range, but the rate you get will often be determined by your creditworthiness, loan amount, term length, and other factors determined by the lender. In other words, your actual rate could be higher than the advertised rate.
A wedding loan might make sense for you if you can secure a rate that is much lower than a typical credit card rate ­– which can often be in the 15% to 25% range or even higher. You don't need to limit your financing search to just wedding loans. You can also use a personal loan that isn't branded as a wedding loan to finance those costs. In any case, it's important to go with the choice that gives you the lowest interest rate, fees, and repayment terms that work best for your budget.
Low- or zero-interest credit cards
You might also find a low-interest credit card or one that offers a 0% introductory APR that could last anywhere from 12 to 18 or more months. After the introductory period, however, the interest on the balance will shift to a regular, double-digit APR.
A credit card might also not come with a very big credit limit, which means lower financing power than a wedding loan or personal loan. However, if you do pay off those wedding costs within the 0% APR period, you'll save big on interest. Furthermore, if you get a card with low or no interest that also offers a great sign-up bonus and cash-back or travel rewards, you might benefit from charging your wedding flowers.
Just be sure to budget your costs accordingly to pay off the balance within the 0% APR promotional period and avoid paying steep interest charges.
How to save on wedding flowers
Statistics on the average cost of wedding flowers do vary widely from one survey to the next. There are so many influences over the price of wedding flowers, this variability is normal.
While people have easily spent more than $75,000 on wedding flowers, not every couple needs to break the bank for beautiful flower decor. With the cost-saving tips above, couples can reduce their total floral costs and still create a lovely wedding atmosphere.
The post Average Cost of Wedding Flowers appeared first on LendEDU.