1. Anything but flowers If you type "wedding inspo" into Google image search, you'll be bombarded with tons of flowers — from bouquets to centerpieces to a rose petal-lined aisle. Flowers have been associated with love, romance and weddings for centuries.
But what if you don't like flowers?
After all, they are incredibly expensive and wither and die after just a few days.
This centuries-old tradition could definitely use a refresh. Today, brides and grooms can get creative with their wedding decorations by using paper cranes, lanterns or even candy. A Reddit user describes how she turned her wedding into a Willy Wonka wonderland:
We used candy instead of flowers. Candy bouquets, candy centerpieces. Our room looked amazing. We had giant fake candy we made out of Styrofoam balls wrapped in colored cellophane. Candy won't work for everyone, but it's just an example of something non-flowery.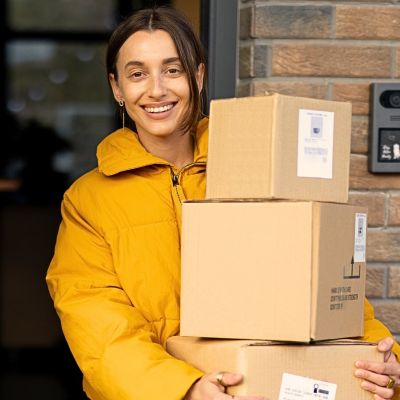 Capital One Shopping's browser add-on automatically applies coupon codes as you shop online. It's absolutely free – plus it takes only two clicks to install. Add the Capital One Shopping browser extension today and start earning discounts of up to 50% on the things you already buy.
Install for Free
2. Fun shoes or sneakers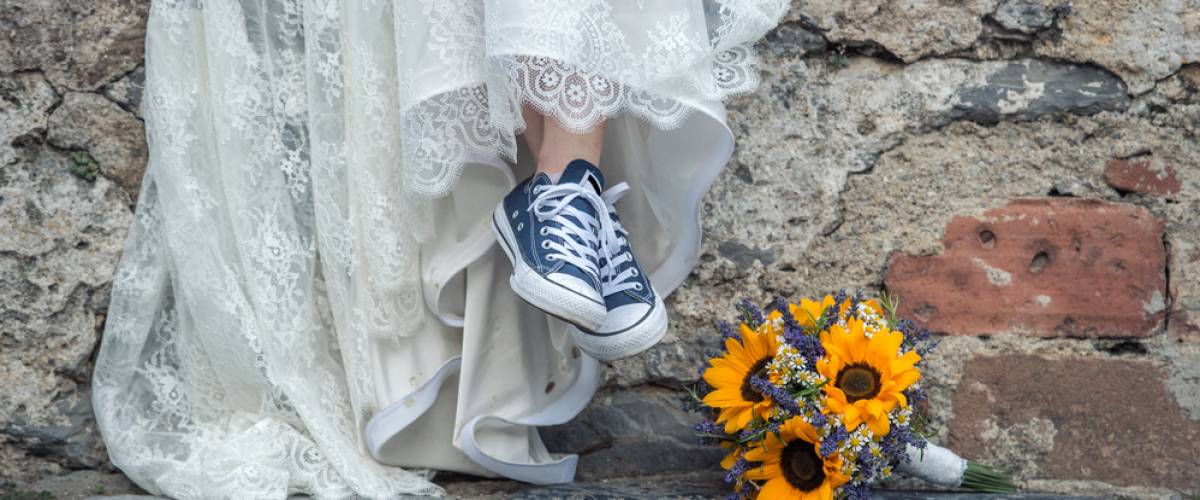 High heels on your wedding day — it seems they're what every bride wears, but if you never wear heels every other day of the year, how would you be making your wedding day something different?
Whether it's for comfort or for personal style reasons, eccentric brides (and grooms) are rebelling against tradition by wearing running shoes, tennis shoes or skateboard shoes to their wedding, such as Reddit user hannah5:
I'm wearing Vans throughout the day. I have the checkerboard skate sneakers for the reception, sparkly ones for the ceremony!
And while white and beige tend to be popular choices for bridal footwear, some brides — like Reddit user donthurtmybellpepper — are veering off the beaten path and choosing a more eclectic shoe that complements their color scheme:
I'm wearing burgundy ballet flats. One of my wedding colors is wine, so they'll match my bridesmaids, plus they are super comfy. And I can wear them to the office as work shoes after the wedding.
3. Ombre wedding dress Let's say you found the perfect white wedding dress, but you want it to feel a little bit more "you." After all, there are about a million different types of white wedding dresses out there, but only one you.
A dip-dyed wedding dress, when done right, can look absolutely gorgeous and add a dazzling pop of color to an otherwise plain white gown.
If you're too nervous to dye your wedding dress, you can take a tip from Reddit user cherami and experiment first with sheer fabric:
The most important thing we did was to not dye the actual dress! My dress was a $99 clearance dress from David's Bridal, so I guess I could have risked dyeing it. But still, a hundred bucks was a lot to risk on something I wasn't experienced with!
Instead, my sister bought several yards of sheer white fabric and sewed a circle skirt. We used the scrap fabric for testing different hues, before settling on a pattern we liked most.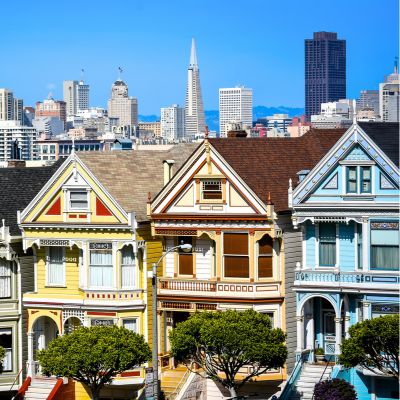 Believe it or not, you don't need millions, or even hundreds of thousands to invest in real estate. Arrived is an online platform where you can invest in shares of rental homes and vacation rentals without the headaches of being a landlord.
Learn More
4. A trip instead of a wedding It's no secret that weddings are astronomically expensive: The average cost of a wedding today is $34,000, according to a report from The Knot.
Even small weddings cost a fortune, which is why some eclectic couples are choosing to skip the affair altogether and put the money toward something they deem a little more worthwhile.
They're using it for the honeymoon instead and are making it the trip of a lifetime, the way Reddit user bearpocalypse did.
Spent three weeks in Japan traveling the country. Best month of my life. Had a small fancy brunch when we got back with family and signed the paperwork.
5. Unconventional dress White wedding dresses have been the go-to fashion item for brides for two centuries now. Specifically, the trend started in 1840 when Queen Victoria broke tradition and wore a white wedding dress made of silk and Honiton lace. Since then, "white dress" and "wedding" have gone together like peanut butter and jelly.
The thing is — not everyone likes white. If white isn't your style, there's no reason to shell out hundreds or even thousands of dollars for a garment that you don't feel good in.
Take it from real brides who are going against the white tradition with dresses that come in all colors of the rainbow, like WeddingWire forum poster, Jennifer Dustin:
Wedding dresses are white to symbolize purity, and a long time ago, virginity. But with those two things being in short supply in today's society, white has become just another color.
So why not wear a color that represents you or how you feel? I think it's a wonderful idea. And the crowd will probably gasp when they finally see you. What a neat reaction you'll get!
6. Bouquet toss, with a twist The bouquet toss, where the bride launches her bouquet into a crowd of her single friends, is an old wedding tradition that is meant to signify marriage is in the future of the maiden who catches it.
It's an outdated tradition that singles out all of your uncoupled friends, which is probably why millennials are choosing to skip the bouquet toss altogether.
For an unconventional twist, brides can even get the groom in on the action with a stuffed animal toss, like Reddit user SukeBoops did for their wedding:
My husband and I did a stuffed animal toss instead! We opened both tosses (me with a dog and him with a cat) to everyone, and then donated $20 to animal rescues in the name of the winner. Our guests got really into it and everyone loved it.
6. Geek chic wedding Maybe you and your spouse fell in love over your mutual appreciation for Star Wars. Or you first bonded over your love of old Nintendo games. Maybe you met while playing Pokémon GO.
Whatever your story is, if you and your fiance are proud geeks, why not include that aspect of your personality in your wedding?
Reddit user rkl1710 tells their story:
Our proposal was filled with d20 rolls, Pokemon battle screens and Jean-Luc Picard saying "engage!" For our wedding, we're having lots of musical touches from "Star Wars", "Pokemon" and "Legend of Zelda".
A pianist friend is composing a mashup of "The Imperial March" and "Here Comes The Bride" for me. Wedding colors are red, white and black with gold accents, so lots of 8-bit hearts are going to be hidden in the decorations.
We're also having a game corner where our gamer guests can play Mario Kart and Super Smash Bros.
7. Unity ceremony There are a million different ways you can personalize your wedding reception with little details that reflect you and your spouse's unique personalities. When it comes to the ceremony, though, it can be a little more difficult to personalize saying "I do." After all, the average wedding ceremony is only 20 minutes long, which doesn't leave a lot of wiggle room for personal touches.
A way you can kick your wedding ceremony up a notch is by holding a unity ceremony. A unity ceremony symbolizes the joining of two souls, and is usually represented by the joint lighting of a candle, or in the Jewish faith, signing the ketubah.
It doesn't have to be that formal, though.
Some couples will eat a piece of their partner's favorite food, take a sip of each other's favorite cocktail, or in the case of Reddit user donthurtmybellpepper, channel your inner sommelier:
My husband and I did a wine box ceremony. We bought a nice bottle of wine and ordered a monogrammed wooden box. We each wrote each other a letter and on our five year anniversary, we will open the box, read the letters we wrote each other, and drink the wine.
8. Including guests in the ceremony While the ceremony is meant to join you and your fiance as a married couple, why not include the people who helped get you to where you are today?
Including your guests in the ceremony, either by having them recite a piece of your favorite poetry or a line from you and your spouse's favorite movie or book, can be a fun way to add a little bit of personality to an otherwise conventional wedding. Reddit user shadowaway weighs in:
My cousin had a ring-warming ceremony at his wedding. The officiant passed the rings to the guests at the start of the ceremony and told everybody to take a moment to hold the rings and wish the couple good luck. By the time of the vows the rings had made their way back to the couple.
I loved it because it was a way to include all their guests in the symbolism of the rings, and they can look at their rings and remember the love and warm wishes of all their friends and family.
9. A nontraditional wedding venue Plenty of wedding receptions are held at wedding halls, golf courses or country clubs. They also command a hefty price tag, especially if you're planning to get married during peak wedding season: May to October. Additional costs can be included if you choose to have your wedding on a Saturday or Sunday.
While you could always wait to get married in the middle of February, keep in mind that there are many more options beyond the traditional wedding hall.
Some couples are choosing to get married in a place that holds some significance to them, whether that's at their favorite park or on a farm. If the rustic route isn't your style, consider an art gallery, like Reddit user chynagrove:
*My fiancé and I are getting married at an art gallery. It hold up to 70 people seated or 150 cocktail style. It rents for an hourly rate of $350. It's also basically ready to go as far as decor, as it's filled with amazing pieces of art. *
10. Nontraditional wedding music Not every bride or groom envisions themselves walking down the aisle to Mendelssohn's "Wedding March" or Pachelbel's "Canon in D." While those musical choices are classics, you want to seek out a little more musical variety for your own wedding.
For the unconventional couple with more eclectic musical tastes, making that grand entrance can be achieved with the help of film scores, video game music or even acoustic covers of famous rock songs.
If you're looking for elegant covers of contemporary songs, musical groups like Vitamin String Quartet are your ticket to a modern ceremony that sounds like a classical affair. Reddit user spacechimp86 advises:
We're having Vitamin String Quartet music for a lot of the background music segments. So it'll be nerdy and music we love while still sounding super classy to those not in the know.
11. Personalized centerpieces There's nothing wrong with wanting elegant crystal vases filled with flowers for your centerpieces, but there's no denying that throwing some hydrangeas in a fishbowl been done to death. If you want to truly wow your guests with something different, go the extra mile and personalize your centerpieces.
There's tons of inspiration on Pinterest for unconventional centerpieces, such as old clocks, lanterns or in hannaebanna's case, "Harry Potter" books.
We're going to have three "Harry Potter" books stacked with a simple vase on top, and I'm going to wrap the vases with ribbon related to my "Harry Potter" house colors.
Ten points to Gryffindor, indeed.
12. Brunch or picnic wedding It's standard that after the ceremony, the newlywed couple throws a party. But maybe you and your spouse to be are total homebodies who like to be in bed by 11 p.m. There's no shame in not wanting to have a party, especially since there are so many creative ways to have a "reception" without actually having a reception.
Enter the brunch wedding. Having your guests join you for an early afternoon brunch is a great alternative to the traditional reception, and ends early enough for you and your newlywed to catch a movie and laze around.
Or, you could throw a picnic wedding, says Reddit user fivefuzzieroommates:
I have a friend who did a "picnic wedding" where everyone was picnic baskets and blankets instead of seats. I had another friend just did a wedding at an old school and just had appetizers in the afternoon. Who cares? Your wedding should be whatever you guys want it to be!
13. A hiking wedding After the wedding ceremony, tell all your guests to "take a hike," literally.
If throwing a party just isn't your style, and you come from a particularly athletic family, why not do something wildly original for your wedding day?
From Reddit user dontbestupid26, her hiking wedding in Vermont was a big hit:
I got married last Saturday. My husband and I rented a large house in Vermont. We invited our siblings and closest friends. On the day of, seven of us hiked up our favorite mountain. My future sister-in-law and I hiked up in dresses. My husband's best friend married us, and we had our first dance at sunset.
It was so perfectly us.
14. Disposable or Polaroid cameras Having a professional photographer capture all the precious moments on the biggest day of you and your spouse's life is a pretty big component of the wedding. Still, you may only have one or two photographers handy, meaning that a few people might get left out of the picture.
So, why not have everyone play photographer for the night?
Some eclectic couples are going retro-chic and buying Instax Polaroid cameras for their guests to snap a picture or selfie (or two) and having them add their cutest pics of the wedding to a guestbook.
That way, you and your spouse can look back at the great memories for the night from multiple perspectives. If you keep extra film handy, your guests can also snag a cute Polaroid picture as a souvenir. An anonymous Reddit user offers their two cents:
We did this for our wedding! It was very easy and everyone loved it. We encouraged people to take multiple photos and had a sign saying "please take two — one for us and one for you." I'd check Groupon for good deals on film!
15. Fascinators Veils and flower crowns are millennial bridal staples, but how about kicking it (extremely) old school? Fascinators — tiny head coverings with a small piece of fabric affixed to the front — were popular from the 17th to 19th century, but fell out of fashion by the 1930s.
They've since made a bit of resurgence, especially among brides who want to add a bit of a vintage feel to their wedding outfit.
Since it has a head covering, it technically counts as a veil and can add an element of style and class to any wedding dress. Reddit user mikuooeeoo wore a fascinator, and has no regrets:
I'm wearing a fascinator instead of a veil. I think it'll look great with my tea-length wedding dress. I want to look like I'm in "The Great Gatsby".
16. Fun wedding favors Jordan almonds, tea cozies and potpourri all have one thing in common — they're all crummy wedding favors. It's 2019, and no one wants their dressers to smell like powdery rose petals anymore.
Instead, take a more unconventional approach when it comes to your party favors. Your guests will thank you for it. Cake pops, chocolates and candy buffets, where guests can fill a baggie with candies to take home, are all great alternatives to the usual gamut of boring wedding favors.
For an extra eclectic kick, lottery tickets, blankets, mini bottles of Prosecco and temporary tattoos as fun party favors that your guests will actually want to take home. Reddit user jurgencatnow explains that temporary tattoos at her wedding were a big hit:
We did temporary flash tattoos at my wedding and they were so fun. Everyone went nuts over them — we were all covered by the end of the night. The flash tattoos were metallic and looked like jewelry, so they looked classier than traditional temporary tattoos (in case you were worried anyone would call them tacky).
17. Groom wearing a funky suit If the tuxedo feels a little too James Bond for your tastes, you can always switch it up with a more eclectic suit that suits your taste.
Although many grooms go for black tie on the big day, you can go against the grain and dress up in gray, navy blue, purple or even all white if you're extra daring.
Whatever you do, make sure you're not too matchy-matchy with the bridesmaids, as Reddit user Captainsaicin warns:
RULE #1 OF WEDDING ATTIRE, DO NOT MATCH THE BRIDESMAIDS DRESSES.
This is your wedding, not a prom photoshoot. It will look AWFUL. Straight out of a men's warehouse catalog.
Sponsored
Kiss Your Credit Card Debt Goodbye
Millions of Americans are struggling to crawl out of debt in the face of record-high interest rates. A personal loan offers lower interest rates and fixed payments, making it a smart choice to consolidate high-interest credit card debt. It helps save money, simplifies payments, and accelerates debt payoff. Credible is a free online service that shows you the best lending options to pay off your credit card debt fast — and save a ton in interest.