Buffett has been steadily building up a massive stake in a legacy consumer tech company that Wall Street has overlooked. HP Inc. rarely gets mentioned as a tech giant. It's not on the cutting edge of artificial intelligence or augmented reality. But it certainly looks like an undervalued and lucrative business.
HP has a return on invested capital (ROIC) of 25.4%, enough to double its investments within three years thanks to the effect of compound growth. It meets Buffett's definition of a "great business," which is probably why he's been buying a sizable position in the company over the past year.
According to Berkshire Hathaway's most recent 13-F filing, the company owns 12% of all outstanding HP shares. It's the ninth largest holding in the portfolio.
Read more: 'It makes an enormous difference': Warren Buffett says this simple 'trick' is the key to earning a generous retirement nest egg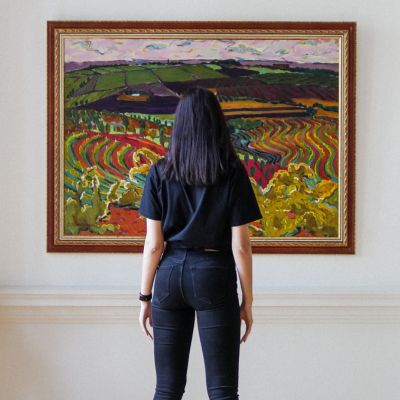 Contemporary art has outperformed the S&P 500 by 131% for the past 26 years. Join the exclusive platform to invest in million-dollar works by artists like Banksy, Basquiat, and more. Get started today and diversify your portfolio with art.
Learn More
Buffett's largest holding, by a wide margin, is the iPhone maker based in Cupertino, California. Apple represents 46.44% of the Berkshire Hathaway portfolio as of mid-2023. That's partly because Buffett has been raising his stake in the company and partly because the stock is up by more than 50% year-to-date.
Buffett's confidence in Apple is justified by the underlying financials. Apple has sustained a double-digit return on capital for several years and is currently operating at a ROIC of 32.5%.
The continued popularity of the iPhone, lucrative margins in the software business and new products like the Apple Vision Pro headset could sustain this pace of growth.
America's most famous beverage maker has been in the Berkshire Hathaway portfolio for decades. Buffett started accumulating Coca Cola stock in 1988. By last year, he could boast of having earned over $700 million in dividends from his stake.
After all these years, KO is still the fourth largest holding in the portfolio, accounting for 7.6% of assets. That's probably because Coke hasn't lost its market-leading position in global soft drinks over the years. It's still a highly profitable business with ROIC of 16%.
The stock trades at a price-to-earnings ratio above 25, which is arguably justified for a company with such a stellar track record of dividend growth.
Few other companies represent Buffett's investment style better than Coke. Investors looking for a safe bet should probably add this classic Buffett stock to their watch list.
Sponsored
Meet Your Retirement Goals Effortlessly
The road to retirement may seem long, but with WiserAdvisor, you can find a trusted partner to guide you every step of the way
WiserAdvisor matches you with vetted financial advisors that offer personalized advice to help you to make the right choices, invest wisely, and secure the retirement you've always dreamed of. Start planning early, and get your retirement mapped out today.