Start early and stay focused
The earlier you can start investing, the better off you'll be. That's probably the most common piece of investing advice — and it's something that Buffett and Gates both stand by.
Buffett once described earning compound interest — an interest you earn based on your personal contributions and the interest you've already earned — as the ability to snowball your wealth.
"We started building this little snowball on top of a very long hill," he said at Berkshire Hathaway's annual shareholders meeting in 1999. "The trick is to have a very long hill, either start very young or live to be very old."
There are many ways to start investing. You can invest in stocks or index funds through a traditional brokerage account, or you can use tax-friendly investment vehicles like a 401(k) account (if your employer offers one) or an individual retirement account (IRA).
Once you start investing, it's important to stay focused. It's possible to put your money to work every single day, for example, if you invest your spare change. And remember, the more time you have to earn interest, the bigger the rewards you'll see.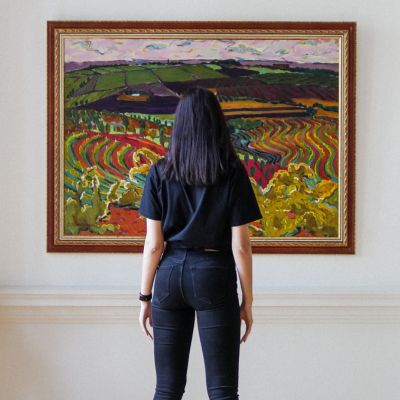 Contemporary art has outperformed the S&P 500 by 131% for the past 26 years. Join the exclusive platform to invest in million-dollar works by artists like Banksy, Basquiat, and more. Get started today and diversify your portfolio with art.
Learn More
Focus on quality and value
Buffett is a well-known proponent of value investing, which is a strategy that involves buying stocks that are trading below their intrinsic value.
Typically, he looks for companies with long-lasting earning potential, consistent earnings, good cash flow and a low amount of debt.
He also likes to hold high-quality stocks for a long time — as shown via long-term investments in blue-chip companies like American Express and Coca-Cola — and famously wrote in his 1996 letter to shareholders: "If you aren't willing to own a stock for 10 years, don't even think about owning it for 10 minutes."
While the investing juggernaut has been preaching the notion of value investing for many years, he reiterated it in Berkshire Hathaway's annual shareholder letter published in February 2023, where he wrote that the company's investing goal was to back "businesses with both long-lasting favorable characteristics and trustworthy managers."
Some good examples of value investing in Buffett's portfolio are his stakes in Apple and Coca-Cola. Apple now ranks as Berkshire Hathaway's largest stock holding at $177.6 billion as of June 30, 2023, making up over 45% of the conglomerate's entire portfolio.
"It just happens to be [a] better business than any we own," Buffett said of the technology giant at the 2023 Berkshire Hathaway annual shareholders meeting — alluding to Apple's impressive financial metrics.
Focus on learning and improving
It's likely you'll see both gains and losses through the lifetime of your investment portfolio. The question to ask yourself is: How can I turn my investing blunders from the past into successes in the future?
Even investing greats like Buffett have made mistakes over time. At the 1997 Berkshire Hathaway annual shareholders meeting, Buffett admitted to making "mistakes of omission," where he had the opportunity to invest in attractive businesses but did not act.
Talking about those mistakes, Charlie Munger — Buffett's long-time business partner and vice chairman of Berkshire Hathaway — said: "Most people get very few, what I call, no-brainer opportunities, where it's just so damned obvious that this is going to work.
He added: "I think people have to learn to have the courage and the intelligence to step up in a major way when those rare opportunities come by."
But not everyone has the investing knowledge to jump on those opportunities. To gain some advantage, you may want to consider working with a professional financial adviser who can translate the investing world for you — or you can use investing apps and online platforms that can do much of the work for you.
Sponsored
Meet Your Retirement Goals Effortlessly
The road to retirement may seem long, but with WiserAdvisor, you can find a trusted partner to guide you every step of the way
WiserAdvisor matches you with vetted financial advisors that offer personalized advice to help you to make the right choices, invest wisely, and secure the retirement you've always dreamed of. Start planning early, and get your retirement mapped out today.