Conagra Brands
Remember those empty grocery store shelves during the onset of the COVID-19 pandemic?
In times of crisis, people tend to stock up on food. Therefore food companies, like Conagra Brands (NYSE: CAG), could be worth considering if you want to get ready.
Headquartered in Chicago, Conagra is deeply entrenched in the consumer packaged food industry. Its portfolio includes many iconic brands, such as Birds Eye, Marie Callender's, Healthy Choice, and Slim Jim.
Even though the pandemic-induced food hoarding has long stopped, Conagra continues to grow its business.
In the fiscal quarter that ended Nov. 27, 2022, net sales increased 8.3% while adjusted earnings per share rose 26.6% to 81 cents.
The stock is also showing its resilience: Conagra shares climbed 5% in the past 12 months, in stark contrast to the S&P 500's 8% decline over the same period.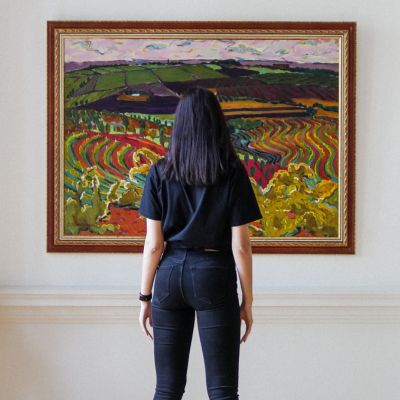 Contemporary art has outperformed the S&P 500 by 131% for the past 26 years. Join the exclusive platform to invest in million-dollar works by artists like Banksy, Basquiat, and more. Get started today and diversify your portfolio with art.
Learn More
Lockheed Martin
Speaking of share price performance, Lockheed Martin (NYSE: LMT) is even more impressive than Conagra: the stock is up 17% over the past year.
But this shouldn't come as a surprise. Known for its F-35 fighter jets, Lockheed Martin is the largest defense contractor in the world by revenue. With increasing geopolitical tension, defense stocks have become the better performers in this stock market rout.
Lockheed Martin operates through four business segments: Aeronautics, Missiles and Fire Control, Rotary and Mission Systems, and Space.
In Q4 of 2022, each of the four segments delivered higher net sales compared to a year ago.
For the entire company, net sales grew 7% year over year to $19.0 billion.
Going forward, the company will likely remain busy as its backlog totaled $150.0 billion as of Dec. 31.
Costco Wholesale
When people start panic buying in a doomsday situation, they won't be buying one item at a time — they'll be loading up in quantity.
And when it comes to selling items in bulk, one company comes to mind: Costco Wholesale (NASDAQ: COST).
In fact, Costco's strategy of selling bulk for value not only makes it a crisis-resistant candidate but also allows it to attract value-conscious consumers before Judgment Day arrives.
In the fiscal quarter that ended Nov. 30, 2022, net sales edged up 8.1% year over year to $53.44 billion. Comparable sales, a critical measure of a retailer's performance, increased 6.6% for the company.
Shares of the warehouse store operator are trading at similar levels compared to a year ago but long term investors probably aren't complaining. Over the last five years, Costco stock has returned over 140%.
Sponsored
Meet Your Retirement Goals Effortlessly
The road to retirement may seem long, but with WiserAdvisor, you can find a trusted partner to guide you every step of the way
WiserAdvisor matches you with vetted financial advisors that offer personalized advice to help you to make the right choices, invest wisely, and secure the retirement you've always dreamed of. Start planning early, and get your retirement mapped out today.