Palo Alto Networks (PANW)
Headquartered in Santa Clara, California, Palo Alto Networks is one of the largest cybersecurity companies in the world.
While the tech sector is having a rough start in 2022 — the Nasdaq Composite tumbled 15% year to date — shares of Palo Alto Networks are down just 0.8%.
In fact, earlier investors are still laughing all the way to the bank as the stock returned a whopping 50% over the past 12 months.
There is a good reason why investors like the company: It's delivering top-notch growth.
In its fiscal Q2 ended Jan. 31, revenue increased 30% year-over-year to $1.3 billion. Adjusted net income was $185 million, up 20% from a year ago.
Wedbush has an outperform rating on Palo Alto Network shares and a price target of $630. Considering that the stock trades at $551 apiece today, the price target implies a potential upside of 14.3%.
The company attracted more institutional attention after its latest earnings report.
On Feb. 23, Morgan Stanley boosted its price target on PANW to $670 — 21.6% above the current levels. The investment bank has an overweight rating on the company.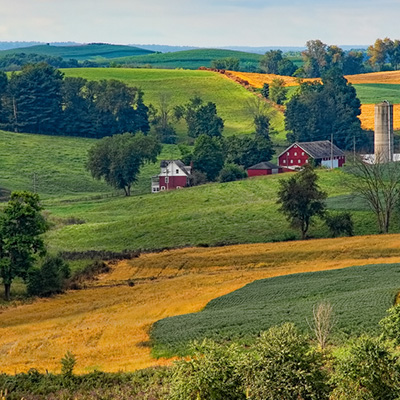 Farmland is one of the top asset classes capable of insulating your money from volatile market conditions. Learn how you can use FarmTogether to safeguard your portfolio.
Diversify now
CrowdStrike (CRWD)
Not every cybersecurity stock is booming like Palo Alto Networks.
CrowdStrike, for instance, is down 11.3% year to date and 15.7% over the past 12 months.
Still, you may not want to cross this name off your list just yet.
Founded in 2011, CrowdStrike was quite late to enter an industry that already has a number of established players. But thanks to its focus on providing cloud-delivered endpoint protection, the company managed to build a solid market position.
As of Oct. 31, CrowdStrike had 14,687 subscription customers, a number that represented a 75% increase year-over-year.
The subscription model allows the company to run a recurring business. In the most recent reporting quarter, subscription revenue accounted for 94% of its total revenue.
Ives is not the only analyst who sees big potential in this cybersecurity play.
JMP Securities analyst Trevor Walsh, for instance, has an outperform rating on CrowdStrike, citing the company's cloud-native platform and broad product portfolio. His price target of $275 is 56% above where the stock sits today.
Zscaler (ZS)
Zscaler is one of the fastest-growing cloud-based security-as-a-service providers in the market.
Consider this: In the company's fiscal 2017, it earned $126 million of total revenue. By fiscal 2021, the number had grown to $673 million, marking an increase of 434%.
Things continue to improve in fiscal 2022, as well.
In Q2, which ended Jan. 31, Zscaler brought in $255.6 million of revenue, representing another 63% increase year-over-year. Free cash flow also rose 63% from a year ago, to $29.4 million.
But you wouldn't expect to see such solid figures based on its recent share price performance. Year to date, Zscaler stock plunged over 30%.
And that could give contrarian investors something to think about.
On Feb. 25, Ives lowered his price target on Zscaler from $400 to $330 but kept an outperform rating. Since the stock trades at $207 per share right now, his price target implies a potential upside of 59%.
"While every hyper growth name with premium valuations are in the penalty box in this risk-off white-knuckle market, ZS is in the early days of leading the way on zero trust architecture and protecting cloud workloads," he writes in a note to investors.
Sponsored
Diversify your investments with farmland
You don't have to own a farm to profit off farmland.
Farmland has proven to be one of the most stable assets of the past few decades — and with FarmTogether, you're able to invest today. FarmTogether's platform gives accredited investors access to this exciting market, and one of the highest-yielding asset classes on a risk-return basis.
Sign up for FarmTogether to start investing in farmland.