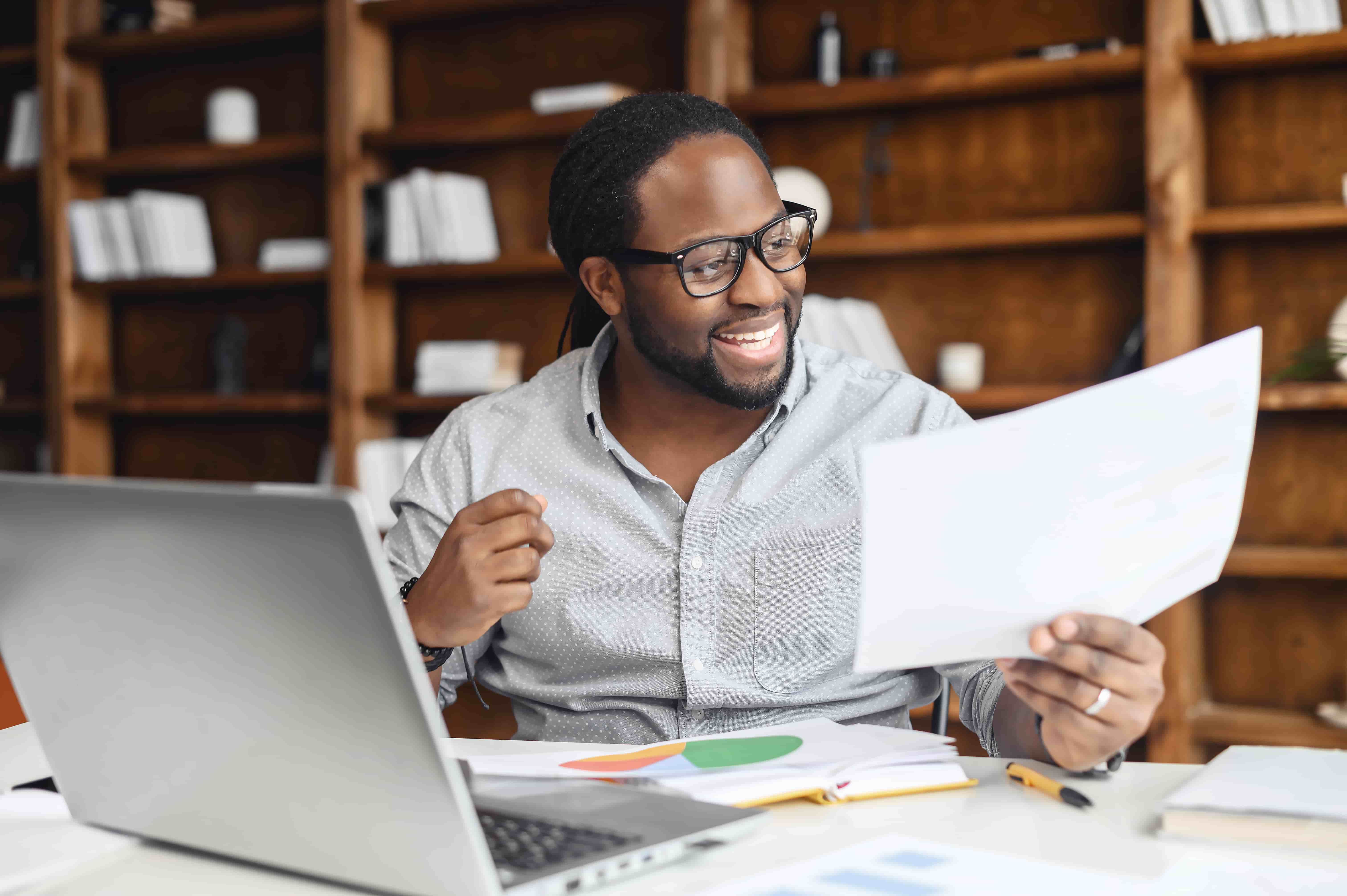 Best paper trading platforms and apps
Vadym Pastukh / Shutterstock
🗓️
Updated: September 14, 2022
We adhere to strict standards of editorial integrity to help you make decisions with confidence. Please be aware that some (or all) products and services linked in this article are from our sponsors.
We adhere to strict standards of editorial integrity to help you make decisions with confidence. Please be aware that some (or all) products and services linked in this article are from our sponsors.
Did you ever play the stock market game in school growing up? If so, you played with what adults call a virtual trading account, or paper trading account. Virtual trading accounts are a way to invest in the stock market with fake money. This lets you test an investment strategy or learn about a new asset class without risk.
If you're looking to hone your skills or learn more about investing, a virtual trading account could be the perfect fit for your needs. Here's a look at how virtual trading accounts work so you can use them to your best advantage.
What is a virtual trading account?
A virtual trading account, or paper trading account, is an investment account funded with fake, or virtual, dollars. For example, a virtual trading account may award you with $100,000 virtual dollars to buy and sell stocks, ETFs, options, futures, forex, cryptocurrency or other supported assets. Progress is tracked just like regular dollars, but you can't cash out when you sell.
Many popular brokerages offer paper trading accounts where you can test trading or investing using the broker's systems without a financial commitment. Others give current customers a virtual trading account to test out new ideas and investment theories alongside their main account. And dedicated stock market virtual trading account websites and apps exist that are not connected to a brokerage.
Virtual stock trading accounts are best used for your own education. They give you a chance to test out brokerages or complex trades without putting real money on the line. When you're done learning from your virtual account experiences, you can translate the strategy over to your brokerage account with real money.
Why should you use a stock market simulator?
A virtual stock trading account acts as a personal stock market simulator. If you want to try out the stock market for the first time so you know how it works when you invest real money, a virtual trading account is perfect for you.
Stock market simulators are fun for tracking a long-term portfolio in a competition against friends. Think of it like fantasy football but with stocks instead of quarterbacks.
If you're looking to get into active trading or expert financial instruments like options, simulated trading with a paper trading account helps you practice without making costly mistakes familiar to newer traders.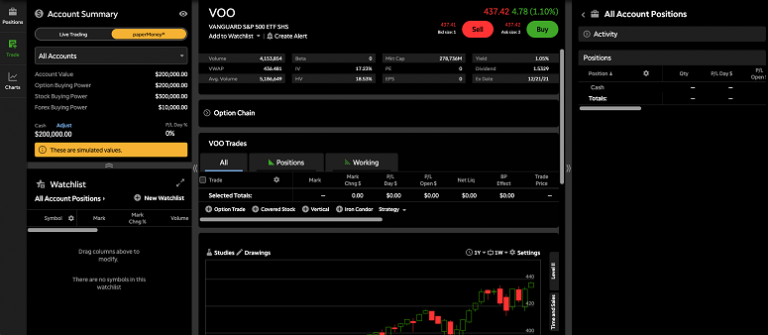 How do you use a virtual trading account?
Using a virtual trading account is almost exactly the same as using a real trading account, minus linking to a bank account or other funding source. Follow these steps to get started:
1.

Choose a paper trading account: Start by picking a paper trading platform. Some brokerages with virtual accounts include Thinkorswim by TD Ameritrade, Webull and TradeStation. MarketWatch and Wealthbase offer free stock market simulators with no connected brokerage account.

2.

Open your account: Opening an account is quicker and easier than a real account, as there is no need to verify your identity, connect to a bank or meet other know-your-customer (KYC) requirements. In many cases you just need an email and password to sign up.

3.

Learn the platform: Time to familiarize yourself with the platform. Click around without worrying that you'll enter a trade. Learn how to enter the types of trades you want. And look at help resources and FAQs where needed and available.

4.

Enter your first virtual trades: Enter that first trade. Load up the trading tool with a ticker symbol and relevant trade information. Then click the trade button. If you made a mistake, don't worry; it wasn't real money, just virtual cash.

5.

Build your skills: Unlike shampoo, where rinse and repeat only makes the shampoo company more money, there's a good reason to repeat again and again in a virtual account. Your habits in a paper money account become your trading skills and habits in your live accounts. Build good habits in advance, so you see the same success when it counts.
Best paper trading platforms and apps
If you want to start learning how to invest by using a virtual paper trading account, here are our suggestions:
Thinkorswim by TD Ameritrade

The award-winning Thinkorswim platform is one of the best platforms to practice trading risk-free. Their paperMoney account comes with $100,000 of virtual money. You can use it to trade any product available on the live trading application. It's a great choice if you want to see how the TD Ameritrade app works or if you want to practice a complex trade without risking your own money.
Webull

Webull is an app for active traders with a mobile-first focus and low fees. You can trade stocks, ETFs, options, and ADRs. They also offer a paper trading account for users that is easy to use. You can trade where and how you want whether that's on your desktop, the web, or your smartphone.
Interactive brokers

With Interactive Brokers, you get access to hundreds of tools used for technical stock analysis. When you sign up for an account you are eligible to sign up for a paper trading account, which gives you access to $1 million USD of paper trading equity. You can experiment with the full range of offerings in a simulated environment using real market conditions.
How long should I practice paper trading?
There's no hard and fast rule for how long you should practice paper trading before upgrading to the real thing. It depends largely on your investing goals. If you're planning to do long-term buy-and-hold investing, paper trading may not be necessary at all. Instead, you can look at robo-advisors, index funds, target-date funds and other long-term investment strategies. However, if you're planning to participate in day trading, options trading and other more advanced strategies, paper trading could be a good use of your time. Practice until you fully understand the investments you're interested in and feel confident in your ability to enter the market with real money.
Is paper trading free?
One of the biggest selling points of paper trading is that you aren't putting up any real money. Most paper trading apps are entirely free for users. But if the one you're looking at requires a paid membership, it's worth seeking out a free one instead.
Remember that paper trading is entirely fictional — you aren't investing with real money. So this means you can't lose money. But it also means you can't see any real gains. All gains you see in your account are simulated.
Pros and cons of virtual trading accounts
Pros
No real money risk: There's one massive benefit to paper trading: You won't lose any money. If you're just starting, you can test buying and selling securities using a particular trading platform without losing any money if your picks turn out not to be winners. It's also the perfect opportunity to test out a new trading strategy.
Take your time: To maximize the potential of paper trading, spend as much time and effort researching a trade as you would if it were real. This means thinking about how long you would need to hold a trade, what limitations might be placed on your portfolio and whether or not the stock is worth the risk.
Powerful learning tool: Don't think of paper trading as a game where you can make risky trades just to see what can happen. Use it as a learning tool that's preparing you for real transactions. So don't try to use it to day trade if you're an investor who can't afford to take risks.
Cons
No gains: Just as the significant benefit to paper trading is not losing any money, on the flip side, the biggest drawback of paper trading is this: You won't see any gains. That could have you yelling when you realize you missed out on a decent return.
You don't get the full picture: Paper trading might not give you the complete picture of commissions and fees. Although most online brokers have eliminated commissions on many trades, many still charge fees for options contracts, for example.
Bottom line
Billions of dollars are made and lost in the financial markets regularly. If you've never invested before, there's no shame in being a little nervous about putting your hard-earned money into stocks or other trading instruments.
A virtual trading account is a perfect way to dip your toe in the water and get a feel for the markets before making a significant commitment. Then when you're ready to commit, you can move forward confidently, prepared to thrive.
However, keep in mind that this could give you false confidence in the markets. No investment is without its risks. And the kinds of quick trades you make when paper trading can be particularly dangerous. If you have a shorter time horizon until retirement or are risk-averse, it's best to avoid active trading and instead let a passive robo advisor maximize your investments for you.