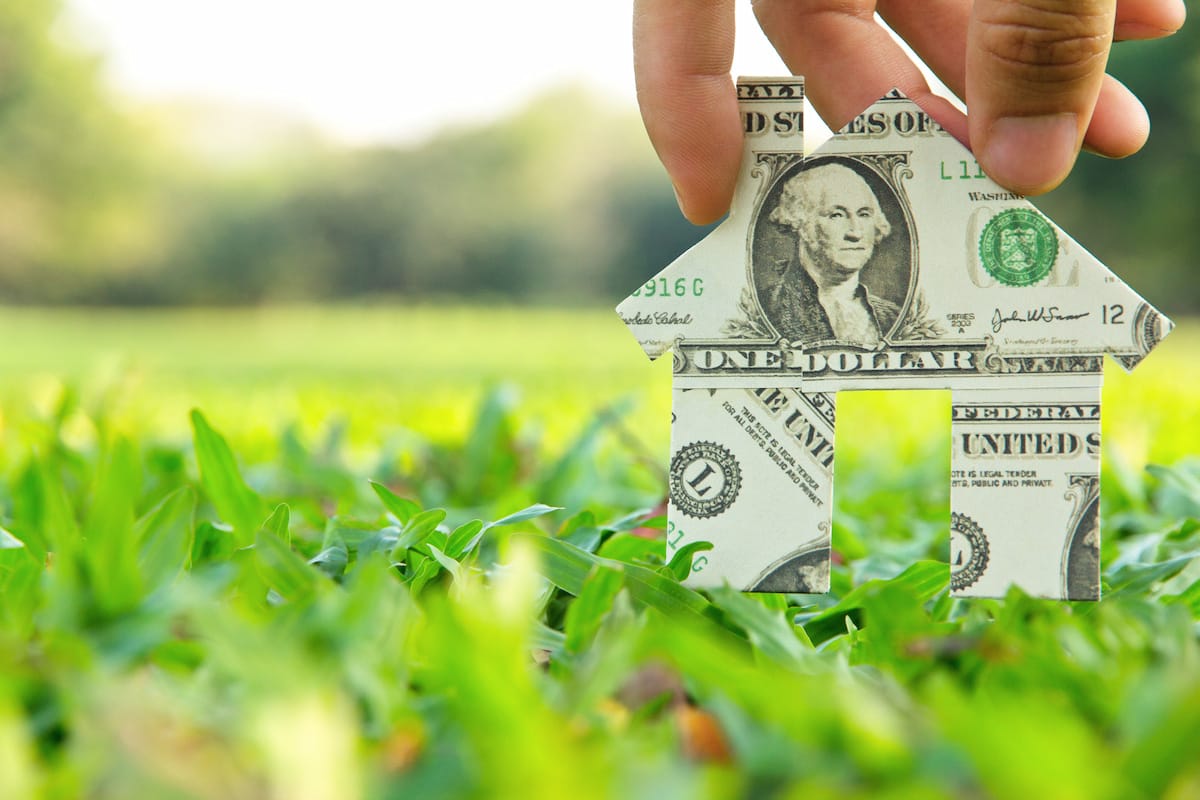 Origin Investments review: Real estate investing with a personal touch
ponsulak / Shutterstock
We adhere to strict standards of editorial integrity to help you make decisions with confidence. Please be aware that some (or all) products and services linked in this article are from our sponsors.
We adhere to strict standards of editorial integrity to help you make decisions with confidence. Please be aware that some (or all) products and services linked in this article are from our sponsors.
Thanks to the JOBS Act, which paved the way for online crowdfunded investments, there are now a number of platforms that allow accredited investors to take advantage of real estate opportunities once available only to institutions.
However, many of these platforms are first and foremost technology companies, and some real estate investors have found their due diligence and offerings lacking. Not so with Origin Investments, which actually started out as a real estate investment company that just so "happened" to "go techie."
If you're looking to invest in private real estate deals and are an accredited investor, Origin Investments could be for you. Our review is covering how the platform works, the pros and cons, and some of your other real estate investing options.
Pros and cons
Pros
Strong historical performance
Offers a variety of funds to create a diverse portfolio
Funds have various target holding periods
Strict due diligence process
You get personal, one-on-one customer service and investment support
Cons
Only available to accredited investors
There's a $50,000 minimum investment requirement
Origin Investments features
| Feature | Details |
| --- | --- |
| Minimum investment | $50,000 |
| Account fees | 1.25%/year |
| Time commitment | 60 Months |
| Accreditation required | ✅ |
| Private REIT | ✅ |
| Offering types | Equity, Preferred Equity |
| Property types | Commerical, Residential |
| Regions served | Atlanta, Austin, Charlotte, Chicago, Dallas, Denver, Houston, Nashville, Orlando, Phoenix, Raleigh |
| Secondary market | ❌ |
| Self-directed IRA | ✅ |
| 1031 exchange | ❌ |
| Pre-vetted | ✅ |
| Pre-funded | ✅ |
What is Origin Investments?
Origin Investments is a real estate investment firm that owns and operates commercial properties. Origin invests in 11 of the fastest-growing U.S. markets, including Atlanta, Austin, Charlotte, Chicago, Dallas, Denver, Houston, Nashville, Orlando, Phoenix, and Raleigh.
Origin Investments was founded in 2007 and is based in Chicago with regional offices in Charlotte, Denver, and Nashville. It has completed more than $1 billion in transactions. Origin was in business well before the JOBS Act of 2011 came into effect. Until then, its commercial real estate funds were limited to private placements with no more than 100 investors.
But the JOBS Act opened another door for Origin. Through the use of technology and crowdfunding strategies, the platform has been successful at attracting more investors. Origin expanded its investor base from personal ultra-high-net-worth relationships to accredited investors across the country, enabling the company to raise $151 million for its recent growth fund, Origin Fund III.
What does Origin offer?
For accredited investors, Origin offers access to a variety of private real estate funds. This lets you invest in numerous properties instead of individual deals. And you also benefit from Origin Investment's due diligence and deal screening process.
Numerous private real estate funds
Origin is not really a real estate crowdfunding company. Rather, it is a private real estate investment company that now uses crowdfunding and platform technology to allow more investors to participate.
The company is currently accepting new accredited investors for three different offerings:
Origin IncomePlus Fund
Origin QOZ Fund II
Growth Fund IV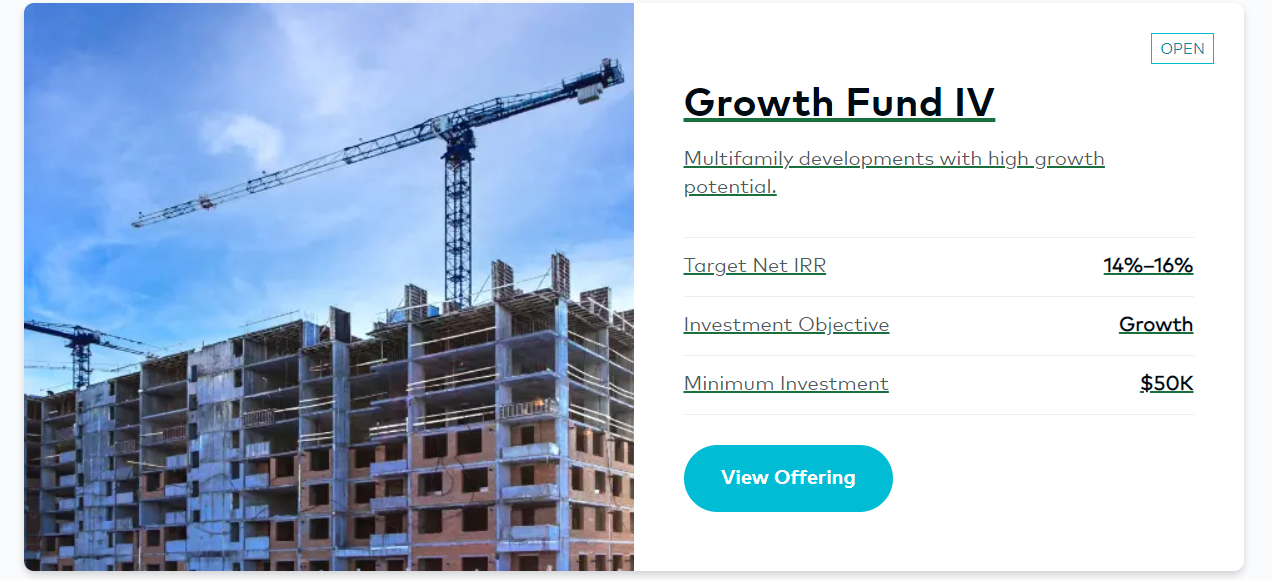 The minimum investment amount starts at $50,000 but is $100,000 for two of the funds. However, the variety of funds is a selling point, and each fund has a fairly unique strategy to suit different investing goals.
For example, Origin's strategy for the IncomePlus Fund is to acquire income-generating real estate with the opportunity to force property appreciation through renovations and capital improvements. This is a segment of the asset class that's under-trafficked by large institutions and pension funds. Plus, the fund invests in preferred equity opportunities which enjoys protections similar to those of a senior lender but provides returns equivalent to an equity position.
In comparison, Origin's strategy for the QOZ Fund is to construct a diversified portfolio of ground-up, multi-family development projects located within Qualified Opportunity Zones. The QOZ program was created under the Tax Cuts and Jobs Act of 2017 to incentivize investment in targeted communities in need of economic development, the QOZ's. There are significant tax advantages to investors who roll over their capital gains from other investments into a fund that invests in a QOZ.
Origin still shows the individual properties that comprise the funds, but you're not buying a specific property. You're buying a fund that owns a mix of the properties, helping you create a diverse portfolio of private real estate.
Various target holding periods
Another advantage of Origin Investment's multiple funds is that you can invest in funds with different target holding periods depending on your goals and capital needs.
For example, the Multifamily Credit Fund, which has a focus on income generation, has a 7 year target hold period. In contrast, the QOZ Fund II has a 10+ year target while the Growth Fund IV is only 4+ years.
Granted, real estate is typically illiquid and is a better mid- to long-term investment. But the variety of funds and target holding periods is a selling point.
Quarterly distributions
Although Origin's IncomePlus Fund offers a distribution reinvestment program, Origin is targeting quarterly distributions equal to a 6% net annualized distribution yield to fund investors. To date, it's seen 5.6% in annual distribution yield, which makes it a promising fixed-income investment worth considering.
Due diligence
Thorough due diligence is critical to real estate investing success. It's a largely illiquid asset with high transaction costs to both buy and sell.
Thankfully, Origin's team members have extensive real estate investment experience that the company harnesses to find, vet and act as the asset manager for all its real estate deals. And their selection criteria are strict. According to Origin, they look at around 1,100 deals a year and have historically purchased only six to eight of them.
Stellar customer service
Although online technology is invaluable in delivering deal transparency and efficiency, each registered investor is assigned a personal contact who serves as your point-of-contact throughout the entire due diligence process.
Once your accreditation is verified and you choose to invest, your personal contact helps you navigate the entire process of completing the paperwork and wiring your investment funds to an external administrator. You also receive regular updates from the Investor Relations team regarding the performance of your investments.
Investors can access details of their investments and track performance through their personal portfolio page via a secure portal. You can review detailed property descriptions, videos of the property, rehabilitation plans and photos. You also can read financial projections, details on the strategy for improving the property and all documents related to the property.
Management team
Origin's two co-founders, David Scherer and Michael Episcope use Origin as their primary investment vehicle. This is unique to Origin's crowdfunding business model. To date, they are the largest investors at Origin, with over $56 million committed alongside investors ensuring alignment of interest. And the team's compensation is based largely on fund performance, not acquisition volume.
And the team's compensation is based largely on fund performance, not acquisition volume. According to Ben Harris, head of investor relations, "We don't believe in paying people to sell our products, so our funds are not offered by commission-based advisors."
Origin Investment's historical performance
According to its website, Origin Investments has $1.8 billion in assets under management and has seen a 24% average internal rate of return (IRR). It's also had zero realized losses across its funds since its inception.
I like that Origin also has historical performance data for its four closed funds:

For the funds that have closed so far and sold, capital returned to date ranges from 119% to 225%. Overall, this is a very promising track record, albeit for a handful of funds.
Origin Investment fees
Origin's charges an annual fee of 1.25% of net asset value. So if you committed $100,000, you would be charged $1,250 in the first year of your investment. When first invested, amounts less than $250,000 have a one-time 2% administration fee.
In other words, you'll pay $2,000 for an investment of $100,000. If you commit more than $250,000, the fee ranges from 0.0% to 1.0%, depending on the size of your investment. These fees are used to cover fund setup fees, such as legal and accounting.
In addition, there's a 0.5% acquisition fee and, for the IncomePlus Fund, there's a performance fee of 10% after a 6% preferred return with a 50/50 catchup. For the QOZ Fund, there's a performance fee of 15% after a 7% preferred return with a 50/50 catchup.
Overall, fees are lower than the private equity industry standard which is often 2% in annual management fees plus a variety of other deal-related fees.
GET STARTED WITH ORIGIN INVESTMENTS
How do Origin's funds differ from REITs?
You are probably familiar with real estate investment trusts (REITs). You can buy shares of REITs from any financial advisor or broker. Although some real estate crowdfunding sites offer REITs, Origin's funds are not REITs and differ from private REITs in the following ways:
Private REITs typically pay substantial fees to advisors to "sell" their product. Through Origin's platform, you can invest directly. There's no middleman to "sell" the investment. This means lower fees for the investor and more dollars invested into properties.
You can't examine the individual properties that comprise a private REIT. But Origin is all about transparency. You can see all the details on each fund property online 24/7. And Origin sends out quarterly updates to keep investors apprised of progress.
Best alternatives
Origin Investment is an excellent option for accredited investors to add private real estate to their portfolios. And its variety of funds is a selling point since you can create a more diverse portfolio versus investing in individual deals.
However, the accreditation requirement and $50,000 minimum investment requirement means Origin isn't the right fit for everyone. Plus, there are numerous crowdfunding alternatives you can consider.
Fundriseis one of our favorite real estate crowdfunding platforms due to the low minimum investment requirement and low annual fee. If you want to invest in real estate without much money, it's one of the best platforms out there.
As for CrowdStreet, it offers individual commercial real estate deals as well as some newer REITs. Plus, the minimum investment requirement is half that of Origin Investments.
For even more private equity options, you can consider firms like First National Realty Partners. But the crowdfunding world still has plenty of investment opportunities worth considering.
Final thoughts on Origin
Good commercial investment properties take expertise to profitably acquire and manage. And it takes a sizable investment of money to acquire. By adopting crowdfunding to its already successful model, Origin allows individual investors to get into the same sort of high-end deals that used to be available only to the super-wealthy, pension funds and large institutions. Most crowdfunding sites require investors to be accredited, and the same is true for Origin Investments.
Origin seems to cater to the wealthiest of the accredited investors with a minimum investment of $100,000 for the IncomePlus Fund and $50,000 for the QOZ Fund. Its expertise and due diligence show in its average net IRR of 24% across its first two funds.
GET STARTED WITH ORIGIN INVESTMENTS
Related Reading: