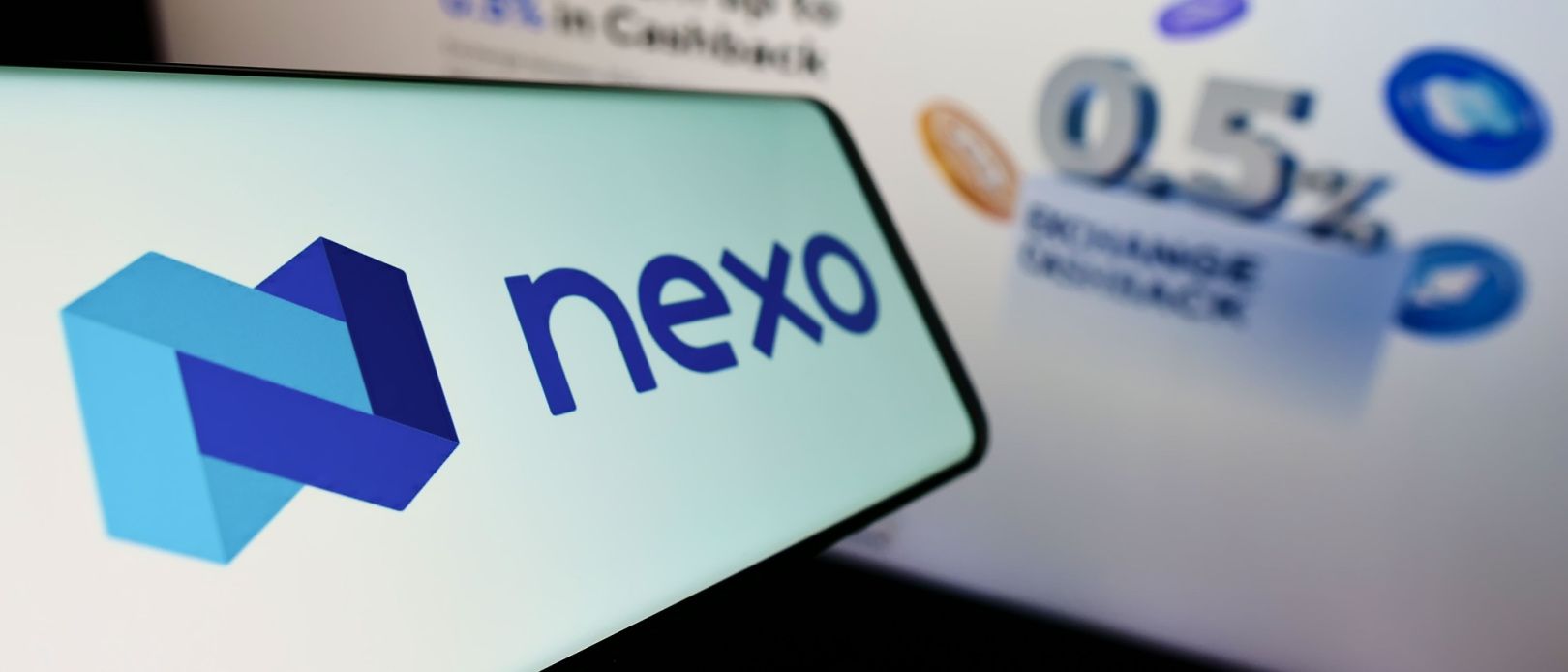 Nexo review: Buy, sell, and borrow crypto
T. Schneider / Shutterstock
We adhere to strict standards of editorial integrity to help you make decisions with confidence. Please be aware that some (or all) products and services linked in this article are from our sponsors.
We adhere to strict standards of editorial integrity to help you make decisions with confidence. Please be aware that some (or all) products and services linked in this article are from our sponsors.
These days there's no shortage of cryptocurrency platforms available to help you buy and sell coins, earn rewards, and make the most of your crypto assets. Finding the right platform can be overwhelming, with so many options to choose from.
Nexo stands out from other services because, in addition to buying crypto, you can also exchange it for rewards, borrow against it, and earn cashback (or, more accurately, "cryptoback") by spending directly from your Nexo account.
Keep reading to learn more about the company, some of its offerings, and everything else you'll need to know to get the most out of your Nexo account.
Nexo pros and cons
Pros
Nexo has low interest rates for borrowing, starting as low as 0% for some users
The platform supports nearly 40 cryptocurrencies
You can earn up to 2% cashback on spending with the Nexo Card
Certain users can get 1-5 free external withdrawals per month
Nexo's website and mobile apps are easy to navigate
Nexo takes plenty of security measures, including carrying insurance on the assets within its platform
Cons
Nexo isn't transparent about its fees for those who don't qualify for fee-free withdrawals
You can contact customer service online, but there's no phone number
Nexo no longer offers its interest-bearing savings account
The best rates on Nexo's services are only available if you own Nexo Tokens in your portfolio
Nexo offers fewer education resources than some platforms
What is Nexo?
Nexo bills itself as the world's largest and most trusted lending institution in digital finance. Since the company's inception in 2018, it has offered various financial services for digital assets. Currently, Nexo has more than four million users worldwide and supports more than 40 fiat currencies.
Nexo was founded to address some of the inefficiencies its founders saw in the lending markets. The company uses blockchain technology to offer an alternative to the traditional finance industry.
Who is Nexo for?
Because of the variety of services, Nexo could be an excellent option for many cryptocurrency investors. First, earning cashback on your crypto purchases and exchanges makes Nexo an attractive option if you want to buy cryptocurrency. It's also a great option for those who may wish to borrow against their cryptocurrency holdings.
From the way Nexo incorporates the Nexo Token into all of its services, it's clear the company wants customers to use Nexo as a one-stop-shop. Owning Nexo Tokens in your portfolio gives you better perks on the platform's other features. And, of course, the more you hold in your cryptocurrency wallet on Nexo, the more you can borrow and spend.
Unfortunately, Nexo recently eliminated one of its most popular services, the interest-bearing accounts. So users who specifically want that feature in a cryptocurrency platform will have to find another one to use instead or wait for the new account to roll out.
What does it offer?
Nexo offers various cryptocurrency services, including the ability to buy and exchange cryptocurrency, borrow against cryptocurrency, spend directly from a Nexo account, and more.
Note: Until February 2022, Nexo offered high-yield crypto savings accounts where users could earn interest on their stored cryptocurrency. In compliance with recently-announced regulatory guidelines, the company no longer provides this service to new U.S. customers. Those with existing interest accounts can still earn interest on their money but can't deposit additional funds into the account. Nexo is working on a new interest-bearing product that will be available to all customers in the future.
Buy
Nexo serves as a cryptocurrency exchange where you can buy coins and earn up to 0.5% cashback on your purchase. The company offers nearly 40 popular coins, including Bitcoin, Ethereum, and its own Nexo Token. The amount you can earn in cashback on each purchase depends on your loyalty tier, but you must have at least 1% of your portfolio in Nexo coins to be eligible. The company boasts no hidden fees, excellent market prices, and a direct USD on-ramp.
Exchange
You can also use your Nexo account to exchange any two supported cryptocurrencies. More than 300 market pairs are available to swap, including more than 100 exotic pairs you'll have a hard time finding elsewhere.
Just like when you buy cryptocurrency, you can earn up to 0.5% cashback on your swaps, depending on your loyalty tier. To use this feature, simply open the exchange tab on the Nexo platform, click the currency you want to exchange, and then select the one you'd like to swap it for. The switch happens instantly.
Borrow
One of Nexo's more unique features is borrowing against your cryptocurrency holdings. Using this feature, you can access cash without selling off your coins. Interest rates start at just 0%, and there are no credit checks, no origination fees, and no required monthly payments. You can borrow between $50 and $2M, depending on the value of your cryptocurrency portfolio.
It's important to note that just like when you borrow in a traditional brokerage account, Nexo may issue a margin call if the value of your collateral decreases below an acceptable level. You'll have to partially repay your loan or add additional collateral to your account if that happens. If you don't take any action, Nexo will transfer your collateral out of your savings wallet or begin selling your collateral to make automatic payments on the loan.
Nexo Card
The Nexo Card is another attractive feature of the platform. It allows you to spend fiat currency using your crypto assets as collateral. It's relatively similar to a credit card, and you can earn up to 2% cashback on your purchases. The Nexo Card is accepted by more than 40 million merchants worldwide, which means you can generally use it anywhere you use your other credit cards.
When you spend from your Nexo card, the payment amount is deducted from the available balance of your Nexo account. You won't have to sell your cryptocurrency to use it, and it connects seamlessly with all of your digital payment tools. Your cashback will be automatically placed in your Nexo account so that you can spend that, too.
Nexo Token
Nexo offers its own coin called the Nexo Token. If you include this token in your portfolio, you will join one of Nexo's loyalty tiers: Base, Silver, Gold, or Platinum. These loyalty tiers allow you to get cashback on your purchases and exchanges and borrow at lower rates, depending on how much Nexo Token you hold. Depending on your level, you can also withdraw your cryptocurrency for free to an external wallet up to five times a month.
Including the Nexo Token in your portfolio also gives you ownership rights within the platform. You'll be able to participate in future governance votes: You get one vote for each Nexo Token you own. You'll also earn dividends on your coins. So far, the company has distributed nearly $30 million in dividend distributions.
How does Nexo work?
Nexo combines several of the benefits of a cryptocurrency exchange with those of a traditional financial institution. Like you'd expect from any other cryptocurrency exchange, Nexo allows you to buy many different coins and exchange your current coins for the others the platform supports.
Nexo also has some features of a traditional lender or broker. For example, you can borrow against your cryptocurrency holdings to access cash without having to sell your coins. These loans are highly flexible, with low rates and no set repayment terms. You can also spend using the Nexo card, which offers cashback on your purchases.
Finally, Nexo brings all these features together with the Nexo Token. When you include this coin in your portfolio, you'll have access to the best interest and cashback rates on purchases, exchanges, spending, and borrowing.
Fees and limits
Many of the fees associated with your Nexo account depend on your loyalty status, which is determined by the percentage of your portfolio made up of Nexo Tokens.
For example, owning Nexo Tokens gives you fee-free withdrawals of your cryptocurrency to an external wallet. Without a loyalty tier, you'll have to pay a fee on your withdrawals at a variable rate. Owning Nexo Tokens allows you to borrow at interest rates as low as 0%. Without holding Nexo Tokens, interest rates on loans go as high as 13.9%.
Read more: The best cryptocurrency wallets
How do I open an account?
Creating a Nexo account is simple. When you head to the company's website, you'll see a button in the upper right corner labelled "Create Account." Once you click it, you'll be prompted to enter your email address and create a password. Once you click the confirmation link in the email Nexo sends, your account will be set up.
It's important to note that because Nexo is a financial services account, you'll have to provide some personal information, including a photo ID, before accessing any of Nexo's services.
How's the customer service?
Nexo has a few different ways to get the help you need on its website. First, the company has a library of informational videos and articles designed to answer your questions, explain concepts, and help you learn more about your Nexo account.
If you can't find the answers you need within the help library, you can submit a request with Nexo's customer service by filling out a short form. They are online 24/7, so you can expect a quick reply.
On Trustpilot, Nexo has a ranking of 4.6 out of 5. More than 83% of its reviewers rate the company as "excellent," and fewer than 6% rate the company as "poor" or "bad." Many positive reviews cite the company's excellent customer service and how quickly their issues were addressed.
However, they don't provide a number to call if you want to speak to a human being over the phone.
Is Nexo safe?
Any time you trust a company with your money, it's crucial to understand how secure it is. According to Nexo's website, the company works with the leading authorities in custody and compliance to keep its users' information and assets safe. It uses biometric-based identity verification, two-factor authentication, extensive firewall server architecture, and other safety precautions.
Another benefit is that Nexo partners with security providers in the blockchain space that carry a combined $375 million of insurance for digital assets held on the platform. Considering the assets with Nexo aren't protected by FDIC or SIPC insurance, this added safety measure goes a long way.
Nexo also touts the following security precautions:
ISO/IEC 27001 certified
Segregated multi-signature wallets
Real-time reserves audit
Military-grade storage
Regulatory compliance and anti-money laundering
Withdrawal confirmations and log-in alerts
Third-party penetration testing and platform assessment
Data protection and confidentiality
Best alternatives
As cryptocurrency becomes more mainstream, there are more platforms than ever to support various digital finance services. Here are a few platforms that offer similar services to Nexo:
BlockFi is a cryptocurrency network that allows you to trade and store cryptocurrencies, earn with a cryptocurrency credit card or high-yield account, or borrow against the cryptocurrency in your account. BlockFi has higher borrowing rates and a much smaller selection of coins you can use as collateral.
Read our BlockFi review
Celsius Network allows users to borrow against their cryptocurrency to access the cash they need. Unlike Nexo, Celsius doesn't have the opportunity to borrow at 0%. It also has far fewer coins to purchase, exchange and borrow against. However, Celsius offers an earning account, which Nexo currently does not.
Read our Celsius review
CoinLoan is another cryptocurrency lending platform where users can borrow, grow, and swap their assets. Interest rates on borrowing start considerably higher than with Nexo. However, you can also earn additional assets by storing your cryptocurrency within CoinLoan.
The bottom line
Nexo is a popular cryptocurrency platform thanks to its wide variety of features. Not only can you buy and exchange cryptocurrencies, but you can also earn with a Nexo debit card and borrow against your cryptocurrency, so you don't have to sell your holdings to get the cash you need.
However, Nexo isn't currently offering one of its most popular features: the interest account. Also, many of Nexo's best rates and features are only available to those with Nexo Tokens in their portfolio.
The heavy push towards NEXO currency adoption shows that the company really wants you to use its platform as a one-stop-shop. However, if you're looking for an all-in-one platform that doesn't require you to purchase a native token to get the "full experience," you may want to try one of our other top cryptocurrency exchanges.