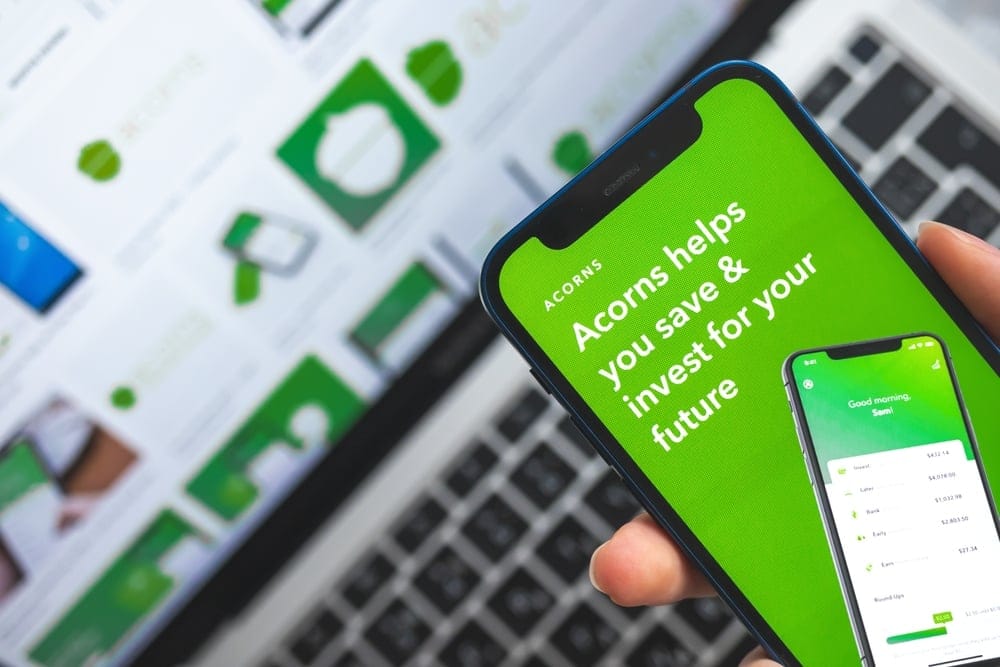 Want to make money using the Acorns Investing App? Here's how
FellowNeko / Shutterstock
We adhere to strict standards of editorial integrity to help you make decisions with confidence. Please be aware that some (or all) products and services linked in this article are from our sponsors.
We adhere to strict standards of editorial integrity to help you make decisions with confidence. Please be aware that some (or all) products and services linked in this article are from our sponsors.
You might think you need thousands of dollars to begin investing. Or, you might think you need advanced trading software and a degree to understand how the stock market works.
However, with the rise of modern investing apps like Robo advisors and micro-saving apps, you can start investing on autopilot to gradually build wealth. One such app is the Acorns Investing App. Let's dive into the app and find out how you can make money using Acorns.
How to make money on Acorns
Acorns is a microsavings app that rounds up your purchases to an even number and investing the difference for you.
It's a handy app for when you want to get your feet wet with investing. It's perfect for the younger crowd and has proven immensely popular with Millennials. Find our detailed assessment of the app and how Acorns works.
Acorns is easy to use, but has anyone made money on acorns? Yes. Keep on reading and learn how you can maximize your usage and end up with the most bang for your buck.
1. Get started while you're in school
"The best time to start investing was ten years ago. The second best time is today." You might have heard this phrase before, and it couldn't be truer. The earlier you can start investing, the more time compound interest has to work in your favor.
Acorns has a fantastic offer for students. For students with high debt burdens and/or low incomes during school, Acorns can be a great way to start building wealth for their long-term future.
Acorns founder Jeff Cruttenden holds the belief that there should be no barriers between Americans and investing.
"We understand that students carry great financial burdens, and Acorns wants to ensure there is nothing holding people back from investing. I founded Acorns because starting to save money as early as possible sets a path toward long-term financial health. We're committed to giving young people the opportunity to grow their investments with Acorns and changing their perception of investing from complicated and inaccessible to simple and essential."

Jeff Cruttenden
If you start investing at 18, even small amounts of money can put you years ahead of someone who starts investing in their mid-30s.
2. Automate – add small and consistent amounts of money monthly
Acorns is famous for investing your spare change, and for a good reason. It's a brilliant idea, and Acorns makes it easy. Most people don't know that it's not just spare change you can invest in. You can make larger contributions, and you can do so automatically.
You can set up an account to invest another small but consistent amount of money each month automatically. Combine automatic deposits with round-up investments, and you'll make a much bigger impact.
Remember that you're paying a monthly fee to use Acorns. You'll want your investments to be bigger than your fee to make the whole thing worth your while.
3. Boost your round-ups
Acorns is well known for its system that lets you take advantage of "Round-Ups" — investing your spare change whenever you use a linked card.
For example, say you spend $9.45 at your favorite lunch spot. Using Acorns, you can round up to $10 and deposit that extra 55 cents in your Acorns investing account.
Now Acorns has taken Round-Ups one step further. You can elect to boost your "spare change" amount by as much as ten times. So instead of investing 55 cents, you can invest as much as $5.50 for that single transaction. This is a great habit to get into to save more of your money every day.
Sign up for Acorns
4. Use Acorns Earn
In this case, "Acorns Earn" doesn't refer to any dimes or pennies you might find on the sidewalk, but rather to one of Acorns' coolest and most potentially effective features.
Here's how it works: Every time you use your Acorns-linked debit or credit card at a select partnered retailer, that retailer will actually invest a bit into your Acorns investing account.
We're not talking off-brands, either. These are businesses you're very likely already spending money at, and Acorns Earn currently has 350+ retail partners.
Here's a list of the current Acorns Earn participants and the amount they'll contribute:
| Company | Discount |
| --- | --- |
| Airbnb | 1.8% of your service fee |
| Barnes & Noble | 2% of your purchase |
| Billshark | $10 when you sign up |
| Blue Apron | $30 when you sign up |
| Boxed | 4% of your purchase |
| DirecTV | $25 when you sign up |
| Dollar Shave Club | 10% of your purchase |
| Earnest | $100 when you refinance your student loan |
| Expedia | 4% of your purchase |
| Groupon | 5% of your purchase |
| Liberty Mutual Insurance | $5 per auto or home insurance quote |
| LifeLock | $25 with a new purchase |
| Lyft | $15 when you sign up as a driver |
| Macy's | 5% of your purchase |
| MeUndies | 20% of your first purchase |
| New Balance | 5% of your purchase |
| Nike | 5% of your purchase |
| Sephora | $3% of your purchase |
| Stich Fix | $10 with a new purchase |
| Walmart | $5 with a new subscription |
| Warby Parker | 1% of your purchase |
As you can see, Acorns Earn offers vary per retailer. The Acorns phone app gives you all the details on the offers currently available. Note that partners and rates are subject to change.
Just make sure that your debit or credit card is linked with your Acorns account (this takes only a few minutes). Whenever you shop at one of these partner brands, they'll put cash back into your investing account. Typically, it takes about 60 to 120 days to receive your reward.
But there is no reason not to sign up. This is — quite literally — found money.
Sign up for Acorns
5. Download the Acorns extension
Another way to make more money with Acorns is to download its free Chrome extension. This extension is part of the Acorns Earn program and works with 12,000+ brands. As you shop, the extension icon informs you when a bonus earning opportunity is available.
To claim an offer, you just need to login to your account, claim the offer, and complete your online purchase with a linked card. Between the regular Acorns app and its shopping extension, earning free money with Acorns is quite flexible.
6. Use Acorns Spend Smart Deposit
Acorns also offers a checking account called Acorns Spend. With their Smart Deposit program, you can automatically deposit a portion of your paycheck into your checking, investing and retirement account. It's a way to invest in yourself without even having to think about it.
Acorns Spend also comes with a Visa debit card which you can also use to make purchases and round-ups into your investment account. And you get access to 55,000 fee-free Allpoint ATM's across the country.
Plus right now you can get $75 when you sign up for direct deposit into your Acorns Spend account and receive two deposits. That's an extra $75 you can use towards your investing account, retirement account, or just to have some extra spending money in your pocket.
Sign up for Acorns
7. Use credit cards with rewards points
If you've signed up for Round-Ups and automatic deposits, you're well on your way to maximizing your use of the Acorns app. However, you can squeeze a little more out it by linking your credit cards.
Normally, we wouldn't be fans of using credit cards. After all, a key to financial success is getting yourself out of unnecessary consumer debt.
However, if you are careful not to keep a revolving balance, credit cards that have generous rewards programs can actually boost your Acorns benefits.
Let's say you go to Starbucks and buy a tall latte for $2.95. Acorns will round up 5 cents and pop them in your account. But if you have a Round-Up booster set that will round that amount up to $5, you will be saving even more in your account.
Now, if you're using your Starbucks credit card for this transaction, the money from that transaction will also go toward your rewards account… meaning that on top of the extra $2.05 you've put in your Acorns savings account, you're working your way toward free beverages. Do this every day, and it's going to add up over time — for both your Starbucks addiction and your savings.
Of course, you can also use this technique for racking up frequent flier miles and even cash back, depending on your credit card program.
Sign up for Acorns
Other factors to consider
Figuring out how to use Acorns is quite simple since the app is built for newer investors. And by utilizing all of its features, you can maximize your rewards and build your portfolio faster.
However, there are othe factors you should consider when investing with Acorns and deciding if its worth it:
Robo-advisors: Acorns is similar to top robo-advisors like Betterment and Wealthfront in that it invests automatically. But robo-advisors have lower fees and may be a better investing route if you have a lump sum of money you want to invest right now.
Market volatility: One thing to keep in mind, no matter where you're investing, is that you have little control over how the markets behave day-to-day. You'll have good days and bad days and days where nothing at all happens with your money.
Maximizing Acorns money: Getting the most out of Acorns is less about the market's performance and more about your financial habits. This app rewards you for investing regularly and with reward programs like Acorns Earn, so use these features to your advantage.
Consider tax-advantaged accounts: Consider where you are in your career and investing levels to see how much impact Acorns can have for you. If you're low income or just starting your career, it'll be more beneficial for you to invest in tax-advantaged accounts like an IRA or a 401(k) rather than investment accounts you need to pay taxes on.
Overall, Acorns provides an excellent way to invest with little money and to build good financial habits. If you're further along in your career but haven't started investing, Acorns is a great fit. In addition to any retirement accounts you've already got set up, Acorns helps you increase your overall investment rate.
Bottom line
Unfortunately, investing is all too often seen as something complicated and hard to understand or — at the very least — bothersome to get started on. This is why it's recommended to practice investing with paper trading before risking your own money.
For those deep into their career, Acorns probably isn't a good fit unless you need to play serious catch up with investing. And for investors with more capital to invest, robo-advisors like Betterment and Wealthfront are excellent ways to start investing.
Overall, Acorns is a fantastic way to get started in the investing world and build a portfolio without dealing with the headache that can come with HR. Once you get started, use these strategies to maximize your use of the app, and you'll see your money really start to grow.
Frequently Asked Questions
Has anyone made money on Acorns?

+

Acorns has over 8 million customers and $3 billion in assets under management. The app lets its users make money and build wealth through long-term investing. You can also make free money with Acorns by shopping at 350+ Acorns Earn partners.

Why is my Acorns account not making money?

+

Most app issues with round-ups or earning rewards relate to linked bank accounts or linked debit and credit cards. If you're not earning rewards through Acorns Earn, make sure you're shopping with a linked card and check your list of linked cards and bank account within the app.

How does Acorns make money?

+

Acorns makes money by charging users monthly subscription fees depending on their plan. It also makes money from interchange fees on purchases from its Acorns Spend debit card.