Ledger Wallet review: one of the best hardware crypto wallets
andersphoto / Shutterstock
We adhere to strict standards of editorial integrity to help you make decisions with confidence. Please be aware that some (or all) products and services linked in this article are from our sponsors.
We adhere to strict standards of editorial integrity to help you make decisions with confidence. Please be aware that some (or all) products and services linked in this article are from our sponsors.
In 2021, $3.2 billion worth of crypto was stolen, a 516% rise from 2020. To be clear, that's from theft alone and doesn't include losses due to scams and phishing where the victims exposed their own data.
With crypto heists on the rise, more and more folks are opting to pluck their private keys from the internet entirely and lock them away in a cold wallet. One of the more popular options is Ledger, a slick USB-like device with a tiny screen and surprisingly versatile functionality.
So what is Ledger? How does it all work? Is it beginner friendly? And do cold wallets attract hackers too? Find out the answers to all your questions in our Ledger review.
What is Ledger?
Founded in 2014, French company Ledger has become one of the most popular cold wallet vendors in the cryptocurrency community.
Once you've loaded up your Ledger with your private keys, it's up to you to store the device in a safe place: a safe, safe deposit box, etc. Ledger will even sell you a Cryptosteel Capsule for $99 so you can bury it in the backyard.
A word of Warning
Before we cover how Ledger works, here's a quick tip that could save you a fortune:
Never, ever, ever buy a crypto cold wallet from anyone other than the original manufacturer.
Unless you buy straight from the original manufacturer, you have no idea if someone has installed malware on the device to infect your computer, steal your private keys or both.
So If you decide to pick up a Ledger after reading this review, buy it only from the Ledger website or Ledger's Amazon store. Don't buy from any other third-party Amazon sellers.
How does Ledger work?
As you can see below, the slick little Ledgers resemble USB sticks and even feature tiny, helpful displays. Ledger wallets connect to your PC or mobile device via USB. And the top-trim Nano X can even go wireless with Bluetooth.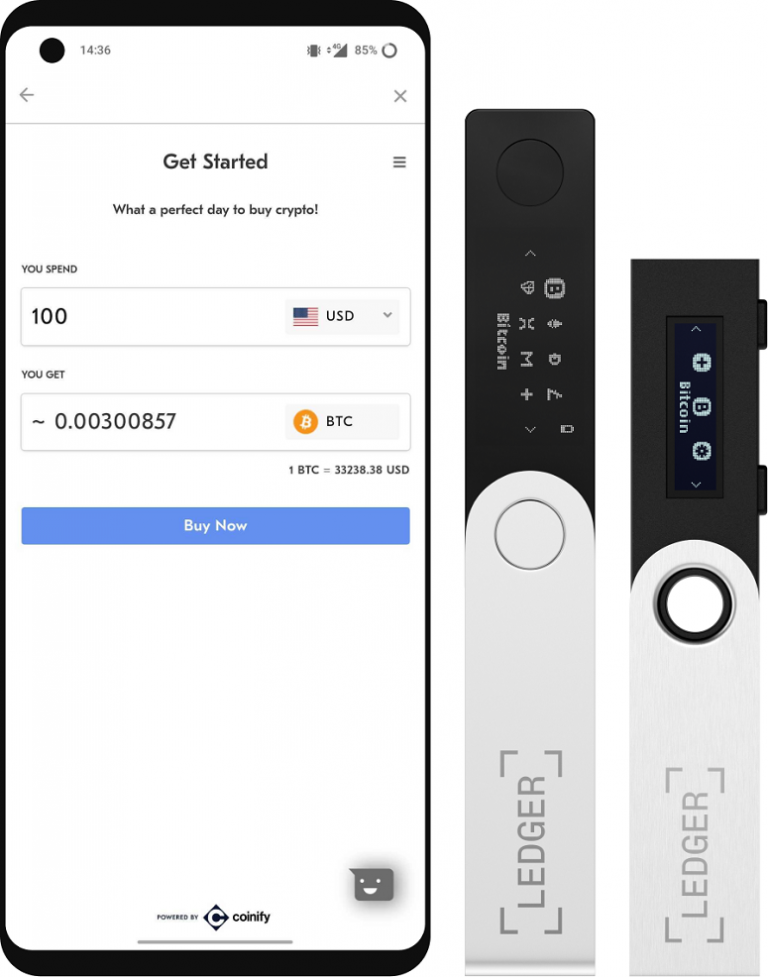 Once your new Ledger arrives, your first step is to connect it to your desktop or mobile device. At that point, the wallet will wake up and prompt you to establish a four-digit PIN. You need to enter this PIN every time you use or sync your wallet, so make it memorable!
When you've chosen a PIN, your Ledger device gives you a 24-word recovery phrase (e.g., "smith, twelve, sword, mall," etc.). Store this in a safe offline location. Losing both your PIN and your recovery phrase means you're locked out for life.
Ledger also prompts you to get Ledger Live. Ledger Live is available on desktop, iOS and Android.
Ledger Nano X users can connect via Bluetooth. But unfortunately, Nano S users can use iOS Ledger Live only in limited "Consultation Mode." So if you're intent on using Ledger Live on a mobile Apple device, consider ponying up for the Nano X. (I've got a full breakdown below.)
Once you're connected, you can use Ledger Live to transfer your keys, buy or sell crypto through Coinify, swap crypto through Changify and even dabble in some staking and lending.
When you're done syncing and swapping, you simply need to disconnect your Ledger and store it safely (and separately from your recovery phrase!).
What are my options with Ledger?
Ledger currently sells two cold wallets, with one more on the way.
The Ledger Nano S ($59) is Ledger's standard, best-selling cold wallet and stores up to three apps at a time.
The Ledger Nano X ($149) is Ledger's Rolls Royce, featuring Bluetooth connectivity, a larger, more legible screen and can host up to 100 apps at once.
The Ledger Nano S Plus ($79) is coming soon and will feature management of non-fungible tokens, as well as storage space for up to 100 apps at once.
These "apps" I speak of require some explanation. See, each crypto asset has its own private key. So Ledger needs a unique application to manage each one. Without the crypto's corresponding app installed on the Ledger wallet, transactions cannot occur.
With the Nano S, you can store keys for over 5,500 coins and tokens at once — but you can manage only three at once — the three for which you have apps installed.
So, if for example you have applications for BTC, ETH and DOGE installed, you'll have to uninstall one of them and install the XLM app before moving XLM.
Ledger has a full breakdown of how apps work (and why they're necessary) here. The apps install and uninstall pretty quickly, so they're not too bad of an inconvenience.
But needless to say, if you plan to frequently move around a wide variety of cryptos between your Ledger and Ledger Live, the increased app capacity of a Nano X or Nano S Plus will pay for itself in speed and convenience.
Main features of Ledger Wallets
Ledger Live
As mentioned, Ledger Live offers an impressively fleshed-out companion app to your Ledger wallet, It allows you to sync your keys, buy and sell crypto, and even stake and lend all in one place.
Optional Bluetooth
The Ledger Nano X isn't the only Bluetooth-enabled cold wallet, but it's among one of the safest. A wallet that offers Bluetooth without your having to worry about safety deserves brownie points.
Storage for up to 5,500 coins and tokens
If you're the type of HODLer (holding on for dear life) who likes to scoop up tons of obscure altcoins before they get big, then Ledger may be the wallet for you. All Ledger wallets support up to 5,500 coins and tokens.
Closed-source, in-house OS
Like Apple products, Ledger wallets operate using a closed-source, proprietary OS.
Now, if you like to tinker with your wallet software and engage with the programmer community, that could feel like a limitation. But for most of us, a closed OS lends stability and security.
Usability and Ledger academy
Perhaps the biggest contributor to Ledger's popularity is just how easy the wallets are to use. From initial setup to routine syncs, everything feels slick and intuitive.
And for those who need a little help, Ledger curates a vast learning library called Ledger Academy, where you can learn all about how Ledger, blockchain and even crypto as a whole work.
I always like seeing big learning libraries on crypto platforms because it shows that the creators believe in the mission of crypto and cater to a wide audience of varying crypto fluency.
How is Ledger's customer service?
According to an insider, Ledger recently staffed up its customer support team and it absolutely shows. After submitting my query via live chat, I heard back from a live rep within 10 minutes who answered my questions thoroughly and instantaneously.
Even still, you may never have to engage with a live rep in the first place. I say that because Ledger's glossary of technical support pages is staggering. I mean, just look at the number of pages it has on the topic of Metamask alone: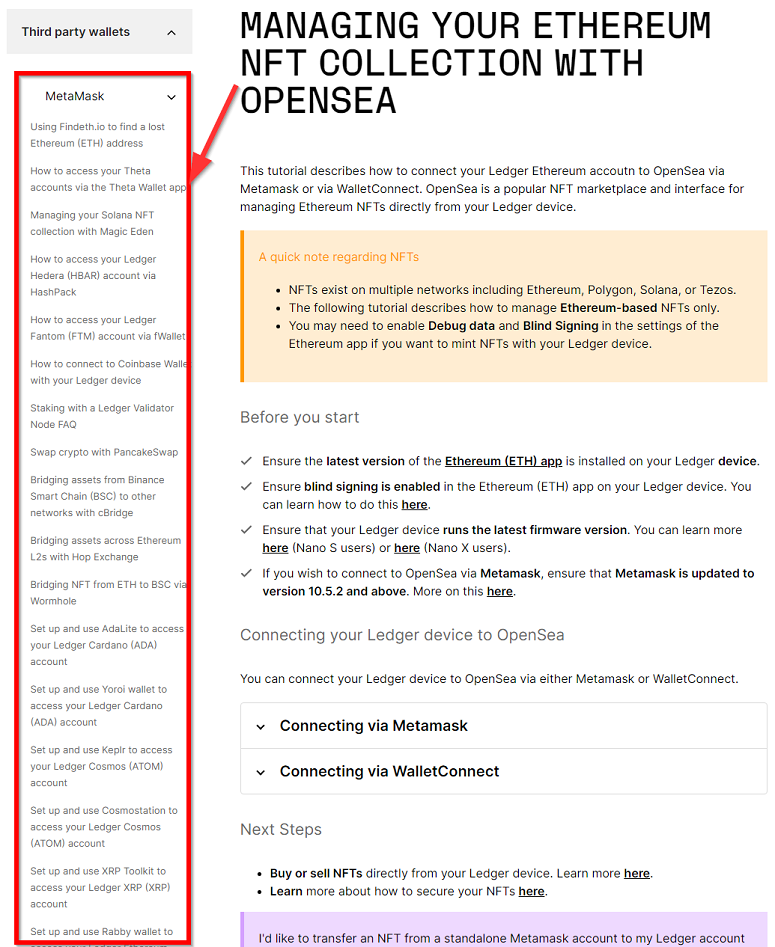 Each article is detailed, concise and well written. I've never seen such an extensive library of technical FAQ pages, not even on a major exchange. And don't forget the general knowledge library found in Ledger Academy.
Even without phone support, this is a seriously impressive amount of customer service and support for a cold wallet maker to offer.
Is Ledger secure?
Even though cold wallets are inherently safe by virtue of being disconnected from the internet, Ledger still keeps a team of hackers on retainer (Donjon Labs) to try countless angles of attack. You can even read the hackers' blog to see everything they've tried (fault attacks, side channel, etc.).
As a result of the hackers' "failure," Ledger wallets have achieved an Evaluation Assurance Level (EAL) of 5+, the pinnacle rating for computer security.
Ledger wallets have never been hacked, but Ledger's company servers have. In December 2020, a data dump exposed over one million Ledger user names, email addresses and phone numbers. In the chaos that ensued, countless users were phished, scammed, even threatened.
Some Ledger users even received phony replacement wallets in the mail, wrapped in legit-looking packaging and accompanied by a fake apology letter. Thankfully, Reddit user u/jjrand exposed the scam, and Ledger has added it to its running list of ongoing scam attempts.
Key takeaway? Ledger and Ledger Live seem perfectly safe, but the sharks are always circling — so be vigilant.
Ledger Wallet pros and cons
Pros
Excellent value: The entry-level Nano S costs just $59, roughly half its competitor's starter price.
Versatile companion app: Ledger Live allows you to buy, sell, swap, stake and even lend crypto via third party integration with Coinify and Changify.
Simple and usable: Ledger keeps things simple and beginner friendly with an intuitive interface and streamlined workflow.
Optional Bluetooth: The top-trim Ledger Nano X allows Bluetooth connectivity, lending extra convenience.
Supports 5,500+ coins and tokens: Ledger supports most coins and tokens in existence, as opposed to competitors that are limited to "just" 1,000.
Extensive FAQs and learning library: Ledger's glossary of educational content and technical FAQs is staggeringly vast.
Rapid customer support: I was able to connect with a friendly and helpful human rep via live chat within 10 minutes.
Cons
Nano S is limited to three apps: Ledger "apps" enable use of your private keys — not just storage — and the Nano S can host only three at once. Not a deal breaker but an inconvenience.
Nano S limited to "Consultation Mode" on iOS mobile: Oddly, the Nano S runs only a limited "Consultation Mode" on mobile Apple devices.
Closed-source OS: Though stable and secure, a closed OS means no tinkering with your wallet's code.
Popularity attracts scammers: As showcased by the 2020 data heist, Ledger users have a target painted on their back and need to be extra vigilant.
It's still a cold wallet: If you lose your physical device and your 24-word recovery key, not even the company's superb customer service team can help you save your crypto.
Who is Ledger best for?
If you're considering the use of a cold wallet to distance yourself from hackers, Ledger is an excellent all-around choice. The wallets are affordable, secure, well supported and friendly to new and advanced users alike.
That being said, cold wallets aren't for everyone. If you think you're more likely to lose your wallet than to get hacked, staying "hot" is actually the safer option.
Alternatives to Ledger
Trezor One
The Trezor One (Trezor being Czech for "strongbox") was the first commercially available crypto wallet and remains Ledger's competitor to this day.
To highlight the differences, the Trezor One is physically larger and has a larger, more legible screen. But it costs $11 more than the Ledger Nano S and lacks iOS mobile support. The Ledger Nano S also supports five times as many coins and tokens and therefore takes a narrow lead overall.
You can read our Trezor review to learn more about this popular Ledger alternative.
Head-to-head comparison: Ledger vs. Trezor
CoolWallet
The CoolWallet takes the form of a credit card which gives it maximum portability. Plus, it offers EAL5+ security, a fleshed-out companion app, Bluetooth connectivity and even fingerprint recognition.
How does it stack up to the Ledger Nano S? Well, it's a little pricier at $99, and it supports only the 16 coins listed here. But if you like the design and extra features and don't trade outside of its limited list of cryptos, it may be a bona fide alternative to the Ledger.
The bottom line
As mentioned, cold wallets aren't for everyone. Heck, there's a guy in the UK who's still looking through trash after nine years to find the cold wallet he lost worth $445 million.
But if you're confident in your ability to protect a physical wallet, Ledger may very well be the #1 choice on the market. Both the Nano S and Nano X are sleek, affordable, user friendly and backed by tremendous support from Ledger HQ.
For more wallet options, hot and cold, check out our list of the best cryptocurrency wallets.
Further reading: