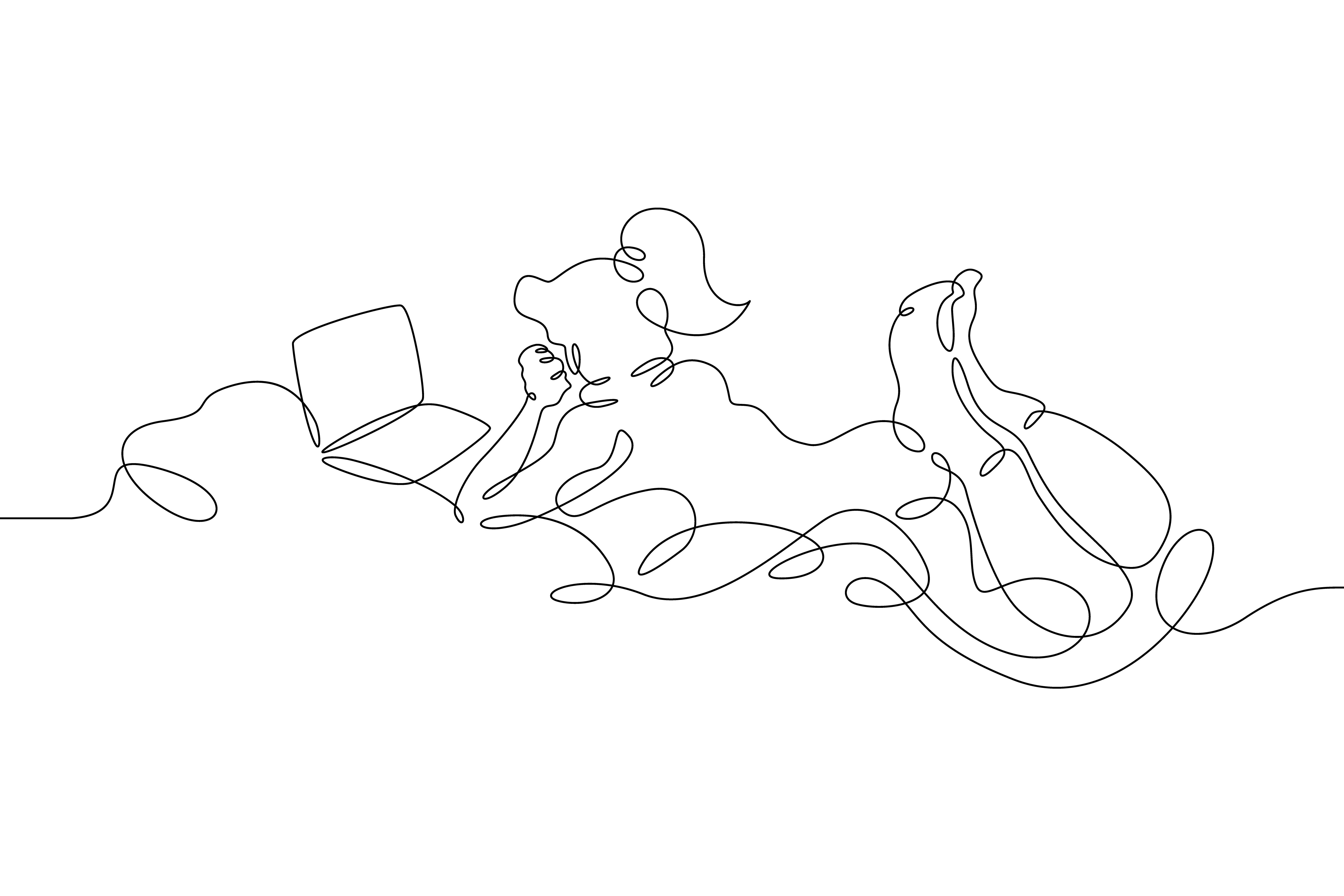 Interactive Advisors review 2023: The king of passive ESG investing?
Derplan13 / Shutterstock
🗓️
Updated: December 02, 2022
We adhere to strict standards of editorial integrity to help you make decisions with confidence. Please be aware that some (or all) products and services linked in this article are from our sponsors.
We adhere to strict standards of editorial integrity to help you make decisions with confidence. Please be aware that some (or all) products and services linked in this article are from our sponsors.
Each day, more young investors like me are learning — either the easy way or the hard way — that passive investing is a much safer way to build long-term wealth than day trading.
As a result, we'll be looking to today's top robo advisors to help us build out and manage our lazy portfolios.
But which to pick?
Well, considering its low fees, unlimited support, and ESG focus, Interactive Advisors is one platform well-suited to accommodate this new generation of wealth-builders. In fact, all generations could find something to like in the platform's unique offerings.
It's still a mixed bag, however, so let's dive into the good, the bad, and the ugly of Interactive Advisors.
Interactive Advisors pros and cons
Pros
Nice variety of ESG portfolios
54 out of 78 portfolios require just $100 to invest
Clean, simple, and intuitive interface
Management fees as low as 0.08%
Unlimited free support from investment professionals
Cons
No tax-loss harvesting
High minimums and fees for actively managed portfolios
No social features seen in other robo-advisors
No option for direct or indirect crypto exposure
What is Interactive Advisors?
Interactive Advisors, formerly known as Covester, is a simple, beginner-friendly robo advisor offering low fees, unlimited free support, and a wide variety of portfolios with a special focus on ESG investing.
While it's vexingly short on account types and doesn't offer tax-loss harvesting (yet), Interactive Advisors still manages to stand out for its intuitive design, well-organized selection, and competitive management fees.
Who is Interactive Advisors for?
Interactive Advisors is best suited for:
Beginner investors who will find the platform extremely intuitive and easy to use, and appreciate the unlimited free support from live reps.
Low-cap investors, who will love the low initial investment requirements on most portfolios ($100) and support for fractional shares.
ESG investors, who will enjoy the wide variety of portfolios focused on environmental protection, racial equality, and more.
Interactive Advisors may not be a fit for:
Wealthy investors, who will lose out on tax savings due to the lack of tax-loss harvesting.
Social investors, who won't find modern, community-centric features such as activity feeds, comments, and copy trading.
Sin stock investors, who certainly won't find portfolios based on oil, guns, and cigarettes on this heavily ESG-focused platform.
Interactive Advisors features
Taxable, Joint, Traditional IRA
Licensed professionals are available via phone (1-866-825-3005) and live chat between the hours of 9am and 5pm, EST.
What we like about Interactive Advisors
Interactive Advisors is quickly making a name for itself in the robo-advisor space. Here's a quick breakdown of its most appealing features.
78 themed portfolios with strong ESG offerings
One of Interactive Advisors' main draws is its wide variety of focused portfolios. There are 78 in total, each with a clear and self-explanatory label to help guide your investment choices.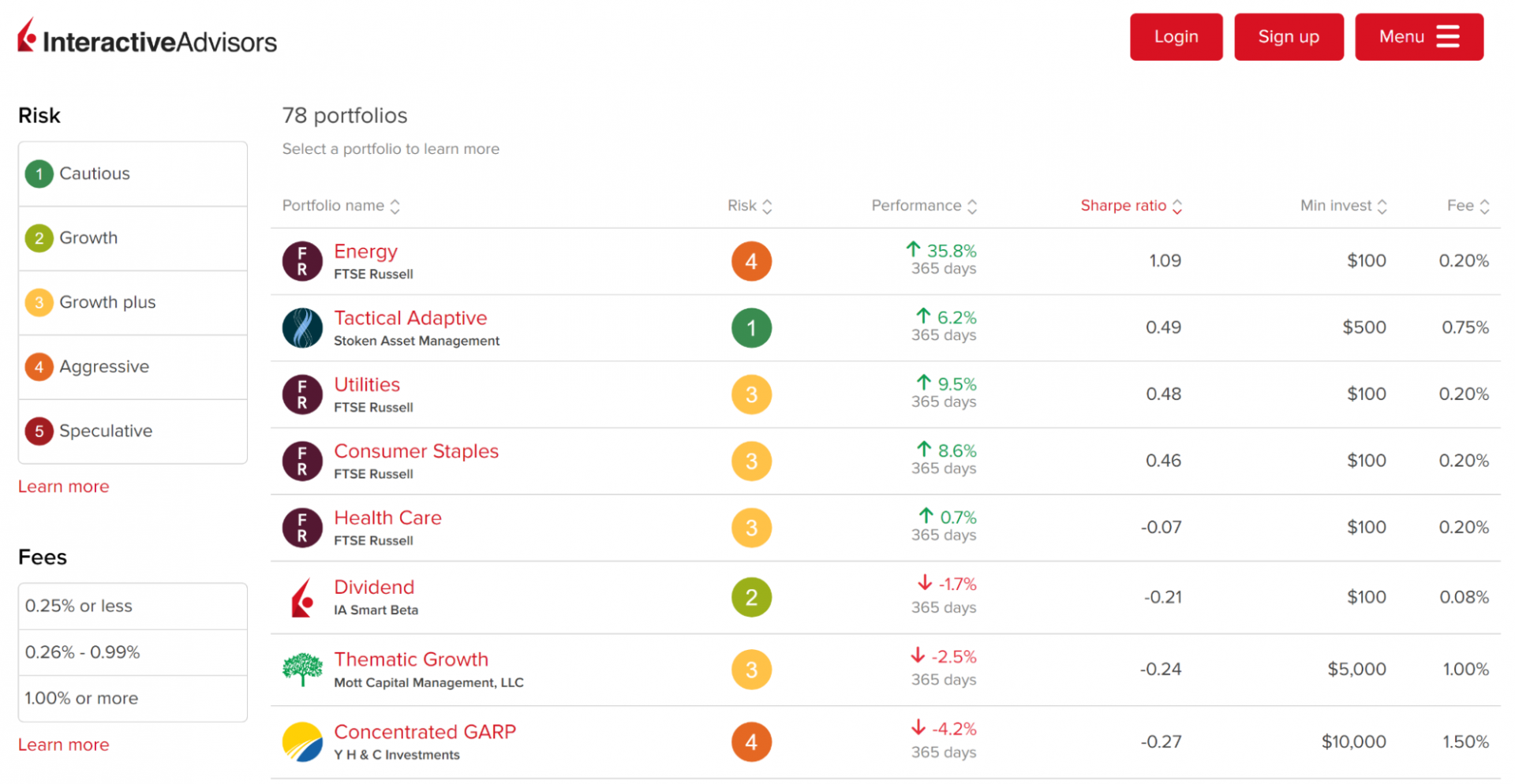 Portfolios are also subdivided into themes, roughly half of which have a focus on socially-responsible ESG investing.
For the uninitiated, ESG stands for Environmental, Social, and Governance. Also known as Socially-Responsible Investing, ESG used to be considered philanthropic, or a necessary ding to a hedge fund's bottom line for PR points.
Now, however, ESG stocks tend to outperform the S&P 500 due in large part to their ability to attract young talent and capital.
Here are some examples of Interactive Advisors' themes and the portfolios within:
Social Justice portfolios including Fair Labor & Thriving Communities, LGBTQ Inclusion, Gender Equality, and more
Undervalued Companies portfolios including Small Cap Value, Long Term Value, Long Term GARP, and more
Indexing portfolios including Industrials, Telecom, Broad Market, and more
ESG portfolios including ESG Dividend, ESG Growth, ESG Broad Market, and more
Better Planet portfolios including Clean Air, Land Health, Ocean Life, and more
Low minimums and management fees
It's common for robo-advisors to have management fees starting at around 0.25% and going up from there. And to anyone who's conditioned to paying the longtime industry standard of 1%, saving 75% on management fees is often attractive enough to at least consider letting a robot handle their money.
But Interactive Advisors goes a step even further, cutting their fees to essentially the bare minimum to buy into these ETFs.
Out of IA's 78 total portfolios, 55 of them have net fees of 0.20% or lower. 16 have fees of just 0.10% or lower, and you can buy into Interactive Advisors' five Smart Beta funds (Value, Quality, Growth, Dividend, and Broad Market) for just 0.08%.
Furthermore, 54 out of 78 portfolios require a mere $100 initial investment. Toss in fractional share support and you have a superb landing pad for beginner/low-cap investors.
Intuitive user experience
Online brokers and robo-advisors often struggle to find the right balance between presenting too much and too little data. Even if they manage to please Goldilocks' choice on the data front, they often organize it in a confusing, unintuitive way.
Interactive Advisors is the rare exception that nails both fronts. Call this subjective, but I felt perfectly guided and informed throughout my hypothetical investing experience.
The Portfolios page is nicely organized by a slick spinning wheel full of themes: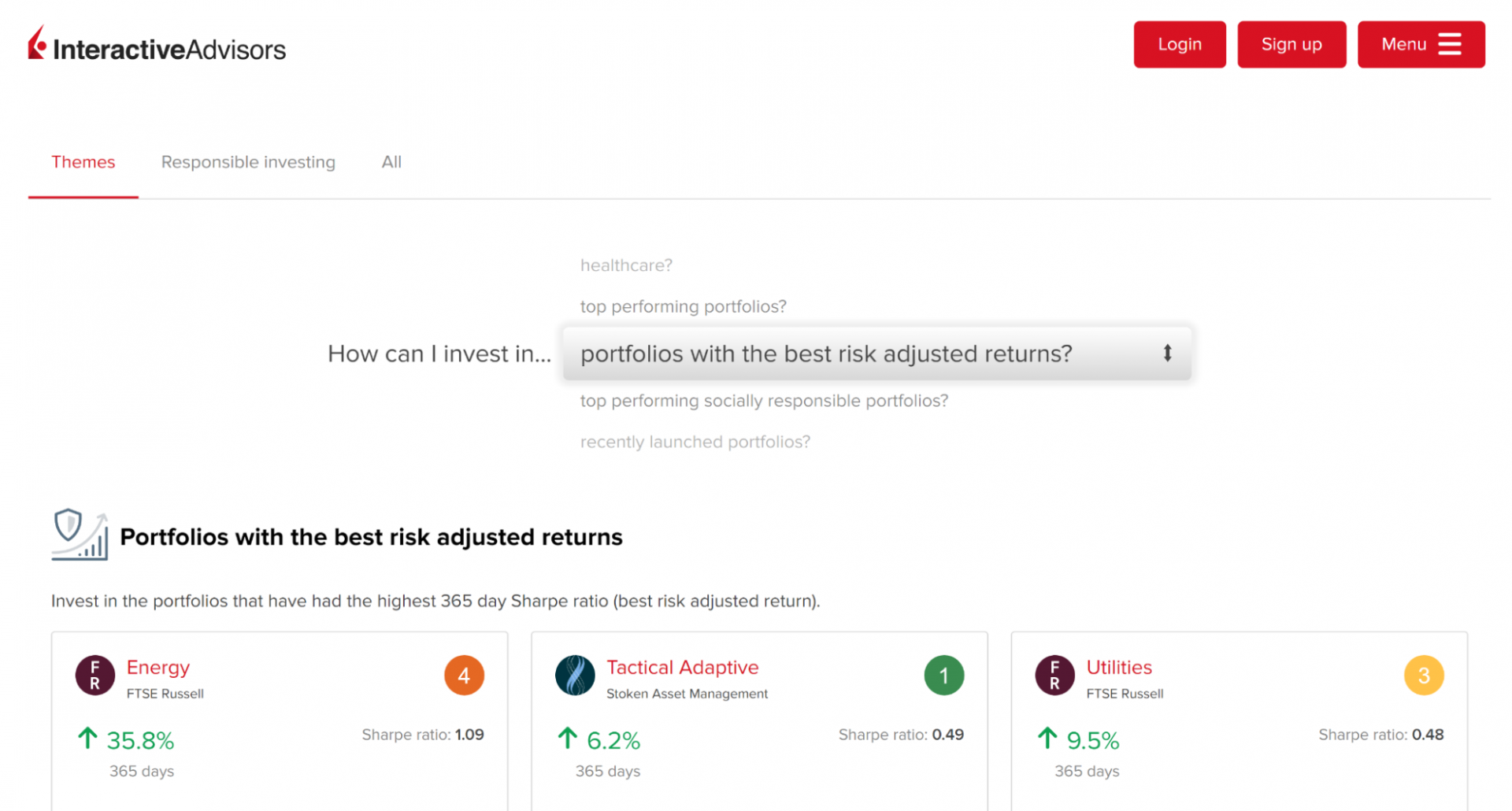 And each portfolio page offers comparison toggles for the S&P 500, as well as *just enough* KPIs without feeling bloated or overwhelming.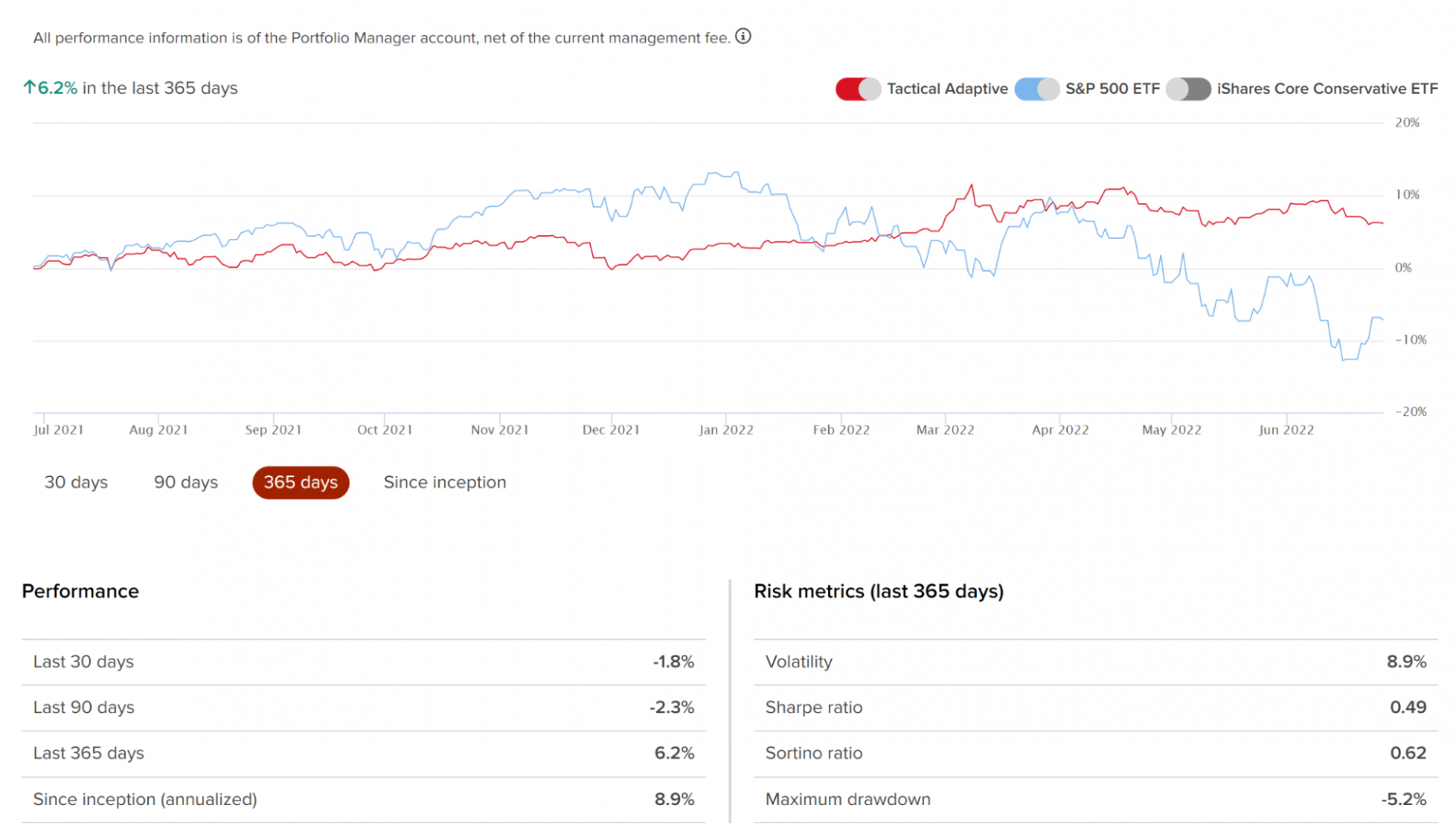 Overall, Interactive Advisor's user experience is calming, straightforward, and intuitive — and will please passive portfolio-builders of all experience levels.
Asset allocation and smart beta Portfolios
Not sure which portfolio to begin with? Like most robo advisors, Interactive Advisors will custom tailor a low-cost, diversified portfolio for you based on your needs, goals, and risk tolerance.
What stands out about IA's custom Asset Allocation portfolio is its low management fee: 0.12%. This is less than half of what many competitors charge.
For an even smaller 0.08% fee, you can also buy into one of Interactive Advisor's aforementioned Smart Beta portfolios. Managed in-house by their CIO and Investment Management team, these five portfolios are "grounded in academic research" and aim to achieve "an alternative risk-return profile."

Unlimited human support
Finally, Interactive Advisors offers unlimited free support from their team of "highly-trained investment professionals." These folks aren't just glorified tech support; IA claims they're licensed, registered, and "available to assist clients in selecting portfolios."
It's rare for a robo-advisor to offer live financial guidance at all, let alone without charging an additional fee.
These live reps are available via phone (1-866-825-3005) and live chat between the hours of 9am and 5pm, EST.
Keep in mind, however, that as well-trained as these experts surely are, they're no replacement for a true financial advisor who understands your goals, fears, and risk tolerance on a deeper level. Plus, unlike an IA rep, a financial advisor can recommend investments outside of Interactive Advisors' 78 ETF-based portfolios.
Related: How to find a financial advisor you can trust
Where interactive advisors could improve
Despite its various benefits, Interactive Advisors isn't a perfect robo-advisor platform yet. Here are a few areas where it still falls short.
Short list of account types
Considering robo-advisors are primarily designed to attract long term investors and lazy portfolio builders, a generous suite of account types is a must.
Unfortunately, Interactive Advisors falls short in this regard. The platform offers just three account types:
Individual taxable
Joint taxable
IRA
By contrast, competitors like M1 and Wealthfront offer most, if not all of the following options:
SEP IRA
Trust
Custodial account
401(k) rollover
529 College Savings Plan
Granted, IA's barebones account options will cover the majority of investors using the platform. But if that's not you, it may be a deal=breaker.
No tax-loss harvesting
Tax loss harvesting is a money-saving investing strategy that works like this:
1.

Sell off a low-performing investment at a loss

2.

Immediately reinvest the capital in a similar investment to preserve your asset allocation

3.

Report the loss come tax season to reduce your capital gains tax
Read more: Tax-loss harvesting: capitalize on your investment losses
It's not the most simple or straightforward process, which is why many of today's top robo advisors automate it for you. And since you can offset up to $3,000 worth of regular income via TLH, investors in high tax brackets can save over $1,000 a year.
But unlike many of its competitors, Interactive Advisors doesn't offer tax-loss harvesting. They're reportedly working on it. But if it's important to you now, it might be worth holding off opening an account until they launch this feature.
No social features
Social investing features — such as the ability to like, comment on, and copy other investors' trading activity — aren't available on Interactive Advisors.
If you're the kind of investor who couldn't care less about having a "lonely" investing experience, this won't make a lick of difference to you. In fact, you might even prefer it.
But if you like the social experience of certain brokerage platforms like Public or eToro, you can give those a try instead. Or you might prefer to build your lazy portfolio with M1 Finance, which at least as an active subreddit.
No direct or indirect crypto exposure
Some robo-advisors have begun allowing you to sneak some crypto exposure into your lazy portfolios — even your retirement accounts.
It might be more indirectly through crypto and blockchain ETFs or direct exposure through Bitcoin and Ethereum.
Whether or not you want to put crypto in your retirement account is up to you. But if you want to keep the option open, you should know that Interactive Advisors is a holdout on both fronts. As far as I can tell, none of its 78 portfolios offers even indirect exposure to blockchain or crypto, aside from Blue Chips.
Read up on the risks: Should you invest in Bitcoin? (Deep dive on the risks)
Interactive Advisors fees and limits
Interactive Advisors uses IBKR Lite, the no-fee trading service of parent brokerage Interactive Brokers. This means there are no trade commissions, nor any fees on entry, exit, or uninvested cash.
In fact, the only fees you'll incur are the asset-based management fees ranging from 0.08% to 1.5%, depending on the portfolio.
If you're thinking, "1.5% is admittedly pretty darn high," it's worth reiterating that most portfolios (53 out of 78) charge 0.20% or less — and 54 have minimum initial investments of just $100.
Such low fees and minimums are especially impressive when you toss in the unlimited free live support.
Opening an Interactive Advisors account
To open an account with Interactive Advisors, you'll first have to open an account with their parent brokerage Interactive Brokers.
(Interactive Brokers is where you'll be able to trade individual securities and get more hands-on with your investments, should you like. Check out our full review of Interactive Brokers, where we scored it a 7.5 out of 10.)
Once you've jumped through the SEC's hoops and generated an Interactive Brokers account, the site will redirect you back to Interactive Advisors, where you'll continue the signup process.
From here, you can manually pick your portfolios. Alternatively, you can take an assessment to determine your client risk score, which will help IA recommend portfolios or build out your Asset Allocation portfolio.
Open an account with Interactive Brokers
How safe is Interactive Advisors?
Interactive Advisors is SEC registered and has all of their legal documents and disclosures clearly laid out.
So far as I can tell, the platform has never been sued, run afoul of any U.S. regulatory agency, or otherwise has anything to hide. (Although, we can't say the same about Interactive Brokers).
All things considered, Interactive Advisors has given me no reason to question their safety and integrity.
Best alternatives
Looking to get involved in ESG investing, but not sure that Interactive Advisors is right for you? Here are three more robo-advisors that offer socially-responsible portfolios and strategies.
Two-factor authentification
Automated, Human Assisted
Automated, Human Assisted
Socially responsible investing
The bottom line
In its current state, Interactive Advisors already has competitors trumped in a few key areas. Its low fees, low investment requirements, unlimited live support, and compelling ESG focus make it ideally positioned to appeal to young, beginner investors.
If it eventually expands its selection of account types and follows through on tax-loss harvesting, it could become a serious player among a wider investing population — and become king of ESG passive investing.