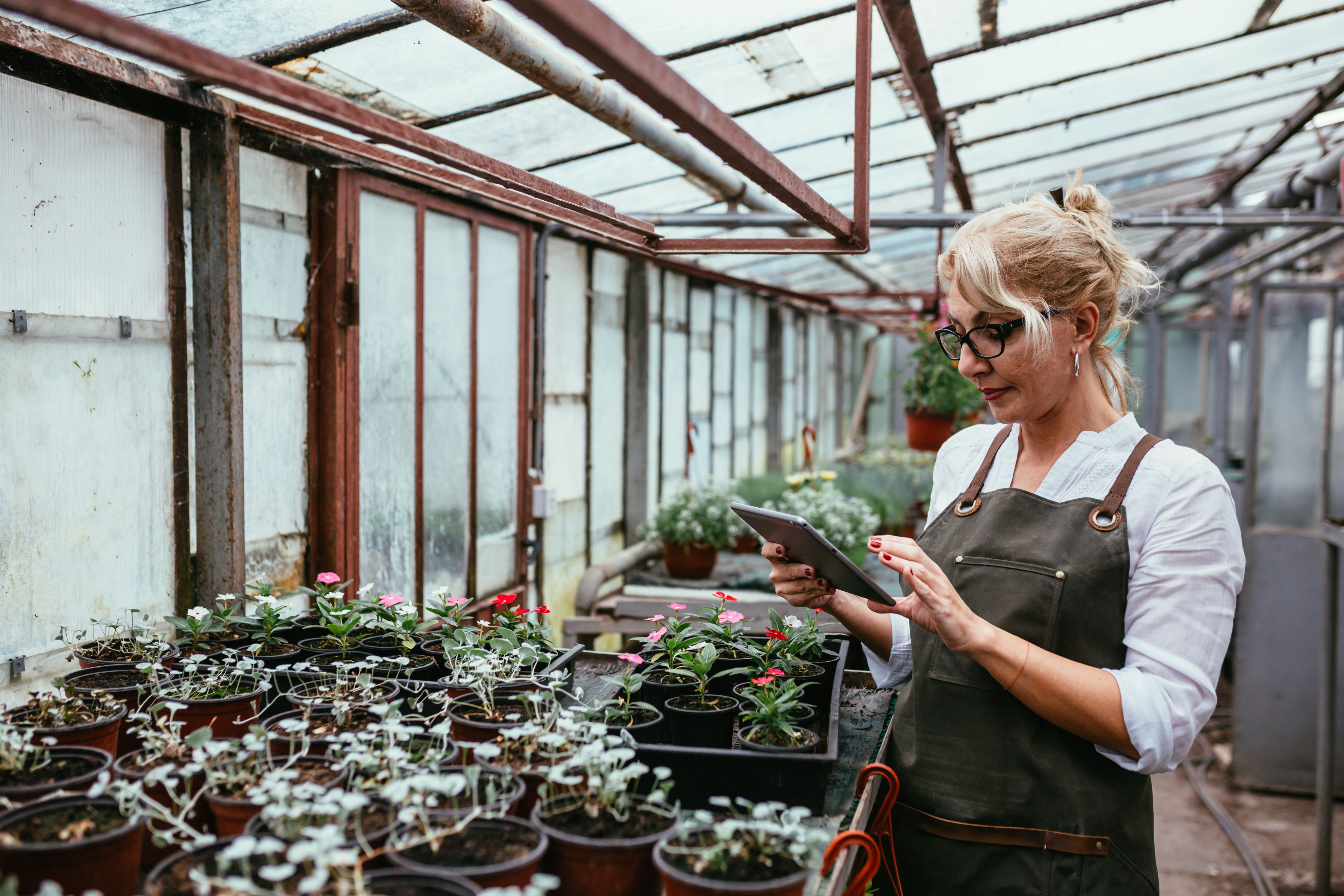 ForUsAll review – A 401(k) that works right out of the box
Monkey Business Images / Shutterstock
🗓️
Updated: August 01, 2023
We adhere to strict standards of editorial integrity to help you make decisions with confidence. Please be aware that some (or all) products and services linked in this article are from our sponsors.
We adhere to strict standards of editorial integrity to help you make decisions with confidence. Please be aware that some (or all) products and services linked in this article are from our sponsors.
ForUsAll provides a 401(k) solution for small businesses that handles not only the investment management, but also all the administrative tasks, including compliance. That last point is especially important… especially when the Department of Labor is concerned.
The Employee Retirement Income Security Act of 1974 (ERISA) imposes personal liability on anyone found to be a fiduciary of an employee benefit plan for any breaches of their fiduciary duties.
The last thing a small-business owner wants to receive is a letter alerting them to a Department of Labor (DOL) ERISA investigation. If they offer a 401(k) plan, the responsibility for ERISA compliance lies with them — and they have a reason to be concerned: Nearly 75% of DOL investigations find compliance violations, and the penalties are stiff.
Depending on the violation, non-compliance with ERISA can lead to fines and penalties ranging from $110 to $2,745 per day, as well as exposure to potential lawsuits from current and former employees. In addition, a typical investigation provides the employer a mere three weeks to gather the requested documents and schedule interviews with plan fiduciaries.
To top it off, the reach of ERISA has become increasingly broad in recent years. For example, the line separating what's considered "education" and "advice" has shifted, and employers who are providing what they believe is education to help their employees navigate their 401(k) choices could find themselves guilty of providing advice and suffer the liability consequences as a "named fiduciary."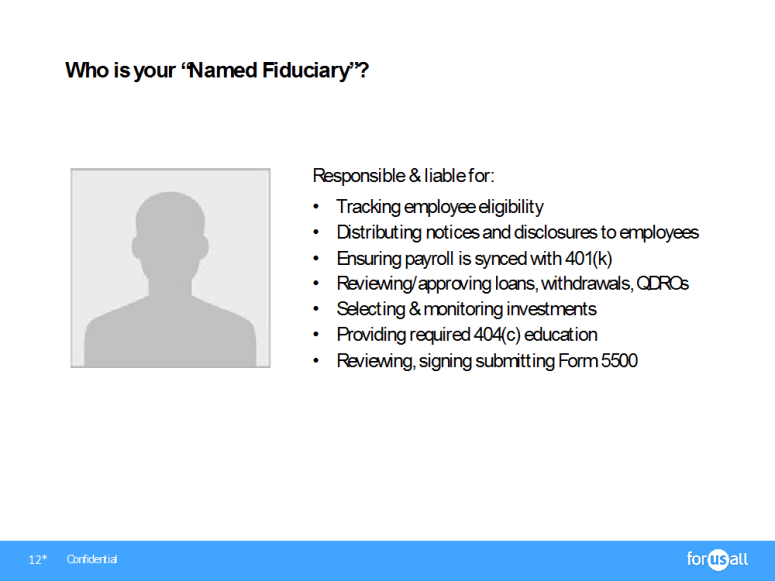 This is one of the reasons less than a third of small-business owners choose to provide 401(k) plans to their employees. The expense and liability of compliance is enormous, and while small businesses may have a human resources manager, they don't typically have the time or expertise to handle the administrative complexities inherent in most 401(K) plans.
The most common cases the DOL brings are caused by errors in administering 401(k) plans. In 2013, 73% of investigations the DOL closed resulted in monetary fines.
When businesses hire an outside 401(k) provider, they often assume this vendor will handle all of the plan's administrative and investment responsibilities including taking on all the fiduciary roles. Unfortunately, many vendors are willing only to act as investment fiduciaries, not take on administrative responsibilities.
By default, the small-business owner, as the designated plan sponsor, becomes the "named fiduciary" with significant compliance responsibilities. ForUsAll provides an all-in-one plan that solves these issues for small-business owners.
What is ForUsAll?
ForUsAll is a one-stop shop 401(k) service especially for small-business owners. ForUsAll handles all aspects of plan administration for the employer, reducing oversights and errors that trip up many small businesses managing their own 401(k). As Chief Investment Officer David Ramirez says, ForUsAll is "a super easy 401(k) that works — for both employees and employers — right out of the box."
ForUsAll features and fees
Automated help from DAVE: DAVE is ForUsAll's virtual advisor. Named with a nod to 2001: A Space Odyssey (except far less likely to go rogue than HAL). With friendly confidence and a reassuring voice, DAVE walks participants through the plan details and helps them customize their investment choices and adjust their contribution rate.
Using DAVE, employees can switch from a traditional to a Roth 401(k) from their smartphone. ForUsAll co-founder David Ramirez says DAVE makes the process user-friendly and removes the intimidation factor for employees who've never had a 401(k) plan before.
Fund selection: Employees can customize their investment assets choosing from a broad selection of Vanguard index funds. In addition, ForUsAll provides easy access to all 30,000 funds available in the marketplace.
Payroll integration: ForUsAll links with the employer's cloud-based payroll system so 401(k) deductions are automatically processed. New employees are added as soon as they're eligible.
Employer online dashboard: Employers have online access to a Plan Dashboard that provides real-time status of the plan assets and a Fiduciary Vault, which organizes and secures all critical plan documents.
No setup fees: ForUsAll charges no fees to the employer or employee to set up the plan.
Low-cost 401(k) plans: All-in plan fees for the participants are 0.54% of assets, which covers the cost of the fund, the advisor and the custodian. ForUsAll fees are less than half the industry average.
No conflict-of-interest fees: No fees are received by ForUsAll from the underlying funds, so there's no conflict of interest to recommend one fund over the other.
Roth or Traditional 401(k): Employees can choose whether they want their account set up as a pre- or post-tax account.
Summary
ForUsAll is one of several 401(k) plan providers that have recently emerged with a solution for the underserved small-business market. A next-generation provider of 401(k)s for small businesses, ForUsAll's mission is to radically simplify the 401(k) so it's easy, hassle-free and inexpensive for any small company and its employees.
ForUsAll's simplified and automatic approach to the 401(k) is yielding strong results that exceed the industry average for key measures of success:
More than 90% participation rates (vs. 74%).
An average savings rate of 10% (vs. 5.6%).
More than 90% of participants stay in the low-cost diversified default investment options.