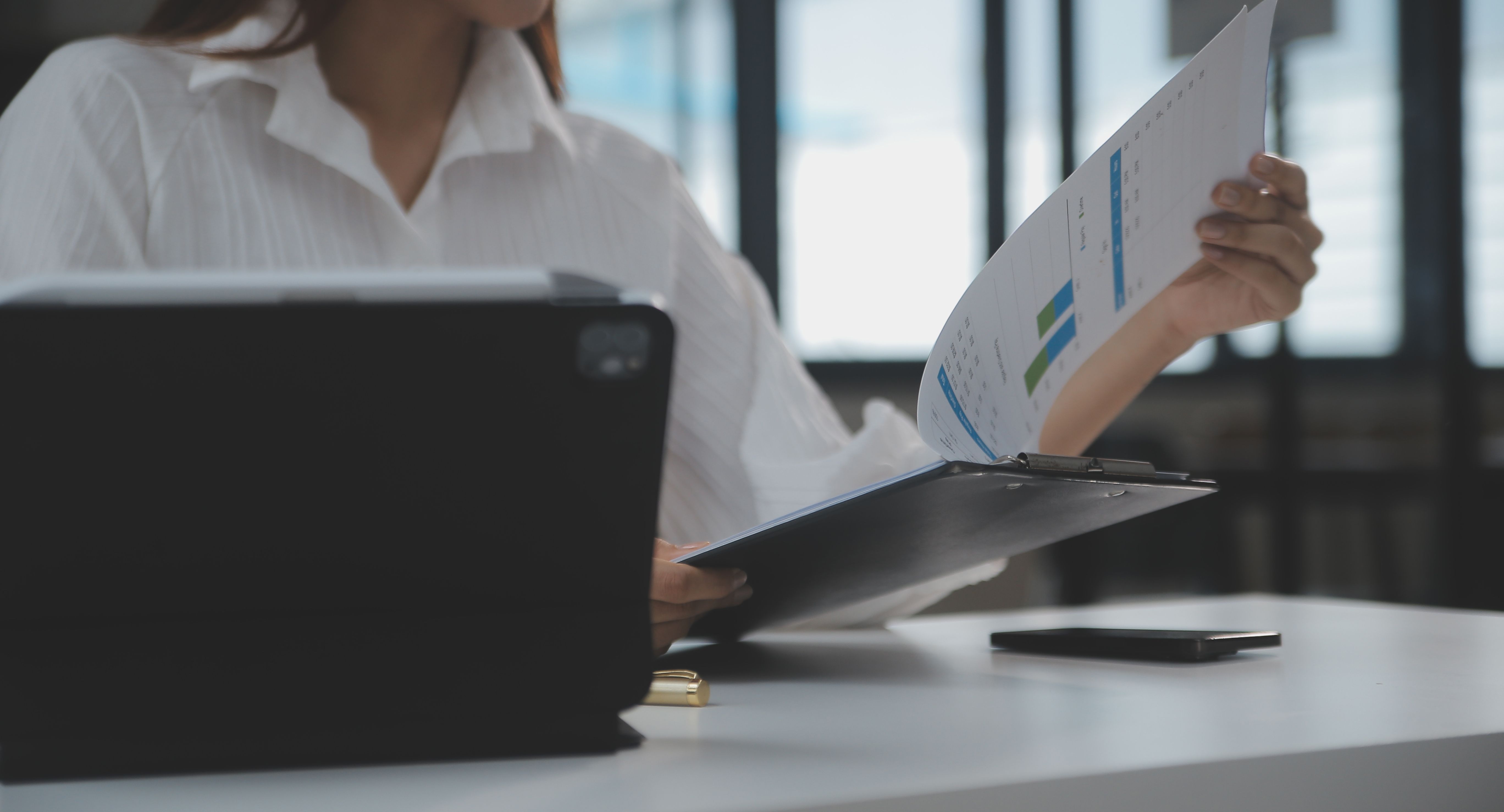 Women and investing: latest statistics
Kansuda Kaewwannarat / Shutterstock
We adhere to strict standards of editorial integrity to help you make decisions with confidence. Please be aware that some (or all) products and services linked in this article are from our sponsors.
We adhere to strict standards of editorial integrity to help you make decisions with confidence. Please be aware that some (or all) products and services linked in this article are from our sponsors.
Women are closing the investing gap. But there's still work to do.
Women face unique barriers when it comes to money. Some challenges include the gender pay gap and the demands of childcare. More recently, the pandemic has been challenging for women; it disproportionately forced women out of the workforce to assume the roles of caregiver and homeschooler.
However, this hasn't stopped increasing numbers of women from taking control of their finances. In fact, recent data shows that more women are investing than ever before and they're pretty great at it. But despite the strides that have been made the investing gender gap hasn't completely closed yet. Here's what you need to know.
Women and investing: 4 key stats
Here are four key finding from some of the latest statistics regarding women and investing.
1. More women are investing than ever before
According to a Fidelity Women and Investing Study released in 2021, 67% of women are now investing outside of retirement savings, compared to 44% in 2018.
This is exciting news. Furthermore, women today –especially millennials– have the highest level of interest in investing that we've seen so far.
The Fidelity study reference above indicates 63% are more interested in investing than they were at the start of the pandemic. Also, 71% of millennial women are investing outside of their retirement accounts.
2. When women invest, they perform well
Although many women may be newer to investing, Fidelity's research indicates that they tend to outperform men by 40 basis points, or 0.4%.
While that might not sound significant, 0.4% can result in tens of thousands of dollars in additional value over an investor's life.
Experts speculate that this improved performance is because women tend to employ a buy-and-hold strategy. Over the long haul that outperforms frequent trading, which is an approach more often favored by men.
3. Women invest according to their values
As a whole, more investors are interested in ESG (environmental, social, and governance) investing today than in the past. But it seems that women are even more concerned with making a positive impact on the world through the companies they invest in.
A 2022 survey by UBS Sentiment found that 71% of women take sustainability into account when choosing their investments. More than half of men (58%) said the same thing, but that's still a sizable gap.
4. Women are still facing a gender investing gap
While there have been many positive trends over the past decade, a significant gap still exists between the actual dollars and cents that are sitting in the investments accounts of men and women.
Before the pandemic, a Bank of America Merrill Lynch Workplace Benefits Report found that, on average, women had $70,000 less of retirement savings than men. And a 2018 study in the UK found the total value of investments for women ages 21-53 was about half the amount that their male counterparts had saved.
This is even more concerning when you consider the fact that women tend to live about five years longer than men, which means that their retirement savings will need to last longer.
The gender gap is even worse at the C-Suite level. A 2022 report by ExecuShe found that male executives own 99 times more S&P 500 shares than their female counterparts.
What's holding women investors back?
If women are investing at a higher rate than ever before and they're making wise investments, why is the gender investment gap still so wide? Here are three barriers that continue to hold many women back from achieving their full potential as investors.
Gender pay gap
According to the latest stats from the U.S. Census Bureau, women earn 83 cents for every dollar that men earn. Women just don't have as much disposable income to invest. Depending on race and ethnicity, the pay gap can leave women with a fraction of the disposable income of their male counterparts. And less disposable income means less money to invest outside of retirement.
Time
Women have historically spent more time doing unpaid household labor and child labor, averaging more hours than men across almost every household maintenance and child-rearing segment. This imbalance in unpaid labor means that the average woman has less time to educate herself about investing and put what she learns into practice.
Confidence
While 67% of women report investing outside of retirement, only a third of them see themselves as investors. Furthermore, women that do invest tend to rate their investing knowledge lower than their male counterparts.
A study from George Washington University on financial literacy reported that 54% of women surveyed self-identified as having a high level of investing knowledge, compared to 71% of men surveyed. In the same study only 34% of women reported feeling comfortable making investment decisions, compared to 49% of men.
This disconnect and lack of confidence may be one reason why many women have put off investing even though they're aware of the benefits. A 2022 Money Moves survey found that over a third of women above age 36 said that "waiting too long to start investing for retirement" was their biggest financial regret.
How to invest as a woman
While more women than ever are signing up with retail brokerages and opening accounts, lack of confidence and expertise is still a problem.
As previously mentioned, only a third of women feel confident in their investment choices. If you're interested in investing but aren't sure where to start, here are some tips for getting started.
Focus on your goals
You shouldn't throw your money into investments just for the sake of having investments. Instead, your goals should determine how you invest. Most people start to get their financial house in order by paying off debt and saving money for emergencies. If you've already taken those steps, you might want to boost your retirement funds, save for homeownership or a big purchase in the future.
Start small
Getting started with investing can be daunting, especially if you're overwhelmed and worried about making the wrong choice. For this reason, don't sweat your investments in the beginning. Start small, and don't be afraid to make a mistake.
We recommend starting with an automated investing system like a robo advisor. Robo advisors use a questionnaire to determine your unique risk tolerance and develop a balanced portfolio based on your goals and investing knowledge. A robo advisor is an excellent place to start if you aren't confident in your investing knowledge. If you're specifically looking for a robo advisor that's focused on closing the gender gap, you may want to check out Ellevest.
If you're ready to try your hand at developing your own portfolio, consider investing a small amount with a discount brokerage. Learn as you go. You'll probably change course a few times, but these course corrections won't be life-changing with smaller investment amounts. Even $50 per month is enough to get started with most brokerages and is enough to get you in the habit of investing for your future.
Learn continuously
Prudent investing starts with education. Research can help you make informed investment choices, but you don't have to make an appointment with a financial advisor to start the process.
Learning can take place in the comfort of your own home, with just an internet connection. Most stock brokers and robo advisors offer lots of free educational resources. You can check out TD Ameritrade's Education Center here and Ellevest has a huge array of resources designed specifically for women investors.
Educating yourself is an essential step to gaining confidence in your skills as an investor and improving your returns.
Learn from leading women in investing
Finally, as you set up your own portfolio, it might make sense to gain inspiration from some of the top women for investing. Here are five women to look up to and learn about:
Abigail Johnson: CEO of Fidelity Investments, chairman of Fidelity International, and one of the wealthiest woman investors in the world.
Abby Joseph Cohen: Portfolio strategist who served in various capacities as one of the most notable women in investment banking, as well as working as a Federal Reserve Board economist.
Geraldine Weiss: Investment advisor and founder of a private investment newsletter. She is notable as someone who hid her gender after no one would hire a woman investment advisor. After attaining a track record of success, she revealed her gender.
Lubna S. Olayan: CEO of Olayan Financing Company and one of the most prominent businesswomen in Saudi Arabia.
Muriel Siebert: Founder of the only female-owned brokerage on the New York Stock Exchange even though she didn't graduate from college. She faced early difficulties as a woman trying to get registered with the SEC because, at the time, she needed men to sponsor her.
Final word on women and investing: Don't delay, start now
While there have been challenges for women for investing, today, it's easier than ever to get started. No matter your gender, you can benefit from getting started as an investor. There are lots of options available, from online investing to hedge funds, to active financial advisors. The most important part is to invest early and often and focus on a long-term investing strategy.
Disclaimer- Paid non-client endorsement. See Apple App Store and Google Play reviews.View important disclosures.
Investment advisory services offered by Stash Investments LLC, an SEC registered investment adviser. This material has been distributed for informational and educational purposes only, and is not intended as investment, legal, accounting, or tax advice. Investing involves risk.
¹For securities priced over $1,000, purchase of fractional shares start at $0.05.
²Debit Account Services provided by Green Dot Bank, Member FDIC and Stash Visa Debit Card issued by Green Dot Bank, Member FDIC. pursuant to a license from VISA U.S.A. Inc. Investment products and services provided by Stash Investments LLC, not Green Dot Bank, and are Not FDIC Insured, Not Bank Guaranteed, and May Lose Value." because the article mentions the debit card.
³You'll also bear the standard fees and expenses reflected in the pricing of the ETFs in your account, plus fees for various ancillary services charged by Stash and the custodian.
⁴Other fees apply to the debit account. Please see Deposit Account Agreement for details.
⁵Stock-Back® is not sponsored or endorsed by Green Dot Bank, Green Dot Corporation, Visa U.S.A, or any of their respective affiliates, and none of the foregoing has any responsibility to fulfill any stock rewards earned through this program.