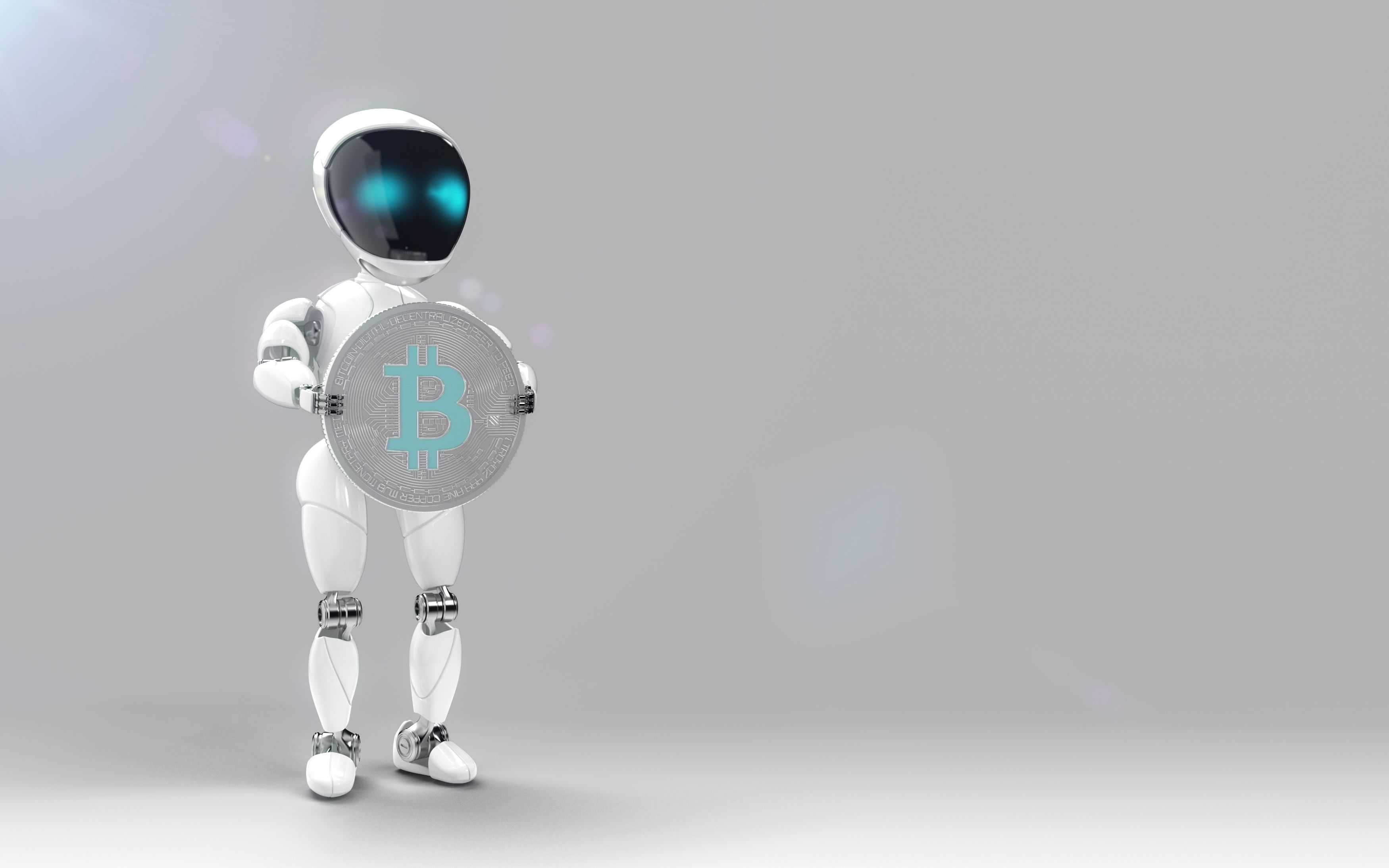 3Commas review 2023: Is this the king of cryptobots?
Herr Loeffler / Shutterstock
🗓️
Updated: July 14, 2023
We adhere to strict standards of editorial integrity to help you make decisions with confidence. Please be aware that some (or all) products and services linked in this article are from our sponsors.
We adhere to strict standards of editorial integrity to help you make decisions with confidence. Please be aware that some (or all) products and services linked in this article are from our sponsors.
If you're new to crypto trading, you might have noticed there's a LOT to learn.
There's different types of crypto exchanges, limit and stop-loss orders, trading pairs, long and short positions, derivatives markets… it can be straight-up confusing. But crypto trading bots make it easier. They offer automated trading strategies, the ability to copy other traders, plus a single dashboard to view all of your accounts to boot.
3Commas is a popular crypto trading platform that offers a good number of automated trading strategies. They make it easy for beginners to dabble to their heart's desire, but offer enough technical muscle to satisfy seasoned crypto trading pros.
We'll cover the features and costs of the platform, as well as how to set up an account and start trading.
Pros and cons of 3Commas
Pros
Full-featured free version — The 3Commas free account gives you access to most features. Users can set up simple and advanced trading bots, connect multiple exchanges, and access the portfolio viewer to track their trades.
Paper trading — The best way to learn crypto trading is by doing, and the 3Commas paper trading feature helps new users get up to speed without the risk. The downside? Not available with free accounts.
Well-designed platform — Built with crypto beginners in mind, the 3Commas user interface is intuitive, with built-in tutorials to help with every aspect of the platform.
Exchange support — 3Commas supports 18 crypto exchanges, including some of the most popular ones on the market. This level of support is more than most competitors, and allows you to choose a top crypto exchange to use with the platform.
Bot presets — Creating a crypto trading bot can be overwhelming, so 3Commas has dozens of templates to choose from. This makes getting a bot up and going a painless process.
Cons
Limited bot usage
Crypto bots are complicated — While 3Commas makes a valiant effort to simplify crypto trading bots, they can just be downright complicated, and new users may lose their way trying to get one set up.
What is 3Commas?
3Commas is an automated crypto trading platform that connects to your favorite crypto exchange and makes trades on your behalf. They do this through a secure application program interface (API) connection that allows 3Commas to buy and sell crypto through the exchange itself.
If you have a Binance account, for example, you can connect it to 3Commas, and set up a trading rule to purchase a cryptocurrency automatically. You can set parameters, such as:
"If Bitcoin (BTC) falls below $20,000, place an order of $100."
3Commas offers a ton of customization, allowing savvier users to program advanced trading bots. However, the best feature might be the preset trading strategies that you can quickly copy/paste and use as your own. Users can choose from dozens of crypto trading bot presets, within multiple types of trading bots and strategies available.
Just getting started? >>> The 10 best crypto exchanges for 2023
How does 3Commas work?
New users can sign up with just an email address and password, or through an Apple or Facebook ID. After signing up, you can set up your account and create your first trading bot.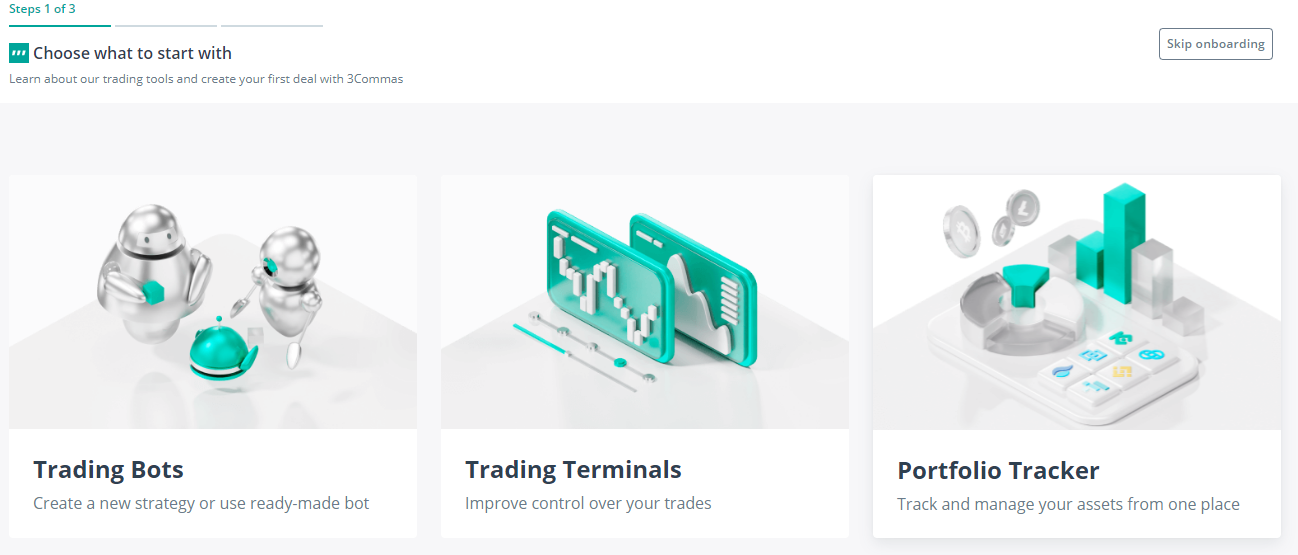 Note: You can always skip the onboarding by hitting the button in the upper right corner, but it is recommended to use the setup tutorials to get started.
After picking your preferred trading strategy, connect your account to your preferred crypto exchange. There are 18 popular exchanges to choose from, including Binance.us, FTX.us, Coinbase, and KuCoin.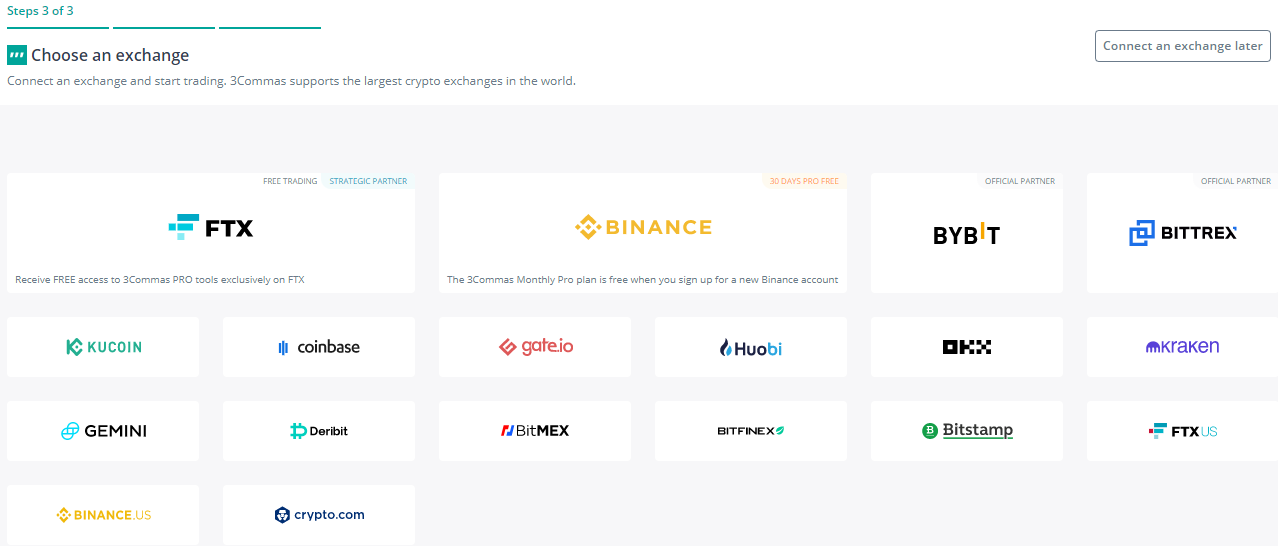 Connecting to an exchange includes inputting your account API settings, including the API Secret, API Key, and Passphrase. This will be located in your exchange account settings.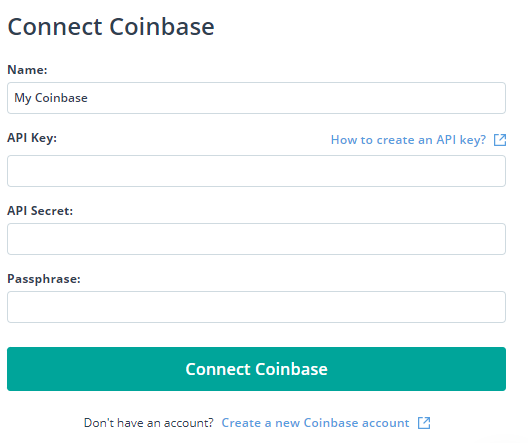 After connecting to an exchange you can quickly set up a trading bot. You can customize your own bot, or choose from preset bots based on the strategy you're looking to use.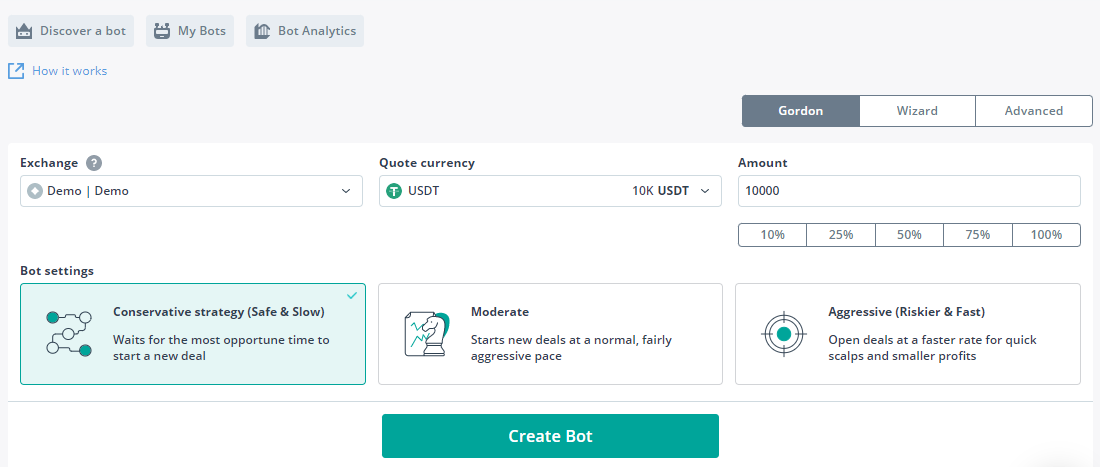 Once you have copied a preset, or created your own, you can select "Create Bot" to launch the strategy. This will activate your bot and begin executing trades based on the parameters set.
All accounts and trading activity can be monitored in the "My Portfolio" tab, with a simple overview, as well as real-time profit/loss and asset allocation breakdown.
Main features of 3Commas
Crypto trading bots
3Commas is known for its trading bots, with four distinct trading strategies that help automate crypto trading:
Dollar-Cost-Averaging (DCA) Bot. The DCA bot is designed to help you split your crypto purchases over time and use a dollar-cost-averaging strategy to help lower your overall cost basis for a crypto investment. You can manually set up a DCA bot, or choose from a user preset.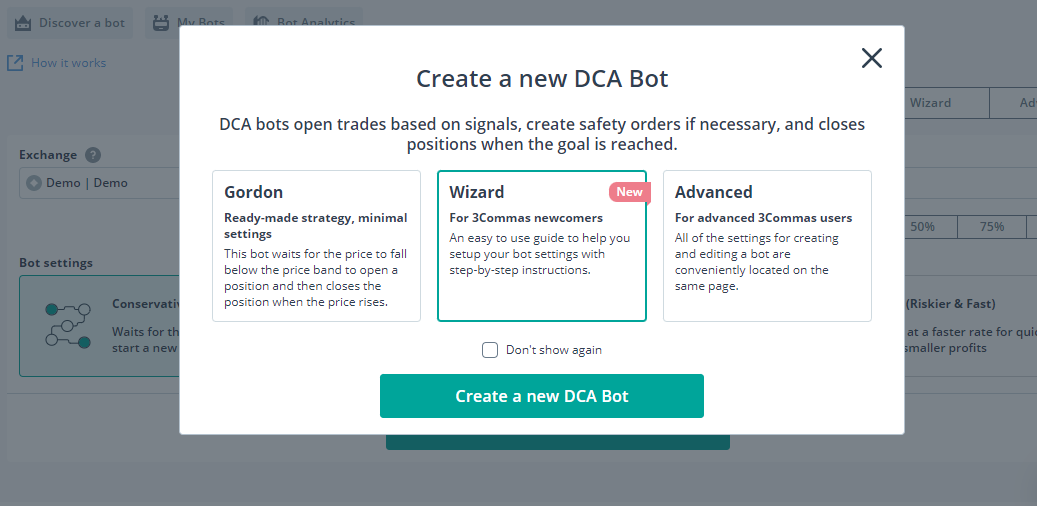 GRID Bot. Grid trading bots are a more advanced trading strategy that allows you to place dozens of orders for a crypto trading pair at one time. A "grid" is the price points at which buy orders and sell orders are placed. They allow you to purchase a cryptocurrency at a lower price, and sell it at a higher price, based on past trading performance of the pair. Grid bots can be manually configured, or you can choose from one of the user generated bots.
HODL Bot. The HODL bot is similar to the DCA bot, but is only meant for long-term investing into a single crypto asset. For example, you can choose to purchase $50 in Bitcoin every seven days. The HODL bot is simple to set up, and is a great option for beginners.

Options Bot. Crypto options trading has become very popular, and the 3Commas options bot makes an advanced trading strategy a bit easier (though it may still be a bit confusing for newbies). You can choose from over a dozen options trading strategies on your favorite cryptocurrency, and set your options expiry date. Just note that the options trading bot requires a Deribit account, which is not available to U.S. users.

Related >>> What is options trading?
Portfolio tracking
Since 3Commas can connect to multiple crypto exchanges and place trades across many different bots and strategies, it can be hard to keep track of it all. The built-in portfolio tracker helps consolidate all your positions to help you quickly see what is happening with all your accounts and trades.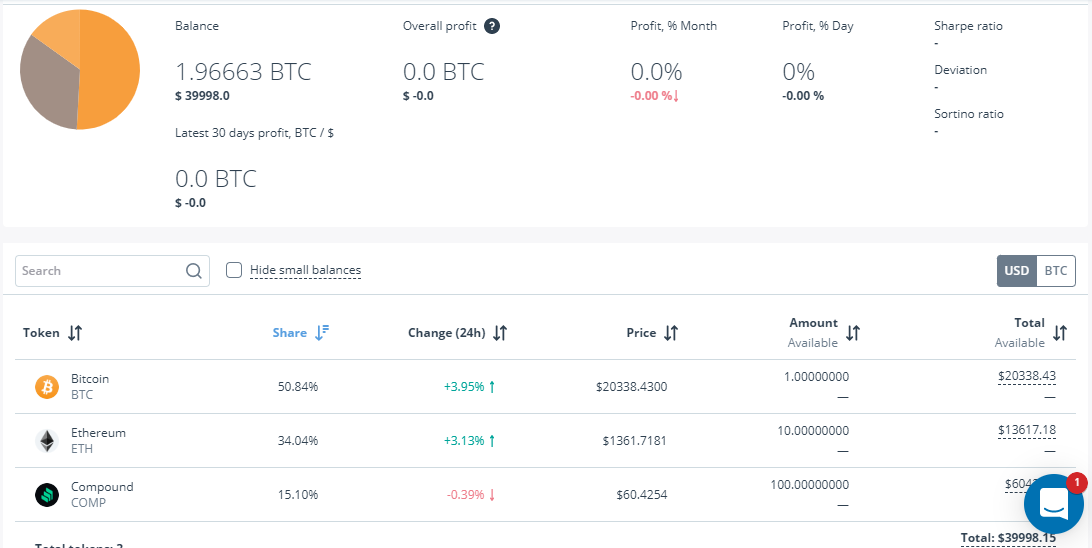 The portfolio shows the asset allocation split between all your coins, the daily and monthly profit//loss percentage, and other detailed stats, such as Sharpe ratio and Sortino ratio.
You can create and monitor multiple portfolios with any combination of your accounts, making it easy to track your investments and trades over time.
Smart trade
3Commas is also known for its Smart Trade platform, which offers advanced trading features and charting, similar to popular exchanges such as FTX or Binance.
The Smart Trade dashboard lets you view any trading pair from any connected account, analyze using built-in TradingView charting, and create advanced trades. You can place market, limit, or conditional orders, set take profit and stop loss parameters, and set up trailing orders. You can also access trading signals, and turn on/off any of the trading features with the click of a button.
While Smart Trade is a nice addition for advanced traders, new users may be overwhelmed by the amount of features available. And active traders that have a single preferred exchange may be better off trading directly through an exchange instead of through 3Commas.
Trailing orders (Take profit and stop loss)
3Commas bots and trading strategies have the ability to program trailing orders, allowing you to protect your profits during times of price volatility.
There are two trailing strategies:
Trailing Take Profit: When a trade is going well, you may want to take some profits along the way. A trailing take profit strategy allows you to increase the original "take profit" price, in the event the price rises past your original take profit target. This allows you to keep taking profits without having to set new targets.
Trailing Stop Loss: A stop loss helps protect you from sudden drops in the market. Setting up a trailing stop loss on your trade automatically increases your stop loss price as your trade increases in value. When the cryptocurrency price hits new highs, the stop loss will adjust along with it, keeping you protected while decreasing your potential losses in the event of a sudden drop in price.

App store
3Commas has its own app store with dozens of apps, from tracking and monitoring tools, to bot management apps. Most are free for download and you can use them to help with your trading strategy.
The apps on their marketplace are user generated. In fact, you can even create an app and upload it yourself to the 3Commas app store. Just be aware that since they are created by other users, there is no official support channel through 3Commas for individual apps.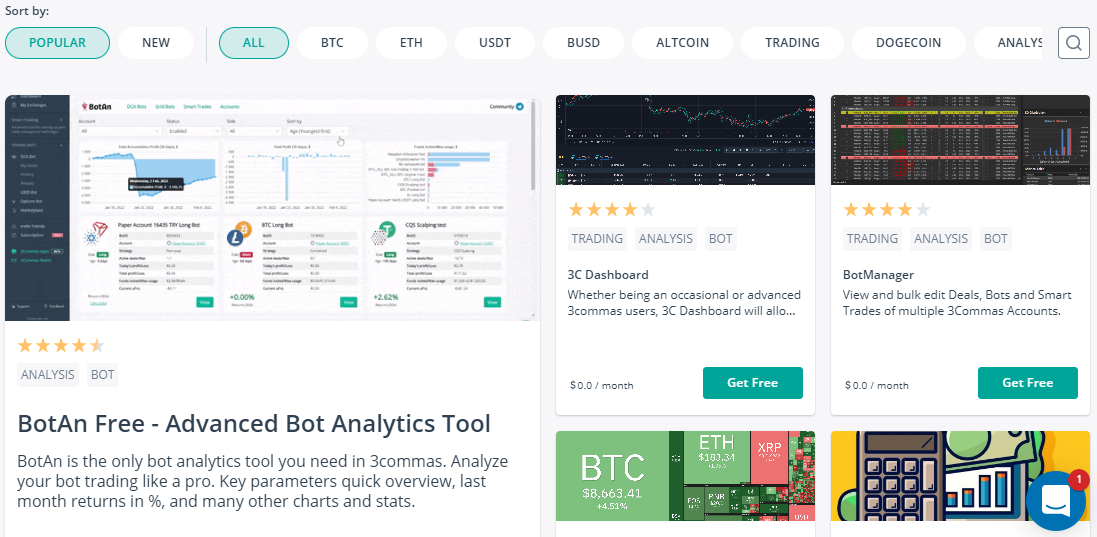 Signals marketplace
"Advanced" and "Pro" on 3Commas users can access another built-in marketplace to purchase signals and deploy a bot based on them. Signals are part of an advanced trading strategy that uses multiple trading analytics tools to create "buy" or "sell" signals, and 3Commas can execute those trades automatically.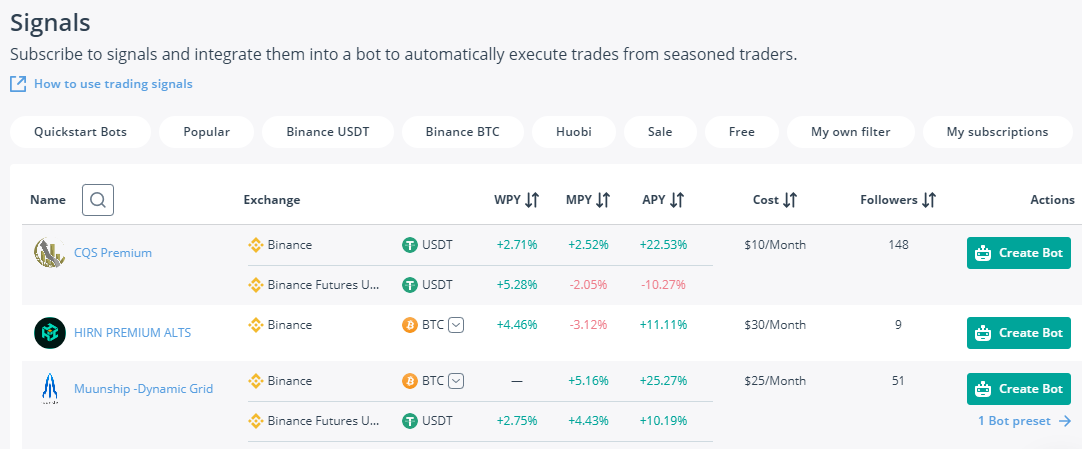 Signals are provided by third-party partners and typically come with a monthly subscription cost. Users with a "Free" or "Starter account cannot download or use signals without upgrading their account.
What does 3Commas cost?
For all account types, here's a list of features included:
Automated trades across major exchanges
Multi-level referral program

TradingView integration

Portfolio tracking across all accounts

Free mobile apps

More than 20 trading features

Pricing is overall reasonable compared to other automated crypto trading platforms. The free account gives you access to several trading bots to try out, and lots of features are included at every level.

One major drawback is that there is only one grid trading bot available for all levels up to advanced, and that it requires nearly $600/year to access more of them. But overall, the pricing seems fair for everything that is included.
How's The Customer Service?
3Commas offers a comprehensive (and well-laid-out) support center, with plenty of "how-to" articles with screenshots and simple-to-follow instructions. Users can also send an email directly to the support team at (support@3commas.io).
You can also reach out via different support channels, such as the 3Commas Twitter account, and the Discord support center. But the best part is the 24/7 live chat support built directly into the website. I pinged them and got a response with 90 seconds, which is one of the best support responses I've seen of any crypto platform.
Overall, the customer support for 3Commas exceeds that of most competitors, making it easy to get questions answered when you need it most.
Alternatives to 3Commas
Coinrule
Coinrule and 3Commas both offer automated crypto trading strategies, as well as the ability to link to popular crypto exchanges through an API and execute trades on your behalf. Both support a wide range of crypto, and both offer programmatic trading setups.

3Commas is ideal for trading bots that execute a high volume of trades using preset bots following various strategies. Coinrule, in comparison, is better for users who want to set up rules-based trading, with access to 100+ templates and lots of customization.
Read more >>> Coinrule Review 2023: Can a crypto trading bot maximize your gains?
Shrimpy
Shrimpy is another automated crypto investing platform, but one aimed toward passive investors. The platform offers automatic rebalancing of your portfolio and helps you track your crypto asset allocation.

Shrimpy allows you to link all of your crypto accounts and wallets in one place, making it easy to view your entire portfolio. Their social trading features also allow users to share and copy successful trades on the platform.
Overall, the platform is a less complicated way of automating your crypto investments.
The takeaway: Who is 3Commas best for?
3Commas is a solid crypto trading platform with several investing strategies and automated trading bots. Crypto beginners can try their hand at trading, but don't have to constantly monitor charts. Plus, the free plan makes it easy to try out the platform without committing to a monthly bill.
3Commas also offers a paper trading account to learn the platform without investing your own dollars — but it requires at least $15/mo plan to access, which is kind of lame. And the lack of grid bots for lower-level plans limits the platform for users who want to set up several automated bots, but aren't pro-level traders.
Overall, 3Commas has some of the best support and a great user interface for crypto trading bots and automated crypto investing. It's great for both beginners and advanced traders that want robots to trade for them while they sleep.
Improve your crypto trades with our guides>>>