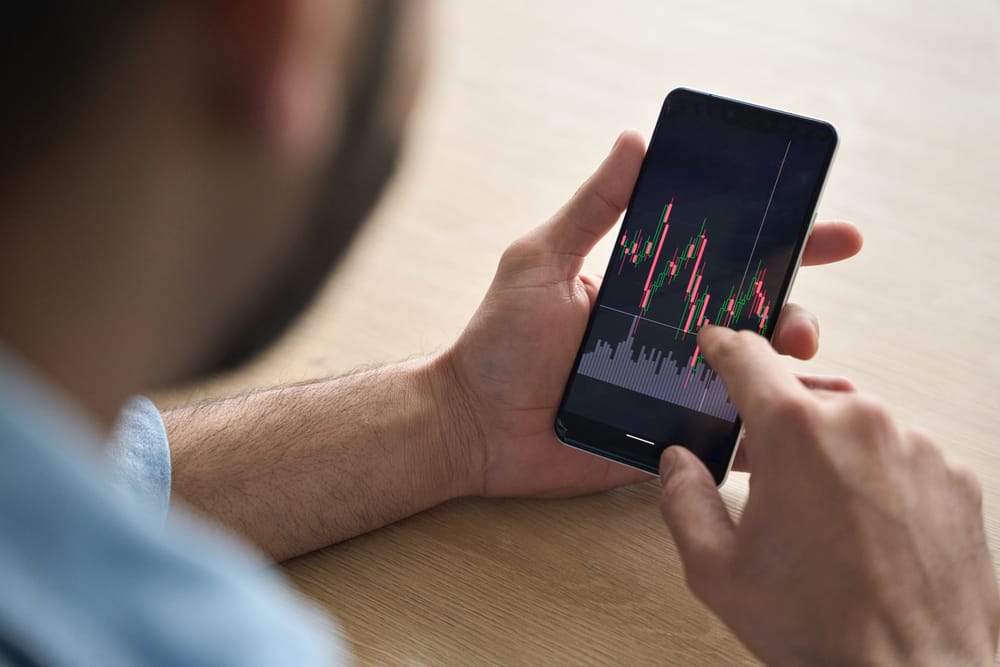 Coinrule Review 2023: Can a crypto trading bot maximize your gains?
Ground Picture / Shutterstock
We adhere to strict standards of editorial integrity to help you make decisions with confidence. Please be aware that some (or all) products and services linked in this article are from our sponsors.
We adhere to strict standards of editorial integrity to help you make decisions with confidence. Please be aware that some (or all) products and services linked in this article are from our sponsors.
Entering the world of crypto trading can be disorienting.
There are dozens of exchanges, hundreds of altcoins, and price charts for each coin that look like the seismograph reading of an earthquake.
It's a lot for a single brain to manage, especially if you don't consider yourself a full-time crypto trader.
That's why we're lucky to have platforms like Coinrule. Among other things, Coinrule is a virtual trading bot that trades crypto on your behalf, 24/7, following a set of rules you create.
So how does Coinrule work? And is it best for day traders, HODLers (holding on for dear life) or something in between. Let's find out in this Coinrule review.
What is Coinrule?
Coinrule is not a cryptocurrency exchange. Rather, it's a crypto trading automation platform.
Coinrule connects to the major crypto exchanges via an API (application programming interface) and makes trades on your behalf based on rules you set up.
For example, one of the custom rules in your Coinrule dashboard might be:
If ETH price decreases by 20%, buy $2,000 worth
In addition to composing your own If/Then-style rules, you can also choose from 150 templated rules and rule groups, such as Stop-Loss and Trend-Following Rebalancing.
Coinrule isn't the only crypto trading bot on the market but it offers a few unique tools and innovations that help it stand out. And this may make it a perfect fit for your needs.
How does Coinrule work?
When you create an account on Coinrule, the platform asks you a set of questions to assess your goals, experience level with crypto trading and your favorite coins. Based on your responses, the platform chugs some numbers and generates three suggested strategies for you.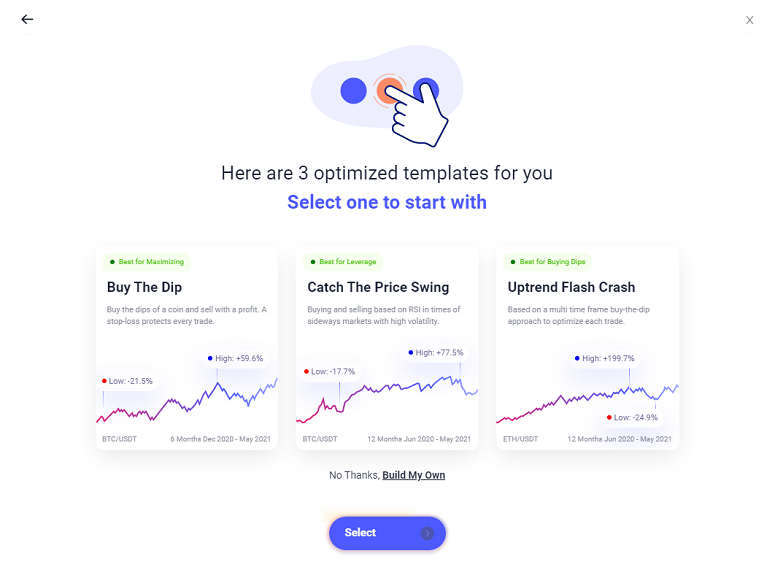 Note that you can always skip these recommendations and choose Build My Own at the bottom of the screen.
Once you pick a strategy, you're brought to the main dashboard where Coinrule walks you through how to set up and modify your rules.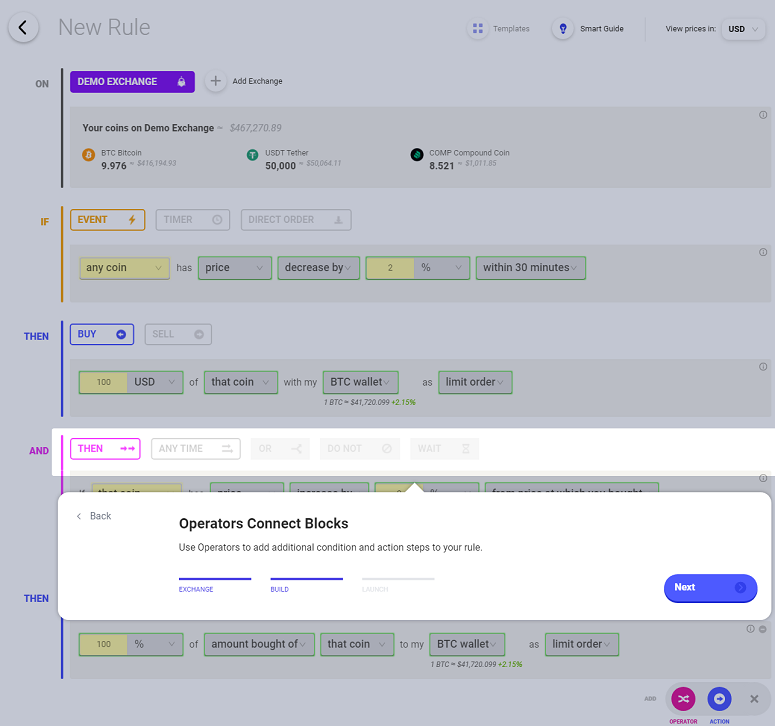 Once Coinrule assimilates your rule, it presents it to you one last time — allowing you to demo it or go live.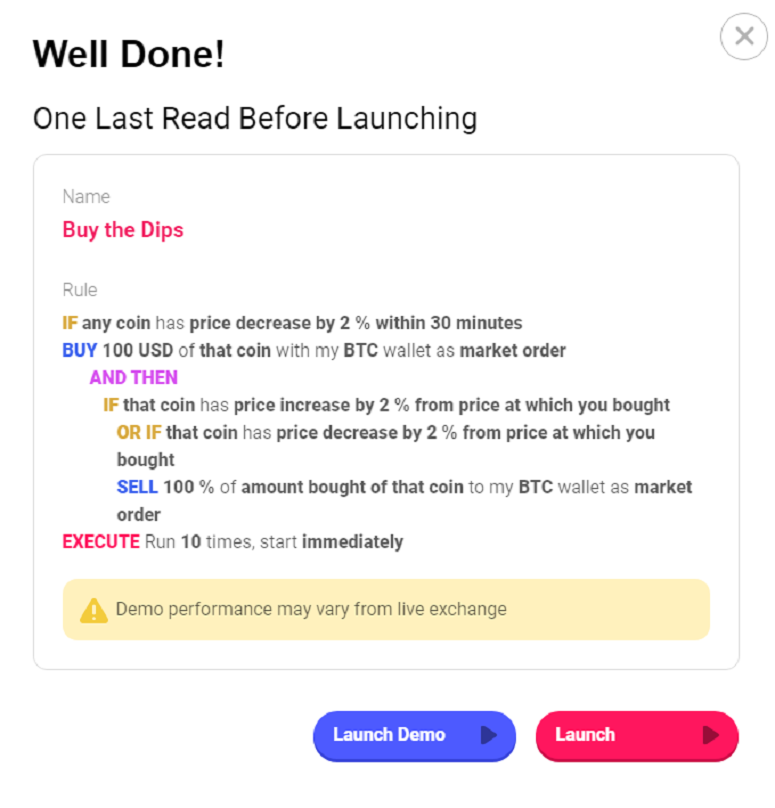 In order to launch for real, you need to connect Coinrule to your preferred exchange(s).
Coinrule supports a handful of exchanges including Binance, Coinbase Pro, Bitmex, Bitstamp, Kraken, HitBTC, Okex, Bitpanda Pro and Poloniex.
Once you go live with your first rule, you're taken to Coinrule's main dashboard where you can monitor the activity and performance of each rule you generated.
You can also create new rules (with the option in the top right of the screen), link additional exchanges or simply watch your crypto multiply in real time as you watch Hulu on your third monitor.
Now, if you're looking to HODL or make an exit or simply edit one of your rules before it does any more damage, pausing a rule couldn't be easier. Simply flip the Status toggle from Live to Off. Then you can find your rule in the Paused tab. Similarly, rules with finite life spans end up in the Completed tab.

Main features of Coinrule
150+ templates to choose from
When you choose "New Rule" and click "Templates" in the top middle, up comes Coinrule's profit-generating templates. Unfortunately (but understandably), most of the templates are locked behind a paywall. But as we'll see in the Pricing section below, choosing the right one could pay for itself pretty quickly.
Demo rules and paper trading
I give major kudos to any investing platform that offers free paper trading for three reasons:
1.

Paper trading gives new users a chance to become familiar with the platform's toolkit without any risk.

2.

It empowers investors to test new strategies outside of their portfolio.

3.

It lets you feel the thrill of speculative investing without betting — and oftentimes losing — the farm.
And the team at Coinrule seems to appreciate the value of paper trading. The platform allow you to create demo rules and link them to paper wallets.
This is an especially helpful feature given how complex many of your rules may become. For example, you may want to link your 42-line rule to a paper wallet for a week until you're sure your experiment is panning out (and that you didn't miss a decimal point somewhere!).
Related: Paper trading
Deeper dive with TradingView
As illustrated above, Coinrule gives you a quick glimpse at how a particular template has performed in the past. But if you're hungry for more, you can head to Coinrule's TradingView page to find your chosen strategy and devour more data.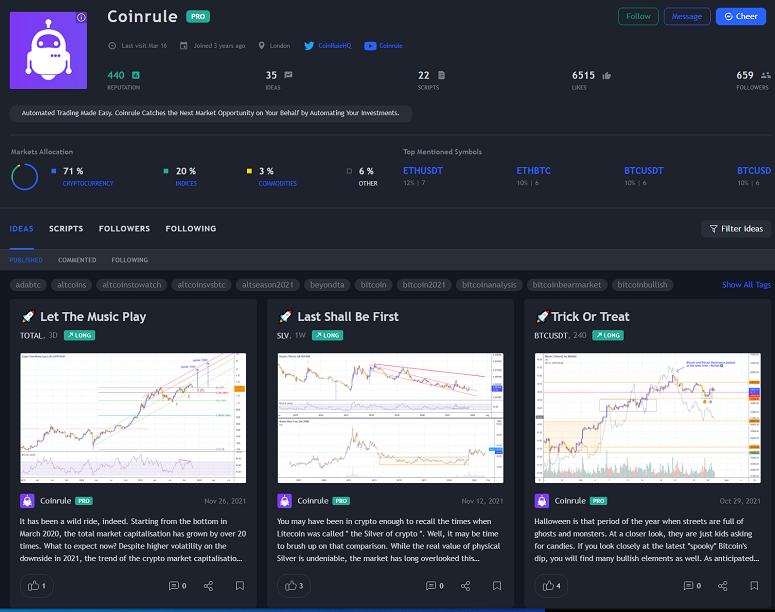 Coinrule's uploading of its strategies to TradingView is a nice touch and further exemplifies the team's immersion in the crypto community.
Security
Coinrule's approach to security is to store as little of your personal information as possible, then enshroud what little it collects in a tempest of encryption.
To start, Coinrule smartly lets much bigger and better-equipped players handle payment and security. It lets Cloudflare prevent denial of service attacks and routes all payments through Stripe.
Plus, you never have to worry about your private keys being lifted from Coinrule's servers because Coinrule never stores them in the first place. Nor does it ever hold any of your crypto (unless you choose it as a method of payment, which it happily accepts).
Transparent leadership
More than a decade after its inception, crypto is still the Wild West. Countless fake or shady fintech companies have cropped up, taken investors' money and disappeared — the recent SQUID ICO won't be the last.
That's why it's more important than ever to be vigilant about whom you trust. And the Coinrule team is clearly aware of this as well, which is why it's listed all the company's names, LinkedIn profiles and even mixed media of it in action at conferences and think tanks.
Related: How to spot a crypto scam
What does Coinrule cost?
Once you outgrow your free Starter membership, Coinrule offers three paid subscription tiers:
STARTER
HOBBYIST
TRADER
PRO
Annual fee with 25% discount
Max monthly trading volume
Key takeaways?
First, the prices as a whole seem reasonable. And as mentioned, they're ultimately much lower than competitors who take a slice of your trading volume.
But it's vexing to me that a platform touting itself as "beginner-friendly" locks nearly 75% of its most beginner-friendly feature — the templates — behind high paywalls. Even when you're paying nearly $400 a year for the mid-tier Hobbyist, you can access only 40 out of 150+ templates.
How's the customer service?
Due to rapid growth, fintech startups often struggle to provide AAA customer support simply due to a lack of manpower. Coinrule's customer support doesn't break the mold, but it's still better than average.
The platform gives you two options: a generic support email address (support@coinrule.com) and a "live" chat window from the dashboard. I pinged both on a Friday afternoon and got thorough responses back by Sunday night. Technically, that's well inside one business day.
That's quick for a growing fintech company — but not quite instant like I've seen from other, more established players. Something to keep in mind if you value truly "live" chat and/or phone support.
Pros and cons of Coinrule
Pros
Generous free version — Coinrule's unlimited Starter account lets you sample virtually every aspect of the platform without paying a dime.
Unlimited paper trading — Nervous to test a rule with real ETH? Coinrule lets you paper trade with demo rules for practice (or just for fun).
Clean, intuitive user experience (UX) — Coinrule lets you essentially write code to trade crypto for you. This sounds complex but the platform's superb UX makes it easy.
Details on TradingView — Coinrule uploads most of its templates to analytics site TradingView where you can get a much deeper dive.
Transparent leadership — Everyone on the Coinrule team has posted their bios and LinkedIn profiles, which shows both transparency and understanding.
Cons
No mobile app — Perhaps understandably given its complex rule creation workflow, Coinrule is a desktop-only experience.
Trades only on select exchanges — As of this writing, Coinrule plays ball with only 10 major exchanges and no DeFi (decentralized finance) exchanges, which in turn may limit the number of altcoins you can automate trades for.
Intrusive "subscribe now" popups — With a Starter account, each time you create a rule from your dashboard, a full-screen popup appears asking you to upgrade to a paid tier. That gets old.
Most templates locked behind high paywalls — Coinrule restricts access to 110+ of the 150+ templates to subscribers of the Trader tier ($719 per year) or higher.
Limited customer support — Coinrule responds to chat and email within a reasonable window, but neither live chat nor phone support is available.
Alternatives to Coinrule
Cryptohopper
In terms of basic features, there's plenty of crossover DNA between Cryptohopper and Coinrule. Both platforms connect with about 10 exchanges, allow you to create "rules" for your bot to follow and charge around $20 per month for a basic account.
The chief difference comes in how they handle templates. While Coinrule curates a preset list, Cryptohopper gives you access to a bona fide grand bazaar of templates, where you can buy and sell and even discuss templates with other traders.
Shrimpy
Shrimpy is like the M1 of crypto — a place where long-term HODLers and passive investors can connect, copy each other and set rules for automatically rebalancing their portfolio for stability.
It's not designed as a destination for day traders, which sets it apart from Coinrule and Cryptohopper. And while it doesn't support bot scripting like its rivals, it's also much cheaper. Its $15 per month Starter account includes 90% of the site's tools and functionality.
The bottom line: Who is Coinrule best for?
If Cryptohopper is for the social and engaged day trader and Shrimpy is for the passive long hauler, Coinrule seems to fit nicely right in the middle.
With a curated list of templates and a clean, intuitive UX, Coinrule is best suited for the intermediate crypto investor who's eager to maximize 24/7 market opportunities while still placing guardrails around their investment.
If that sounds like you, Coinrule may be the perfect fit.