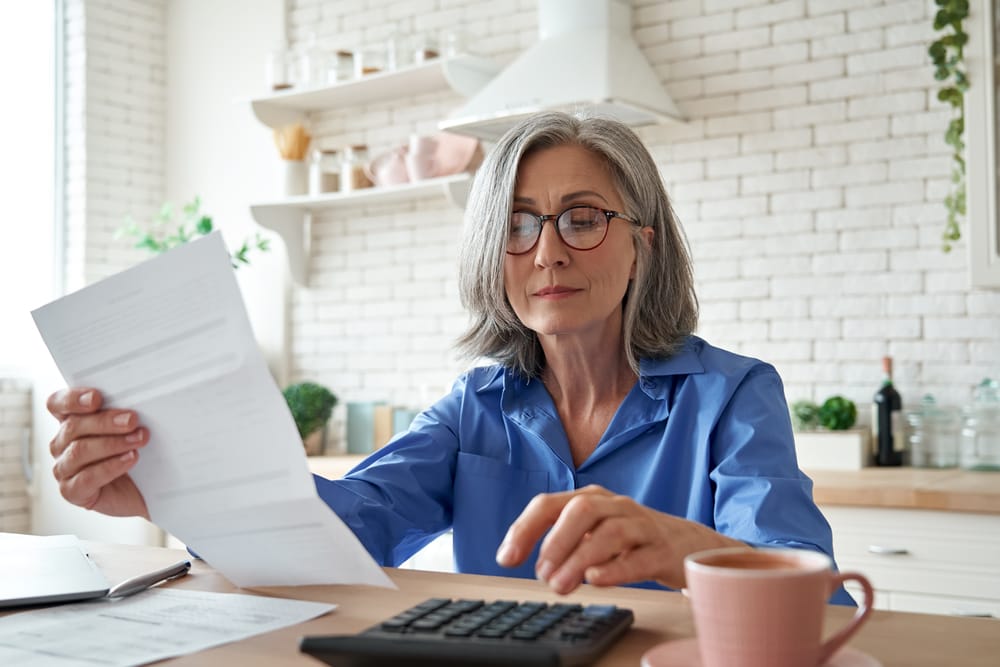 FranShares review: Invest in franchises with just $500
Ground Picture / Shutterstock
We adhere to strict standards of editorial integrity to help you make decisions with confidence. Please be aware that some (or all) products and services linked in this article are from our sponsors.
We adhere to strict standards of editorial integrity to help you make decisions with confidence. Please be aware that some (or all) products and services linked in this article are from our sponsors.
Pros and cons
Pros
Low $500 minimum investment requirement
Completely passive investment
No management fees or trading fees for the initial fund
FranShares invests alongside investors so goals are aligned
Cons
The initial fund is only available to accredited investors
Cash distributions can take a year or longer to begin as franchises become operational
FranShares isn't SEC-regulated
No secondary marketplace for shares at launch
What is FranShares?
FranShares is a crowdfunding platform that lets investors diversify their portfolios with shares of income-generating franchises. The company was founded in 2020 by Kenny Rose, a former franchise broker and financial advisor.
Rose saw the demand from investors for cash flow investment opportunities but realized franchises were missing from other popular asset classes like real estate. FranShares was created to help bridge this gap.
And with a $500 investing minimum and no long-term accreditation requirement, FranShares is quite beginner friendly. It provides a simple way to diversify your portfolio, hedge against inflation, and create a new passive income stream.
Just note that at the time of writing, FranShares is accepting investors to its waitlist but has yet to release its first offering "TNT Franchise Fund Inc." Its first offering also requires investors to be accredited, but many future offerings won't have this requirement.
How does FranShares work?
When FranShares' first fund is ready for fundraising, investors will be able to buy-in to the fund. Here's a breakdown of how the entire cycle will work.
1. Sign up
Currently, FranShares only accepts investors from the United States and Puerto Rico. When you sign up, you answer a brief investor questionnaire about your goals, investment experience, and if you're an accredited investor or not.
You also sign a non-disclosure agreement upon signing up, which is different from your average crowdfunding platform. But FranShares explains this is necessary since it shares private information about franchise investment opportunities on its platform.
2. Invest in available franchise investments
Upon launch, FranShares is offering its TNT Franchise Fund that's investing in two franchises. The first is Smash My Trash, a mobile waste compaction service with 600+ franchises and an estimated potential of $1.4 million in annual revenue per franchise. The second is Teriyaki Madness, a restaurant chain with 350+ franchise locations and an estimated potential of about $1 million in average unit volume per store.

As for the fund itself, it's investing in 30 Smash My Trash franchises and 25 Teriyaki Madness franchises. Here are some other details and goals for the TNT Franchise Fund:
Target portfolio IRR: 16-21%.
Cash yield: 9-12%.
Equity growth IRR: 10-14%.
Total fund size: $25 million.
Target holding period: 5 years.
Shares start at $10 for this fund, and there's a $500 minimum investment requirement. You can read FranShares' investor presentation about this fund for specifics like where franchise locations will be, cash flow expectations, and risk management strategies.
3. Earn passive income
When you invest in FranShares, you're helping to fund new franchises without taking on any operator responsibilities. In other words, it's a completely passive investment opportunity.
So, who runs the franchises?
Well, it largely depends on how the existing franchise handles operators in the first place. In this case, FranShares says it plans to hire an in-house general manager to build out its team of regional and location managers to run the new Smash My Trash franchises. As for Teriyaki Madness, the franchise has its own "Restaurant Sherpas" program in which new franchise owners receive help from district managers.
Once franchises are operational, investors earn returns in two ways: through potential share appreciation and from cash distributions. FranShares says that after a one year period it will "start paying out monthly dividends from the franchise's earnings."
Returns depend on the franchise and its performance, so there's no guarantee. However, FranShares invests alongside retail investors into its own funds, or at least it says it will. This means it also makes money from distributions, so its interests are aligned with investors to develop profitable franchises with good operators and steady cash flow.
Just note that the time from fundraising to getting franchises operational can be about 18 months. This means it takes time to generate cash flow and to pay out distributions, so you're not earning income from day one. And it can take more than a year for new franchises to ramp up to full revenue potential, also lowering initial returns.
4. Sell your shares
At launch, there isn't a secondary marketplace to sell your shares if you want to exit. This means you have to wait for an eventual sale of the franchise portfolio, which FranShares estimates as taking five years.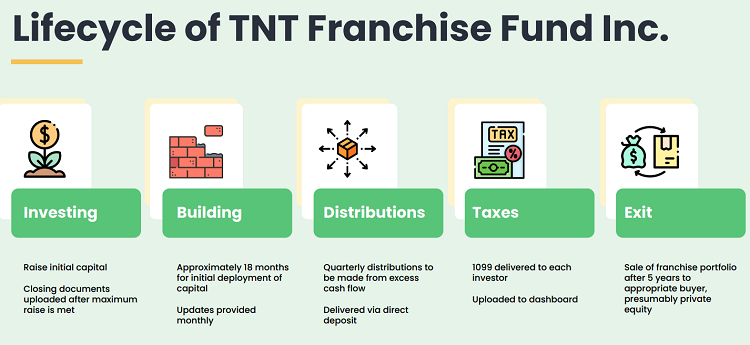 FranShares says a secondary marketplace for buying and selling shares is in the plans for the future. When this marketplace is available, it should theoretically help with liquidity. But until then, view FranShares as a long-term investment that's illiquid.
How does FranShares select franchises?
The FranShares team has years of experience in the space, with its founder being a former franchise broker. But I was curious to learn more about how FranShares operates and its selection process, so I reached out to the company's growth specialist for more information.
Here's some of the most important criteria FranShares considers when picking franchises to invest in:
Return on Investment: The FTC regulates franchising for transparency, so franchises must disclose startup costs. Many disclose financial performance representations to break down information like gross revenue, net profit, and number of customers. FranShares looks for startups with net profits and low startup and operational costs.
Growth: Brand growth is another important signal FranShares considers per location and region.
Availability: Market saturation can block promising franchises from entering a new area. So, FranShares looks for markets where there could potentially be several franchise locations.
Leadership: Experience in franchising is another factor FranShares looks for in leadership.
Sustainability: The goal is to avoid fads and to stick with staples like automotive, fitness, food, and haircare.
Competition and competitive advantages: The ability to capture market share is another factor FranShares considers.
Manageability: A full-time owner and operator is a requirement, and a low employee headcount is also bonuses.
Recession and pandemic resistance: Once again, staples and need-based industries are where FranShares focuses to help hedge against inflation, recessions, and other risks.
FranShares fees
For its initial fund, FranShares won't charge any fees for investors. Instead, it earns money by investing alongside investors and then receives cash distributions. Future funds will have a small management fee, but it's not certain what percentage this fee will be.
Management fees are normal in the crowdfunding world however, and it's the price investors pay to keep things passive. Real estate crowdfunding companies use a similar model, and the fact that FranShares' first fund is fee-free is a plus.
Historical performance
Since FranShares hasn't launched its offerings yet, there's no historical data to go off of. However, it says its target returns for its franchise portfolios is 16-21.86%. Time will tell if this is possible, but this is certainly a more aggressive investing route than something like bonds or dividend stocks.
Liquidity
Currently, FranShares is using a waitlist to accept new investors, and there won't be a secondary marketplace for shares at launch. The company says a marketplace is in the works. But until then, FranShares is a very illiquid investment.
Is FranShares safe?
Since FranShares is a franchise management company, it's exempt from registration with the SEC. Its offerings are also exempt from registration. However, the offerings are managed by FINRA-regulated brokers, Templum Markets and DriveWealth LLC. TNT Franchise Fund Inc. is the actual corporate entity that will acquire and operate the franchises in the inaugural fund.
This is a lot of jargon, but it basically means that the SEC or any state securities commission hasn't approved or disapproved of anything that FranShares offers or says. This is why it's important for investors to understand the risks of franchise investing and the offering as a whole.
Granted, FranShares does a good job at explaining the risks in its documentation. Risks include but are not limited to:
A lack of an active secondary marketplace
Investing in Class B Non-Voting stock
Potential indefinite liquidity
Potentially volatile share prices if a secondary marketplace launches
Potentially poor operational results
Market risks that could impact cash flow
The fact FranShares is a non-listed company also means it can avoid many regulatory rules, like having a board of directors or running audits. However, this is the nature of investing through a new startup.
Overall, FranShares is offering a very ambitious, exciting alternative investment opportunity. But you shouldn't invest money you can't afford to lose or potentially have locked-up for years, or even indefinitely. There's no track record, just an experienced leadership team and an initial fund. Do your own due diligence and consider your risk tolerance before investing.
Best alternatives
When it comes to alternative assets, franchise investing is one of the more niche opportunities out there. The fact that companies like FranShares are making it more accessible is excellent news for investors.
However, there are several alternatives you can consider if you want to dabble in similar investments. For example, platforms like Mainvest let you fund small American businesses as a form of debt-investing. There's a $100 minimum investment requirement, and you can earn from loan repayments businesses make over several years.
If you prefer the equity route, platforms like OurCrowd and SeedInvest let you invest in promising startups across several industries. Minimum investments are typically higher for startup investing, and some deals require accreditation. But this is a similar option to franchise investing, just for completely new companies.
Finally, you can turn to alternative investment platforms like Yieldstreet. This opens the door for investing in assets like artwork, debt, private equity, wine, and collectibles.
The bottom line
With an experienced founding team and exciting roadmap, there's plenty of reasons to keep your eye on FranShares. Crowdfunding is a popular space right now, but owning shares in income-generating franchises is a rather novel idea.
If things go to plan, FranShares first fund could be a massive success and alternative asset to have in one's portfolio. But there's also the chance that revenue will be lower than expected or the timeline to maximum cash flow takes much longer.
In short, FranShares is exciting but not without risks. The team and website do a good job at spelling out these risks, and there's plenty of documentation to help you with due diligence. If you decide to invest, make sure you understand the potential upsides and downsides, and never invest money you can't afford to lose.