Looking for an inflation hedge
When it comes to hedging against inflation, the first thing investors think of is usually to invest in gold. After all, gold can't be printed out of thin air like fiat money, and it has helped investors preserve purchasing power for centuries.
But the yellow metal is not immune to the ongoing sell-off, as its price is down about 9% over the past year. Meanwhile silver — another popular inflation hedge — has fallen 18% over the same period.
Some investors also shopped in the cryptocurrency world: Bitcoin is sometimes touted as "digital gold." It also can't be created out of thin air, as the number of bitcoins is capped at 21 million by mathematical algorithms.
Investors were laughing all the way to the bank when Bitcoin soared to over $68,000 last November. But those who didn't sell at the high learned the hard way this year just how volatile cryptocurrency can be, as one bitcoin currently trades at around $19,500 apiece, down more than 70% from its peak.
Real estate provides another option. As the price of raw materials and labor goes up, new properties are more expensive to build. That can drive up the price of existing real estate.
But not all real estate is the same. Office buildings are subject to business cycles. Shopping centers have to survive the retail apocalypse. In fact, the FTSE Nareit Equity REITs Index is down 30% year to date.
Even the bull run in residential real estate might be cooling off. The S&P CoreLogic Case-Shiller index recently posted its first drop since 2012.
But there is one segment of real estate that has historically remained resilient: farmland.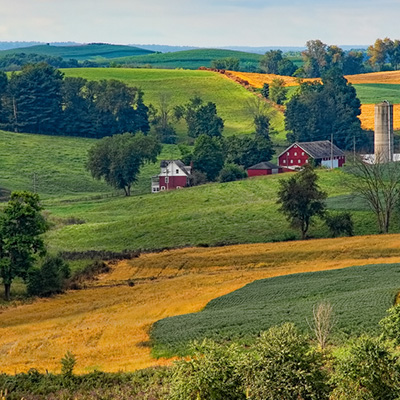 Farmland is one of the top asset classes capable of insulating your money from volatile market conditions. Learn how you can use FarmTogether to safeguard your portfolio.
Diversify now
Stability in a time of volatility Whether boom or bust, people still need to eat.
And in times of hot inflation, agricultural commodities often fetch a good price: Wheat, corn and soybeans are all in the green year-to-date.
What about farmland itself? The NCREIF Farmland Property Index has returned 6.2% year to date, compared to negative returns for gold, bonds, stocks, U.S. REITs, the NASDAQ and even Bitcoin. (The NCREIF Real Estate Index was another rare source of positive returns during this time.)
Some might think that farmland is doing great this year only because of the food crisis that could be looming in the distance. But the truth is, as an asset class, farmland has long served investors well.
According to data from investing platform FarmTogether, the total annual rate of return on farmland from 1992 to 2021 was 10.74% — better than average returns of roughly 8.5% for real estate or stocks.
It also could be an ideal candidate for those looking for portfolio diversification. As we saw earlier, stocks, bonds — and even some alternative assets — can all tumble at the same time.
Farmland, on the other hand, has been historically uncorrelated to conventional assets when it comes to returns. On a scale of -1 to +1, with 0 representing no link at all, data indicates the correlation between farmland and U.S. stocks was -0.06 from 1992 to 2021.
During the same period, farmland's correlation with U.S. bonds and U.S. REITs was -0.24 and -0.03, respectively.
Simply put, farmland tends not to move in tandem with traditional assets.
Furthermore, farmland can be a superior addition to your portfolio because it has historically been one of the best inflation hedges: The NCREIF Farmland Index's Total Return has consistently delivered returns more than double the rate of inflation since before 1992.
A scarce commodity
Why is now a good time to consider farmland? In large part, it's about supply and demand.
The supply of land is limited — farmland even more so. Only a fraction of the land on our planet is suitable for cultivation, and that share could be getting even smaller.
Research shows that between 1992 and 2012, almost 31 million acres of agricultural land were irreversibly lost to development.
Meanwhile, the world population is projected to reach 9.8 billion in 2050. That's a lot of mouths to feed, regardless of whether interest rates are at 1% or 10%.
Combine limited supply with rising demand, and it's easy to see why farmland could be a solid bet for the future — but there's also a reason why this particular moment in time might be right to investigate.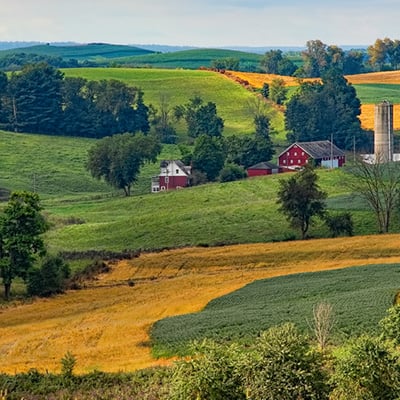 Farmland is one of the top asset classes capable of insulating your money from volatile market conditions. Learn how you can use FarmTogether to safeguard your portfolio.
Diversify now
The changing ownership of farmland You may not have heard much about farmland investing because, up till this point, most of America's farmland has been owned by people who work the farm.
Family farms make up 98% of all farms in the country, according to a report from the United States Department of Agriculture's National Agricultural Statistics Service.
But that could be about to change. Farmers over age 65 outnumber farmers under 35 by a factor of six to one.
If the next generation isn't as keen to get their hands dirty, there could be a substantial change of ownership as a wave of farmland owners retire and sell.
The American Farmland Trust projects that over the next 15 years, a third of America's farmland and ranchland will likely change hands.
That could be an opportunity for investors. In fact, wealthy elites have already started accumulating this scarce asset.
Getting in on the action
Bill Gates has amassed more than 269,000 acres of farmland in the U.S., making him the largest farmland owner in the country.
Gates' good pal Warren Buffett sees value in farmland as well. He bought a 400-acre farm in Nebraska back in 1986. "I needed no unusual knowledge or intelligence to conclude that the investment had no downside and potentially had substantial upside," Buffett later wrote.
But you don't need to be a billionaire to get a piece of the action. And you don't need to know how to operate a farm either. FarmTogether allows you to invest in U.S. farmland by taking a stake in the farm of your choice.
You'll earn cash income from the leasing fees and crop sales — and any long-term appreciation on top of that.
While past performance is no guarantee of future results, the strong fundamentals of farmland mean it just might be the best alternative investment for portfolio diversification right now.
Sponsored
Diversify your investments with farmland
You don't have to own a farm to profit off farmland.
Farmland has proven to be one of the most stable assets of the past few decades — and with FarmTogether, you're able to invest today. FarmTogether's platform gives accredited investors access to this exciting market, and one of the highest-yielding asset classes on a risk-return basis.
Sign up for FarmTogether to start investing in farmland.