AcreTrader review 2023: Income-generating farmland investments
Rustic / Shutterstock
🗓️
Updated: July 12, 2023
We adhere to strict standards of editorial integrity to help you make decisions with confidence. Please be aware that some (or all) products and services linked in this article are from our sponsors.
We adhere to strict standards of editorial integrity to help you make decisions with confidence. Please be aware that some (or all) products and services linked in this article are from our sponsors.
Pros
Provides a simple way to invest in income-generating farmland
Earn from annual cash distributions and potential land appreciation
Completely passive for investors since AcreTrader handles farm management
Self-directed IRAs and solo 401(k)s are eligible
Cons
Only available to accredited investors
No secondary marketplace to sell shares at this time
High minimum investment requirements
What is AcreTrader?
AcreTrader is a farmland investing platform that began in 2018 and operates out of Fayetteville, Arkansas.

The company provides an easier way for accredited investors to add income-generating farmland to their portfolios to diversify away from more traditional investments. As for farmers, AcreTrader helps expand acerage, raise capital, and assist with land sales and leasing.
AcreTrader has been growing quickly despite being a young company. It offered its first international farmland opportunity in 2021 and has investors and farmers from all 50 U.S. states. And the company recently completed a Series B round of $40 million to help continue its growth.
Who is AcreTrader for?
AcreTrader provides a simple solution for accredited investors to invest in farmland. Historically, farmland has been a less volatile asset class. This helps provide fixed-income for investors and also some downside protection against inflation or bearish markets.
As mentioned, AcreTrader is only open to accredited investors. The two most common ways to achieve accreditation include:
Having a net worth of over $1 million either alone or with a spouse, excluding the value of your primary residence.
Earning $200,000 in annual income (or $300,000 with a spouse) in each of the prior two years and anticipating similar income for the current year.
Many deals on AcreTrader have a $10,000 to $15,000 minimum investment requirement as well. Ultimately, it's not the best platform for investing small amounts of money or for new investors who are still building their net worth. But for simple farmland investing, it's one of the best solutions on the market.
How Does AcreTrader Work?
One advantage of AcreTrader is that it streamlines the process of investing in farmland. You don't have to go out and scout for farmland opportunities yourself or worry about legal headaches. Rather, AcreTrader works using a simple five-step process:
1.

Farm Selection: AcreTrader's team reviews farmland applicants and accepts a small percentage to its platform. From there, farms are typically converted into an LLC so investors can buy shares.

2.

Investment: Farmland lists on AcreTrader's marketplace where investors can buy shares. The minimum investment amount is $10,000 but may range from $12,000 to $25,000 or more depending on the farm. One share represents 1/10th of an acre.

3.

Farm Management: AcreTrader Management handles property management and administration. This also involves working with local farmers and managers to implement best-practices as well as technological and sustainability improvements. Farmers then pay monthly cash rent to AcreTrader.

4.

Annual Distributions: As an investor, you get an annual distribution of excess income from the farms you invest in. AcreTrader expects 3% to 5% unlevered yield for low-risk properties.

5.

Selling Shares: Most farmland opportunities on AcreTrader have a target holding period of five to 10 years. When the land is finally sold, you get back your principal plus any appreciation that occured over the holding period.
Like other forms of real estate investing, AcreTrader is appealing because you can generate returns in two ways: through distributions and through potential land appreciation. The downside is farmland is a long-term investment that's relatively illiquid.
When you explore an AcreTrader listing, it includes information on total farm price, crops, acerage, the target holding period, and target net annual return. There's also photos, maps, and a description of the farmland plus financial statements and other documents to help with due diligence.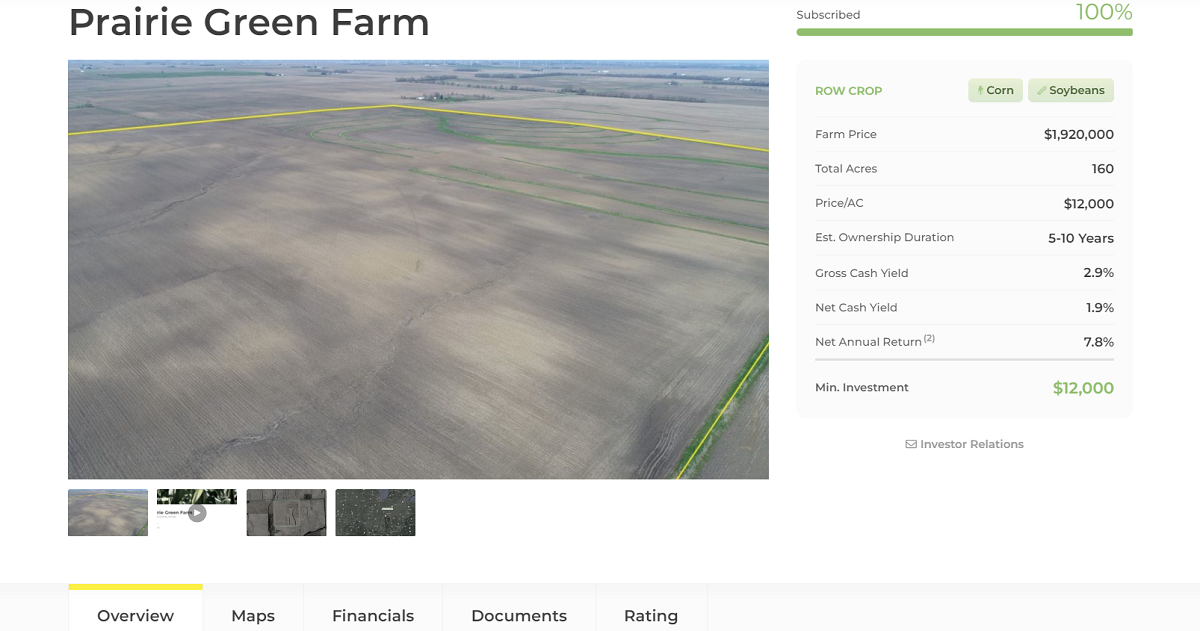 But AcreTrader's vetting process is one of the perks of this alternative investment platform. It looks for farmlands in promising areas with a history of good tenants, cash flows, and crop yields. This means only top performing farms make it through and actually list on its marketplace.
AcreTrader pricing & fees
To make money, AcreTrader charges a 0.75% annual administration fee of overall farm value that it deducts from farm income before paying distributions to investors. Listings also mention other potential fees, like legal and closing costs, as well as any taxes and insurance.
A 0.75% annual fee is quite low for the world of real estate investing and alternative assets. For example, real estate crowdfunding website Fundrise charges 1% annually. And alternative investment platforms like Yieldstreet, which sometimes offers farmland, charges up to 2.5% annually on various deals.
Historical performance
AcreTrader targets a 7% to 9% unlevered IRR. This includes both annual distibutions and land appreciation. As it states on its website, this is a lower target than farmland's historical IRR of around 12%.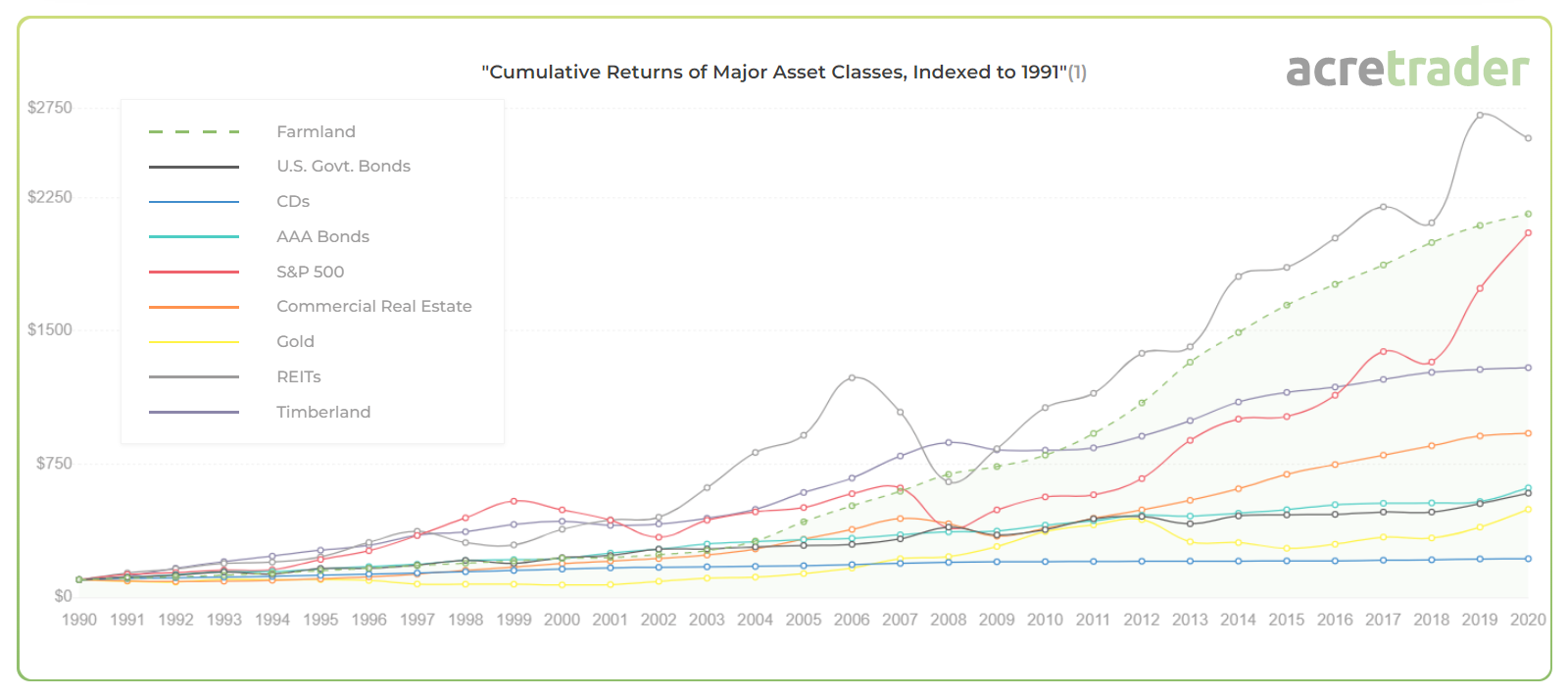 However, AcreTrader aims lower for two reasons:
Commodity prices are currently low
AcreTrader's more conservative underwriting practices
AcreTrader only began in 2018, so it's a newer player in the farmland investing world. But as it explains on its website, farmland returns have been positive every year since 1990. Ultimately, farmland is a more stable, long-term investing strategy that can help provide additional cash flow to investors.
Liquidity
Farmland is generally an illiquid investment. This means if you invest in it, you're pretty much stuck holding onto the land for the target holding period or until you can find a buyer.
However, AcreTrader is working on its secondary marketplace and has plans to launch it in 2022. This marketplace will theoretically improve liquidity because you can sell shares earlier to free up capital.
Note that AcreTrader still has a one-year minimum holding period and that resale isn't guaranteed. Overall, AcreTrader is still a highly illiquid investment, but we're glad to hear that the platform is working on a secondary marketplace.
How to contact AcreTrader
You can contact AcreTrader by emailing info@acretrader.com or by calling 888-958-1470. There's also an email contact option on the website's contact page.
How to open an account
You create an AcreTrader account using your email or a Google or Facebook account. As mentioned, AcreTrader is only available to accredited investors and U.S. citizens or legal residents. Once you sign up, you have to verify your identity which means providing your name, date of birth, address, and the last four digits of your SSN.
One advantage of AcreTrader is that you can open numerous account types, including accounts like:
Individual investment
Entity
Trust
Self-directed IRA
Solo 401(k)
If you want to invest through an IRA, AcreTrader recommends partners like Alto IRA and Rocket Dollar that specialize in alternative asset investing.
Is AcreTrader legit & safe?
AcreTrader is a legitimate company that provides an easier way to invest in farmland. It also uses encryption to help keep your personal and financial information private and secure.
That said, AcreTrader isn't a registered broker-dealer, investment advisor, or crowdfunding portal. It also explains on its website that farmland is a risky investment and that there aren't guarantees of returns. Furthermore, it's a highly illiquid investing platform, even if it rolls out its secondary marketplace.
As for insolvency risks, each offering on AcreTrader is a unique LLC. This means you retain your ownership stake in a farm even if AcreTrader ends up going out of business. The company also has processes in case of insolvency to assign new external farm managers and work on liquidating assets.
In short, AcreTrader is as legitimate and safe as other alternative investing platforms. But it has a short track record, and investments are highly illiquid. Don't invest money you can't afford to lose, and consider your alternative asset allocation balance carefully.
Best AcreTrader alternatives
When it comes to farmland investing, AcreTrader is one of the most user-friendly platforms there is. And as the company rolls out its secondary marketplace and continues expanding, it should only improve.
However, there are numerous alternatives to AcreTrader you can consider if you want to invest in other alternative asset classes. Plus, AcreTrader isn't the only farmland-focused investing platform on the market.
FarmTogether
FarmTogether is AcreTrader's main competitor that also lets you invest in U.S. farmland. It's also only available to accredited investors and has numerous farmland offerings starting at $15,000.
Holding periods range from five to 12 years for individual deals, which is slightly longer than AcreTrader. But the main difference is that FarmTogether also offers a fund if you have at least $100,000 to invest. This provides a more diversified portfolio of farmland, and the fund has a target net annualized return rate of 8% to 10% and annual cash distributions of 4% to 6%.
Annual fees vary by investment. At the time of writing, FarmTogether has one individual deal available with a 1.50% annual management fee, $215,000 upfront fee for structuring the project, and a 5% fee of net operating income. This is pricier than AcreTrader, although FarmTogether aims for higher cash distributions and annual returns.
Alto IRA
If you want to invest in alternative assets through an IRA, Alto is our favorite option. The platform supports 75+ alternative asset investing platforms for categories like artwork, fine wine, farmland, real estate, and even cryptocurrency.
Alto charges $10 or $25 per month depending on your plan. For large portfolios, this works out to a very reasonable annual fee. Plus, many of Alto's partners have low investing minimums of $500 or even $10 in some cases, so there's plenty of asset classes you can explore.
Yieldstreet
Yieldstreet is one of the most popular alternative investing platforms that also supports numerous asset classes like Alto. And the best part is that non-accredited investors can invest in its Prism Fund with only $2,500. This fund provides exposure to numerous assets like real estate, debt, and artwork, helping you diversify your portfolio.
Accredited-investors can explore other funds and individual deals, with minimum investment requirements often ranging from $5,000 to $15,000. If you want more selection than just farmland, Yieldstreet is for you. The main downside is that annual fees can reach up to 2.5% for certain deals.
Bottom line
Historically, farmland hasn't been an easily accessible asset class. In fact, for much of human history, ownership of farmland was restricted to societal elites and nobility in many parts of the world.
Companies like AcreTrader are helping to change the barrier to entry for farmland investing. If you want a straightforward platform to add income-generating farmland to your asset mix, AcreTrader is for you.
Just remember: returns aren't guaranteed, and this is a highly illiquid investment. Always do your due diligence and never invest money in farmland that you can't afford to lose or money you need in the near future.