Get the latest personal finance news sent straight to your inbox.
We'll send you top stories and timely tips every Tuesday and Thursday.
Get life insurance coverage in minutes
Wyshbox helps you find the right coverage plan by organizing your "wyshes" — those are your debts, financial goals and wherever you want your money to go when you're gone.
There are no pushy sales calls or medical exams, just a fully digital application that you can complete in less than 10 minutes.
This service makes it simple: build your personalized plan, get an estimate — with no commitment required — answer the survey questions and boom, instant coverage.
Tailored plans and pricing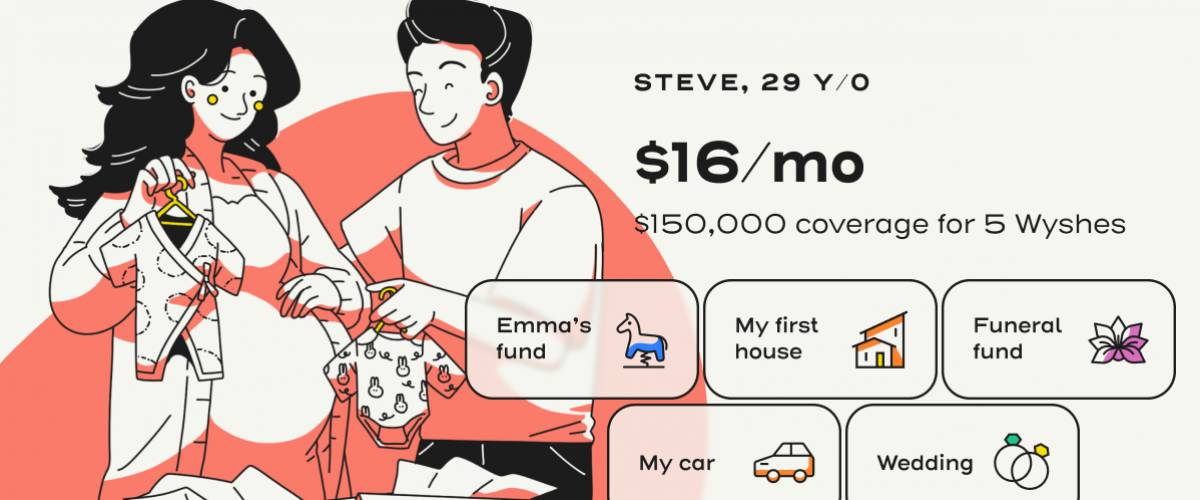 Steve, a 29-year-old Wyshbox user, pays $16 per month for five wyshes.
By using Wyshbox, Steve was able to easily wysh for where he'd like his money to be allocated to pay down his mortgage, take care of his kids, cover his funeral expenses, settle up his car loan, and even leave a generous wedding fund for his closest relatives.
Wyshbox tallied up these individual costs, determined that Steve would need $150,000 in coverage, and got him set up right away. It's truly that simple.
A better way to protect your family
Wyshbox takes the stress out of buying life insurance. You'll have peace of mind that your wyshes can be granted, and you won't be wasting time or money searching around for a company that'll give you flexible coverage.
That's right, your coverage can grow or shrink with you, from $10,000 to over $2.5 million. As you pay down your debts, you can adjust your plan. And in the end, the Wysh Granters can work directly with your bank, saving your family the added hassle.
There are no commitments required, you'll get instant coverage and you can cancel anytime — so, why aren't you signing up for Wyshbox right now?