Top lawmaker pushes for $50,000 in forgiveness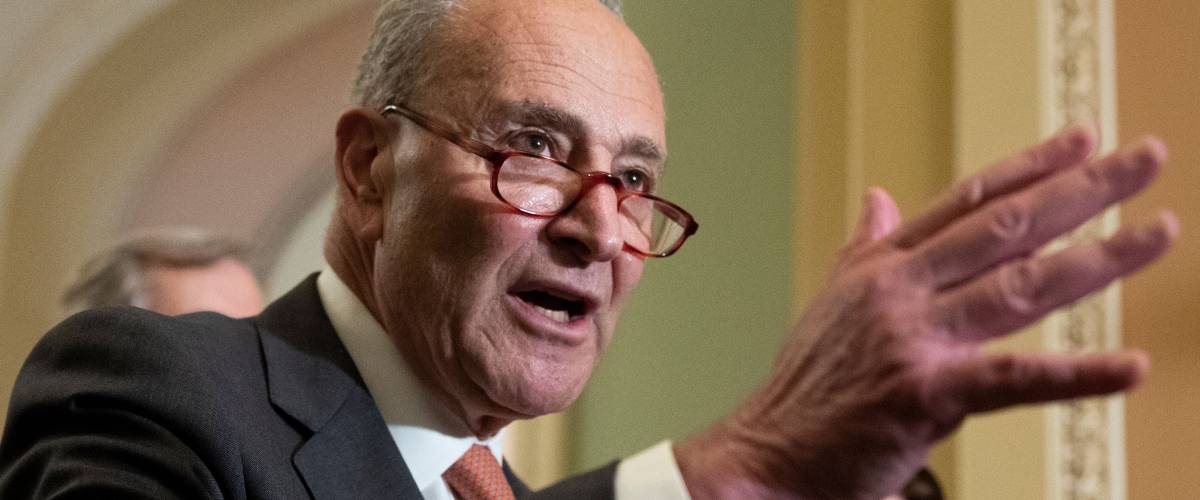 On Monday, during a virtual event examining the effects of student debt cancellation, Schumer reiterated his recent vow to keep pressing the White House to forgive $50,000 in federal student loan debt per person.
"I promise I'll keep pushing the Biden administration to do it," the Senate's top Democrat said. He noted that some 43 million Americans hold over $1.7 billion in student loan debt, and about 1 in 5 borrowers is in default.
"With Joe Biden in the White House and Democratic majorities in the House and Senate, the time is now to take action," Schumer said.
But lately, the president has been more focused on getting an infrastructure deal to repair roads, railways and bridges and connect every American to broadband — as well as a spending plan aimed at families.
Students aren't prepared to make payments again Payments on some $1.4 trillion in federal student loan debt have been paused since March of last year. Interest charges also have been suspended, and the government stopped collection efforts on those in default.
The long break will end Oct. 1, when tens of millions of student loan borrowers will be expected to resume making their payments. But 90% say they're not ready to begin paying again, according to a recent survey from advocacy organization Student Debt Crisis.
Last week, Schumer was one of 64 U.S. senators and representatives who signed a letter urging Biden to extend the pause on federal student loan payments until at least March 31, 2022, or until the economy reaches pre-pandemic employment levels — whichever is longer.
For the first time, the letter says, millions of student loan borrowers have been able to pay rent and put food on the table. Millions of others have been able to pay down debts or save money to buy their first homes.
Failing to extend the pause, the lawmakers say, would not only hurt the struggling students, but could also hinder the country's economic recovery.
What the Biden administration has done so far Calls for widespread student loan forgiveness have intensified in recent months. Biden ran for president on the promise to forgive thousands of dollars in student loan debt for every borrower in the U.S.
Since taking office, he has expressed a preference for eliminating $10,000 in debt per person and has questioned his ability to go bigger than that.
The president has already canceled about $2.3 billion in student loan debt related to specific circumstances. About $1 billion of it was held by borrowers who said they'd been ripped off by their schools, and another $1.3 billion was owed by Americans described as totally and permanently disabled.
An additional $500 million was wiped clean in recent weeks, for former students defrauded by the now-defunct ITT Technical Institute.
But the $50,000 question remains unanswered. For around three months, Biden's education secretary, Miguel Cardona, has been studying whether forgiving that much student debt per borrower is within Biden's power.
What to do while you're waiting for the verdict If you're one of the millions with overwhelming student loan debt, there are a few steps you can take to try to reduce some of your expenses while Congress and the president sort out the forgiveness issue.

First, you might consider refinancing your student loans. Interest rates on student loan refinances from private lenders have hit record lows, so replacing your debt with a new private student loan could cut your monthly payments substantially.

Federal loan forgiveness, if it ever happens, would not apply to private loans.

If you're a homeowner, you might refinance your mortgage. Some 14.1 million mortgage holders could save an average $287 a month with a refi, according to mortgage technology and data provider Black Knight. But time may be running out. The 30-year mortgage just rate hit 3.02%, the highest since mid-April.

And remember that the best rates go to borrowers with the highest credit scores. If you haven't seen your score in a while, it's easy now to take a look at your credit score for free.

Once you slash your debt costs, you might think about generating a little more income — with some low-stakes investing in the stock market. One popular app helps you build a diversified portfolio using little more than "spare change" from everyday purchases.

`