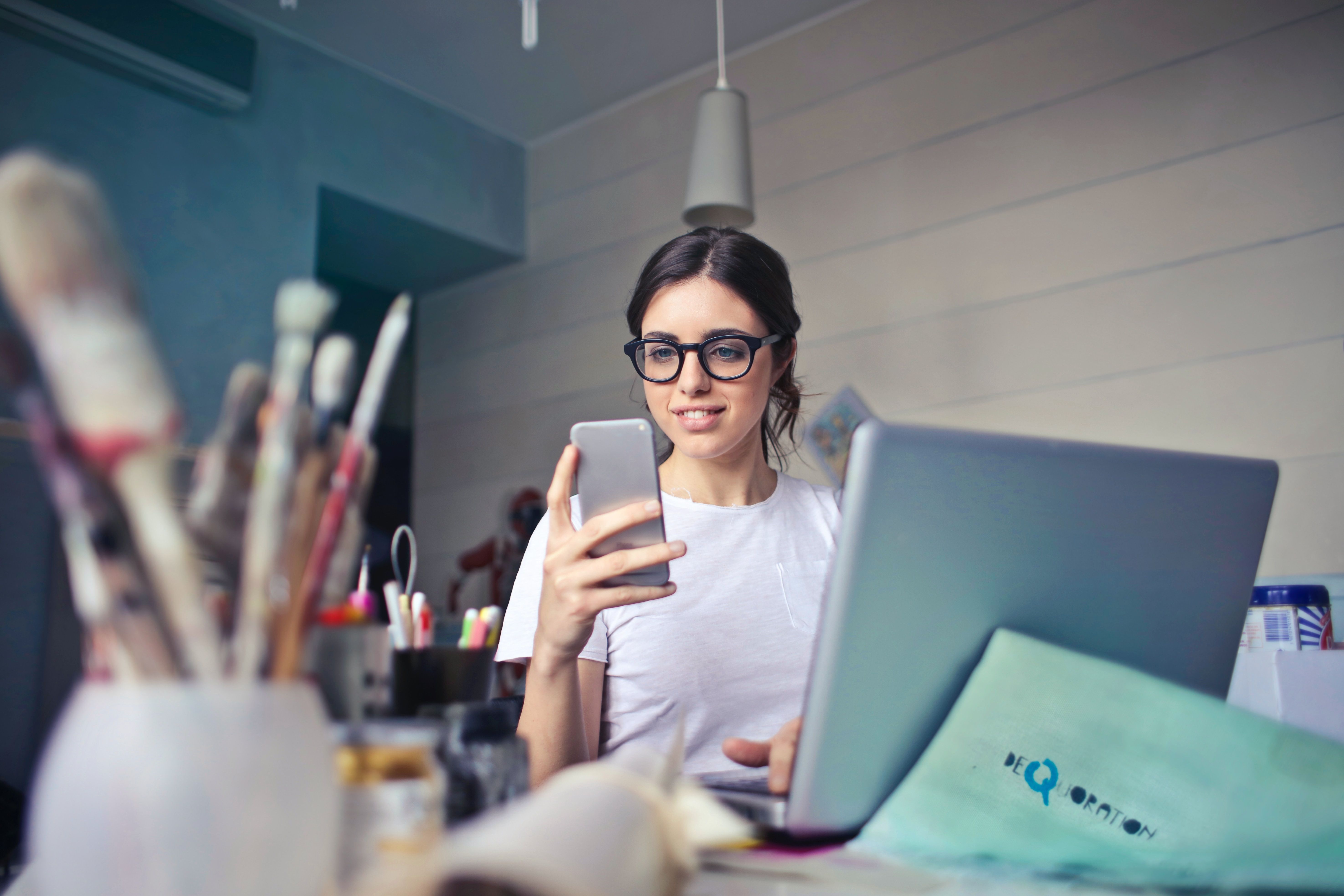 Revolut review 2023: Features, pros and cons and pricing
Revolut review 2023 woman on phone / Unsplash
We adhere to strict standards of editorial integrity to help you make decisions with confidence. Please be aware that some (or all) products and services linked in this article are from our sponsors.
We adhere to strict standards of editorial integrity to help you make decisions with confidence. Please be aware that some (or all) products and services linked in this article are from our sponsors.
These days, all-in-one finance apps are becoming more popular. If you want to invest, save, and spend with just one platform, this is excellent news.
Revolut is the perfect example. It lets you accept and send money abroad, exchange currencies, save, and even invest from a central account. And with low and transparent fees, it has millions of users around the world for good reason.
Our Revolut review is covering all of its main features, pros and cons, and pricing so you can decide if this comprehensive financial app is worth the download.
Pros and cons
Pros
Transparent and low fees for sending and exchanging money
Supports 30+ currencies
Commission-free stock, ETF, and crypto trading
Fractional shares are available
FDIC-insurance on cash deposits
Cons
Not as much crypto support as major exchanges
Low APY for its savings account
Not as many trading tools as standalone investing apps
About Revolut
Revolut is a financial app that began in 2015 and has its headquarters in London, England. The company offers numerous banking and money-related services, although it's financial services app and not technically a bank.
Since its inception, Revolut has grown to over 18 million users across 200+ countries. It also supports over 30 currencies, and if you want an affordable way to send or accept money abroad, it's one of your best options.
But Revolut is more than just a money-exchange app. These days, customers can start investing, dabble in cryptocurrency, and leverage a host of other features to make and save more money.
Who is Revolut for?
Revolut offers numerous financial services and the depth of the platform is quite impressive. This also means it serves several different customer groups.
The app's main features relate to sending or accepting payments and exchanging currencies at low rates. But it's also a useful investing app for beginners. The company even offers a rewards card with cash-back rewards and a savings account.
What makes Revolut great?
With low and transparent fees for currency exchange and sending money abroad, Revolut's popularity makes sense. Plus, it also offers numerous other features to help you invest, save, and spend your money.
Supports global payments
One of the main reasons to use Revolut is to send or accept international payments without paying steep fees.
As mentioned, Revolut supports over 30 currencies. This lets you send money quickly to family and friends abroad, and you can also use the app to quickly split a bill with friends on a night out.
Revolut highlights any exchange and transfer fees before you tap send, so you know exactly what you're sending or receiving. There's also an arrival estimate, and you can send money as a bank transfer or to another Revolut account.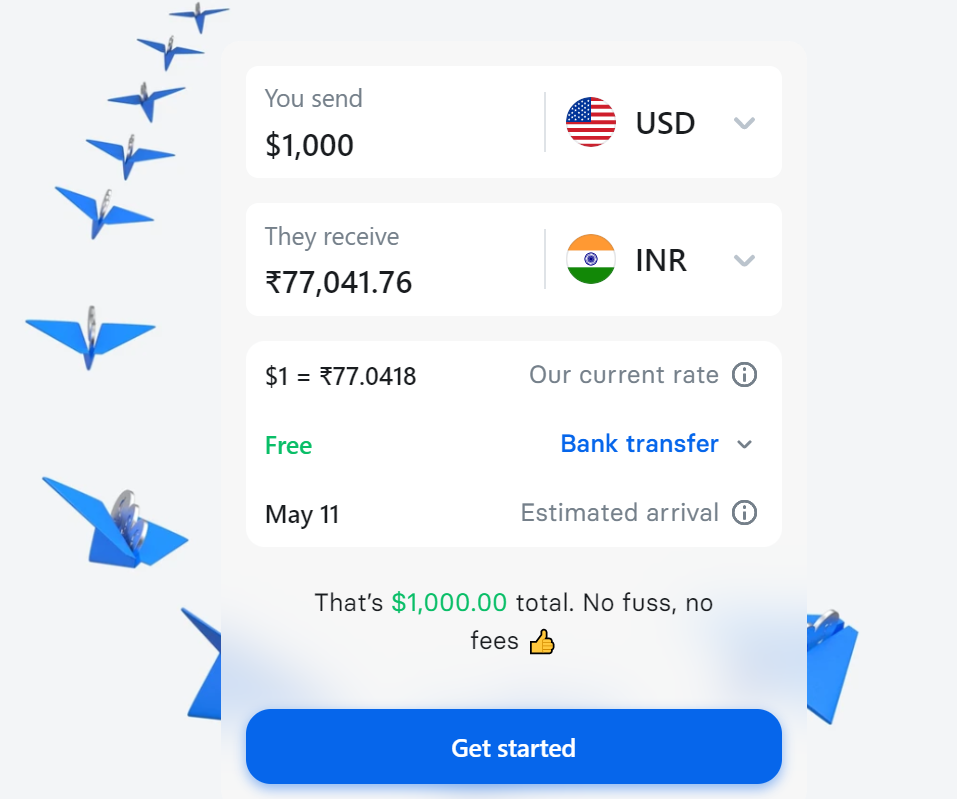 Users also get 10 free international transfers per month, and again, the app highlights any and all fees so you know exactly what you're paying.
Variety of investing options
If you want to start investing with little money, Revolut has a host of options that are perfect for beginner investors.
For starters, Revolut offers commission-free trading on over 1,000 U.S. exchange-traded funds (ETFs) and stocks. You can also buy fractional shares starting with just $1. There are also some global companies available, and Revolut also lets you set price alerts and read the latest market news.
Investing apps like Robinhood and Public are still more robust and have more investing options. For example, Robinhood also lets you trade options and supports more investments overall. But Revolut is commission-free like Robinhood and also suitable for beginner investors.
You can also invest in various cryptocurrencies starting at just $1. Revolut supports popular cryptos like Bitcoin and Ethereum plus 30+ other coins like:
1Inch
Cardano
Litecoin
Solana
Tezos
Uniswap
Crypto trading fees range from 1.5% to 2.5% depending on your plan. But at the time of writing, Revolut is providing commission-free crypto trades on up to $200,000 worth of crypto per month.
Low-fee currency exchange
Another one of Revolut's strengths is its cost-effective currency exchange. The app supports 30+ currencies, and it uses the real exchange rate and doesn't add any markup except for small fees if you're exchanging money on the weekend.
The starter Revolut plan, which is free, provides up to $1,000 per month in currency exchanges without fees. Paid plans offer unlimited exchange amounts, but again, you pay small fees for exchanging on the weekend.
Revolut lets you view live current exchange rates within the app. If you're a frequent traveler, it could help you save a significant amount of money on exchanges versus using ATMs or money exchanges while abroad.
Rewards card
Revolut customers can get a free prepaid debit card that helps them use more of the app's features and also earn cash-back rewards.
The main benefit of this card is that it lets you spend money and convert it using Revolut's excellent rates, so you don't overpay on foreign exchange fees. Revolut also offers cash-back rewards from a rotating list of partners for categories like groceries, restaurants, rideshare apps, and travel.
Revolut says you can earn up to 30% cash back at some partners and that offers are personalized. Once you create an account, you can view a list of available cash-back opportunities under the app's Rewards tab.
Account security and insurance
One final advantage of using Revolut is that it has numerous security and insurance policies in place to help keep your money and account secure.
For starters, funds are held by the Metropolitan Commercial Bank which provides up to $250,000 in FDIC-insurance. There are also account security options, like freezing your Revolut card if you lose it and setting-up disposable virtual cards for online transactions that can only be used once.
There are even more features you can control, like enabling or disabling ATM withdrawals for your card or requiring fingerprint ID login.
And as for crypto, Revolut uses multi-sig wallets and cold storage to significantly reduce the risk of hacks or theft. This is the same protocol cryptocurrency exchanges like Coinbase and Gemini use, so it's reassuring that Revolut takes digital asset security seriously as well.
What are Revolut's drawbacks?
Revolut shines for quick and affordable global payments and currency exchanges. But it's not the best app for investing or storing excess cash.
Lack of investing tools
Revolut has enough functionality for beginner investors to dabble in stocks, ETFs, and crypto. But it has far fewer trading tools compared to online brokers like TD Ameritrade or even stock investing apps like Robinhood.
Furthermore, online brokers and trading apps generally have educational resources to help you learn more about investing. Revolut has some stock market news and articles, but it's not an investing app at its core.
Limited cryptocurrency support
Like trading features, Revolult isn't as comprehensive for crypto trading versus major exchanges. Companies like Coinbase and Gemini support over 100 cryptos. Plus, both exchanges let you earn passive staking rewards and have more trading tools.
If you just want to add a bit of BTC or ETH to your portfolio, Revolut suffices. But for more crypto selection and trading tools, stick with major exchanges.
Want free cryptocurrency? The best crypto sign-up bonuses
Lackluster high-interest savings rate
Revolut has a Savings Vault where you can deposit money and work towards specific savings goals. You can even enable automatic deposits and work towards shared goals with friends and family. And, like your other cash, your balance gets FDIC-insurance.
These features are nice, but the maximum APY you can get is 0.07% currently. In comparison, some high-yield savings accounts pay much higher rates.
For example, Juno currently pays 1.20% APY. Similarly, robo-advisors like Wealthfront offer cash accounts that currently offer 4.55% APY.
Pricing and account fees
Revolut has three U.S. plans: a free plan and two paid plans that unlock additional perks:
Below-rate monthly exchange limit
Commission-free crypto trading
Monthly fee-free international transfers
Global Express currency delivery
Overseas medical insurance
The main benefits of paying for Premium or Metal is that you don't face the $1,000 monthly limit like with the free plan. In comparison, customers on the free plan pay a 0.50% fee on exchanges over the $1,000 monthly limit.
Other Revolut fees you can encounter include:
International transfers (same currency): 0.30% of the transfer amount with a $0.30 minimum and maximum of $6.
International transfers (different currency): $4 if your payment is in USD, British Pounds, Euros, or Swiss Francs and $6 for another currency.
And remember: Revolut charges higher fees for exchanging money during the weekend, so try to keep exchanges for weekdays.
Most customers can probably stick with the free plan. But if you send money abroad regularly and want the best exchange rates, paying for Premium or Metal could be worth it.
Note that Revolut UK has a fourth plan and different pricing/fees. Fees generally vary by country as well, so reference Revolut's website in your country for current pricing information.
How to contact Revolut
The easiest way to contact Revolut customer service is to use the 24/7 in-app live chat. Premium and Metal customers also get priority support.
You can also call Revolut's automated phone line to block your card at +1-844-744-3512.
Best alternatives
One of Revolut's main advantages is that its like a financial Swiss army knife. You can send and exchange money, pay bills, set up saving goals, and even invest from your smartphone.
In comparison, many financial apps focus on just one or two of these services. But the trade-off is they usually offer more in-depth tools and resources than Revolut, which offers a little bit of everything.
If you still want a comprehensive money app and banking solution, we recommend Juno. It offers a much higher savings APY, crypto investing, and a free checking account with cash-back rewards. Plus, Juno partners with Wise to provide fast and affordable international transfers.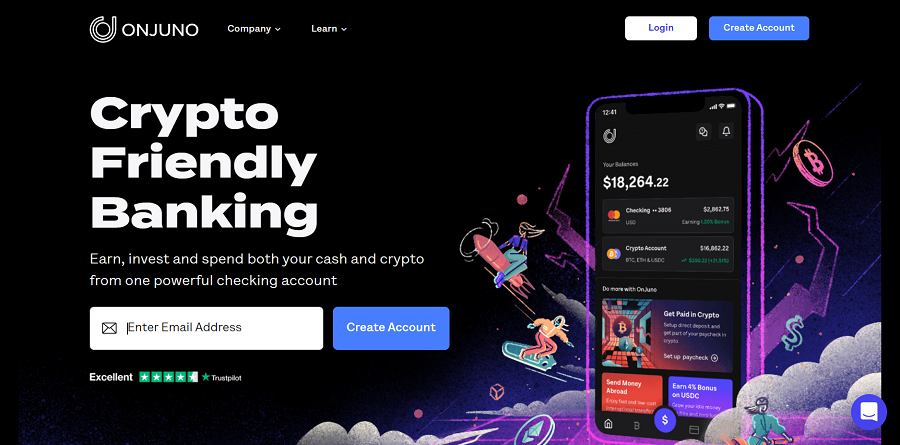 And speaking of Wise, you can always use its service to accept or send money abroad without overpaying on fees. Remitly is another popular money-transfer app as well.
Finally, if investing is your main goal, stick with apps like Robinhood or an online broker instead. Revolut's commission-free trading is nice to have, but it's not the right app for standalone investing.
Ultimately, companies like Revolut and Juno are excellent if you want to manage your finances from one central app. Just know that sometimes you get a better deal or more options by using a company that just specializes in one service.
The bottom line
As the saying goes, the world is becoming smaller. Technology makes it easier to communicate with people from around the world than even before. And in this digital era, being able to manage global payments and multiple currencies without overpaying is important.
Revolut is an excellent app for doing just that. And features like commission-free trading and crypto investing are added bonuses. It's not the best app for standalone investing, and the savings rate is currently quite low. But overall, Revolut is versatile and has something for every customer.
The fact that free Revolut customers also get great rates on exchanges is a perk. So, consider using Revolut the next time you have to travel or send money abroad. If the savings are worth it, you can always upgrade to a paid plan for even more perks.