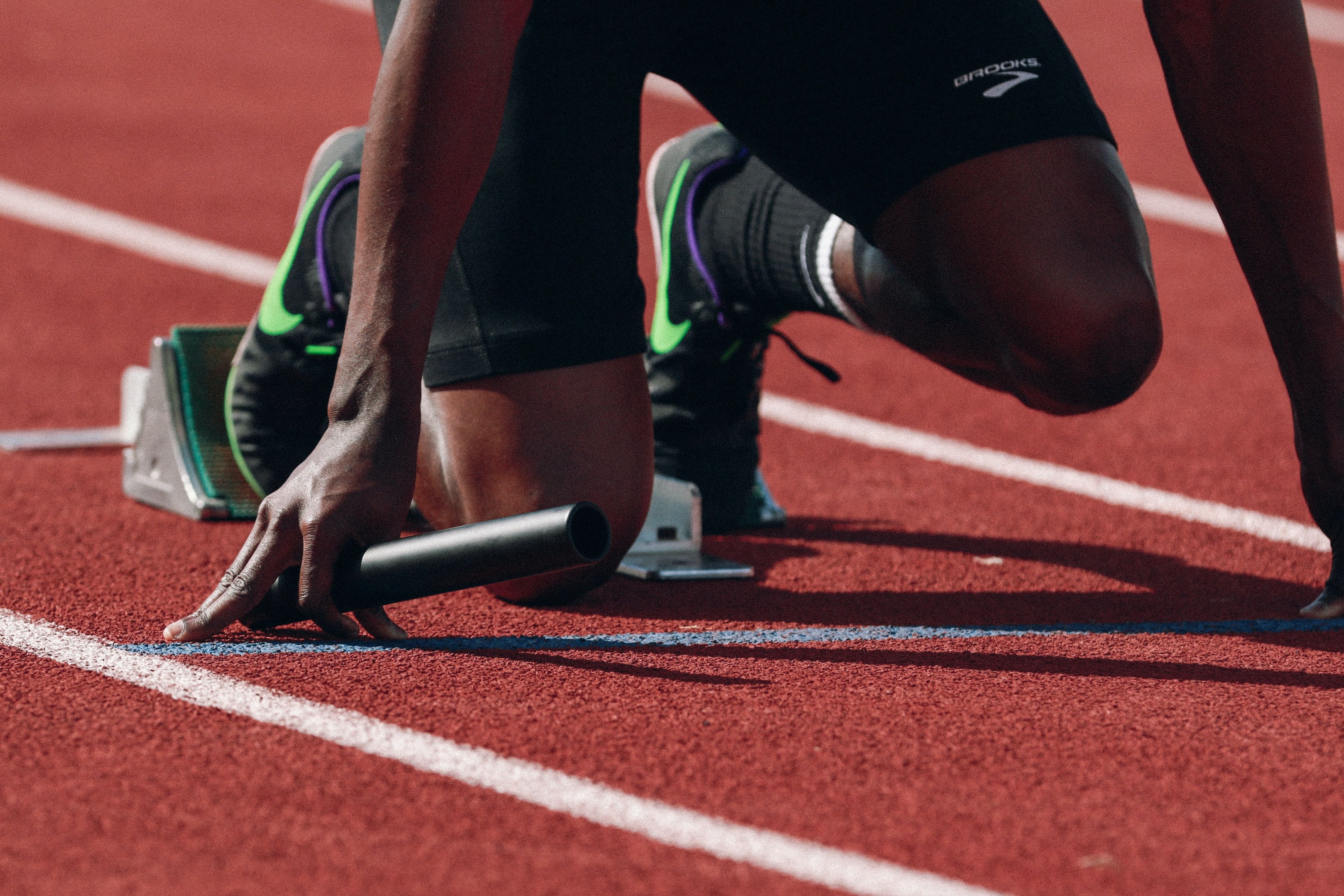 Relay review 2023: Affordable banking for small businesses
Relay review 2023 relay racer with baton / Unsplash
We adhere to strict standards of editorial integrity to help you make decisions with confidence. Please be aware that some (or all) products and services linked in this article are from our sponsors.
We adhere to strict standards of editorial integrity to help you make decisions with confidence. Please be aware that some (or all) products and services linked in this article are from our sponsors.
Finding the right tools and resources to help their business grow is a big challenge for small business owners.
That's where Relay comes in handy. It's a fully digital banking platform that offers free business checking for solopreneurs and small business owners. It minimizes costs while making it easier to manage budgets across distributed teams.
This article covers what Relay is, some of its key features, and describes the type of customer who might find Relay Bank's products useful.
Pros and cons
Pros
No monthly fees or overdraft fees
No minimum balance requirement
Ability to have multiple accounts
Can set limits for employee debit cards
Easy third-party vendor integrations
Cons
Can't deposit cash
Checks take up to a week to clear
Doesn't offer lending products
No interest-bearing account options
Who is Relay for?
Relay is business checking account designed for small business owners and entrepreneurs. It offers checking accounts with no minimum balance requirements, fees, or transaction limits. Plus, business owners can add employees to their accounts and give them permissions according to their roles.
It could also be a good banking solution for someone who runs an e-commerce company or online business. Relay pulls deposits from payment processors like Stripe and Square. It also easily integrates with QuickBooks and Xero to streamline cash management.
On the other hand, established business owners looking to scale their company may not find Relay as useful. It doesn't offer access to lines of credit or business loans which are essential tools for taking a business to the next level.
How does Relay work?
To open an account, you can either access Relay online or from their app. To create an account, you must provide basic information and documentation to verify your identity. You'll be asked to submit the following:
Government-issued photo ID
Passport or Social Security number
Personal address
Personal phone number
Business address
Business phone number
Email address
Depending on how your business is registered, you may also need to provide additional documentation.
How to open a business bank account
What makes Relay great?
Relay is an excellent option for a solopreneur or small business owner who is just getting started. There are no maintenance fees, transaction fees, or overdraft fees. You can open up to 20 different checking accounts and have up to 50 different debit cards associated with those accounts.
Here are a few features that might make you consider signing up for a Relay account.
Money management
Relay makes it easy to manage money from a single account. Users can set up different accounts to represent expense categories such as "payroll" and "taxes." This helps segregate funds to make it easier to manage cash flow. Relay allows you to transfer funds from one account to another without charging fees.
Team management
Relay makes it easy to delegate tasks to virtual assistants and manage remote teams. Business owners who use Relay's multi-account feature can decide which accounts employees can access. This can help users keep tabs on how much employees spend and set limits if necessary.
Convenient integrations
Relay integrates with many popular digital business platforms such as Intuit Quickbooks and Xero. If you use bookkeeping software like QuickBooks, you can sync your transactions directly with Relay. This can help simplify the bookkeeping process and make it easier to keep track of accounting tasks.
Relay also connects with back-end administrative platforms like Gusto and Expensify. This can help reduce overhead and save you time on administrative tasks.
The banking platform connects with popular payment processors like PayPal, Stripe, and Square, making getting paid for your products or services easier. It allows you to receive deposits directly into your Relay account.
Automated bill payments
Relay Pro users get the added benefit of automated bill payments. You can pay third-party vendors directly from QuickBooks or Xero and batch your bills. This streamlines vendor management and saves you time.
What are Relay's drawbacks?
While Relay has many great features that appeal to new businesses, there are some drawbacks that you should consider. Depending on your business's needs, the lack of more traditional features – like cash deposits – can make it challenging to bank with Relay.
No cash deposits
Relay is a fully digital bank. There aren't any physical branches you can visit, which means Relay can't accept cash deposits. Relay only accepts ACH transfers, wire transfers, or mobile check deposits. This can make Relay difficult to bank with if your business handles a lot of cash.
Long hold time to deposit checks
When you deposit a check via Relay's mobile app, it can take up to seven days to clear. This is a longer wait time than many traditional banks and can be disruptive to businesses with limited cash flow. While Relay has a lot of great features, business owners report on Trust Pilot that slow check clearance times significantly impact their business operations.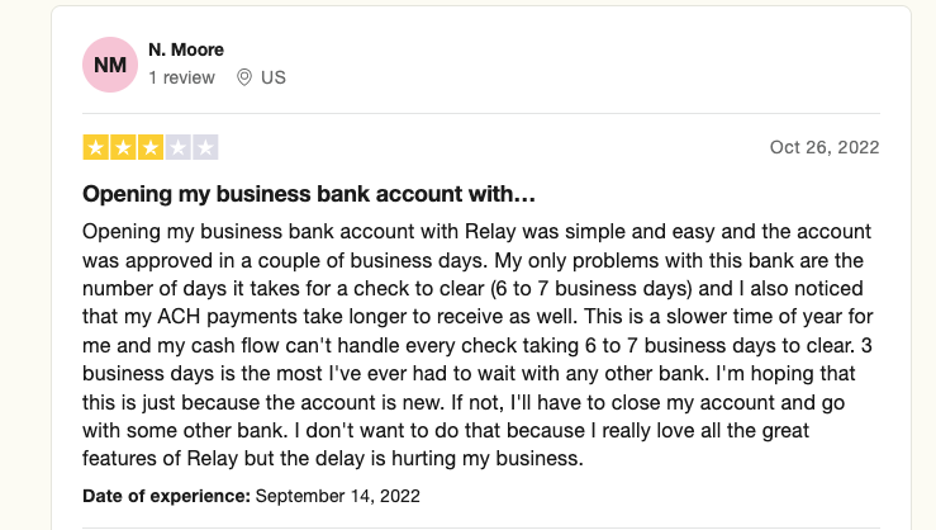 No lending products
Growing businesses often need access to lines of credit or capital loans to take their business to the next level. Relay doesn't offer any lending products. This can be a hassle for business owners looking for a one-stop shop to meet all their banking needs.
Accounts don't earn interest
A significant drawback of Relay is that cash that sits in your account won't earn interest. Relay doesn't offer any interest-bearing accounts. Most traditional banks and many online banks offer interest. Some of Relay's competitors even offer interest at 2%+ APY. If you maintain a balance in your account, this can be a lost opportunity.
Relay's pricing and fees
Relay has two types of accounts you can choose from: Relay and Relay Pro.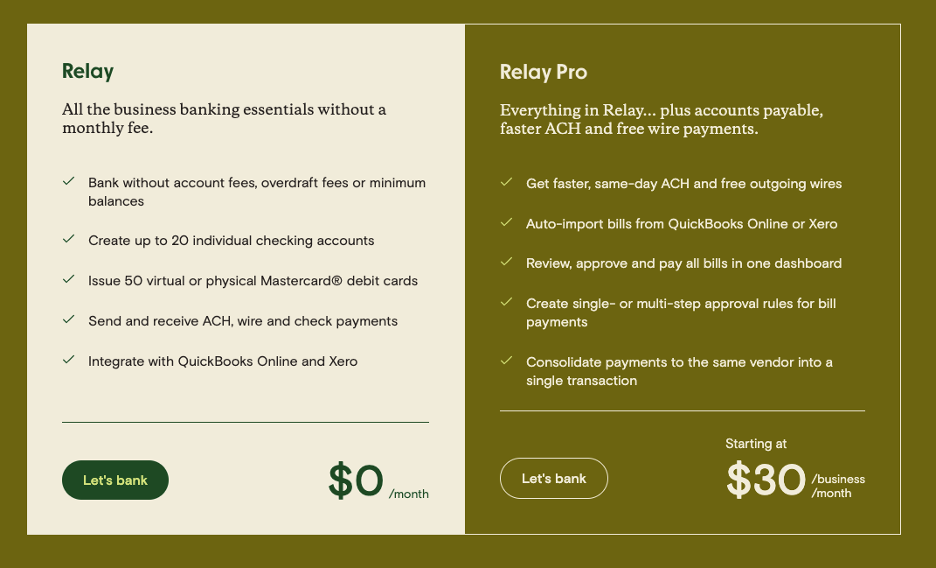 Relay's free option gives you access to the following:
Free ACH transfers
Up to 20 no-fee checking accounts
Up to 50 debit cards (virtual or physical)
Ability to set permissions and spending limits for team members
Integration with vendors like QuickBooks and Xero
Relay does charge a small fee for outgoing wire transfers. Expect to pay $5 for domestic transfers and $10 for international transfers. Incoming wire transfers are free.
Relay Pro is an upgraded version that costs $30 a month. It gives you extra features like:
Free domestic and international wire transfers
Free same-day ACH transfers
Bill pay and approval
Import bills from QuickBooks and Xero
Automated bill pay to third-party vendors
Aside from wire fees and Relay Pro memberships, Relay also makes money from a portion of the merchant fee processed by Mastercard. Compared to many other banks, Relay's fees are significantly lower, which makes it an affordable option for business owners.
How to contact Relay
Relay offers 24/7 customer support by email, phone, and social media. You can reach them by email at support@relayfi.com. Or on social media @RelayFinancial.
Relay's customer service phone line is available Monday through Friday from 9 am to 5 pm. They can be reached at 1-888-205-9304.
Is Relay safe?
Yes, Relay is a safe place to stash your cash and conduct your transactions. Relay accounts are FDIC-insured for up to $250,000, and Mastercard's Zero Liability Protection Policy protects its debit cards against fraud.
Best alternatives
Relay is an excellent option for business owners, but it has some drawbacks that might make it challenging to use. These two alternatives to Relay offer many of the same features along with added benefits like access to credit and the ability to earn interest.
Bluevine
Bluevine is an online business banking option with features similar to Relay, with a few additional banking services that might appeal to business owners. Account holders can make cash deposits and earn interest up to 2.00% APY (terms apply) on their accounts. Bluevine also offers lines of credit for business owners looking to scale their operations.
Sign up for Bluevine Business Checking
Square
Square is a popular point-of-sale platform that also offers business banking. It's an all-in-one service provider that allows business owners to sell, borrow, and spend money all in one place.
Like Relay, Square doesn't charge monthly fees or require a minimum deposit. Square also offers a savings account that earns 1.75% APY.
Review your options: Best business checking accounts for entrepreneurs, freelancers and small business owners
The bottom line
Relay could be a great banking choice for small businesses and solopreneurs. Its team features and integrations with third-party platforms make it easy to manage your business's money from anywhere you have an internet connection.
That being said, Relay might not be the best option for rapidly growing businesses or businesses that deal with a lot of cash. The lack of lending options can make it hard to scale. And the absence of basic features like the ability to earn interest or make cash deposits detracts from some of Relay's key selling points.
Overall, Relay is a strong choice for the entrepreneur who's just getting started and needs a simple, affordable banking option to help them get their business off the ground.