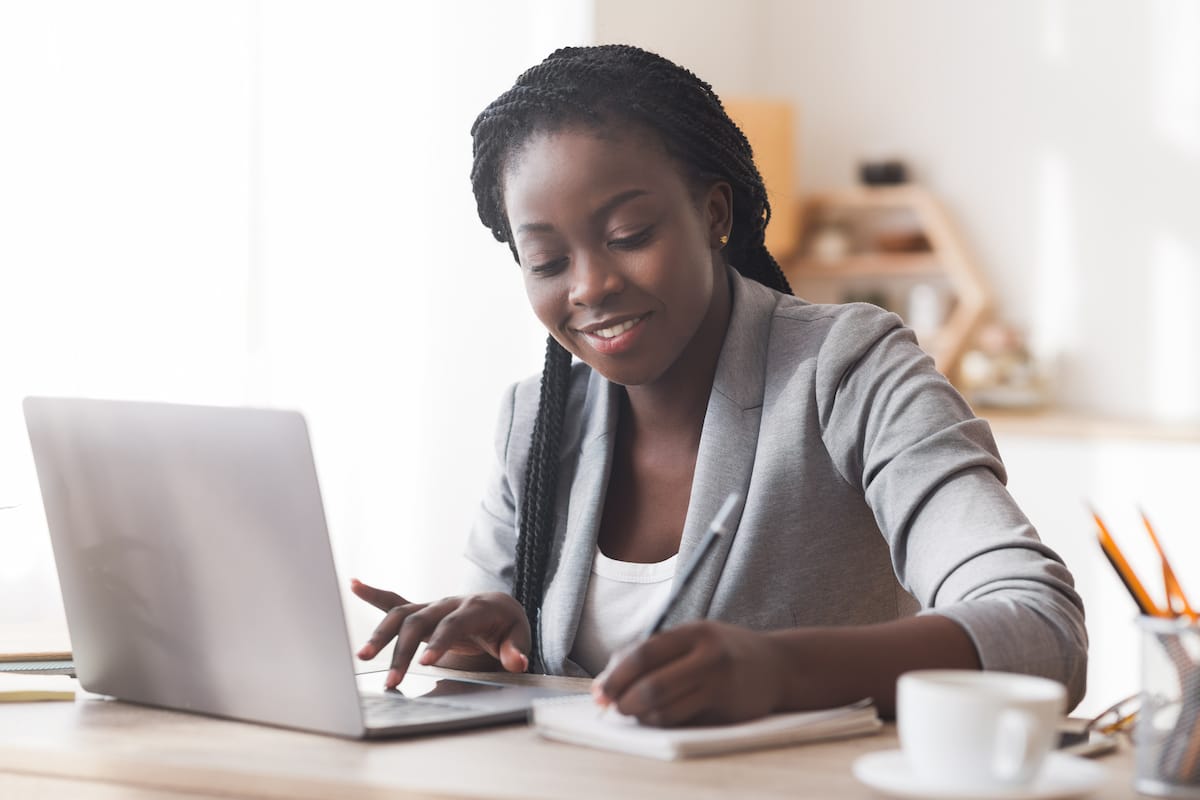 Bluevine review 2023: Online business banking with tons of features
Prostock-studio / Shutterstock
We adhere to strict standards of editorial integrity to help you make decisions with confidence. Please be aware that some (or all) products and services linked in this article are from our sponsors.
We adhere to strict standards of editorial integrity to help you make decisions with confidence. Please be aware that some (or all) products and services linked in this article are from our sponsors.
A growing number of online banking platforms are dedicated to small businesses. They tend to offer business checking at low or no fees and have a heavy emphasis on mobile banking for speed and efficiency.
Bluevine takes that basic concept and adds even more features, including paper checks, the ability to earn high interest on your checking account balance, accepting cash deposits, and even small business financing. Bluevine should be near the top of your list if you're a small business owner looking for a new banking relationship.
What is bluevine?
Bluevine (formerly Bluevine Capital) has rapidly developed into one of the most advanced online business banking platforms in the industry. Though they offer only one type of bank account — Bluevine Business Checking — it pays high interest on account balances, making it a checking account and high-yield savings account in one.
Bluevine is based in Redwood City, Calif., and was launched in 2013 by CEO Eyal Lifshitz. Bluevine is primarily an online small business checking account provider. But they distinguish themselves from their competitors by also being a source of several types of business financing.
Lifshitz began the bank to fill the gap left by traditional banks and help small businesses succeed. He was inspired by his father's and grandfather's frustrations in managing finances for their own small businesses. So he set out to create products and services that would bring peace of mind to underserved small business owners.
Today the company has more than 200,000 customers and has provided small business financing over $9 billion.
Bluevine provides an online business checking account. And in another departure from the crowd of online small business checking providers, Bluevine's checking account pays interest and comes with paper checks.
Like most online business checking account banks, Bluevine does not offer specific deposit accounts, like certificates of deposit (CDs) or money market or savings accounts.
Bluevine is available in all 50 states for small business owners engaged in just about any industry. The only exceptions are adult entertainment, gambling, illegal substances, weapons, and firearms.
The bank has an A+ rating from the Better Business Bureau, the highest on a scale of A+ to F and has been accredited by the agency since 2014.
Bluevine has also recently entered into a banking service partnership with Coastal Community Bank. This helps them invest in what matters most to borrowers: the overall customer experience, new and innovative products, and your business's ensured success and growth.
Bluevine features
Account types
Business checking accounts
Number of In-network ATMs: 37,000+
Availability: All 50 states
Paper checks: Very few online checking accounts — let alone business checking accounts — offer paper checks. Bluevine not only provides paper checks but gives you the first 200 free of charge.
Cash deposits: Another common limitation of online checking accounts is the inability to accept cash deposits. Bluevine makes this feature available through more than 90,000 Green Dot locations across the country. So if your business earns at least some income in cash payments, Bluevine can accommodate those deposits.
High yield: Bluevine Business Checking currently pays interest of 2.00% on all balances up to $250,000. That's a better APY than even most high-yield savings accounts offer. However, it bears mentioning that, you'll need to meet one of the following requirements to continue earning interest:
Business debit card: Spend $500 per month with their Bluevine Business Debit Mastercard®, which can be used everywhere Mastercard® is accepted.
Business checking: Receive $2,500 per month in customer payments into their Bluevine Business Checking account via ACH, wire transfer, mobile check deposit, or directly from their merchant payment processing provider
Business financing: We'll cover this in greater detail later in this review, but Bluevine does provide financing to help grow your business and better manage your cash flow.
Sub accounts: Create up to five sub accounts for your business to help manage expenses like payroll and taxes. Sub accounts don't have monthly fees or minimum either, and balances can still earn 2.00% in interest if they meet the activity requirements.
Get started with Bluevine
How does Bluevine work?
The account offers online and mobile banking. And with mobile banking, you can also take advantage of mobile check deposits.
The account can be used to send and receive payments through either wire transfers or ACH. You can also schedule one-time and recurring payments as well as transfer funds between your other accounts.
Bluevine Business Banking comes with a debit MasterCard that can be used fee-free at more than 37,000 MoneyPass ATM locations across the country. And as noted earlier, you can make cash deposits at more than 90,000 Green Dot locations. The Bluevine Business Debit Mastercard is issued by Coastal Community Bank.
One of the big advantages of Bluevine Business Banking is that you can access live customer support 12 hours a day, Monday through Friday. There is no minimum daily balance requirement. And the account comes with unlimited transactions. With most business checking accounts, you get a certain number of transactions provided free, with a charge applied to all excess transactions.
The account is currently compatible with accounting software platforms such as QuickBooks Online, QuickBooks desktop 2009 or later, Xero and Freshbooks. And the company expects to roll out new payment capabilities and more sophisticated cash management functions.
FDIC insurance of up to $250,000 is available through Bancorp Bank, which also provides checking account services and the debit MasterCard.
Get started with Bluevine
Bill pay
You can also pay your vendors with Bluevine Business Checking. This is designed to improve your cash flow by allowing you to choose how you'd like to make payments. You can pay bills by credit card or from your bank account balance by wire, ACH, or check.
Bluevine has a directory of more than 40,000 companies you can quickly send an electronic payment to. And you can easily add new vendors or payees in a few simple steps. The feature accommodates both one-time and recurring payments.
Also, you can pay by credit card to preserve your cash. Payments made by credit card incur a fee of 2.9% of the amount paid. Outgoing wires incur a $15 per payment fee.
Bluevine competitors
The number of dedicated online business checking account providers is growing each year. In addition to Bluevine, you may want to check out Novo and NorthOne. Each offers one or more unique features that may be a good fit for your small business. Here's how Bluevine compares to the others:
Bluevine Fees
Like many dedicated online small business checking accounts, Bluevine does not charge a monthly service fee. And that's not all — Bluevine is light on fees across the board.
For example: there are no fees for incoming wires or even for non-sufficient funds items or overdrafts. The only major fee they charge — and it isn't that high — is $15 for outgoing wire transfers, as previously mentioned.
However, one fee to be aware of is the use of the Green Dot network for cash transactions. Green Dot charges $4.95 for each cash deposit.
And you can, of course, withdraw cash fee-free by using the extensive in-network ATM system.
Bluevine accounts
BlueVvne offers a single account, the Bluevine Business Checking Account. There are currently no options for savings accounts, money market, or CDs.
But one area where Bluevine stands out is in offering small business financing, which is available through several programs. And, as mentioned, its introduction of sub accounts gives business owners more control over how they budget and plan for various expenses.
Bluevine line of credit
Until recently, Bluevine offered two financing options for small businesses: a line of credit and invoice factoring.. In January 2022, Bluevine sold its invoice factoring business to FundThrough. But it still offers lines of credit to businesses in 47 states (it's not available in Nevada or either of the Dakotas).
Similar to a home equity line of credit, you can access the funds from your credit line as needed. As you repay the outstanding balance, your available credit increases. Funds withdrawn from the line are paid back with fixed monthly or weekly payments over six or 12 months.
Credit lines are available from $5,000 to $250,000, with an interest rate as low as 4.8%. What's more, you can get approval in as little as five minutes. And consistent with Bluevine's low fee structure, there are no prepayment fees, monthly maintenance fees, account closure fees, or fees to either open or maintain your credit line.
To qualify for the business line of credit, you must have been in business for at least three years and have a minimum FICO score of 650 and a minimum of $40,000 in monthly revenue.
Bluevine pros and cons
Pros
No/low-fee small business checking account: Bluevine's only fees are a $15 outgoing wire fee and $4.95 for cash deposits — that's it.
No minimum balance requirement: You can open an account with no money at all.
Interest-bearing account: Earn 2.00% APY on account balances of up to $250,000.
A checking account that actually comes with paper checks: To reduce costs, most online checking accounts don't offer paper checks. Bluevine Business Banking does.
Unlimited transactions: Some online business checking accounts offer a limited number of free transactions, after which you're charged a fee for each additional transaction. But there are no limits on how many transactions you can run through your Bluevine Business Checking account.
Small business financing: Bluevine's business line of credit offers rates as low as 4.8% on credit lines up to $250,000
Invoice within the banking platform: Unlike many business checking accounts that use third parties for invoicing, you can invoice directly through Bluevine Business Banking.
The ability to deposit cash: It's an almost universal limitation among online checking accounts that you can't deposit cash. But Bluevine lets you deposit cash at more than 90,000 participating locations.
Extensive ATM network: Use your Debit MasterCard to withdraw cash at tens of thousands of fee-free ATMs across the country.
Cons
No savings options: As with many online business checking accounts, Bluevine does not offer savings or money market accounts or CDs. But the interest you earn from higher checking account balances offsets this limitation.
High fees for depositing cash: The fee of $4.95 per deposit through the Green Dot network can be costly on a percentage basis on cash deposits of a few hundred dollars or less.
No physical branches: Yes, that's the basic idea behind online banking. But it's still it's worth pointing out that you won't be able to stop by a local branch and talk to a banker face-to-face if you run into any account issues.
No customer service on weekends: This can be a decided disadvantage if your business runs seven days per week.
Bluevine customer service review
You can contact Bluevine customer service by email and phone. Many people have said that Bluevine customer service is easy to contact and work with, compared to traditional brick and mortar banking institutions. However, some people report that they found it difficult to access a representative when they called.
Bluevine borrower eligibility
Bluevine borrower eligibility is based on several factors, depending on which products you apply for. Below, you will find some eligibility criteria to keep in mind.
Financial history
When it comes to your financial history, Bluevine doesn't require you to maintain a minimum average bank balance. If you have declared personal bankruptcy after a year has passed since discharge and you have tax liens under a repayment plan, you may still be eligible.
Bluevine can refinance up to 100% of a borrower's existing debt.
For your application
When you apply, there is some information you need to provide:
Bank statements spanning the last three months
General business information, including your business address, phone number, Tax ID number, etc.
Personal contact information regarding the business owner
Copy of invoices
To apply, you must be the owner or an officer of the company.
Update to Bluevine's paycheck protection program
Bluevine is no longer accepting new PPP loan forgiveness applications. However, on their loan forgiveness page they mention that they are still reviewing applications in progress.
The PPP loan program supported small businesses with federally guaranteed loans to help them overcome any obstacles they had been experiencing due to the COVID-19 pandemic.
Under this PPP loan program, a small business could apply for up to 2.5x their monthly payroll costs. The PPP loan has a two-to-five years maturity and an interest rate of about 1.00%.
Loan forgiveness
Bluevine served more than 300,000 small businesses with COVID-19 relief. Now, they are shifting their focus to loan forgiveness for these borrowers.
You can apply for loan forgiveness today by logging into your account. You have up to 10 months to defer payments from the end of the covered period. If Bluevine manages your First or Second Draw forgiveness process, and your loan is under $150,000, you can apply directly through the SBA for PPP Forgiveness.
Bluevine FAQs
Final thoughts on Bluevine
As you might guess from the fact that the Pros heavily outnumber the Cons with this bank, Bluevine rates as one of the best choices for a small business banking relationship.
Not only do they offer free checking with unlimited transactions, but they also pay one of the highest interest rates on balances up to $250,000. That will eliminate the need to maintain a separate savings or money market account at another institution.
The checking account comes with other valuable business features, including paper checks, the ability to accept cash deposits, and invoicing within the banking platform. And you can use the line of credit to even out your cash flow or grow your business.
That's a lot of benefits packed into a free online small business checking account. If you have a small business and decided to open a dedicated bank account for it, you owe it to yourself to check out Bluevine.
Get started with Bluevine